Abstract
Nicotine mediates some of the injurious effects caused by consuming tobacco products. The aim of this work is to investigate the protective effects of Mentha spicata extract (ME) supplementation on the testis and brain of nicotine-induced oxidative damage rats. ME extract showed interesting hydrogen peroxide-scavenging activity. HPLC–DAD analysis of ME revealed the presence of nine compounds among them gallic acid was the major one (165.44 µg/g ME). Thirty-two rats were randomly divided into four groups: control, a nicotine-treated group (1 mg/kg i.p.), a group receiving ME (100 mg/kg), and a group receiving both ME (100 mg/kg) and nicotine (1 mg/kg). After 2 months of treatment, the in vivo results showed that nicotine exhibited an increase in the body, brain, testis and accessory sex organ weights, sperm count and sperm motility. In addition, exposure to nicotine significantly (p < 0.01) increased acetylcholinesterase level (AChE) in brain, lipid peroxidation level in brain and testis as compared to control group. The antioxidant enzymes results showed that nicotine treatment induced a significant decrease (p < 0.01) in brain and testis antioxidant enzymes such as catalase, superoxide dismutase and glutathione peroxidase as compared to control group. Interestingly, pretreatment with ME significantly (p < 0.01) restored the majority of these biological parameters to normal levels, as well as a histological improvement. Obtained results suggest that ME contains promising substances that counteract the nicotine-intoxication and can be efficient in the prevention of brain and testis toxicity complications.
Access options
Buy single article
Instant access to the full article PDF.
US$ 39.95
Tax calculation will be finalised during checkout.
Subscribe to journal
Immediate online access to all issues from 2019. Subscription will auto renew annually.
US$ 79
Tax calculation will be finalised during checkout.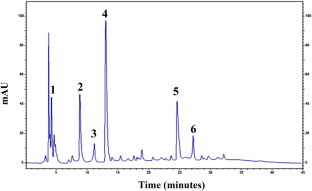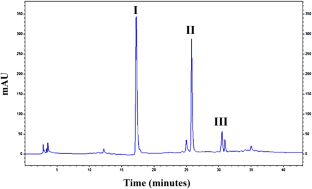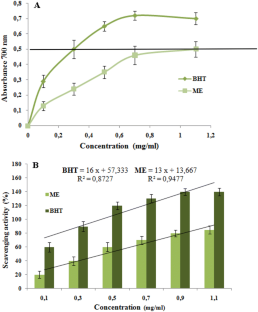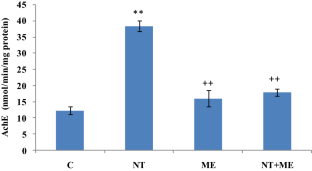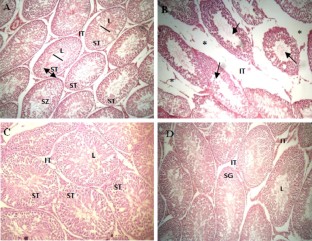 References
Aebi H (1984) Catalase in vitro. Methods Enzymol 105:121–126

Akdogan M, Kilinç I, Oncu M, Karaoz E, Delibas N (2003) Investigation of biochemical and histopathological effects of Mentha piperita L. and Mentha spicata L. on kidney tissue in rats. Hum Exp Toxicol 22:213–219

Akdogan M, Ozguner M, Aydin G, Gokalp O (2004) Investigation of biochemical and histopathological effects of Mentha piperita Labiatae and Mentha spicata Labiatae on liver tissue in rats. Hum Exp Toxicol 23:21–28

Ashare RL, Kimmey BA, Rupprecht LE, Bowers ME, Hayes MR, Schmidt HD (2017) Repeated administration of an acetylcholinesterase inhibitor attenuates nicotine taking in rats and smoking behavior in human smokers. Transl Psychiatry 28:7

Avram S, Mernea M, Bagci E, Hritcu L, Borcan LC, Mihailescu DF (2017) Advanced structure-activity relationships applied to Mentha spicata L. Subsp. spicata essential oil compounds as AChE and NMDA ligands, in comparison with donepezil, galantamine and memantine—new approach in brain disorders pharmacology. CNS Neurol Disord Drug Targets 16:800–811

Ben Saad A, Rjeibi I, Alimi H, Ncib S, Bouhamda T, Zouari N (2017) Protective effects of Mentha spicata against nicotine induced toxicity in liver and erythrocytes. Appl Physiol Nutr Metab 11:1–7

Ben Saad A, Rjeibi I, Alimi H, Ncib S, Bouhamda T, Zouari N (2018) Protective effects of Mentha spicata against nicotine-induced toxicity in liver and erythrocytes of Wistar rats. Appl Physiol Nutr Metab 43:77–83

Beyer WF, Fridovich I (1987) Assaying for superoxide dismutase activity: some large consequences of minor changes in conditions. Anal Biochem 161:559–566

Bone K, Mills S (2013) Principles and practice of phytotherapy: modern herbal medicine. Elsevier Health Sciences, London

Budin SB, Kho JH, Lee JH, Ramalingam A, Jubaidi FF, Latif ES, Zainalabidin S, Taib IS, Mohamed J (2017) Low-dose nicotine exposure induced the oxidative damage of reproductive organs and altered the sperm characteristics of adolescent male rats. Malays J Med Sci 24:50–57

Buege JA, Aust SD (1978) Microsomal lipid peroxidation. Methods Enzymol 52:302–310

Choudhury RP, Kumar A, Garg AN (2006) Analysis of Indian mint (Mentha spicata) of essential, trace and toxic elements and its antioxidant behaviour. J Pharm Biomed Anal 41:825–832

Council of European Communities (1986) Council instructions about the protection of living animals used in scientific investigations. Off J Eur Communities (JO 86/609/CEE) 358:1–18

El-Badry AA, Al-Ali KH, El-Badry YA (2010) Activity of Mentha longifolia and Ocimum basilicum against Entamoeba histolytica and Giardia duodenalis. Sci Parasitol 11:109–117

Ellman GL, Courtney KD, Andres V, Feather-Stone RM (1961) A new and rapid colorimetric determination of acetylcholinesterase activity. Biochem Pharmacol 7:88–95

Fitsiou E, Mitropoulou G, Spyridopoulou K, Tiptiri-Kourpeti A, Vamvakias M, Bardouki H, Panayiotidis MΙ, Galanis A, Kourkoutas Y, Chlichlia K, Pappa A (2016) Phytochemical profile and evaluation of the biological activities of essential oils derived from the greek aromatic plant species Ocimum basilicum, Mentha spicata, Pimpinella anisum and Fortunella margarita. Molecules 21(8):1069

Flohé L, Gunzler WA (1984) Assays of glutathione peroxidase. Methods Enzymol 105:114–120

Freund M, Carol B (1964) Factors affecting haemocytometer counts of sperm concentration in human semen. J Reprod Fertil 42:149–155

Hasan MK, Friedman TC, Sims C, Lee DL, Espinoza-Derout J, Ume A, Chalfant V, Lee ML, Sinha-Hikim I, Lutfy K, Liu Y, Mahata SK, Sinha-Hikim AP (2018) α7-Nicotinic acetylcholine receptor agonist ameliorates nicotine plus high-fat diet-induced hepatic steatosis in male mice by inhibiting oxidative stress and stimulating AMPK signaling. Endocrinology 159(2):931–944

Iqbal T, Hussain AI, Chatha SAS, Naqvi SAR, Bokhari TH (2013) Antioxidant activity and volatile and phenolic profiles of essential oil and different extracts of wild mint (Mentha longifolia) from the Pakistani Flora. J Anal Methods Chem 2013:536490

Jalili C, Salahshoor MR, Naseri A (2014) Protective effect of Urtica dioica L. against nicotine-induced damage on sperm parameters, testosterone and testis tissue in mice. Iran J Reprod Med 12:401–418

Jana K, Samanta PK, De Kumar D (2010) Nicotine diminishes testicular gametogenesis, steroidogenesis, and steroidogenic acute regulatory protein expression in adult albino rats: possible influence on pituitary gonadotropins and alteration of testicular antioxidant status. Toxicol Sci 116:647–659

Kanatt SR, Chander R, Sharma A (2007) Antioxidant potential of mint (Mentha spicata L.) in radiation-processed lamb meat. Food Chem 100:451–458

Kim HP, Park H, Son KH, Chang HW, Kang SS (2008) Biochemical pharmacology of biflavonoids: implications for anti-inflammatory action. Arch Pharm Res 31:265–273

Kolawole TA, Oyeyemi WA, Adigwe C, Leko B, Udeh C, Dapper DV (2015) Honey attenuates the detrimental effects of nicotine on testicular functions in nicotine treated wistar rats. Niger J Physiol Sci 30:11–16

Krzyzanowska J, Janda B, Pecio L, Stochmal A, Oleszek W, Czubacka A (2011) Determination of polyphenols in Mentha longifolia and M. piperita field-grown and in vitro plant samples using UPLC-TQ-MS. J AOAC Int 94:43–50

Liu J, Luo J, Ye H, Sun Y, Lu Z, Zeng X (2010) In vitro and in vivo antioxidant activity of exopolysaccharides from endophytic bacterium Paenibacillus polymyxa EJS-3. Carbohydr Polym 82:1278–1283

Lowry OH, Rosenbrough NJ (1951) Randall, protein measurement with the folin phenol reagent. J Biol Chem 193:265–275

Mogosan C, Vostinaru O, Oprean R, Heghes C, Filip L, Balica G, Moldovan RI (2017) A Comparative analysis of the chemical composition, anti-inflammatory, and antinociceptive effects of the essential oils from three species of mentha cultivated in Romania. Molecules 10:22

Mosbah R, Yousef MI, Mantovani A (2015) Nicotine induced reproductive toxicity, oxidative damage, histological changes and haematotoxicity in male rats: the protective effects of green tea extract. Exp Toxicol Pathol 67:253–259

Motaghinejad M, Motevalian M, Fatima S, Faraji F, Mozaffari S (2017) The neuroprotective effect of curcumin against nicotine-induced neurotoxicity in mediated by CREB-BDNF signaling pathway. Neurochem Res 42:2921–2932

Murad HA, Abdallah HM, Ali SS (2016) Mentha longifolia protects against acetic acid induced colitis in rats. J Ethnopharmacol 190:354–361

Nacerai H, Gregory T, Sihem B, Salah A, Souhila AB (2017) green tea beverage and epigallocatechin gallate attenuate nicotine cardiotoxicity in rat. Acta Pol Pharm 74:277–287

Naghibi F, Mosaddegh M, Mohammadi Motamed S, Ghorbani A (2009) Labiatae family in folk medicine in Iran: from ethnobotany to pharmacology, Iran. J Pharm Res 4:63–79

Nunn JF (1993) Oxygen and smoking. In: Nunn's applied respiratory physiology. Butterworth-Heinemann Ltd, Oxford

Oyeyipo IP, Raji Y, Emikpe BO, Bolarinwa AF (2011) Effects of nicotine on sperm character-istics and fertility profile in adult male rats: a possible role of cessation. J ReprodInfertil 12:201–207

Ozgen U, Mavi A, Terzi Z, Yildirim A, Coşkun M, Houghton PJ (2006) Antioxidant properties of some medicinal Lamiaceae (Labiatae) species. Pharm Biol 44:107–112

Polyzos A, Schmid TE, Piña-Guzmán B, Quintanilla-Vega B, Marchetti F (2009) Differential sensitivity of male germ cells to mainstream and sidestream tobacco smoke inthe mouse. Toxicol Appl Pharmacol 237:298–305

Rita I, Pereira C, Barros L, Santos-Buelga C, Ferreira IC (2016) Mentha spicata L. infusions as sources of antioxidant phenolic compounds: emerging reserve lots with special harvest requirements. Food Funct 7:4188–4192

Romani A, Galardi C, Pinelli P, Mulinacci N, Heimle D (2002) HPLC quantification of flavonoids and biflavonoids in Cupressaceae leaves. Chromatographia 56:469–474

Sankako MK, Garcia PC, Piffer RC, Pereira OM (2013) Semen and reproductive parameters during some abstinence periods after cigarette smoke exposure in male rats. Braz Arch Biol Technol 56:93–100

Shah AJ, Bhulani NN, Khan SH, Ur Rehman N, Gilani AH (2010) Calcium channel blocking activity of Mentha longifolia L. explains its medicinal use in diarrhoea and gut spasm. Phytother Res 24:1392–1397

Sharma V, Hussain S, Gupta M, Saxena AK (2014) In vitro anticancer activity of extracts of Mentha spp against human cancer cells. Indian J Biochem Biophys 51:416–419

She GM, Xu C, Liu B, Shi RB (2010) Polyphenolic acids from mint (the aerial of Mentha haplocalyx Briq.) with DPPH radical scavenging activity. J Food Sci 75:359–362

Snoussi M, Noumi E, Trabelsi N, Flamini G, Papetti A, De Feo V (2015) Mentha spicata essential oil: chemical composition, antioxidant and antibacterial activities against planktonic and biofilm cultures of vibrio spp. strains. Molecules 20:14402–14424

Vaqar MA, Hasan M (2007) Anti-oxidants from green tea and pomegranate for chemoprevention of prostate cancer. Mol Biotechnol 37:52–57

Yamamura S, Ozawa K, Ohatani K, Kasai R, Yamasaki K (2008) Antihistaminic flavones and aliphatic glycosides from Mentha spicata. Phytochemistry 48:131–136

Yildirim A, Mavi A, Kara AA (2001) Determination of antioxidant and antimicrobial activities of Rumex crispus L. extracts. J Agric Food Chem 49:4083–4089
Acknowledgements
This research was funded by the Tunisian Ministry of Higher Education. We would like to express our special thanks to Unit of common services, Faculty of Sciences Gafsa, Tunisia.
Ethics declarations
Conflict of interest
The authors have no conflicts of interest to disclose.
Additional information
Publisher's Note
Springer Nature remains neutral with regard to jurisdictional claims in published maps and institutional affiliations.
About this article
Cite this article
Saad, A.B., Rjeibi, I., Brahmi, N. et al. Nicotine-induced oxidative stress, testis injury, AChE inhibition and brain damage alleviated by Mentha spicata. Inflammopharmacol 28, 939–948 (2020). https://doi.org/10.1007/s10787-019-00650-0
Received:

Accepted:

Published:

Issue Date:
Keywords
Nicotine

Mentha spicata

Phytochemical

HPLC analysis

Oxidative stress

Protective effect

Rats