Abstract
In this work, the conductance versus sweep frequency for AT-cut quartz crystal resonators was measured for methyl myristate, methyl oleate, and methyl linoleate under high pressure. The response of resonators immersed in methyl myristate at each temperature (313 K, 333 K, and 353 K) was obtained at pressures up to 140 MPa. The obtained values were nearly similar for both the fundamental mode and third overtone, and the obtained viscosities agreed with the literature data up to 100 MPa. For methyl oleate and methyl linoleate, the pressure dependence of the viscosity at various temperatures (293 K, 313 K, 333 K, and 353 K) was obtained up to 400 MPa. The viscosity increased exponentially in the low-pressure region with increasing pressure, but the rate of increase slowed above ~ 150 MPa and the viscosity deviated from an exponential increase. Fitting was performed using a Tait-type equation, and the deviation from the fitted value was calculated using this fitting equation. The pressure dependence of the viscosity could be obtained within 10 % of absolute average deviation (AAD) with a sample volume of ~ 2 mL using simple experimental equipment.
This is a preview of subscription content, log in to check access.
Access options
Buy single article
Instant access to the full article PDF.
US$ 39.95
Price includes VAT for USA
Subscribe to journal
Immediate online access to all issues from 2019. Subscription will auto renew annually.
US$ 199
This is the net price. Taxes to be calculated in checkout.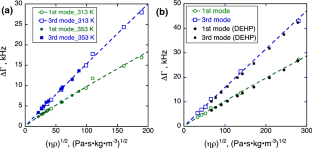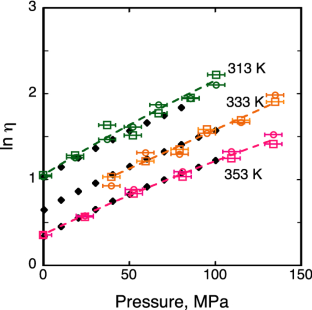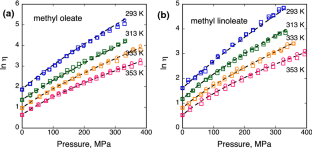 Additional information
Publisher's Note
Springer Nature remains neutral with regard to jurisdictional claims in published maps and institutional affiliations.
Electronic supplementary material
Below is the link to the electronic supplementary material.
About this article
Cite this article
Yamawaki, H. Pressure Dependence of Viscosity for Methyl Oleate and Methyl Linoleate up to 400 MPa. Int J Thermophys 41, 112 (2020). https://doi.org/10.1007/s10765-020-02693-w
Received:

Accepted:

Published:
Keywords
High pressure

Methyl oleate

Methyl linoleate

Quartz crystal resonator

Viscosity