Access options
Buy single article
Instant access to the full article PDF.
US$ 39.95
Tax calculation will be finalised during checkout.
Subscribe to journal
Immediate online access to all issues from 2019. Subscription will auto renew annually.
US$ 79
Tax calculation will be finalised during checkout.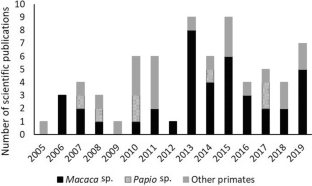 References
Davidar, P. (2018). The term human-wildlife conflict creates more problems than it resolves: Better labels should be considered. Journal of Threatened Taxa, 10(8), 12082–12085.

Gautier, J.-P., & Biquand, S. (1994). Primate commensalism. Revue d'Ecologie (La Terre et la Vie), 19, 210–212.

Hill, C. M. (2017). Primate crop feeding behavior, crop protection, and conservation. International Journal of Primatology, 38, 385–400.

Marshall, K., White, R., & Fischer, A. (2007). Conflicts between humans over wildlife management: On the diversity of stakeholder attitudes and implications for conflict management. Biodiversity and Conservation, 16(11), 3129–3146.

McKinney, T. (2017). Ecotourism. In A. Fuentes (Ed.), The international Encyclopedia of Primatology. Hoboken, NJ: John Wiley & Sons.

Paterson, J. D., & Wallis, J. (Eds.) (2005). Commensalism and conflict: The human-primate interface. Norman, OK: The American Society of Primatologists.

Peterson, M. N., Birckhead, J. L., Leong, K., Peterson, M. J., & Peterson, T. R. (2010). Rearticulating the myth of human–wildlife conflict. Conservation Letters, 3(2), 74–82.

Riley, E. P., & Priston, N. E. (2010). Macaques in farms and folklore: Exploring the human–nonhuman primate interface in Sulawesi, Indonesia. American Journal of Primatology, 72(10), 848–854.
Acknowledgements
We would like to thank Prof. Joanna Setchell for the opportunity and invitation to write this commentary, as well as for her valuable feedback on an earlier version of the commentary. We also thank Aimee Oxley, Dr. Giuseppe Donati, and Prof. Catherine Hill for organizing the workshop held at European Federation for Primatology and the Primate Society for Great Britain conference in Oxford, 2019, and the discussants and participants for fruitful conversation. Finally, we would like to thank the editor and reviewer for their helpful comments.
Additional information
Handling Editor: Joanna M. Setchell.
About this article
Cite this article
Maréchal, L., McKinney, T. The (Mis)use of the Term "Commensalism" in Primatology. Int J Primatol 41, 1–4 (2020). https://doi.org/10.1007/s10764-020-00137-8
Received:

Accepted:

Published:

Issue Date: