Abstract
Reflection is fundamental in experiential pedagogies, and many studies have been carried out to investigate its impact and benefits on student learning outcomes. However, the concept of reflection is not well understood. In this study, we focus on the concept of reflection and ensuing approaches to it in service-learning, an experiential pedagogy that has been hailed as a high-impact practice in higher education. We first survey the semantic background of reflection and its usage in service-learning literature. We then present a qualitative study of how university faculty involved in service-learning actually conceive reflection. In-depth interviews uncovered common tendencies as well as concerns about handling reflection in service-learning courses. We devised a framework to map teachers' conception of reflection onto the service-learning goal of transformative education. From the data set, we identify four conceptual domains echoing varying conceptions of reflection in literature: reflection as transformative learning, as mindful practice, as evaluation exercise, and as articulated thinking – with the most popular being evaluation exercise and transformational learning.
We're sorry, something doesn't seem to be working properly.
Please try refreshing the page. If that doesn't work, please contact support so we can address the problem.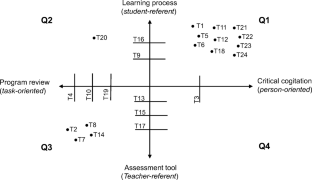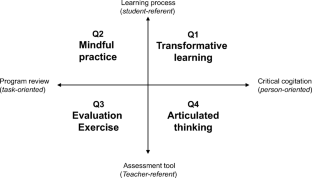 Notes
1.

For the etymology and early usages of reflection, see word entry in the Latin lexicon of Perseus Digital Library.
References
Ash, S. L., & Clayton, P. H. (2004). The articulated learning: An approach to guided reflection and assessment. Innovative Higher Education, 29(2), 137-154.

Bamber, P. M. (2016). Transformative education through international service-learning. Oxford, UK: Routledge.

Bogdan, R., & Biklen, S. K. (2007). Qualitative research for education: An introduction to theory and methods (5th ed.). Boston, MA: Pearson/Allyn and Bacon.

Bringle, R. G., & Hatcher, J. A. (1988). Reflection in service learning: Making meaning of experience. Educational Horizons, 77(4), 179-185.

Biglan, A. (1973). The characteristics of subject matter in academic areas. Journal of Applied Psychology, 57(3), 195–203.

Charmaz, K. (2006). Constructing grounded theory. London, UK: Sage.

Clarke, E., & Visser, J. (2019). Pragmatic research methodology in education: Possibilities and pitfalls. International Journal of Research & Method in Education, 42(5), 455-469.

Collier, P. J., & Williams D. R. (2013). Reflection in action. In C. M. Cress, P. J. Collier, V. L. Reitenauer (Eds.), Learning through serving (pp. 95-121). Virginia: Stylus.

Conway, J. M., Amel, E. L., & Gerwien, D. P. (2009). Teaching and learning in the social context: A meta-analysis of service learning's effects on academic, personal, social, and citizenship outcomes. Teaching of Psychology, 36(4), 233-245.

Cooper, J. R. (2013). Ten years in the trenches: Faculty perspectives on sustaining service-learning. Journal of Experiential Education, 37(4), 415-428.

Cress, C. M., & Patton, J. P. (2013). Expanding Horizons. In C. M. Cress, P. J. Collier, V. L. Reitenauer (Eds.), Learning through serving (pp. 151-160). Virginia: Stylus.

Creswell, J. W. (2013). Qualitative inquiry and research design (3rd ed.). Thousand Oaks, CA: Sage.

Dewey, J. (1916). Democracy and education. New York, NY: Free Press.

Dewey, J. (1933). How we think: A Restatement of the relation of reflective thinking to the educative process. Chicago, IL: Henry Regnery.

Duh, G. D. (2008). High-impact educational practices: What they are, Who has access to them, and Why they matter. Washington, WA: Association of American Colleges and Universities.

Erickson, J. A. (2009). Service-learning's impact on attitudes and behavior. In J. R. Strait & M. Lima (Eds.), The Future of service-learning (pp.106-118). Virginia: Stylus.

Eyler, J. (2002). Reflection: Linking service and learning – Linking students and communities. Journal of Social Issues, 58(3), 517-534.

Eyler, J., & Giles, D. E. (1999). Where's the learning in service-learning? San Francisco, CA: Jossey-Bass.

Festinger, L. (1957). A theory of cognitive dissonance. Stanford, CA: Stanford University Press.

Freire, P. (1970). Pedagogy of the oppressed. New York, NY: The Seabury Press.

Fullerton, A., Reitenauer, V. L., & Kerrigan, S. M. (2015). A grateful recollecting: A qualitative study of the long-term impact of service-learning graduates. Journal of Higher Education Outreach and Engagement, 19(2), 65-92.

Habermas, J. (1971). Knowledge and human interests. Boston, MA: Beacon Press.

Hardy, J., Bates, S. P., Casey, M. M., Galloway, K. W., Galloway, R. K., Kay, A. E., Kirsop P., & McQueen, H. A. (2014). Student-generated content: Enhancing learning through sharing multiple-choice questions. International Journal of Science Education, 36(13), 2180-2194.

Harvey, M. (2016). Editorial – Reflection for learning in higher education. Journal of University Teaching and Learning Practice, 13(2), 1-9.

Hatcher, J. H., & Bringle, R. G. (1997). Reflection: Bridging the gap between service and learning. College Teaching, 45(4), 153-158.

Hébert, C. (2015). Knowing and/or experiencing: A critical examination of the reflective models of John Dewey and Donald Schön. Reflective Practice, 16(3), 361-371.

Heery, E., & Noon, M. (2017). A Dictionary of human resource management (3rd ed.). Oxford, UK: Oxford University Press.

Jacoby, B. (2015). Service-learning essentials. San Francisco, CA: John Wiley & Sons.

Kiely, R. (2005). A transformative learning model for service-learning: A longitudinal case study. Michigan Journal of Community Service, 12(1), 5-22.

Killion, J. P., & Todnem, G. R. (1991). A process of personal theory building. Educational Leadership, 48(6), 14-17.

Kolb, D. A. (1984). Experiential learning: Experience as the source of learning and development (Vol.1). Englewood Cliffs, NJ: Prentice-Hall.

Kreber, C., & Castleden, H. (2008). Reflection on teaching and epistemological structure: Reflective and critically reflective processes in 'pure/soft' and 'pure/hard' fields. Higher Education, 57(4), 509-531.

Loughran, J. J. (1996). Developing reflective practice: Learning about teaching and learning through modeling. Washington, WA: Falmer Press.

McAlpine, L., Weston, C., Berthiaume, D., Fairbank-Roch, G., & Owen, M. (2004). Reflection on teaching. Types and goals of reflection. Educational Research and Evaluation, 10(4), 337-363.

McEwen, M. K. (1996). Enhancing student learning and development through service-learning. In B. Jacoby and associates (Eds.), Service-learning in higher education: Concepts and practices (pp. 53-91). San Francisco: Jossey-Bass.

Mezirow, J. (1991). Transformative dimensions of adult learning. San Francisco, CA: Jossey-Bass.

Mezirow, J. (1994). Understanding transformation theory. Adult Education Quarterly, 44(4), 222-232.

Molee, L. M., Henry, M. E., Sessa, V. I., & McKinney-Prupis, E. R. (2010). Assessing learning in service-learning courses through critical reflection. Journal of Experiential Education, 33(3), 239-257.

Moon, J. A. (2004). Reflection in learning and professional development: Theory and practice. London, UK: Kogan Page.

Nummedal, S. G. (1996). Assessment and reflective teaching. Innovative Higher Education, 21(1), 39-48.

Rogers, R. R. (2001). Reflection in higher education: A concept analysis. Innovative Higher Education, 26(1), 37-57.

Perseus digital library (2007). G.R. Crane (Ed.). Tufts University. http://www.perseus.tufts.edu/hopper/ (accessed May 12, 2020).

Schön, D.A. (1983). Reflective practitioner. New York, NY: Basic Books.

Schön, D.A. (1987). Educating the reflective practitioner. San Francisco, CA: Jossey-Bass.

Simpson, R. D. (1996). The challenging task of assessment in higher education. Innovative Higher Education, 21(7), 69-72.

Tonkin, H., & Quiroga, D. (2015). A qualitative approach to the assessment of international service-learning. The Forum on Education Abroad (pp. 131-149).

Van Beveran, L., Roets, G., Buysse, A., & Rutten, K. (2018). We all reflect, but why? A systematic review of the purposes of reflection in higher education in social and behavioral sciences. Educational Research Review, 24, 1-9.
Funding
The study was partially supported by Grant PolyU4/T&L/16–19 from the Hong Kong University Grants Committee and the Service-Learning and Leadership Office of the Hong Kong Polytechnic University.
Ethics declarations
This paper is part of a research project approved by The Hong Kong Polytechnic University's Human Subjects Ethics Sub-committee, reference no.HSEARS20201110007.
Conflicts of Interest/Competing Interests
The authors declare that they have no conflict of interest.
Consent to Publish
Not applicable.
Code Availability (Software Application or Custom Code)
Custom code (inductive coding) as explained and shown in the article.
Additional information
Publisher's Note
Springer Nature remains neutral with regard to jurisdictional claims in published maps and institutional affiliations.
About this article
Cite this article
Camus, R.M., Ngai, G., Kwan, K.P. et al. Knowing where we Stand: Mapping Teachers' Conception of Reflection in Service-Learning. Innov High Educ (2021). https://doi.org/10.1007/s10755-020-09534-6
Keywords
Reflection

Service-learning

Experiential pedagogy

Transformative education/learning