Abstract
Osteoarthritis (OA) is a chronic degenerative joint disease which is greatly affected by the inflammatory response triggered by the NF-κB signaling pathway. Alpinetin (APT) is a natural flavonoid compound, which has been reported to have many important biological activities such as antibacterial, antitumor, and anti-inflammatory. However, the action of its effect on chondrocytes in OA has yet to be elucidated. In this study, we investigated APT's anti-inflammatory action. The effects of APT on cell viability and cytotoxicity of rat chondrocytes was investigated by CCK8. Western blotting, qRT-PCR, and immunofluorescent staining were used to elucidate the molecular mechanisms and signaling pathways of APT mediating anti-inflammatory effects on chondrocytes. An OA model was induced by destabilization of the medial meniscus (DMM) in rats, then APT was injected into the knee articular cavity to examine its anti-inflammatory effects in vivo. These results showed that APT could reduce the TNF-α-induced increase of MMP-13 and ADAMTS-5 and decrease of COL2A1 levels. APT antagonized TNF-α-induced down-regulation of BCL-2 and CDK1. Further studies have shown that APT simultaneously repressed cell nucleus translocation of p65 and the phosphorylation of IκB and activated the phosphorylation of ERK. In vivo, APT suppressed cartilage matrix degradation. In conclusion, APT appears to favorably modulate anti-inflammatory effects in chondrocytes making it a promising compound for OA treatment.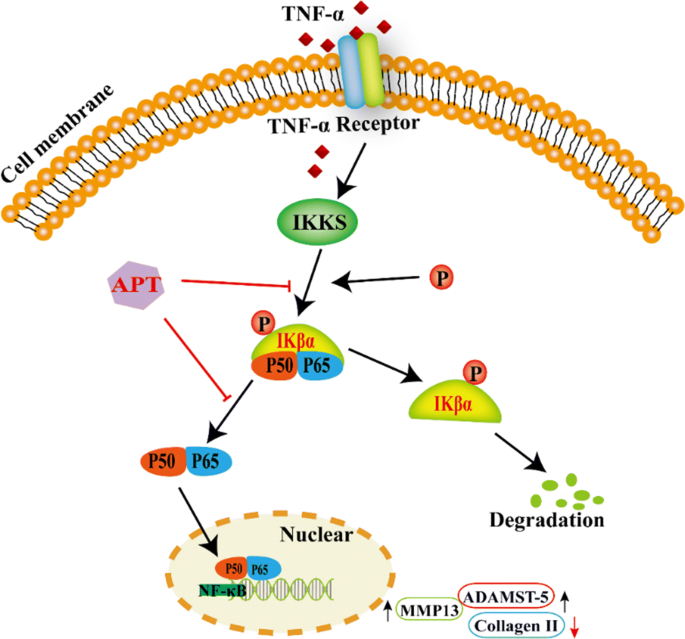 This is a preview of subscription content, log in to check access.
Access options
Buy single article
Instant access to the full article PDF.
US$ 39.95
Price includes VAT for USA
Subscribe to journal
Immediate online access to all issues from 2019. Subscription will auto renew annually.
US$ 199
This is the net price. Taxes to be calculated in checkout.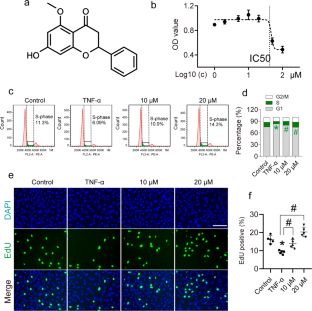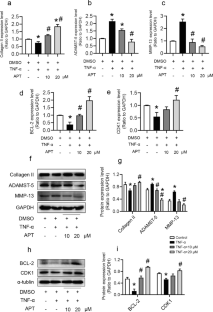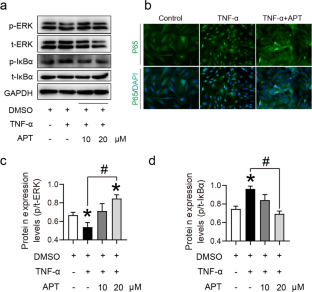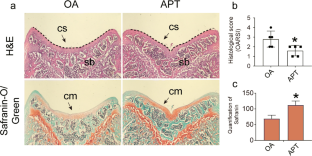 References
1.

Aicher, W.K., and B. Rolauffs. 2014. The spatial organisation of joint surface chondrocytes: review of its potential roles in tissue functioning, disease and early, preclinical diagnosis of osteoarthritis. Annals of the Rheumatic Diseases 73 (4): 645–653.

2.

Thysen, S., F.P. Luyten, and R.J.U. Lories. 2015. Targets, models and challenges in osteoarthritis research. Disease Models & Mechanisms 8 (1): 17–30.

3.

Pasternak, B.R., and P.J.A.O. Aspenberg. 2009. Metalloproteinases and their inhibitors—Diagnostic and therapeutic opportunities in orthopedics. Acta Orthopaedica 80 (6): 693–703.

4.

Santangelo, K.S., G.J. Nuovo, and A.L. Bertone. 2012. In vivo reduction or blockade of interleukin-1β in primary osteoarthritis influences expression of mediators implicated in pathogenesis. Osteoarthritis and Cartilage20 (12).

5.

Vilá, S. 2017. Inflammation in osteoarthritis. Puerto Rico Health Sciences Journal 36 (3): 123–129.

6.

Xing, Y., L. Wang, C. Wang, Y. Zhang, Y. Zhang, L. Hu, X. Gao, L. Han, and W. Yang. 2019. Pharmacokinetic studies unveiled the drug-drug interaction between trans-2,3,5,4′-tetrahydroxystilbene-2-O-beta-d-glucopyranoside and emodin that may contribute to the idiosyncratic hepatotoxicity of Polygoni Multiflori radix. Journal of Pharmaceutical and Biomedical Analysis 164: 672–680.

7.

Shakibaei, M., T. John, G. Schulze-Tanzil, I. Lehmann, and A. Mobasheri. 2007. Suppression of NF-kappaB activation by curcumin leads to inhibition of expression of cyclo-oxygenase-2 and matrix metalloproteinase-9 in human articular chondrocytes: Implications for the treatment of osteoarthritis. Biochemical Pharmacology 73 (9): 1434–1445.

8.

M, C., Topical herbal therapies for treating osteo-arthritis. Journal of Evidence-Based Medicine, 2013. 6(3).

9.

He, W., Y. Li, C. Xue, Z. Hu, X. Chen, and F. Sheng. 2005. Effect of Chinese medicine alpinetin on the structure of human serum albumin. Bioorganic & Medicinal Chemistry 13 (5): 1837–1845.

10.

Fu, B., et al. 2018. The protective effects of Ciji-Hua'ai-Baosheng II formula on chemotherapy-treated H22 hepatocellular carcinoma mouse model by promoting tumor apoptosis. Frontiers in Pharmacology 9: 1539.

11.

Gong, K., W. Shao, H. Chen, Z. Wang, and Z.J. Luo. 2011. Rat model of lumbar facet joint osteoarthritis associated with facet-mediated mechanical hyperalgesia induced by intra-articular injection of monosodium iodoacetate. Journal of the Formosan Medical Association 110 (3): 145–152.

12.

Meixia, et al. 2012. Traditional medicine alpinetin inhibits the inflammatory response in Raw 264.7 cells and mouse models. International Immunopharmacology12 (1): 241–248.

13.

Wang, Z. 2011. Alpinetin suppresses proliferation of human hepatoma cells by the activation of MKK7 and elevates sensitization to cis-diammined dichloridoplatium. Oncology Reports 27: –1090.

14.

Chen, H., X. Mo, J. Yu, and Z. Huang. 2013. Alpinetin attenuates inflammatory responses by interfering toll-like receptor 4/nuclear factor kappa B signaling pathway in lipopolysaccharide-induced mastitis in mice. International Immunopharmacology 17 (1): 26–32.

15.

Ke, et al. 2013. Alpinetin inhibits LPS-induced inflammatory mediator response by activating PPAR-γ in THP-1-derived macrophages. European Journal of Pharmacology721 (1–3): 96–102.

16.

He, X., et al. 2016. Alpinetin attenuates inflammatory responses by suppressing TLR4 and NLRP3 signaling pathways in DSS-induced acute colitis. Scientific Reports 6: 28370.

17.

Wang, C., et al. 2019. Psoralen protects chondrocytes, Exhibits Anti-Inflammatory Effects on Synoviocytes, and Attenuates Monosodium Iodoacetate-Induced Osteoarthritis. International Journal of Biological Science 15 (1): 229–238.

18.

Chunli, W., et al. 2018. Different expression profiles of the lysyl oxidases and matrix metalloproteinases in human ACL fibroblasts after co-culture with synovial cells. Connective Tissue Research 59 (4): 369–380.

19.

Morais, S.V.D., N.G. Czeczko, O. Malafaia, J.M. Ribas Filho, J.B.S. Garcia, M.T. Miguel, C. Zini, and A.G. Massignan. 2016. Osteoarthritis model induced by intra-articular monosodium iodoacetate in rats knee. Acta Cirurgica Brasileira 31 (11): 765–773.

20.

Vasheghani, F., et al. 2015. Extended report: PPARγ deficiency results in severe, accelerated osteoarthritis associated with aberrant mTOR signalling in the articular cartilage. Annals of the Rheumatic Diseases74 (3): 569.

21.

Song, Y., K. Xu, C. Yu, L. Dong, P. Chen, Y. Lv, M.Y.M. Chiang, L. Li, W. Liu, and L. Yang. 2018. The use of mechano growth factor to prevent cartilage degeneration in knee osteoarthritis. Journal of Tissue Engineering and Regenerative Medicine 12 (3): 738–749.

22.

Xu, K., M.K. al-ani, Y. Sun, W. Xu, L. Pan, Y. Song, Z.L. Xu, X. Pan, and L. Yang. 2017. Platelet-rich plasma activates tendon-derived stem cells to promote regeneration of Achilles tendon rupture in rats. Journal of Tissue Engineering and Regenerative Medicine 11 (4): 1173–1184.

23.

Xu, K., Y. Sha, S. Wang, Q. Chi, Y. Liu, C. Wang, and L. Yang. 2019. Effects of Bakuchiol on chondrocyte proliferation via the PI3K-Akt and ERK1/2 pathways mediated by the estrogen receptor for promotion of the regeneration of knee articular cartilage defects. Cell Proliferation 52 (5): e12666.

24.

S, B.P, Matrix Metalloproteinases: Role In Arthritis. Frontiers in Bioscience, 2006. 11(1): 529

25.

Wang, C., M.K. al-ani, Y. Sha, Q. Chi, N. Dong, L. Yang, and K. Xu. 2019. Psoralen protects chondrocytes, exhibits anti-inflammatory effects on synoviocytes, and attenuates monosodium Iodoacetate-induced osteoarthritis. International Journal of Biological Sciences 15 (1): 229–238.

26.

Hamamura, K., P. Zhang, L. Zhao, J.W. Shim, A. Chen, T.R. Dodge, Q. Wan, H. Shih, S. Na, C.C. Lin, H.B. Sun, and H. Yokota. 2013. Knee loading reduces MMP13 activity in the mouse cartilage. BMC Musculoskeletal Disorders 14: 312.

27.

Takaishi, H., T. Kimura, S. Dalal, et al. 2008. Joint Diseases and Matrix Metalloproteinases: A Role for MMP-13. Current Pharmaceutical Biotechnology9 (1): 47–54.

28.

Larkin, J., T.A. Lohr, L. Elefante, J. Shearin, R. Matico, J.L. Su, Y. Xue, F. Liu, C. Genell, R.E. Miller, P.B. Tran, A.M. Malfait, C.C. Maier, and C.J. Matheny. 2015. Translational development of an ADAMTS-5 antibody for osteoarthritis disease modification. Osteoarthritis and Cartilage 23 (8): 1254–1266.

29.

Oeckinghaus, A., and S. Ghosh. 2009. The NF-kappaB family of transcription factors and its regulation. Cold Spring Harbor Perspectives in Biology 1 (4): a000034.
Funding
This work was supported by National Natural Science Foundation of China (11902058, 11532004, 11832008). Chongqing Postdoctoral Science Foundation (cstc2019jcyj-bsh0059).
Ethics declarations
Conflict of Interest
No potential conflicts of interest were disclosed.
Additional information
Publisher's Note
Springer Nature remains neutral with regard to jurisdictional claims in published maps and institutional affiliations.
About this article
Cite this article
Gao, Y., Wang, S., He, L. et al. Alpinetin Protects Chondrocytes and Exhibits Anti-Inflammatory Effects via the NF-κB/ERK Pathway for Alleviating Osteoarthritis. Inflammation (2020). https://doi.org/10.1007/s10753-020-01248-3
KEY WORDS
osteoarthritis

anti-inflammation

TNF-α-induced

alpinetin

NF-κB/ ERK1/2