Abstract
Interleukin (IL)-35 is a novel anti-inflammatory cytokine that is produced by regulatory T cells. IL-35 is reported to suppress IL-17A-producing helper T (Th17) cell activation. IL-17A is related to progression of periodontitis. Furthermore, IL-35 and IL-17A are detected in human gingival crevicular fluid. However, the effect of IL-35 and interaction between IL-35 and IL-17A on pro-inflammatory cytokine production in human periodontal resident cells are still unclear. The aim of this study was to clarify the effect of IL-35 on IL-6 and IL-8 production in human periodontal ligament cells (HPDLCs) stimulated with IL-17A. IL-35 inhibited IL-6 and IL-8 production in IL-17A-stimulated HPDLCs. Moreover, western blot analysis showed that IL-35 suppressed extracellular signal-regulated kinase (ERK) and nuclear factor (NF)-κB p65 phosphorylation in IL-17A-stimulated HPDLCs. Our findings suggested that IL-35 produced from regulatory T cells might inhibit progression of periodontitis by decreasing IL-17A-induced levels of IL-6 and IL-8.
This is a preview of subscription content, log in to check access.
Access options
Buy single article
Instant access to the full article PDF.
US$ 39.95
Price includes VAT for USA
Subscribe to journal
Immediate online access to all issues from 2019. Subscription will auto renew annually.
US$ 199
This is the net price. Taxes to be calculated in checkout.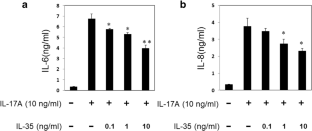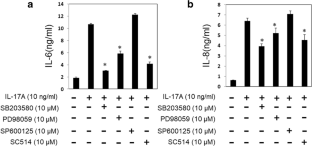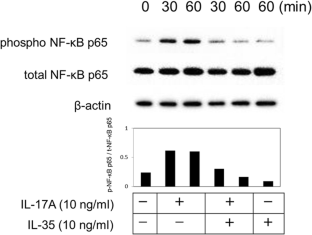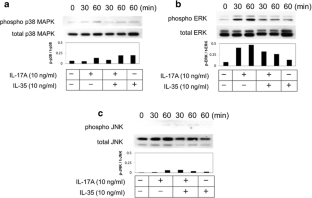 References
1.

Taubman, M.A., H. Yoshie, J.L. Ebersole, D.J. Smith, and C.L. Olson. 1984. Host response in experimental periodontal disease. Journal of Dental Research 63: 455–460.

2.

Cardoso, C.R., G.P. Garlet, G.E. Crippa, A.L. Rosa, W.M. Júnior, M.A. Rossi, and J.S. Silva. 2009. Evidence of the presence of T helper type 17 cells in chronic lesions of human periodontal disease. Oral Microbiology and Immunology 24: 1–6.

3.

Kotake, S., N. Udagawa, N. Takahashi, K. Matsuzaki, K. Itoh, S. Ishiyama, S. Saito, K. Inoue, N. Kamatani, M.T. Gillespie, T.J. Martin, and T. Suda. 1999. IL-17 in synovial fluids from patients with rheumatoid arthritis is a potent stimulator of osteoclastogenesis. Journal of Clinical Investigation 103: 1345–1352.

4.

Shibata, M., Y. Shintaku, K. Matsuzaki, and S. Uematsu. 2014. The effect of IL-17 on the production of proinflammatory cytokines and matrix metalloproteinase-1 by human periodontal ligament fibroblasts. Orthodontics & Craniofacial Research 17 (1): 60–68.

5.

Bendtzen, K. 1988. Interleukin 1, interleukin 6 and tumor necrosis factor in infection, inflammation and immunity. Immunology Letters 19: 183–191.

6.

Hashizume, M., N. Hayakawa, and M. Mihara. 2008. IL-6 trans-signalling directly induces RANKL on fibroblast-like synovial cells and is involved in RANKL induction by TNF-alpha and IL-17. Rheumatology 47: 1635–1640.

7.

Bettelli, E., Y. Carrier, W. Gao, T. Korn, T.B. Strom, M. Oukka, H.L. Weiner, and V.K. Kuchroo. 2006. Reciprocal developmental pathways for the generation of pathogenic effector TH17 and regulatory T cells. Nature 441: 235–238.

8.

Fredriksson, M., K. Bergström, and B. Asman. 2002. IL-8 and TNF-alpha from peripheral neutrophils and acute-phase proteins in periodontitis. Journal of Clinical Periodontology 29: 123–128.

9.

Devergne, O., M. Birkenbach, and E. Kieff. 1997. Epstein–Barr virus-induced gene 3 and the p35 subunit of interleukin 12 form a novel heterodimeric hematopoietin. Proceedings of the National Academy of Sciences 94: 12041–12046.

10.

Collison, L.W., C.J. Workman, T.T. Kuo, K. Boyd, Y. Wang, K.M. Vignali, R. Cross, D. Sehy, R.S. Blumberg, and D.A. Vignali. 2007. The inhibitory cytokine IL-35 contributes to regulatory T-cell function. Nature 450: 566–569.

11.

Shen, P., T. Roch, V. Lampropoulou, R.A. O'Connor, U. Stervbo, E. Hilgenberg, S. Ries, V.D. Dang, Y. Jaimes, C. Daridon, R. Li, L. Jouneau, P. Boudinot, S. Wilantri, I. Sakwa, Y. Miyazaki, M.D. Leech, R.C. McPherson, S. Wirtz, M. Neurath, K. Hoehlig, E. Meinl, A. Grützkau, J.R. Grün, K. Horn, A.A. Kühl, T. Dörner, A. Bar-Or, S.H.E. Kaufmann, S.M. Anderton, and S. Fillatreau. 2014. IL-35-producing B cells are critical regulators of immunity during autoimmune and infectious diseases. Nature 507: 366–370.

12.

Olson, B.M., E. Jankowska-Gan, J.T. Becker, D.A. Vignali, W.J. Burlingham, and D.G. McNeel. 2012. Human prostate tumor antigen-specific CD8+ regulatory T cells are inhibited by CTLA-4 or IL-35 blockade. Journal of Immunology 189: 5590–5601.

13.

Okada, K., T. Fujimura, T. Kikuchi, M. Aino, Y. Kamiya, A. Izawa, Y. Iwamura, H. Goto, I. Okabe, E. Miyake, Y. Hasegawa, M. Mogi, and A. Mitani. 2017. Effect of interleukin (IL)-35 on IL-17 expression and production by human CD4+ T cells. PeerJ 5: e2999.

14.

Wang, R.X., C.R. Yu, R.M. Mahdi, and C.E. Egwuagu. 2012. Novel IL27p28/IL12p40 cytokine suppressed experimental autoimmune uveitis by inhibiting autoreactive Th1/Th17 cells and promoting expansion of regulatory T cells. Journal of Biological Chemistry 287: 36012–36021.

15.

Thiolat, A., A. Denys, M. Petit, J. Biton, D. Lemeiter, R. Herve, D. Lutomski, M.C. Boissier, and N. Bessis. 2014. Interleukin-35 gene therapy exacerbates experimental rheumatoid arthritis in mice. Cytokine 69: 87–93.

16.

Mitani, A., W. Niedbala, T. Fujimura, M. Mogi, S. Miyamae, N. Higuchi, A. Abe, T. Hishikawa, M. Mizutani, Y. Ishihara, H. Nakamura, K. Kurita, N. Ohno, Y. Tanaka, M. Hattori, and T. Noguchi. 2015. Increased expression of interleukin (IL)-35 and IL-17, but not IL-27, in gingival tissues with chronic periodontitis. Journal of Periodontology 86: 301–309.

17.

Shindo, S., Y. Hosokawa, I. Hosokawa, K. Ozaki, and T. Matsuo. 2014. Genipin inhibits IL-1β-induced CCL20 and IL-6 production from human periodontal ligament cells. Cellular Physiology and Biochemistry 33: 357–364.

18.

Jung, Y.J., Y.J. Choi, S.J. An, H.R. Lee, H.K. Jun, and B.K. Choi. 2017. Tannerella forsythia GroEL induces inflammatory bone resorption and synergizes with interleukin-17. Molecular Oral Microbiology 32: 301–313.

19.

Köseoğlu, S., M. Sağlam, T. Pekbağrıyanık, L. Savran, and R. Sütçü. 2015. Level of interleukin-35 in gingival crevicular fluid, saliva, and plasma in periodontal disease and health. Journal of Periodontology 24: 1–6.

20.

Wilson, N.J., K. Boniface, J.R. Chan, B.S. McKenzie, W.M. Blumenschein, J.D. Mattson, B. Basham, K. Smith, T. Chen, F. Morel, J.C. Lecron, R.A. Kastelein, D.J. Cua, T.K. McClanahan, E.P. Bowman, and Malefyt R. de Waal. 2007. Development, cytokine profile and function of human interleukin 17-producing helper T cells. Nature Immunology 8: 950–957.

21.

Takahashi, K., T. Azuma, H. Motohira, D.F. Kinane, and S. Kitetsu. 2005. The potential role of interleukin-17 in the immunopathology of periodontal disease. Journal of Clinical Periodontology 32: 369–374.

22.

Lin, D., L. Li, Y. Sun, W. Wang, X. Wang, Y. Ye, X. Chen, and Y. Xu. 2014. IL-17 regulates the expressions of RANKL and OPG in human periodontal ligament cells via TRAF6/TBK1-JNK/NF-κB pathways. Immunology 144: 472–485.

23.

Wu, Y., L. Zhu, L. Liu, J. Zhang, and B. Peng. 2014. Interleukin-17A stimulates migration of periodontal ligament fibroblasts via p38 MAPK/NF-κB-dependent MMP-1 expression. Journal of Cellular Physiology 229: 292–299.

24.

Wang, Y., Y. Mao, J. Zhang, G. Shi, L. Cheng, Y. Lin, Y. Li, X. Zhang, Y. Zhang, X. Chen, J. Deng, X. Su, L. Dai, Y. Yang, S. Zhang, D. Yu, Y. Wei, and H. Deng. 2018. IL-35 recombinant protein reverses inflammatory bowel disease and psoriasis through regulation of inflammatory cytokines and immune cells. Journal of Cellular and Molecular Medicine 22: 1014–1025.

25.

Zhang, X.H., Y. Zhou, J.M. Zhang, S.Y. Zhou, M. Wang, R. Feng, F.E. Feng, Q.M. Wang, X.L. Zhu, X.S. Zhao, M. Lv, Y. Kong, Y.J. Chang, and X.J. Huang. 2015. IL-35 inhibits acute graft-versus-host disease in a mouse model. International Immunopharmacology 29: 383–392.

26.

Wu, S., Y. Li, Y. Li, L. Yao, T. Lin, S. Jiang, H. Shen, L. Xia, and J. Lu. 2016. Interleukin-35 attenuates collagen-induced arthritis through suppression of vascular endothelial growth factor and its receptors. International Immunopharmacology 34: 71–77.

27.

Hu, L., C. Chen, J. Zhang, K. Wu, X. Zhang, H. Liu, and J. Hou. 2017. IL-35 pretreatment alleviates lipopolysaccharide-induced acute kidney injury in mice by inhibiting NF-κB activation. Inflammation 40: 1393–1400.

28.

Chen, X., S. Hao, Z. Zhao, J. Liu, Q. Shao, F. Wang, D. Sun, Y. He, W. Gao, and H. Mao. 2018. Interleukin 35: inhibitory regulator in monocyte-derived dendritic cell maturation and activation. Cytokine 108: 43–52.

29.

Sha, X., S. Meng, X. Li, H. Xi, M. Maddaloni, D.W. Pascual, H. Shan, X. Jiang, H. Wang, and X.F. Yang. 2015. Interleukin-35 inhibits endothelial cell activation by suppressing MAPK-AP-1 pathway. Journal of Biological Chemistry 290: 19307–19318.
Funding
This study was supported by Grants-in-Aid for Young Scientists (Start-up) from the Japan Society for the Promotion of Science KAKENHI (Grant No. JP17H06896).
Ethics declarations
Conflict of Interest
The authors declare that they have no conflict of interest.
Additional information
Publisher's Note
Springer Nature remains neutral with regard to jurisdictional claims in published maps and institutional affiliations.
About this article
Cite this article
Shindo, S., Hosokawa, Y., Hosokawa, I. et al. Interleukin (IL)-35 Suppresses IL-6 and IL-8 Production in IL-17A-Stimulated Human Periodontal Ligament Cells. Inflammation 42, 835–840 (2019). https://doi.org/10.1007/s10753-018-0938-9
KEY WORDS
IL-35

IL-17A

IL-6

IL-8

human periodontal ligament cells