Abstract
Ghrelin has a protective effect on diabetic encephalopathy. To expound the protective mechanism, we investigated the effects of ghrelin on high glucose-induced cell apoptosis and intracellular signaling in cultured PC12, which is a suitable model for studying neuronal cell death. High glucose-induced PC12 apoptosis was significantly inhibited by co-treatment of ghrelin. Sustaining inflammatory response is one of the molecular mechanisms of diabetic encephalopathy and TLR4 signaling has close relationship with inflammatory response. But there is no report about the biologic role of toll-like receptor 4/nuclear factor-κB (TLR4/NF-κB) signaling in controlling high glucose-induced PC12 apoptosis by ghrelin. In this study, we found that TLR4/NF-κB pathway was activated by high glucose stimulation in PC12 and significantly alleviated by the co-treatment of ghrelin. From these findings, we made the conclusion that ghrelin could attenuate the symptoms of diabetic encephalopathy, which alleviates inflammatory reaction of diabetic encephalopathy by regulating TLR4/NF-κB pathway.
Access options
Buy single article
Instant access to the full article PDF.
US$ 39.95
Tax calculation will be finalised during checkout.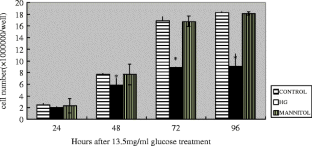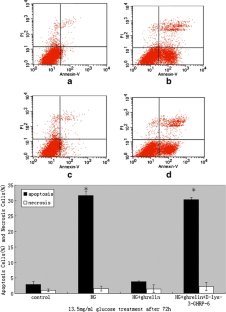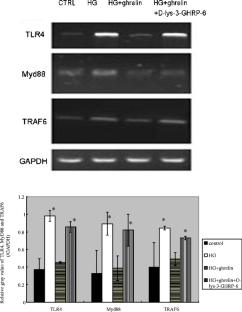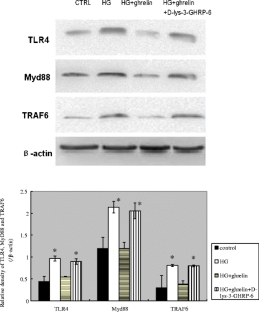 Abbreviations
TLR4/NF-κB:

Toll-like receptor 4/nuclear factor-κB

HG:

High glucose

TEM:

Transmission electron microscopy

FBS:

Fetal bovine serum

DMEM:

Dulbecco's modified Eagle's medium

DMSO:

Dimethyl sulfoxide

DEPC:

Diethylpyrocarbonate

SDS:

Sodium dodecyl sulfate

ECL:

Electrochemiluminescence

ATCC:

American Type Culture Collection

PBS:

Phosphate-buffered saline

MyD88:

Myeloid differentiation primary response gene 88

TRAF6:

Human tumor necrosis factor receptor-associated factor 6
REFERENCES
1.

Biessels, G.J., I.J. Deary, and C.M. Ryan. 2008. Cognition and diabetes: a life span perspective. Lancet Neurology 7: 184–190.

2.

Ferguson, S.C., A. Blane, J. Wardlaw, et al. 2005. Influence of early onset age of type 1 diabetes on cerebral structure and cognitive function. Diabetes Care 28: 1431–1437.

3.

Perantie, D.C., J. Wu, J.M. Koller, et al. 2007. Regional brain volume differences associated with hyperglycemia and severe hypoglycemia in youth with type 1 diabetes. Diabetes Care 30: 2331–2337.

4.

Hoffman, W.H., C.M. Artlett, W. Zhang, et al. 2008. Receptor for advanced glycation end products and neuronal deficit in fatal brain edema of diabetic ketoacidosis. Brain Research 1238: 154–162.

5.

Francis, G.J., J.A. Martinez, W.Q. Liu, et al. 2008. Intranasal insulin prevents cognitive decline, cerebral atrophy and white matter changes in murine type 1 diabetic encephalopathy. Brain 131(Pt 12): 3311–3334.

6.

Wu, R., M. Zhou, P. Das, et al. 2007. Ghrelin inhibits sympathetic nervous activity in sepsis. American Journal of Physiology. Endocrinology and Metabolism 293: E1697–E1702.

7.

Wu, R., W. Dong, M. Zhou, et al. 2007. Ghrelin attenuates sepsis-induced acute lung injury and mortality in rats. American Journal of Respiratory and Critical Care Medicine 176: 805–813.

8.

Cowley, M.A., R.G. Smith, S. Diano, et al. 2003. The distribution and mechanism of action of ghrelin in the CNS demonstrates a novel hypothalamic circuit regulating energy homeostasis. Neuron 37: 649–661.

9.

Lin, Y., K. Matsumura, M. Fukuhara, et al. 2004. Ghrelin acts at the nucleus of the solitary tract to decrease arterial pressure in rats. Hypertension 43: 977–982.

10.

Zhang, W., T.R. Lin, Y. Hu, et al. 2004. Ghrelin stimulates neurogenesis in the dorsal motor nucleus of the vagus. The Journal of Physiology 559: 729–737.

11.

Navarro-González, J.F., and C. Mora-Fernández. 2008. The role of inflammatory cytokines in diabetic nephropathy. Journal of the American Society of Nephrology 19: 433–442.

12.

Teng, W., L. Wang, W. Xue, and C. Guan. 2009. Activation of TLR4-mediated NFkappaB signaling in hemorrhagic brain in rats. Mediators of Inflammation 2009: 473276.

13.

Martin, T.F., and R.N. Grishanin. 2003. PC12 cells as a model for studies of regulated secretion in neuronal and endocrine cells. Methods in Cell Biology 71: 267–286.

14.

Abid-Essefi, S., I. Baudrimont, W. Hassen, et al. 2003. DNA fragmentation, apoptosis and cell cycle arrest induced by zearalenone in cultured DOK, Vero and Caco-2 cells: prevention by vitamin E. Toxicology 192: 237–248.

15.

Pickup, J.C. 2004. Inflammation and activated innate immunity in the pathogenesis of type 2 diabetes. Diabetes Care 27(3): 813–823.

16.

Spranger, J., A. Kroke, M. Mohlig, et al. 2003. Inflammatory cytokines and the risk to develop type2 diabetes: results of the prospective population-based European Prospective Investigation into Cancer and Nutrition (EPIC)-Potsdam study. Diabetes 52: 812–817.

17.

Thorand, B., H. Lowel, A. Schneider, et al. 2003. C-reactive protein as a predictor for incident diabetes mellitus among middle-aged men: results from the MONICA Augsburg cohort study. Archives of Internal Medicine 163: 93–99.

18.

Lontchi-Yimagou, Eric, et al. 2013. Diabetes mellitus and inflammation. Current Diabetes Reports 13(3): 435–444.

19.

Kempf, Kerstin, et al. 2006. Inflammation in metabolic syndrome and type 2 diabetes impact of dietary glucose. Annals of the New York Academy of Sciences 1084: 30–48.

20.

Sima, Anders A.F., Weixian Zhang, Christian W. Kreipke, et al. 2009. Inflammation in diabetic encephalopathy is prevented by C-peptide. Rev Diabet Stud 6(1): 37–42.

21.

Sharifi, Ali M., Seyed Hadi Mousavi, and Mona Farhadi. 2007. Study of high glucose-induced apoptosis in PC12 cells: role of Bax protein. J Pharmacol Sci 104: 258–262.

22.

Miao, Y., Q. Xia, Z. Hou, et al. 2007. Ghrelin protects cortical neuron against focal ischemia/reperfusion in rats. Biochemical and Biophysical Research Communications 359: 795–800.

23.

Ma, Louyan, Dongmin Zhang, Yong Tang, et al. 2011. Ghrelin-attenuated cognitive dysfunction in streptozotocin-induced diabetic rats. Alzheimer Disease and Associated Disorders 25: 352–363.

24.

Dolgor, B., P. Kalpesh, and D.T. Dennis. 2011. The effects of ghrelin on inflammation and the immune system. Molecular and Cellular Endocrinology 340: 44–58.

25.

Madison, L.D., J.M. Scarlett, P. Levasseur, et al. 2008. Prostacyclin signaling regulates circulating ghrelin during acute inflammation. Journal of Endocrinology 196: 263–273.

26.

Dixit, V.D., et al. 2009. Reduction of T cell-derived ghrelin enhances proinflammatory cytokine expression: implications for age-associated increases in inflammation. Blood 113(21): 5202–5205.

27.

Wei, G.L., et al. 2004. Ghrelin inhibits proinflammatory responses and nuclear factor-κB activation in human endothelial cells. Circulation 109: 2221–2226.

28.

Cletus, C., et al. 2011. Ghrelin suppresses inflammation and neuronal nitric oxide synthase in focal cerebral ischemia via the vagus nerve. Shock 35(3): 258–265.

29.

Talat, W., et al. 2008. Exogenous ghrelin modulates release of pro- and anti-inflammatory cytokines in LPS-stimulated macrophages through distinct signaling pathways. Surgery 143(3): 334–342.

30.

Downes, C.E., and P.J. Crack. 2010. Neural injury following stroke: are Toll-like receptors the link between the immune system and the CNS. British Journal of Pharmacology 160: 1872–1888.

31.

Racke, M.K., and P.D. Drew. 2009. Toll-like receptors in multiple sclerosis. Current Topics in Microbiology and Immunology 336: 155–168.
ACKNOWLEDGMENTS
Our work was supported by grants from both the Key Projects of Medical Science sponsored by Chongqing Municipal Health Bureau in the People's Republic of China (2010-1-8) and the Natural Science Foundation of Chongqing in the People's Republic of China (CSTC, 2010BB5396). The study is also supported by the National Foundation of Natural Science of China (no. 81170752).
Conflict of interest
The authors declare no competing interests.
About this article
Cite this article
Liu, X., Xiao, Q., Zhao, K. et al. Ghrelin Inhibits High Glucose-Induced PC12 Cell Apoptosis by Regulating TLR4/NF-κB Pathway. Inflammation 36, 1286–1294 (2013). https://doi.org/10.1007/s10753-013-9667-2
KEY WORDS
PC12

ghrelin

high glucose

TLR4/NF-κB pathway

inflammation