Abstract
The formation of foams on lakes is a complex phenomenon whose origin is often hardly identifiable. Recently (2007, 2008, and 2010) foam episodes started to occur in Lake Maggiore, northern Italy. The present work aimed to verify the hypothesis of an endogenous-natural origin of these foams, driven by trophic or climatic changes. To this purpose, a long-term (2000–2013) analysis of phytoplankton biovolumes, meteorological, and hydrological data has been performed together with the chemical characterization of foams. Foams resulted of endogenous origin and likely related to phytoplankton biomass degradation. Data analysis highlighted atypical warm temperature and residual lake stratification in winter in two of the three years of foam events, coupled with exceptional Bacyllariophyceae blooms in spring. Tabellaria flocculosa mostly contributed in terms of biomass in 2007 and 2008, but not in 2010; thus overall algal biomass seemed a better predictor of the risk of foam formation. Foam events occurred from July to December, driven by atypically windy conditions, and congruently with the time needed to degrade biomass into surface-active compounds. A co-occurrence of different factors resulted essential to generate foams, and climate changes likely contribute to enhance their occurrence in Lake Maggiore.
Access options
Buy single article
Instant access to the full article PDF.
USD 39.95
Price includes VAT (USA)
Tax calculation will be finalised during checkout.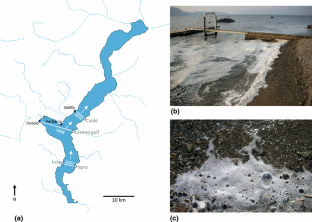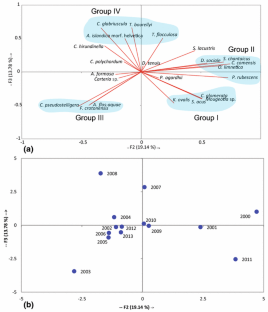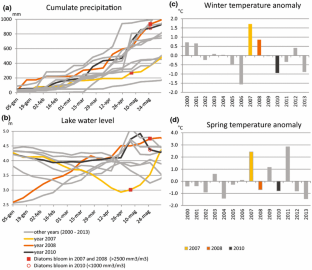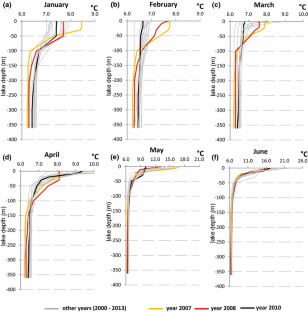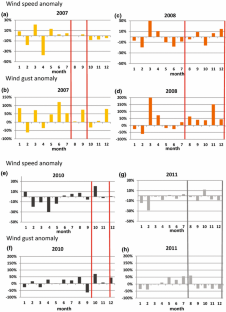 References
Ambrosetti, W., L. Barbanti & A. Rolla, 2006. The climate of Lake Maggiore during the last fifty years. Journal of Limnology 65: 1–62.

APAT-CNR-IRSA, 2003. Metodo per tensioattivi anionici. 5170, In: APAT-CNR-IRSA, Metodi analitici per le acque,n. 29/2003: 827–831.

ASTM, 1976. Standards Annual Book, Part 31, "Water", Standard D 2330e68, Method A: 494 pp.

Baldi, E., 1949. La situation actuelle de la recherche limnologique après le Congrès de Zurich. Revue suisse Hydrologie 11: 637–649.

Bertoni, R. & C. Callieri, 2014. Cambiamenti climatici e fioriture di cianobatteri tossici: anche I laghi oligotrofi sono potenziali vittime. Nimbus 72: 168–170.

Boschker, H. T. S., E. M. J. Dekkers, R. Pel & T. E. Cappenberg, 1995. Sources of organic-carbon in the litthoral of Lake Gloomier as indicated by stable carbon-isotope and carbohydrate compositions. Biogeochemistry 29: 89–105.

Breton, E., V. Rousseau, J. Y. Parent, J. Ozer & C. Lancelot, 2006. Hydroclimatic modulation of diatom/Phaeocystis blooms in nutrient-enriched Belgian coastal waters (North Sea). Limnology and Oceanography 51: 1401–1409.

Bowmer, K. H., A. Padovan, R. L. Oliver, W. Korth & G. G. Ganf, 1992. Physiology of geosmin production by Anabaena circinalis isolated from the Murrumbidgee River, Australia. Water Science and Technology 25: 259–267.

Carvalho, L., C. McDonald, C. de Hoyos, U. Mischke, G. Phillips, G. Borics, S. Poikane, B. Skjelbred, A. L. Solheim, J. Van Wichelen & A. C. Cardoso, 2013. Sustaining recreational quality of European lakes: minimizing the health risks from algal blooms through phosphorus control. Journal of Applied Ecology 50: 315–323.

Chorus, I. & J. Bartram, 1999. Toxic Cyanobacteria in Water: A guide to their public health consequences, monitoring and management. Published on behalf of WHO by E&FN Spon, London.

C.N.R.-I.S.E. Sezione di Idrobiologia ed Ecologia delle Acque Interne, 2003. Ricerche sull'evoluzione del Lago Maggiore. Aspetti limnologici. Programma quinquennale 1998–2002. Campagna 2002. Commissione Internazionale per la protezione delle acque italo-svizzere.

C.N.R.-I.S.E. Sede di Verbania, 2008. Ricerche sull'evoluzione del Lago Maggiore. Aspetti limnologici. Programma quinquennale 2003–2007. Campagna 2007 e Rapporto quinquennale 2003–2007. Commissione Internazionale per la protezione delle acque italosvizzere.

C.N.R.-I.S.E. Sede di Verbania, 2013. Ricerche sull'evoluzione del Lago Maggiore. Aspetti limnologici. Programma quinquennale 2008–2012. Campagna 2012 e rapporto quinquennale. Commissione Internazionale per la protezione delle acque italo-svizzere.

C.N.R.-I.S.E. Sede di Verbania, 2014. Ricerche sull'evoluzione del Lago Maggiore. Aspetti limnologici. Programma triennale 2013–2015. Campagna 2013. Commissione Internazionale per la protezione delle acque italo-svizzere.

Craig, D., R. J. Ireland & F. Barlocher, 1989. Seasonal variation in the organic composition of seafoam. Journal of Experimental Marine Biology and Ecology 130: 71–80.

de Bernardi, R., G. Giussani, M. Manca & D. Ruggiu, 1988. Long-term dynamics of plankton communities in Lago Maggiore (N. Italy). Verhandlungen internationale Vereinigung Limnologie 23: 729–733.

Dokulil, M. & K. Teubner, 2011. Eutrophication and Climate Change: Present Situation and Future Scenarios. In Ansari, A. A., S. Singh Gill, G. R. Lanza & W. Rast (eds), Eutrophication: Czauses, Consequences and Control. Springer, Dodretch: 1–16.

Gorin, P. A. J. & M. Mazurek, 1975. Further studies on the assignment of signals in 13C magnetic resonance spectra of aldoses and derived methyl glycosides. Canadian Journal of Chemistry 53: 1212–1223.

Guilizzoni, P., G. Bonomi, G. Galanti & D. Ruggiu, 1983. Relationship between sedimentary pigments and primary production: evidence from core analyses of twelve Italian lakes. Hydrobiologia 103: 103–106.

Guilizzoni, P., G. Galanti & H. Muntau, 1989. The aquatic macrophytes of Lake Maggiore: species composition, spatial distribution and heavy metal concentrations in tissue. Memorie Istituto Italiano di Idrobiologia 46: 235–260.

Guzman, H. M., J. Cortes, P. W. Glynn & R. H. Richmond, 1990. Coral mortality associated with dinoflagellate blooms in the eastern Pacific (Costa-Rica and Panama). Marine Ecology Progress Series 60: 299–303.

Hessen, D. O. & S. Kaartvedt, 2014. Top-down cascades in lakes and oceans: different perspectives but same story? Journal of Plankton Research 36: 914–924.

Hillebrand, H., C. D. Dürselen, D. Kirschtel, U. Pollinger & T. Zohary, 1999. Biovolume calculation for pelagic and benthic microalgae. Journal of Phycology 35: 403–424.

Jessup, D. A., M. A. Miller, J. P. Ryan, H. M. Nevins, H. A. Kerkering, A. Mekebri, D. B. Crane, T. A. Johnson & R. M. Kudela, 2009. Mass stranding of marine birds caused by a surfactant-producing red tide. Plos One 4: e4550.

Jewell, W. J. & P. L. Mc Carty, 1971. Aerobic decomposition of algae. Environmental Science and Technology 5: 1023–1031.

Langmuir, I., 1938. Surface motion of water induced by wind. Science 87: 119–123.

Lu, K. H., C. H. Jin, S. L. Dong, B. H. Gu & S. H. Bowen, 2006. Feeding and control of blue-green algal blooms by tilapia (Oreochromis niloticus). Hydrobiologia 568: 111–120.

Lund, J. W. G., C. Kipling & E. D. Le Cren, 1958. The inverted microscope method of estimating algal numbers and the statistical basis of estimations by counting. Hydrobiologia 11: 143–170.

Manca, M. & R. Bertoni, 2014. Seventy five years of limnology at the Istituto Italiano di Idrobiologia in Pallanza. Journal of Limnology 73: 5–19.

Manca, M., A. Calderoni & R. Mosello, 1992. Limnological research in Lago Maggiore: studies on hydrochemistry and plankton. Memorie Istituto italiano Idrobiologia 50: 171–200.

Mosello, R. & D. Ruggiu, 1985. Nutrient load, trophic conditions and restoration prospects of Lake Maggiore. Internationale Revue der gesamten Hydrobiologie 70: 63–75.

Morabito, G., 2014. Fluttuazioni ultraventennali dei parametri meteo-climatici nel bacino del Lago Maggiore e risposta del fitoplancton. Nimbus 72: 171–173.

Morabito, G. & A. Pugnetti, 2000. Primary productivity and related variables in the course of the trophic evolution of Lake Maggiore. Verhandlungen internationale Vereinigung der Limnologie 27: 2934–2937.

Morabito, G., A. Oggioni & P. Panzani, 2003. Phytoplankton assemblage at equilibrium in large and deep subalpine lakes: a case study from Lago Maggiore (N. Italy). Hydrobiologia 502: 37–48.

Morabito, G., A. Oggioni & M. Austoni, 2012. Resource ratio and human impact: how diatom assemblages in Lake Maggiore responded to oligotrophication and climatic variability. Hydrobiologia 698: 47–60.

Napolitano, G. E. & J. E. Richmond, 1995. Enrichment of biogenic lipids, hydrocarbons and PCBs in stream-surface foams. Environmental Toxicology and Chemistry 14: 197–201.

O'Connell, A. W., 1986. Titration of nonionic surfactants with potassium tetrakis(4-chlorophenyl)borate. Analytical Chemistry 58: 669–670.

Ravera, O. & R. A. Vollenweider, 1968. Oscillatoria rubescens D.C. as an indicator of Lago Maggiore eutrophication. Schweizerische Zeitschrift Hydrologie 30: 374–380.

Reynolds, C., 2006. The Ecology of Phytoplankton. Cambridge University Press, New York.

Rezanka, T. & K. Sigler, 2007. Structural analysis of a polysaccharide from Chlorella kessleri by means of gas chromatography-mass spectrometry of its saccharide alditols. Folia Microbiologica 52: 246–252.

Ruggiu, D., G. Morabito, P. Panzani & A. Pugnetti, 1998. Trends and relations among basic phytoplankton characteristics in the course of the long-term oligotrophication of Lake Maggiore (Italy). Hydrobiologia 370: 243–257.

Salmaso, N. & R. Mosello, 2010. Limnological research in the deep southern subalpine lakes: synthesis, directions and perspectives. Advances in Oceanography and Limnology 1: 29–66.

Schilling, K. & M. Zessner, 2011. Foam in the aquatic environment. Water Research 45: 4355–4366.

Schindler, D. W., 2001. The Cumulative Effects of Climate Warming and Other Human Stresses on Canadian Freshwaters in the New Millennium. In Bendell-Young, L. & P. Gallaugher (eds), Waters in Peril. Springer, New York: 165–186.

Striquer Soares, F. & L. Chevolot, 1996. Particulate and dissolved carbohydrates and proteins in Lobo Reservoir (Sao Paulo State, Brazil): relationships with phytoplankton. Journal of Plankton Research 18: 521–537.

Sun, J. & D. Liu, 2003. Geometric models for calculating cell biovolume and surface area for phytoplankton. Journal of Plankton Research 25(11): 1331–1346.

Wegner, C. & M. Hamburger, 2002. Occurrence of stable foam in the upper Rhine River caused by plant-derived surfactants. Environmental Science & Technology 36: 3250–3256.
Acknowledgments
This work was carried out within the Research B, activity 2.1.3 "Effetti ecologici delle fluttuazioni di livello del Lago Maggiore" of the Italy-Switzerland INTERREG "STRAtegie Di Adattamento ai cambiamenti climatici per la gestione dei rischi naturali (STRADA)" project, P.O. Cooperazione Transfrontaliera Italia–Svizzera 2007–2013.
Additional information
Handling editor: Luigi Naselli-Flores
Electronic supplementary material
Below is the link to the electronic supplementary material.
About this article
Cite this article
Stefani, F., Salerno, F., Copetti, D. et al. Endogenous origin of foams in lakes: a long-term analysis for Lake Maggiore (northern Italy). Hydrobiologia 767, 249–265 (2016). https://doi.org/10.1007/s10750-015-2506-8
Received:

Revised:

Accepted:

Published:

Issue Date:
Keywords
Foam

Lake Maggiore

Phytoplankton

Climate change