Abstract
We examined the interactions of the common carp (Cyprinus carpio L.) and nutrient additions on water quality, sedimentation rates, and submerged macrophyte biomass in mesocosms in Delta Marsh, Manitoba, Canada. We wanted to determine if carp and nutrients interacted synergistically to increase phytoplankton biomass. A two-by-three duplicated, factorial design had the following treatments: (1) control mesocosms with no carp or nutrient additions; (2) low carp density and no nutrient additions; (3) high carp density and no nutrient additions; (4) no carp and nutrient additions; (5) low carp density and nutrient additions; and (6) high carp density and nutrient additions. The presence of carp increased ammonia concentrations, turbidity, and phytoplankton biomass as expected but did not increase total reactive phosphorus concentrations. The presence of carp did not appear to interact synergistically with nutrient additions to increase phytoplankton as has been suggested by others. In mesocosms with high carp density and receiving nutrient enrichment, phytoplankton appeared to be suppressed relative to mesocosms receiving nutrient enrichment only, and nutrient enrichment and low carp density. Overall, the presence of carp appears to mimic the effects of eutrophication. Our results demonstrate that carp can cause a shift from a clear, macrophyte-dominated state to a turbid phytoplankton-dominated state at a biomass of less than 600 kg ha−1.
Access options
Buy single article
Instant access to the full article PDF.
USD 39.95
Price excludes VAT (USA)
Tax calculation will be finalised during checkout.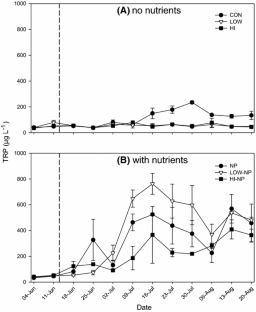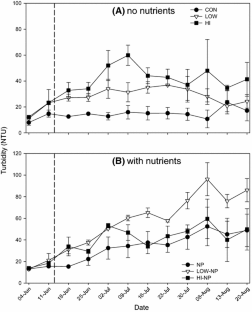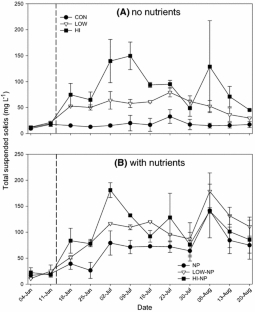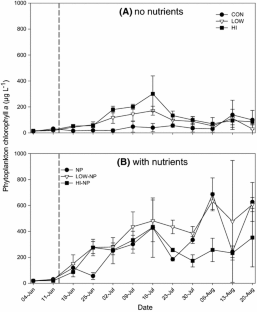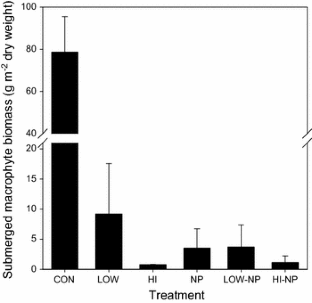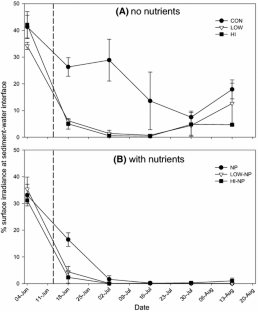 References
Almroth, E., 2002. Resuspension of coastal sediments: In-situ simulation and influence on sediment-water solute exchange. MSc thesis, The Göteborg University, Göteborg, Sweden.

American Public Health Association (APHA), 1992. Standard Methods for the examination of water and wastewater, 18th ed. APHA, Washington, DC.

Andersson, G., H. Berggren, G. Cronberg & C. Gelin, 1978. Effects of planktivorous and benthivorous fish on organisms and water chemistry in eutrophic lakes. Hydrobiologia 59: 9–15.

Angeler, D. G., M. Alvarez-Cobelas, S. Sanchez-Carrillo & M. R. Rodrigo, 2002. Assessment of exotic fish impacts on water quality and zooplankton in a degraded semi-arid floodplain wetland. Aquatic Sciences 64: 76–86.

Badiou, P. H. J. & L. G. Goldsborough, 2006. Northern range extension and invasion by the Common Carp (Cyprinus Carpio L.) of the Churchill River system in Manitoba, Canada. Canadian Field-Naturalist 120: 83–86.

Badiou, P. H. J. & L. G. Goldsborough, 2010. Ecological impacts of an exotic benthivorous fish in large experimental wetlands, Delta Marsh, Canada. Wetlands 30: 657–667.

Badiou, P., L. G. Goldsborough & D. Wrubleski, 2011. Impacts of the common Carp (Cyprinus carpio) on freshwater ecosystems: a review (chapter 4). In Sanders, J. D. & S. B. Peterson (eds), Carp: Habitat Management and Diseases. Nova Science Publishers, New York: 121–146.

Bajer, P. G. & P. W. Sorensen, 2010. Recruitment and abundance of an invasive fish, the common carp, is driven by its propensity to invade and reproduce in basins that experience winter-time hypoxia in interconnected lakes. Biological Invasions 12: 1101–1112.

Bajer, P. G., G. Sullivan & P. W. Sorensen, 2009. Effects of a rapidly increasing population of common carp on vegetative cover and waterfowl in a recently restored Midwestern shallow lake. Hydrobiologia 632: 235–345.

Banas, D., S. Capizzi, G. Masson, L. Leglize, P. Wagner & J. C. Pihan, 2002. New sediment traps for drainable shallow freshwater systems. Journal of Water Science 15: 263–272.

Barton, D. R., N. Kelton & R. I. Eedy, 2000. The effects of carp (Cyprinus carpio L.) on sediment export from a small urban impoundment. Journal of Aquatic Ecosystem Stress and Recovery 8: 155–159.

Breukelaar, A. W., E. H. Lammens, R. R. Klein, J. G. P. Breteler & I. Tátrai, 1994. Effects of benthivorous bream (Abramis brama) and Carp (Cyprinus carpio) on sediment resuspension and concentrations of nutrients and chlorophyll a. Freshwater Biology 32: 113–121.

Chumchal, M. M. & R. W. Drenner, 2004. Interrelationships between phosphorus loading and common carp in the regulation of phytoplankton biomass. Archiv für Hydrobiologie 161: 147–158.

Colvin, M. E., C. L. Pierce, T. W. Stewart & S. E. Grummer, 2012. Strategies to control a common carp population by pulsed commercial harvest. North American Journal of Fisheries Management 32: 1251–1264.

Cooper, E. L., 1987. Carp in North America. American Fisheries Society, Bethesda, MD.

Drenner, R. W., J. D. Smith & S. T. Threkeld, 1996. Lake trophic state and the limnological effects of omnivorous fish. Hydrobiologia 319: 213–223.

Drenner, R. W., K. L. Gallo, R. M. Baca & J. D. Smith, 1998. Synergistic effects of nutrient loading and omnivorous fish on phytoplankton biomass. Canadian Journal of Fisheries and Aquatic Sciences 55: 2087–2096.

Driver, P. D., G. P. Closs & T. Koen, 2005. The effects of size and density of carp (Cyprinus carpio L.) on water quality in an experimental pond. Archiv für Hydrobiologie 163: 117–131.

Glaholt, S. P. & M. J. Vanni, 2005. Ecological responses to simulated benthic-derived nutrient subsidies mediated by omnivorous fish. Freshwater Biology 50: 1864–1881.

Goldsborough, L. G. & D. A. Wrubleski, 2001. The decline of Delta Marsh, an internationally significant wetland in south-central Manitoba. In 6th Prairie Conservation and Endangered Species Conference, Winnipeg, MB (CD-ROM).

Keen, W. H. & J. Gagliardi, 1981. Effect of brown bullheads on release of phosphorus in sediment and water systems. Progressive Fish-Culturist 43: 183–185.

Khan, T. A., M. E. Wilson & M. T. Khan, 2003. Evidence for invasive carp mediated trophic cascade in shallow lakes of western Victoria, Australia. Hydrobiologia 506–509: 465–472.

Kloskowski, J., 2011. Impact of common carp Cyprinus carpio on aquatic communities: direct trophic effects versus habitat deterioration. Fundamental and Applied Limnology 178: 245–255.

Koehn, J. D., 2004. Carp (Cyprinus carpio) as a powerful invader in Australian waterways. Freshwater Biology 49: 882–894.

Kyeongsik, R., M. B. A. Robert & T. T. Stephen, 1999. Interaction effects of fish, nutrients, mixing and sediments on autotrophic picoplankton and algal composition. Freshwater Biology 42: 99–109.

Littell, R., G. Milliken, W. Stroup & R. Wolfinger, 1996. SAS System for Mixed Models. SAS Press, Cary.

Lougheed, V. L., B. Crosbie & P. Chow-Fraser, 1998. Predictions on the effect of Common Carp (Cyprinus carpio) exclusion on water quality, zooplankton, and submergent macrophytes in a Great Lakes wetland. Canadian Journal of Fisheries and Aquatic Sciences 55: 1189–1197.

Marker, A. F. H., E. A. Nusch, H. Rai & B. Riemann, 1980. The measurement of photosynthetic pigments in freshwaters and standardization of methods: conclusions and recommendations. Archiv für Hydrobiologie 14: 91–106.

Matsuzaki, S. S., N. Usio, N. Takamura & I. Washitani, 2007. Effects of common carp on nutrient dynamics and littoral community composition: roles of excretion and bioturbation. Fundamental and Applied Limnology 168: 27–38.

Matsuzaki, S. S., N. Usio, N. Takamura & I. Washitani, 2009. Contrasting impacts of invasive engineers on freshwater ecosystems: an experiment and meta-analysis. Oecologia 158: 673–686.

McDougal, R. L., L. G. Goldsborough & B. J. Hann, 1997. Responses of a prairie wetland to press and pulse additions of nitrogen and phosphorus: production by planktonic and benthic algae. Archiv für Hydrobiologie 140: 145–167.

Nieoczym, M. & J. Kloskowski, 2014. The role of body size in the impact of common carp Cyprinus carpio on water quality, zooplankton, and macrobenthos in ponds. International Review of Hydrobiology 99: 212–221.

Parkos, J. J., V. J. Santucci Jr & D. H. Wahl, 2003. Effects of adult common carp (Cyprinus carpio) on multiple trophic levels in shallow mesocosms. Canadian Journal of Fisheries and Aquatic Sciences 60: 182–192.

Robinson, G. G. C., S. E. Gurney & L. G. Goldsborough, 1997. Response of benthic and planktonic algal biomass to water level manipulation in a prairie wetland. Wetlands 17: 167–181.

Scheffer, M., 1998. Ecology of Shallow Lakes. Chapman and Hall, New York.

Shormann, D. E. & J. B. Cotner, 1997. The effects of benthivorous smallmouth buffalo (Ictiobus bubalus) on water quality and nutrient cycling in a shallow floodplain lake. Journal of Lake and Reservoir Management 13: 270–278.

Stainton M. P., M. J. Capel & F. A. J. Armstrong, 1977. The Chemical Analysis of Fresh Water, second edition. Canadian Fisheries and Marine Service Miscellaneous Special Publication 25, 180 pp.

Wahl, D. H., M. D. Wolfe, V. J. Santucci & J. A. Freedman, 2011. Invasive carp and prey community composition disrupt trophic cascades in eutrophic ponds. Hydrobiologia 678: 49–63.

Wainright, S. C., 1987. Stimulation of heterotrophic microplankton production by resuspended marine sediments. Science 238: 1710–1712.

Wainright, S. C. & C. S. Hopkinson, 1997. Effects of sediment resuspension on organic matter processing in coastal environments: a simulation model. Journal of Marine Systems 11: 353–368.

Watchorn, K. E., L. G. Goldsborough, D. A. Wrubleski & B. G. Mooney, 2012. A hydrogeomorphic inventory of coastal wetlands of the Manitoba Great Lakes: Lakes Winnipeg, Manitoba, and Winnipegosis. Journal of Great Lakes Research 38: 115–122.

Weber, M. J. & M. L. Brown, 2011. Relationships among invasive common carp, native fishes and physiochemical characteristics in upper Midwest (USA) lakes. Ecology of Freshwater Fish 20: 270–278.

Zambrano, L. & D. Hinojosa, 1999. Direct and indirect effects of Carp (Cyprinus carpio L.) on macrophyte and benthic communities in experimental shallow ponds in Central Mexico. Hydrobiologia 409: 131–138.
Acknowledgments
Financial support for this project was provided by Institute of Wetland and Waterfowl Research of Ducks Unlimited Canada and the Natural Sciences and Engineering Research Council of Canada. We gratefully acknowledge the facilities and staff of the former Delta Marsh Field Station (University of Manitoba) and assistance with field sampling provided by Birte Gerdes, Andrea Patenaude, Kevin Jacobs, Andrea Andruschak, and Dan Leitch.
Additional information
Handling editor: Stuart Anthony Halse
About this article
Cite this article
Badiou, P.H.J., Goldsborough, L.G. Ecological impacts of an exotic benthivorous fish, the common carp (Cyprinus carpio L.), on water quality, sedimentation, and submerged macrophyte biomass in wetland mesocosms. Hydrobiologia 755, 107–121 (2015). https://doi.org/10.1007/s10750-015-2220-6
Received:

Revised:

Accepted:

Published:

Issue Date:

DOI: https://doi.org/10.1007/s10750-015-2220-6
Keywords
Common carp

Eutrophication

Wetlands

Water quality

Mesocosms

Phytoplankton

Suspended solids

Turbidity