Abstract
Tumor migration is the critical step that lead to the migration in retinoblastoma (RB), in which microRNAs (miRNAs) play important roles. This study aimed to investigate the role of microRNA-4319 (miR-4319) in the development of retinoblastoma by identifying its targets, as well as its underlying regulatory mechanisms. Our data shown that miR-4319 was downregulated in RB tissues and RB cell lines. Enhanced miR-4319 suppressed cell proliferation, migration, invasion and EMT progress, promoted cell apoptosis in SO-RB50 and RB-Y79 cells. Of note, extracellular matrix metalloproteinase inducer (EMMPRI/CD147) was identified as a direct target gene for miR-4319. MMPs were regulated by CD147 and participated in the miR-4319 regulatory network in SO-RB50 cells. In addition, overexpression of CD147 abrogated the inhibitory effect of miR-4319 on RB cells. In summary, miR-4319 overexpression suppressed cell proliferation, migration and invasion may through suppressing the CD147 mediated MMPs expression, suggesting that miR-4319 may serve as a potential diagnostic biomarker and treatment target for RB.
Access options
Buy single article
Instant access to the full article PDF.
US$ 39.95
Tax calculation will be finalised during checkout.
Subscribe to journal
Immediate online access to all issues from 2019. Subscription will auto renew annually.
US$ 119
Tax calculation will be finalised during checkout.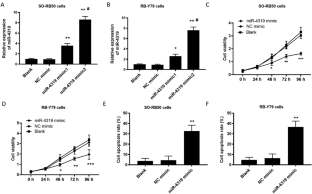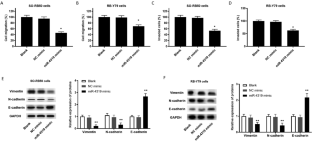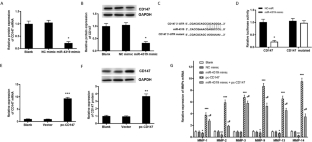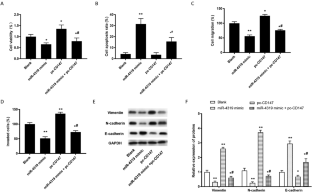 Abbreviations
RB:

Retinoblastoma

miR-4319:

MicroRNA-4319

EMT:

Epithelial-mesenchymal transition

MMPs:

Matrix metalloproteinases

ECM:

Extracellular matrix

EMMPRIN/CD147:

Extracellular matrix metalloproteinase inducer
References
Adithi M, Nalini V, Kandalam M, Krishnakumar S (2007) Expression of matrix metalloproteinases and their inhibitors in retinoblastoma. J Pediatr Hematol Oncol 29:399–405

Akanuma N, Hoshino I, Akutsu Y, Murakami K, Isozaki Y, Maruyama T, Yusup G, Qin W, Toyozumi T, Takahashi M (2014) MicroRNA-133a regulates the mRNAs of two invadopodia-related proteins, FSCN1 and MMP14, in esophageal cancer. Br J Cancer 110:189–198

Alvarez-Garcia I, Miska EA (2005) MicroRNA functions in animal development and human disease. Development 132:4653–4662

Cassoux N, Lumbroso L, Levy-Gabriel C, Aerts I, Doz F, Desjardins L (2017) Retinoblastoma: update on current management. Asia-Pac J Ophthalmol (Philadelphia, Pa) 6:290

Chen H, Fok KL, Yu S, Jiang J, Chen Z, Gui Y, Cai Z, Chan HC (2011) CD147 is required for matrix metalloproteinases-2 production and germ cell migration during spermatogenesis. Mol Hum Reprod 17:405–414

Chu J, Li Y, Fan X, Ma J, Li J, Lu G, Zhang Y, Huang Y, Li W, Huang X (2018) MiR-4319 suppress the malignancy of triple-negative breast cancer by regulating self-renewal and tumorigenesis of stem cells. Cell Physiol Biochem 48:593–604

Cui G, Cai F, Ding Z, Gao L (2019) MMP14 predicts a poor prognosis in patients with colorectal cancer. Hum Pathol 83:36–42

Dong Y, Chen G, Gao M, Tian X (2015) Increased expression of MMP14 correlates with the poor prognosis of Chinese patients with gastric cancer. Gene 563:29–34

Egawa N, Koshikawa N, Tomari T, Nabeshima K, Isobe T, Seiki M (2006) Membrane type 1 matrix metalloproteinase (MT1-MMP/MMP-14) cleaves and releases a 22-kDa extracellular matrix metalloproteinase inducer (EMMPRIN) fragment from tumor cells. J Biol Chem 281:37576–37585

Finger PT, Harbour JW, Karcioglu ZA (2002) Risk factors for metastasis in retinoblastoma. Surv Ophthalmol 47:1–16

Gabison EE, Hoang-Xuan T, Mauviel A, Menashi S (2005) EMMPRIN/CD147, an MMP modulator in cancer, development and tissue repair. Biochimie 87:361–368

Gombos DS, Diba R (2005) Estimating the incidence of retinoblastoma in Texas. Tex Med 101:70–72

Han S, Shi Y, Sun L, Liu Z, Song T, Liu Q (2019) MiR-4319 induced an inhibition of epithelial-mesenchymal transition and prevented cancer stemness of HCC through targeting FOXQ1. Int J Biol Sci 15:2936–2947

Hu X, Wang M, Cao L, Cong L, Gao Y, Lu J, Feng J, Shen B, Liu D (2019) miR-4319 suppresses the growth of esophageal squamous cell carcinoma via targeting NLRC5. Curr Mol Pharmacol 13:144–149

Huang L, Zhang Y, Li Z, Zhao X, Xi Z, Chen H, Shi H, Xin T, Shen R, Wang T (2019) MiR-4319 suppresses colorectal cancer progression by targeting ABTB1. United Eur Gastroenterol J 7:517–528

Jabłońska-Trypuć A, Matejczyk M, Rosochacki S (2016) Matrix metalloproteinases (MMPs), the main extracellular matrix (ECM) enzymes in collagen degradation, as a target for anticancer drugs. J Enzyme Inhib Med Chem 31:177–183

Jianwen W, Xiaochun W, Zhongji L, Hongtao L, Yan T (2014) MicroRNA-183 suppresses retinoblastoma cell growth, invasion and migration by targeting LRP6. FEBS J 281:1355–1365

Jubran RF, Erdreich-Epstein A, Butturini A, Murphree AL, Villablanca JG (2004) Approaches to treatment for extraocular retinoblastoma: Children's Hospital Los Angeles experience. J Pediatr Hematol Oncol 26:31–34

Kessenbrock K, Plaks V, Werb Z (2010) Matrix metalloproteinases: regulators of the tumor microenvironment. Cell 141:52–67

Kong LM, Liao CG, Fei F, Guo X, Xing JL, Chen ZN (2010) Transcription factor Sp1 regulates expression of cancer-associated molecule CD147 in human lung cancer. Cancer Sci 101:1463–1470

Li F, Zhang J, Guo J, Jia Y, Han Y, Wang Z (2018) RNA interference targeting CD147 inhibits metastasis and invasion of human breast cancer MCF-7 cells by downregulating MMP-9/VEGF expression. Acta Biochim Biophys Sin 50:676

Lin X, Wang Y (2018) Re-expression of microRNA-4319 inhibits growth of prostate cancer via Her-2 suppression. Clin Transl Oncol 20:1400–1407

Loh CY, Chai JY, Tang TF, Wong WF, Sethi G, Shanmugam MK, Chong PP, Looi CY (2019) The E-Cadherin and N-Cadherin switch in epithelial-to-mesenchymal transition: signaling, therapeutic implications, and challenges. Cells 8:1118

Mohan A, Nalini V, Mallikarjuna K, Jyotirmay B, Krishnakumar S (2007) Expression of motility-related protein MRP1/CD9, N-cadherin, E-cadherin, alpha-catenin and beta-catenin in retinoblastoma. Exp Eye Res 84:781–789

Richardson AM, Havel LS, Koyen AE, Konen JM, Shupe J, Wiles WG, Martin WD, Grossniklaus HE, Sica G, Gilbert-Ross M, Marcus AI (2018) Vimentin is required for lung adenocarcinoma metastasis via heterotypic tumor cell-cancer-associated fibroblast interactions during collective invasion. Clin Cancer Res 24:420–432

Sun HL (2018) microRNA-485-5p functions as a tumor suppressor in colorectal cancer cells by targeting CD147. J Cancer 9:2603–2611

Sun J, Hemler ME (2001) Regulation of MMP-1 and MMP-2 production through CD147/extracellular matrix metalloproteinase inducer interactions. Can Res 61:2276–2281

Tinghua Y, Zhonghao L, Jinhua J, Suiwan L, Miaoan C, Huaxing Q, Xiangsheng H, Ganbo Q, Jianfeng M, Jinan X (2015) MMP14 regulates cell migration and invasion through epithelial-mesenchymal transition in nasopharyngeal carcinoma. Am J Transl Res 7:950–958

Ulasov I, Auffinger B, Thaçi B, Pytel P, Lesniak M (2012) Abstract 880: Inhibition of MMP14 potentiates the antiglioma effect of TMZ and ionizing radiation. Can Res 72:880–880

Wang YZ, Wu K-p, Wu A-b, Yang Z-c, Li J-m, Mo Y-l, Xu M, Wu B, Yang Z-x (2014) MMP-14 overexpression correlates with poor prognosis in non-small cell lung cancer. Tumor Biol 35:9815–9821

Wang C, Xu C, Niu R, Hu G, Gu Z, Zhuang Z (2019) MiR-890 inhibits proliferation and invasion and induces apoptosis in triple-negative breast cancer cells by targeting CD147. BMC Cancer 19:577

Webb AH, Gao BT, Goldsmith ZK, Irvine AS, Saleh N, Lee RP, Lendermon JB, Bheemreddy R, Zhang Q, Brennan RC, Johnson D, Steinle JJ, Wilson MW, Morales-Tirado VM (2017) Inhibition of MMP-2 and MMP-9 decreases cellular migration, and angiogenesis in in vitro models of retinoblastoma. BMC Cancer 17:434

Wienholds E, Plasterk RH (2005) MicroRNA function in animal development. FEBS Lett 579:5911–5922

Xie B, Ding Q, Han H, Wu D (2013) miRCancer: a microRNA–cancer association database constructed by text mining on literature. Bioinformatics 29:638–644

Xu X, Lai Y, Zhou W, Hua Z (2019) Lentiviral delivery of a shRNA sequence analogous to miR-4319/miR-125-5p induces apoptosis in NSCLC cells by arresting G2/M phase. J Cell Biochem 120:14017–14027

Yang G, Fu Y, Lu X, Wang M, Dong H, Li Q (2018) LncRNA HOTAIR/miR-613/c-met axis modulated epithelial-mesenchymal transition of retinoblastoma cells. J Cell Mol Med 22:5083–5096

Yang Y, Li H, Liu Y, Chi C, Ni J, Lin X (2019) MiR-4319 hinders YAP expression to restrain non-small cell lung cancer growth through regulation of LIN28-mediated RFX5 stability. Biomed Pharmacother 115:108956

Ye X, Jing Z, Shi L, Ning Y, Ying Z, Si C, Meng Y, Chen J, Zhou GW, Qiang L (2017) NOGO-B promotes EMT in lung fibrosis via MMP14 mediates free TGF-beta1 formation. Oncotarget 8:71024–71037

Yoshio IMD, Matsumoto T, Niwa M, Yutaka SMD, Nobuo OMD, Nobuyoshi HMD, Koji NMD, Katsuhiko YMD, Kyosuke YMD, Kiyoshi OMD (2010) CD147 and matrix metalloproteinase-2 protein expression as significant prognostic factors in esophageal squamous cell carcinoma. Cancer 101:1994–2000

Yuan S, Wang L, Chen X, Fan B, Yuan Q, Zhang H, Yang D, Wang S (2016) Triptolide inhibits the migration and invasion of human prostate cancer cells via Caveolin-1/CD147/MMPs pathway. Biomed Pharmacother 84:1776

Zhong WD, Han ZD, He HC, Bi XC, Dai QS, Zhu G, Ye YK, Liang YX, Qin WJ, Zhang Z (2008) CD147, MMP-1, MMP-2 and MMP-9 protein expression as significant prognostic factors in human prostate cancer. Oncology 75:230–236

Zhou W, Yu X, Sun S, Zhang X, Yang W, Zhang J, Zhang X, Jiang Z (2019) Increased expression of MMP-2 and MMP-9 indicates poor prognosis in glioma recurrence. Biomed Pharmacother 118:109369
Ethics declarations
Conflicts of interest
The authors declare that they have no conflict of interest.
Ethics approval
This study was approved by the Xi'an Children's Hospital ethics committee, and the guardians of all subjects provided informed consent for participation.
Informed consent
The guardians of all subjects provided informed consent for participation.
Additional information
Publisher's Note
Springer Nature remains neutral with regard to jurisdictional claims in published maps and institutional affiliations.
About this article
Cite this article
Wu, Z., Chen, L., Zhang, C. et al. miR-4319 inhibited retinoblastoma cells proliferation, migration, invasion and EMT progress via suppressing CD147 mediated MMPs expression. J Mol Histol (2021). https://doi.org/10.1007/s10735-020-09946-w
Received:

Accepted:

Published:
Keywords
Retinoblastoma

miRNA-4319

CD417

MMPs

EMT