Abstract
Caustic ingestion is a potentially detrimental event that can cause serious devastating damage on contact with tissues. Local exposure is associated with severe pain, swelling and ulceration. Caustics-induced oral ulcers can be painful enough to compromise the patient's quality of life. Treatment of oral ulcers is crucial in clinical practice. Albeit, some ulcers do not respond adequately to the conventional treatment. The current study was conducted to evaluate the potential healing effects of topical Salvadora persica (SP) extract, low-level laser (LLL) and high-level laser (HLL) therapies in a rabbit model of caustic-induced tongue ulcers and explore the underlying mechanisms. Fifty male rabbits with a caustic induced tongue ulcers were included in the study. Rabbits were equally divided into four groups: positive control (ulcer) group, SP, LLL and HLL groups in addition to the negative control (healthy) group. All treatments were given thrice weekly for 14 days. Results showed that acetic acid-induced tongue ulcers caused extensive structural tongue damage secondary to overexpression of apoptotic BAX, pathological angiogenesis indicated by VEGF overexpression, marked collagen fibers deposition as well as upregulation of tissue pro-inflammatory TNF-α and upregulation of tissue anti-inflammatory IL-10. The healing potential of topical SP, LLL and HLL therapy are mostly comparable. In conclusion, acetic acid-induced extensive tongue damage. Topical SP extract, LLL and HLL are equally effective therapies against caustics-induced tongue ulcers. However, we recommend SP extract, owing to its safety, non-invasiveness, availability and low cost.
This is a preview of subscription content, log in to check access.
Access options
Buy single article
Instant access to the full article PDF.
US$ 39.95
Price includes VAT for USA
Subscribe to journal
Immediate online access to all issues from 2019. Subscription will auto renew annually.
US$ 199
This is the net price. Taxes to be calculated in checkout.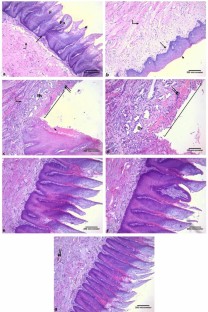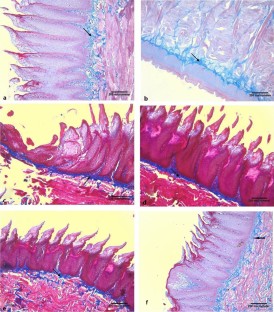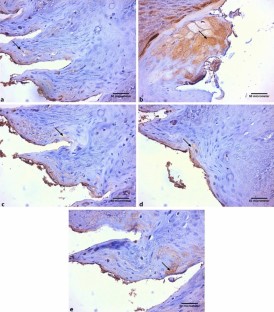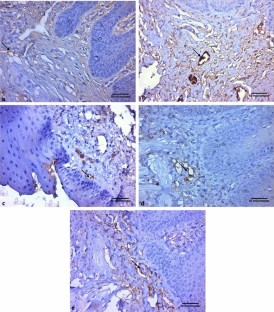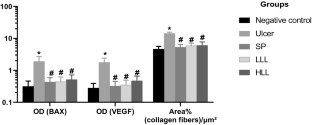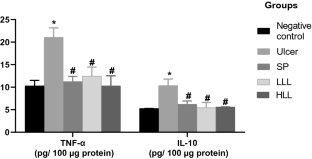 References
Aggarwal H, Singh MP, Nahar P, Mathur H, Gv S (2014) Efficacy of low-level laser therapy in treatment of recurrent aphthous ulcers—a sham controlled, split mouth follow up study. J Clin Diagn Res 8:218–221. https://doi.org/10.7860/JCDR/2014/7639.4064

Ahmed OM, Mohamed T, Moustafa H, Hamdy H, Ahmed RR, Aboud E (2018) Quercetin and low level laser therapy promote wound healing process in diabetic rats via structural reorganization and modulatory effects on inflammation and oxidative stress. Biomed Pharmacother 101:58–73. https://doi.org/10.1016/j.biopha.2018.02.040

Alayat MS, El-Sodany AM, Ebid AA, Shousha TM, Abdelgalil AA, Alhasan H, Alshehri MA (2018) Efficacy of high intensity laser therapy in the management of foot ulcers: a systematic review. J Phys Ther Sci 30:1341–1345. https://doi.org/10.1589/jpts.30.1341

Al-Ayed MS, Asaad AM, Qureshi MA, Attia HG, AlMarrani AH (2016) Antibacterial activity of Salvadora persica L. (Miswak) extracts against multidrug resistant bacterial clinical isolates. Evid Based Complement Alternat Med 2016:7083964. https://doi.org/10.1155/2016/7083964

Aumeeruddy MZ, Zengin G, Mahomoodally MF (2018) A review of the traditional and modern uses of Salvadora persica L. (Miswak): toothbrush tree of Prophet Muhammad. J Ethnopharmacol 213:409–444. https://doi.org/10.1016/j.jep.2017.11.03

Bancroft JD, Layton C (2013) The hematoxylin and eosin. In: Suvarna SK, Layton C, Bancroft JD (eds) Theory practice of histological techniques. Churchill Livingstone, Philadelphia, pp 179–220

Biagi R, Cossellu G, Sarcina M, Pizzamiglio IT, Farronato G (2015) Laser-assisted treatment of dentinal hypersensitivity: a literature review. Ann Stomatol (Roma) 6:75–80. https://doi.org/10.11138/ads/2015.6.3.075

Bonavina L et al (2015) Foregut caustic injuries: results of the world society of emergency surgery consensus conference. World J Emerg Surg 10:44. https://doi.org/10.1186/s13017-015-0039-0

Campisi G, Compilato D, Cirillo N, Ciavarella D, Panzarella V, Amato S, Lo Muzio L (2007) Oral ulcers: three questions on their physiopathology. Minerva Stomatol 56:293–302

Cekmen M, Evereklioglu C, Er H, Inaloz HS, Doganay S, Turkoz Y, Ozerol IH (2003) Vascular endothelial growth factor levels are increased and associated with disease activity in patients with Behcet's syndrome. Int J Dermatol 42:870–875. https://doi.org/10.1046/j.1365-4362.2003.01688.x

Chamani G, Zarei MR, Mehrabani M, Mehdavinezhad A, Vahabian M, Ahmadi-Motamayel F (2017) Evaluation of honey as a topical therapy for intraoral wound healing in rats. Wounds 29:80–86

Chirica M et al (2012) Surgery for caustic injuries of the upper gastrointestinal tract. Ann Surg 256:994–1001. https://doi.org/10.1097/SLA.0b013e3182583fb2

Chirica M, Bonavina L, Kelly MD, Sarfati E, Cattan P (2017) Caustic ingestion. Lancet 389:2041–2052. https://doi.org/10.1016/S0140-6736(16)30313-0

D'Arcy MS (2019) Cell death: a review of the major forms of apoptosis, necrosis and autophagy. Cell Biol Int 43:582–592. https://doi.org/10.1002/cbin.11137

Dargan PI (2016) Corrosives. Medicine 44:153–156. https://doi.org/10.1016/j.mpmed.2015.12.007

Dev SK, Choudhury PK, Srivastava R, Sharma M (2019) Antimicrobial, anti-inflammatory and wound healing activity of polyherbal formulation. Biomed Pharmacother 111:555–567. https://doi.org/10.1016/j.biopha.2018.12.075

Fujisawa K, Miyamoto Y, Nagayama M (2003) Basic fibroblast growth factor and epidermal growth factor reverse impaired ulcer healing of the rabbit oral mucosa. J Oral Pathol Med 32:358–366. https://doi.org/10.1034/j.1600-0714.2003.t01-1-00111.x

Fulton JA (2011) Caustics. In: Nelson LS, Lewin NA, Howland MA, Hoffman RS, Goldfrank LR, Flomenbaum NE (eds) Goldfrank's toxicologic emergencies. McGraw-Hill Professional, New York, pp 1364–1372

Han M, Fang H, Li QL, Cao Y, Xia R, Zhang ZH (2016) Effectiveness of laser therapy in the management of recurrent Aphthous stomatitis: a systematic review. Scientifica (Cairo) 2016:9062430. https://doi.org/10.1155/2016/9062430

Hashmi MU, Ali M, Ullah K, Aleem A, Khan IH (2018) Clinico-epidemiological characteristics of corrosive ingestion: a cross-sectional study at a tertiary care hospital of multan, south-Punjab Pakistan. Cureus 10:e2704. https://doi.org/10.7759/cureus.2704

Imran H et al (2015) Evaluation of wound healing effects between Salvadora persica ointment and Solcoseryl jelly in animal model. Pak J Pharm Sci 28:1777–1780

Iyer SS, Cheng G (2012) Role of interleukin 10 transcriptional regulation in inflammation and autoimmune disease. Crit Rev Immunol 32:23–63. https://doi.org/10.1615/critrevimmunol.v32.i1.30

Khatak M, Khatak S, Siddqui AA, Vasudeva N, Aggarwal A, Aggarwal P (2010) Salvadora persica. Pharmacogn Rev 4:209–214. https://doi.org/10.4103/0973-7847.70920

Kobayashi T, Ohta Y, Yoshino J, Nakazawa S (2001) Teprenone promotes the healing of acetic acid-induced chronic gastric ulcers in rats by inhibiting neutrophil infiltration and lipid peroxidation in ulcerated gastric tissues. Pharmacol Res 43:23–30. https://doi.org/10.1006/phrs.2000.0748

Lebda MA, El-Far AH, Noreldin AE, Elewa YHA, Al Jaouni SK, Mousa SA (2018) Protective effects of miswak (Salvadora persica) against experimentally induced gastric ulcers in rats. Oxid Med Cell Longev 2018:6703296. https://doi.org/10.1155/2018/6703296

Lee DY, Kim HB, Shim IK, Kanai N, Okano T, Kwon SK (2017) Treatment of chemically induced oral ulcer using adipose-derived mesenchymal stem cell sheet. J Oral Pathol Med 46:520–527. https://doi.org/10.1111/jop.12517

Lindley LE, Stojadinovic O, Pastar I, Tomic-Canic M (2016) Biology and biomarkers for wound healing. Plast Reconstr Surg 138:18S–28S. https://doi.org/10.1097/PRS.0000000000002682

Lins RD, Dantas EM, Lucena KC, Catao MH, Granville-Garcia AF, Carvalho Neto LG (2010) Biostimulation effects of low-power laser in the repair process. Bras Dermatol 85:849–855. https://doi.org/10.1590/s0365-05962010000600011

Mahmoud EA, Moneim WA, Shaker OG, Ghalwash DM (2019) Expression of endocan and vascular endothelial growth factor in recurrent minor aphthous ulcers. J Clin Exp Dent 11:e534–e541. https://doi.org/10.4317/jced.55695

Malaponte G et al (2015) Increased levels of NF-kB-dependent markers in cancer-associated deep venous thrombosis. PLoS ONE 10:e0132496. https://doi.org/10.1371/journal.pone.0132496

Mamede RC, De Mello Filho FV (2002) Treatment of caustic ingestion: an analysis of 239 cases. Dis Esophagus 15:210–213. https://doi.org/10.1046/j.1442-2050.2002.00263.x

Nomani M, Hosseini M, Vazirian M, Nomani A, Monsef-Esfahani H (2017) Evaluation of anti-inflammatory effect of Salvadora persica in IBD-induced rat. Res J Pharmacogn 4(Supplement):27

Oliveira BV et al (2016) TNF-alpha expression, evaluation of collagen, and TUNEL of Matricaria recutita L. extract and triamcinolone on oral ulcer in diabetic rats. J Appl Oral Sci 24:278–290. https://doi.org/10.1590/1678-775720150481

Polo CM, Moraes TM, Pellizzon CH, Marques MO, Rocha LR, Hiruma-Lima CA (2012) Gastric ulcers in middle-aged rats: the healing effect of essential oil from Citrus aurantium L. (Rutaceae). Evid Based Complement Alternat Med 2012:509451. https://doi.org/10.1155/2012/509451

Ramos-Vara JA et al (2008) Suggested guidelines for immunohistochemical techniques in veterinary diagnostic laboratories. J Vet Diagn Invest 20:393–413. https://doi.org/10.1177/104063870802000401

Silva PGB, de Codes EBB, Freitas MO, Martins JOL, Alves A, Sousa FB (2018) Experimental model of oral ulcer in mice: comparing wound healing in three immunologically distinct animal lines. J Oral Maxillofac Pathol 22:444. https://doi.org/10.4103/jomfp.JOMFP_144_17

Wightman RS, Read KB, Hoffman RS (2016) Evidence-based management of caustic exposures in the emergency department. Emerg Med Pract 18:1–17

Zhao R, Guan DW, Zhang W, Du Y, Xiong CY, Zhu BL, Zhang JJ (2009) Increased expressions and activations of apoptosis-related factors in cell signaling during incised skin wound healing in mice: a preliminary study for forensic wound age estimation. Leg Med (Tokyo) 11(Suppl 1):S155–160. https://doi.org/10.1016/j.legalmed.2009.02.023

Zhuang PY, Shen J, Zhu XD, Lu L, Wang L, Tang ZY, Sun HC (2013) Prognostic roles of cross-talk between peritumoral hepatocytes and stromal cells in hepatocellular carcinoma involving peritumoral VEGF-C, VEGFR-1 and VEGFR-3. PLoS ONE 8:e64598. https://doi.org/10.1371/journal.pone.0064598
Acknowledgements
The authors would like to thank Dr. Hesham Galal Mahran, Associate Professor of Physical Therapy, Cairo University, for his great effort in facilitation during the use of laser device.
The author would like to thank Rofaida Ashraf (British Medical Student) for her help with the manuscript English language editing.
Funding
Authors confirm that they did not receive any fund to do this work.
Ethics declarations
Conflict of interest
The authors report no declarations of interest.
Additional information
Publisher's Note
Springer Nature remains neutral with regard to jurisdictional claims in published maps and institutional affiliations.
About this article
Cite this article
Faruk, E.M., Nafea, O.E., Fouad, H. et al. Possible healing effects of Salvadora persica extract (MISWAK) and laser therapy in a rabbit model of a caustic-induced tongue ulcers: histological, immunohistochemical and biochemical study. J Mol Hist (2020). https://doi.org/10.1007/s10735-020-09884-7
Received:

Accepted:

Published:
Keywords
Acetic acid

Caustics

Histo-morphometry

Laser

Salvadora persica

Tongue ulcers