Abstract
The biochemical composition of the internal and external basal laminae in the junctional epithelium differs significantly, and the precise cellular origin of their respective molecules remains to be determined. In the present study, the expression and localization of three basement membrane-specific molecules—laminin 5 (γ2 chain), type IV collagen (α1 chain), and laminin 10 (α5 chain)—and one tooth-specific molecule, amelotin, was analyzed in adult murine gingiva by using in situ hybridization and immunohistochemistry. The results showed that the outermost cells in junctional epithelium facing the tooth enamel strongly expressed laminin 5 mRNA, supporting the immunohistochemical staining data. This suggests that laminin 5 is actively synthesized in junctional epithelial cells and that the products are incorporated into the internal basal lamina to maintain firm epithelial adhesion to the tooth enamel throughout life. Conversely, no amelotin mRNA signals were detected in the junctional epithelial cells, suggesting that the molecules localized on the internal basal lamina are mainly derived from maturation-stage ameloblasts. Weak and sporadic expression of type IV collagen in addition to laminin 10 in the gingiva indicates that these molecules undergo turnover less frequently in adult animals.
This is a preview of subscription content, log in to check access.
Access options
Buy single article
Instant access to the full article PDF.
US$ 39.95
Tax calculation will be finalised during checkout.
Subscribe to journal
Immediate online access to all issues from 2019. Subscription will auto renew annually.
US$ 199
Tax calculation will be finalised during checkout.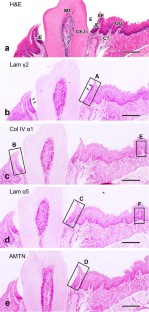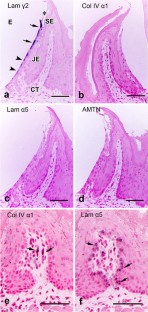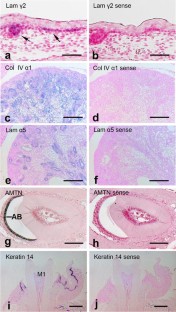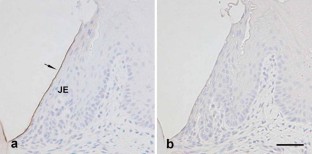 References
Atsuta I, Yamaza T, Yoshinari M, Mino S, Goto T, Kido MA, Terada Y, Tanaka T (2005) Changes in the distribution of laminin-5 during peri-implant epithelium formation after immediate titanium implantation in rats. Biomaterials 26:1751–1760

Dos Santos Neves J, Wazen RM, Kuroda S, Francis Zalzal S, Moffatt P, Nanci A (2012) Odontogenic ameloblast-associated and amelotin are novel basal lamina components. Histochem Cell Biol 137:329–338

Ghosh S, Stack MS (2000) Proteolytic modification of laminins: functional consequences. Microsc Res Tech 51:238–246

Giannelli G, Falk-Marzillier J, Schiraldi O, Stetler-Stevenson WG, Quaranta V (1997) Induction of cell migration by matrix metalloprotease-2 cleavage of laminin-5. Science 277:225–228

Heikinheimo K, Salo T (1995) Expression of basement membrane type IV collagen and type IV collagenases (MMP-2 and MMP-9) in human fetal teeth. J Dent Res 74:1226–1234

Hormia M, Sahlberg C, Thesleff I, Airenne T (1998) The epithelium-tooth interface: a basal lamina rich in laminin-5 and lacking other known laminin isoforms. J Dent Res 77:1479–1485

Hormia M, Owaribe K, Virtanen I (2001) The dento-epithelial junction: cell adhesion by type I hemidesmosomes in the absence of a true basal lamina. J Periodontol 72:788–797

Iwasaki K, Bajenova E, Somogyi-Ganss E, Miller M, Nguyen V, Nourkeyhani H, Gao Y, Wendel M, Ganss B (2005) Amelotin: a novel secreted, ameloblast-specific protein. J Dent Res 84:1127–1132

Kadoya Y, Yamashina S (2005) Salivary gland morphogenesis and basement membranes. Anat Sci Int 80:71–79

Kawasaki K (2013) Odontogenic ameloblast-associated protein (ODAM) and Amelotin: major players in hypermineralization of enamel and enameloid. J Oral Biosci 55:80–85

Kawasaki K, Weiss KM (2003) Mineralized tissue and vertebrate evolution: the secretory calcium-binding phosphoprotein gene cluster. Proc Natl Acad Sci USA 100:4060–4065

Kinumatsu T, Hashimoto S, Muramatsu T, Sasaki H, Jung HS, Yamada S, Shimono M (2009) Involvement of laminin and integrins in adhesion and migration of junctional epithelium cells. J Periodontal Res 44:13–20

Larjava H, Koivisto L, Häkkienen L, Heino J (2011) Epithelial integrins with special reference to oral epithelia. J Dent Res 90:1367–1376

Moffatt P, Smith CE, St-Arnaud R, Simmons D, Wright JT, Nanci A (2006) Cloning of rat amelotin and localization of the protein to the basal lamina of maturation stage ameloblasts and junctional epithelium. Biochem J 399:37–46

Moffatt P, Smith CE, St-Arnaud R, Nanci A (2008) Characterization of Apin, a secreted protein highly expressed in tooth-associated epithelia. J Cell Biochem 103:941–956

Nishio C, Wazen R, Kuroda S, Moffatt P, Nanci A (2010) Expression pattern of odontogenic ameloblasts-associated and amelotin during formation and regeneration of the junctional epithelium. Eur Cell Mater 20:393–402

Oksanen J, Sorokin LM, Virtanen I, Hormia M (2001) The junctional epithelium around murine teeth differs from gingival epithelium in its basement membrane composition. J Dent Res 80:2093–2097

Onizawa T, Sawada T, Yanagisawa T (1998) Possible role of monkey gingival fibroblast in external basement membrane maintenance. Tissue Cell 30:502–509

Park JC, Park JT, Son HH, Kim HJ, Jeong MJ, Lee CS, Dey R, Cho MI (2007) The amyloid protein APin is highly expressed during enamel mineralization and maturation in rat incisors. Eur J Oral Sci 115:153–160

Sawada T, Inoue S (1996) Ultrastructural characterization of internal basement membrane of junctional epithelium at dentogingival border. Anat Rec 246:317–324

Sawada T, Yamamoto T, Yanagisawa T, Takuma S, Hasegawa H, Watanabe K (1990) Electron-immunocytochemistry of laminin and type-IV collagen in the junctional epithelium of rat molar gingival. J Periodontal Res 25:372–376

Smola H, Stark HJ, Thiekötter G, Mirancea N, Krieg T, Fusenig NE (1998) Dynamics of basement membrane formation by keratinocyte-fibroblast interactions in organotypic skin culture. Exp Cell Res 239:399–410

Somogyi-Ganss E, Nakayama Y, Iwasaki K, Nakano Y, Stolf D, McKee MD, Ganss B (2012) Comparative temporospatial expression profiling of murine amelotin protein during amelogenesis. Cells Tissues Organs 195:535–549

Sorokin LM, Pausch F, Durbeej M, Ekblom P (1997) Differential expression of five laminin alpha (1-5) chains in developing and adult mouse kidney. Dev Dyn 210:446–462

Sugiyama S, Utani A, Yamada S, Kozak C, Yamada Y (1995) Cloning and expression of the mouse laminin γ2(B2t) chain, a subunit of epithelial cell laminin. Eur J Biochem 228:120–128

Uchio K, Manabe N, Yamaguchi-Yamada M, Goto Y, Yamamoto Y, Ogura A, Miyamoto H (2004) Changes in the localization of type I, III and IV collagen mRNAs in the kidney of hereditary nephritic (ICGN) mice with renal fibrosis. J Vet Med Sci 66:123–128

Willberg J, Syrjänen S, Hormia M (2006) Junctional epithelium in rats is characterized by slow cell proliferation. J Periodontol 77:840–846
Acknowledgments
We are grateful to Dr. Ganss, University of Toronto, for AMTN antibody, and Professor Jeremy Williams, Tokyo Medical University, for his assistance with the English of this manuscript. This work was supported by a Grant-in-Aid for Scientific Research (24592779; T.S.) from the Ministry of Education, Culture, Sports, Science and Technology of Japan.
About this article
Cite this article
Sawada, T., Yamazaki, T., Shibayama, K. et al. Expression and localization of laminin 5, laminin 10, type IV collagen, and amelotin in adult murine gingiva. J Mol Hist 45, 293–302 (2014). https://doi.org/10.1007/s10735-013-9559-7
Received:

Accepted:

Published:

Issue Date:
Keywords
In situ hybridization

Immunohistochemistry

Laminins

Type IV collagen

Amelotin

Gingiva