Abstract
AtPHB2 was cloned from Arabidopsis thaliana and localized to mitochondria. AtPHB2 expression in A. thaliana increased under different stresses, and promotion of seed germination and plant growth was observed in transgenic plants. In terms of physiological indices, the transgenic plants were more resistant to saline-alkali and oxidative stresses than wild-type and mutant plants. The transgenic plants also had the highest K+/Na+ ratio after 24 h of salt treatment and maintained lower H2O2 contents than wild-type and mutant plants under stress. Taken together, these results reveal that AtPHB2 affects plant tolerance against salt stresses and is involved in ROS decrease mechanisms.
Access options
Buy single article
Instant access to the full article PDF.
US$ 39.95
Tax calculation will be finalised during checkout.
Subscribe to journal
Immediate online access to all issues from 2019. Subscription will auto renew annually.
US$ 119
Tax calculation will be finalised during checkout.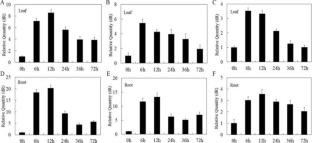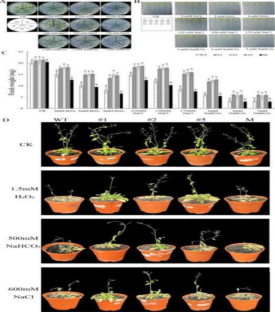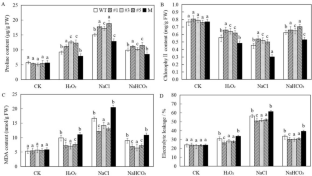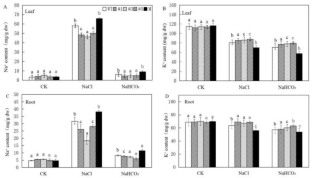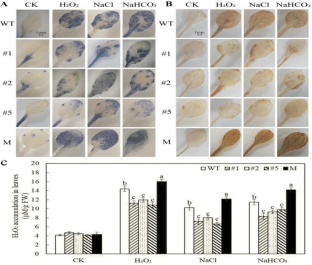 References
Ahn CS, Lee JH, Hwang AR, Kim WT, Pai HS (2006) Prohibitin is involved in mitochondrial biogenesis in plants. Plant J 46:658–667. https://doi.org/10.1111/j.1365-313X.2006.02726.x

Artal-Sanz M, Tsang WY, Willems EM, Grivell LA, Lemire BD, van der Spek H, Nijtmans LG (2003) The mitochondrial prohibitin complex is essential for embryonic viability and germline function in Caenorhabditis elegans. J Biol Chem 278:32091–32099. https://doi.org/10.1074/jbc.M304877200

Back JW et al (2002) A structure for the yeast prohibitin complex: structure prediction and e-vidence from chemical crosslinking and mass spectrometry. Protein Sci 11:2471–2478. https://doi.org/10.1110/ps.0212602

Bates LS, Waldren RP, Teare ID (1973) Rapid determination of free proline for water-stress studies. Plant Soil 39:205–207. https://doi.org/10.1007/BF00018060

Browman DT, Hoegg MB, Robbins SM (2007) The SPFH domain-containing proteins: more than lipid raft markers. Trends Cell Biol 17:394–402. https://doi.org/10.1016/j.tcb.2007.06.005

Cen HF, Ye WX, Liu YR, Li DY, Wang KX, Zhang WJ (2016) Overexpression of a chimeric gene, OsDST-SRDX, improved salt tolerance of perennial ryegrass. Sci Rep. https://doi.org/10.1038/srep27320

Chen JC, Jiang CZ, Reid MS (2005) Silencing a prohibitin alters plant development and senescence. Plant J 44:16–24. https://doi.org/10.1111/j.1365-313X.2005.02505.x

Christians MJ, Larsen PB (2007) Mutational loss of the prohibitin AtPHB3 results in an extreme constitutive ethylene response phenotype coupled with partial loss of ethylene-inducible gene expression in Arabidopsis seedlings. J Exp Bot 58:2237–2248. https://doi.org/10.1093/jxb/erm086

Clough SJ, Bent AF (1998) Floral dip: a simplified method for Agrobacterium-mediated transformation of Arabidopsis thaliana. Plant J 16:735–743. https://doi.org/10.1046/j,1365-313x.1998.00343.x

Coates PJ, Jamieson DJ, Smart K, Prescott AR, Hall PA (1997) The prohibitin family of mitochondrial proteins regulate replicative lifespan. Curr Biol 7:607–610. https://doi.org/10.1016/s0960-9822(06)00261-2

Delauney AJ, Verma DPS (1993) Proline biosynthesis and osmoregulation in plants. Plant J 4:215–223. https://doi.org/10.1046/j.1365-313X.1993.04020215.x

Draper HH, Hadley M (1990) Malondialdehyde determination as index of lipid peroxidation. Methods Enzymol 186:421–431. https://doi.org/10.1016/0076-6879(90)86135-I

Fusaro G, Dasgupta P, Rastogi S, Joshi B, Chellappan S (2003) Prohibitin induces the transcriptional activity of p53 and is exported from the nucleus upon apoptotic signaling. J Biol Chem 278:47853–47861. https://doi.org/10.1074/jbc.M305171200

Guo Q, Meng L, Mao P, Tian X (2015) Salt tolerance in two tall wheatgrass species is associated with selective capacity for K+ over Na+. Acta Physiol Plant 37:1708. https://doi.org/10.1007/s11738-014-1708-4

Heath RL, Packer L (1968) Photoperoxidation in isolated chloroplasts. I. Kinetics and stoichiometry of fatty acid peroxidation. Arch Biochem Biophys 125:189–198. https://doi.org/10.1016/0003-9861(68)90654-1

Hoffmann A, Hammes E, Plieth C, Desel C, Sattelmacher B, Hansen UP (2005) Effect of CO2 supply on formation of reactive oxygen species in Arabidopsis thaliana. Protoplasma 227:3–9. https://doi.org/10.1007/s00709-005-0133-3

Ikonen E, Fiedler K, Parton RG, Simons K (1995) Prohibitin, an antiproliferative protein, is localized to mitochondria. FEBS Lett 358:273–277

Jiang K, Ballinger T, Li D, Zhang S, Feldman L (2006) A role for mitochondria in the establishment and maintenance of the maize root quiescent center. Plant Physiol 140:1118–1125. https://doi.org/10.1104/pp.105.071977

Kandoi D, Mohanty S, Tripathy BC (2018) Overexpression of plastidic maize NADP-malate dehydrogenase (ZmNADP-MDH) in Arabidopsis thaliana confers tolerance to salt stress. Protoplasma 255:547–563. https://doi.org/10.1007/s00709-017-1168-y

Kong et al (2018) PHB3 maintains root stem cell niche identity through ROS-responsive AP2/ERF transcription factors in Arabidopsis. Cell REP 22:1350–1363

Levine A, Tenhaken R, Dixon R, Lamb C (1994) H2O2 from the oxidative burst orchestrates the plant hypersensitive disease resistance response. Cell 79:583–593. https://doi.org/10.1016/0092-8674(94)90544-4

Li T, Wang Y, Gao Y, Li Q (2015) Identification and characterisation of the anti-oxidative stress properties of the lamprey prohibitin 2 gene. Fish Shellfish Immun 42:447–456. https://doi.org/10.1016/j.fsi.2014.11.016

Maathuis FJM, Amtmann A (1999) K + nutrition and Na + toxicity: the basis of cellular K + /Na + ratios. Ann Bot-Lond 84:123–133. https://doi.org/10.1006/anbo.1999.0912

McClung JK et al (1989) Isolation of a cDNA that hybrid selects antiproliferative mRNA from rat liver. Biochem Biophys Res Commun 164:1316–1322. https://doi.org/10.1016/0006-291X(89)91813-5

Merkwirth C, Langer T (2009) Prohibitin function within mitochondria: essential roles for cell proliferation and cristae morphogenesis. Biochim Biophys Acta 1793:27–32. https://doi.org/10.1016/j.bbamcr.2008.05.013

Mittler R (2002) Oxidative stress, antioxidants and stress tolerance. Trends Plant Sci 7:405–410. https://doi.org/10.1016/S1360-1385(02)02312-9

Murashige T, Skoog F (1962) A revised medium for rapid growth and bio assays with tobacco tissue cultures. Physiol Plantarum 15:473–497. https://doi.org/10.1111/j.1399-3054.1962.tb08052.x

Nijtmans LG et al (2000) Prohibitins act as a membrane-bound chaperone for the stabilization of mitochondrial proteins. EMBO J 19:2444–2451. https://doi.org/10.1093/emboj/19.11.2444

Piechota J, Bereza M, Sokolowska A, Suszynski K, Lech K, Janska H (2015) Unraveling the functions of type II-prohibitins in Arabidopsis mitochondria. Plant Mol Biol 88:249–267. https://doi.org/10.1007/s11103-015-0320-3

Rajalingam K et al (2005) Prohibitin is required for Ras-induced Raf-MEK-ERK activation and epithelial cell migration. Nat Cell Biol 7:837–843. https://doi.org/10.1038/ncb1283

Schleicher M et al (2008) Prohibitin-1 maintains the angiogenic capacity of endothelial cells by regulating mitochondrial function and senescence. J Cell Biol 180:101–112. https://doi.org/10.1083/jcb.200706072

Shabala S, Cuin TA (2008) Potassium transport and plant salt tolerance. Physiol Plant 133:651–669. https://doi.org/10.1111/j.1399-3054.2007.01008.x

Sieger SM et al (2005) The role of alternative oxidase in modulating carbon use efficiency and growth during macronutrient stress in tobacco. Cells J Exp Bot 56:1499–1515. https://doi.org/10.1093/jxb/eri146

Snedden WA, Fromm H (1997) Characterization of the plant homologue of prohibitin, a gene associated with antiproliferative activity in mammalian cells. Plant Mol Biol 33:753–756. https://doi.org/10.1023/A:1005737026289

Steglich G, Neupert W, Langer T (1999) Prohibitins regulate membrane protein degradation by the m-AAA protease in mitochondria. Mol Cell Biol 19:3435–3442. https://doi.org/10.1128/MCB.19.5.3435

Takahashi A, Kawasaki T, Wong HL, Suharsono U, Hirano H, Shimamoto K (2003) Hyperphosphorylation of a mitochondrial protein, prohibitin, is induced by calyculin A in a rice lesion-mimic mutant cdr1. Plant Physiol 132:1861–1869. https://doi.org/10.1104/pp.103.021733

Tamari F, Hinkley CS, Ramprashad N (2013) A comparison of DNA extraction methods using Petunia hybrida tissues. J Biomol Tech 24:113–118. https://doi.org/10.7171/jbt.13-2403-001

Terashima M, Kim KM, Adachi T, Nielsen PJ, Reth M, Kohler G, Lamers MC (1994) The IgM antigen receptor of B lymphocytes is associated with prohibitin and a prohibitin-related protein. EMBO J 13:3782–3792. https://doi.org/10.1002/j.1460-2075.1994.tb06689.x

Tu M, Wang X, Huang L, Guo R, Zhang H, Cai J, Wang X (2016) Expression of a grape bZIP transcription factor, VqbZIP39, in transgenic Arabidopsis thaliana confers tolerance of multiple abiotic stresses. Plant Cell Tiss Org 125:537–551. https://doi.org/10.1007/s11240-016-0969-6

Van Aken O, Giraud E, Clifton R, Whelan J (2009) Alternative oxidase: a target and regulator of stress responses. Physiol Plant 137:354–361. https://doi.org/10.1111/j.1399-3054.2009.01240.x

Van Aken O et al (2007) Mitochondrial type-I prohibitins of Arabidopsis thaliana are required for supporting proficient meristem development. Plant J 52:850–864. https://doi.org/10.1111/j.1365-313X.2007.03276.x

Van Aken O, Whelan J, Van Breusegem F (2010) Prohibitins: mitochondrial partners in development and stress response. Trends Plant SCI 15:275–282. https://doi.org/10.1016/j.tplants.2010.02.002

Vandenabeele S et al (2003) A comprehensive analysis of hydrogen peroxide-induced gene expression in tobacco. Proc Natl Acad Sci U S A 100:16113–16118. https://doi.org/10.1073/pnas.2136610100

Wang Y, Ries A, Wu KT, Yang A, Crawford NM (2010) The Arabidopsis Prohibitin gene PHB3 functions in nitric oxide-mediated responses and in hydrogen peroxide-induced nitric oxide accumulation. Plant Cell 22:249–259. https://doi.org/10.1105/tpc.109.072066
Acknowledgement
This work was supported by D TYPE of Fundamental Research Funds for the Central Universities (2572020DY18) and the Heilongjiang Province Nature Science Foundation (LH2019C011),
Additional information
Publisher's Note
Springer Nature remains neutral with regard to jurisdictional claims in published maps and institutional affiliations.
Supplementary Information
Below is the link to the electronic supplementary material.
About this article
Cite this article
Chang, X., Zhu, G., Chen, S. et al. AtPHB2 regulates salt stress response in Arabidopsis thaliana. Plant Growth Regul (2021). https://doi.org/10.1007/s10725-021-00692-x
Received:

Accepted:

Published:
Keywords
Prohibitins

Arabidopsis thaliana

Salt stresses

Tolerance

Ion content