Abstract
The aims of this research were to generate information on agro-morphological variability among 42 bitter vetch (Vicia ervilia L.) landraces collected from major growing areas of North West of Iran. The landraces were grown according to rectangular lattice design in the field across 2 years (2018 and 2019) in the Research Farm at Vali-e-Asr University of Rafsanjan (Rafsanjan, Iran). Observations were recorded days to 50% flowering, days to maturing start, days to 50% maturing, height to first flower node, plant height in flowering stage, plant height in maturity stage, root length in maturity stage, number of lateral branch, one, two and three seed pod length, number of pod per plant, number of seed per pod, number of seed per plant, thousand kernel weight, biomass and grain yield. Analysis of variance revealed significant variation among landraces for the majority of the traits. Using principal component analysis, the first five PCs with eigenvalues > 1 contributed 74.4% of the variability among landraces. PC1, which is the most important component, explained 28. 9% of the total variation and was positively related to days to 50% maturing, plant height in maturity stage, days to maturing start, plant height in flowering stage, height to first flower node and biomass, respectively and PC2 accounted for 20.6% of the total variation and the traits with the greatest weight on this component were number of seed per plant, number of pod per plant, grain yield and two seed pod length, respectively. Cluster analysis using Ward method divided landraces into four groups. Based on cluster analysis and mean comparison among four groups, promising landraces were identified with superior traits such as number of pod per plant, number of seed per plant, thousand kernel weight, biomass and grain yield. The results demonstrated bitter vetch landraces of North West of Iran are a useful source of diversity in desirable traits that can be exploited in future breeding programs.
This is a preview of subscription content, log in to check access.
Access options
Buy single article
Instant access to the full article PDF.
US$ 39.95
Price includes VAT for USA
Subscribe to journal
Immediate online access to all issues from 2019. Subscription will auto renew annually.
US$ 199
This is the net price. Taxes to be calculated in checkout.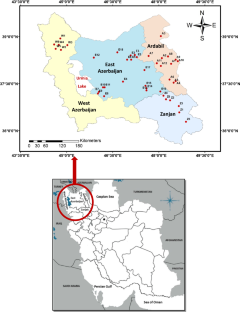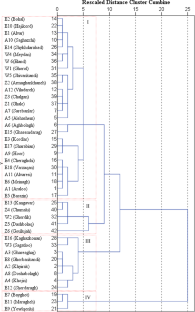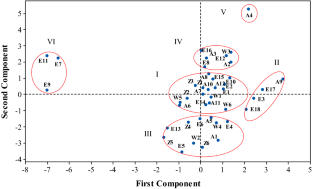 Data availability
Data in the study will participate willingly.
References
Abbasi MR, Vaezi S, Baghaie N (2007) Genetic diversity of bitter vetch (Vicia Ervilia) collection of the National Plant Gene Bank of Iran based on agro-morphological traits. Iranian J Rangelands For Plant Breed Genet Res 15:113–128

Agrawal SC, Khare MN, Agrawal PS (1976) Field screening of lentil lines for resistance to rust. Indian J Phytopathol 292:20–28

Angeles-Garcia M, Cuartero N, Ferrando I (1992) Chemical composition and bromatological aspects of some legumes of genera lathyrus and vicia. Nutr Abstr Rev 62:12

Cruz CD, Regazzi AJ, Carneiro PCS (2004) Biometric models applied to breeding, 3rd edn. Viçosa Press, Viçosa

Deshmukh SN, Reddy PS (1986) Genetic variability, character association and path coefficients of quantitative traits in Virginia bunch varieties of ground nut. Indian J Agric Sci 56:816–821

El Fatehi S, Bena G, Filali-Maltouf A, Ater M (2014) Variation in yield component, phenology and morphological traits among Moroccan bitter vetch landraces Vicia ervilia L. Afr J Agric Res 9(23):1801–1809

Falconer DS (1989) Introduction to quantitative genetics, 3rd edn. Longman, New York

Farran T, Halaby WS, Barbour GW, Uwayian MG, Sleiman FT, Ashkarian VM (2005) Effects of feeding ervil (Vicia Ervilia) seeds soaked in water or acetic acid on performance and internal organ size of broiler and production and egg quality of laying hens. Poult Sci 84:1723–1728

Farshadfar E (1998) Application of biometrical genetics in plant breeding, 1st edn. Razi University Press, Kermanshah

Fotovat R, Moghadam M, Bozorgzadeh M (1998) Study of genetic diversity of bitter vetch landraces. 5th National Iranian Crop Science Congress, Tehran, University of Tehran, Aug. 31-Sep. vol 4, pp 67–68

GRIN (2008) National genetic resources program, germplasm resources information network-(GRIN) online database. National Germplasm Resources Laboratory, Beltsville

Jing R, Vershinin A, Grzebyta J, Shaw P, Smýkal P, Marshall D, Ambose MJ, Ellis TN, Flavell AJ (2010) The genetic diversity and evolution of field pea (Pisum) studied by high throughput retrotransposon based insertion polymorphism (RBIP) marker analysis. BMC Evol Biol 10:44

Johonson HW, Robinson HF, Comostock RE (1955) Genotypic and phenotypic correlations in soybeans and their implication in selection. Agron J 47:477–483

Malek MA, Rafii MY, Afroz MSS, Nath UK, Mondal MMA (2014) Morphological characterization and assessment of genetic variability, character association, and divergence in soybean mutants. Sci World J 2014:1–12

Mekonnen F, Mekbib F, Kumar S, Ahmed S, Sharma TR (2014) Agromorphological traits variability of the ethiopian lentil and exotic genotypes. Adv Agric 2014:1–15

Moeini MM, Azari MT, Amanlou H (2010) Degradability and nutritional value of Vicia ervilia seed on holstein dairy cow performance. J Anim Prod 12:51–59

Panse VG (1957) Genetics of quantitative characters in relation to plant breeding. Indian J Genet Plant Breed 17:318–328

Ramanujam S, Tiwari AS, Mehra RB (1974) Genetic divergence and hybrid performance in agronomic crops. Theor Appl Genet 45:211–214

Sabaghnia N, Ahadnezhad A, Janmohammdi M (2015) Genetic variation in garden cress (Lepidium sativum L.) germplasm as assessed by some morphological traits. Genet Resour Crop Evol 62:733–745

Sadeghi G, Pourreza J (2007) Serum proteins and some biochemical parameters in broiler chickens fed with raw and treated bitter vetch (Vicia Ervilia) seeds. Pak J Biol Sci 10:981–997

Sadeghi G, Samie A, Pourreza J, Rahmani HR (2004) Canavanine content and toxicity of raw and treated bitter vetch (Vicia Ervilia) seeds for broiler chicken. Int J Poult Sci 3:522–529

Sadeghi G, Pourreza J, Samie A, Rahmani HR (2009) Chemical composition and some anti-nutrient content of raw and processed bitter vetch (Vicia ervilia) seed for use as feeding stuff in poultry diet. Trop Anim Health Pro 41:85–93

Sahhafi SR, Maleki Zanjani B, Talebi M, Fotovat R (2017) Evaluation of genetic diversity in some Iranian bitter vetch landraces using microsatellite markers. J Crop Breed 9(21):18–26

Smith JSC, Smith OS (1989) The description and assessment of distance between inbred lines of maize. The use of morphological traits as descriptors. Maydica 34:141–150

Smith SE, Al-Dos AL, Warburton M (1991) Morphological and agronomic variation in North African and Arabian Alfalfa. Crop Sci 31:1159–1163

Yalçin S, Tuncer I, Yalçin S, Onbasilar EE (2003) The use of different levels of common vetch seed (Vicia Sativa L.) in diets for fattening rabbits. Livest Prod Sci 84:93–97

Yousaf AA, Javed Akhter BM, Zahid LP (2008) Genetic variability, association and diversity studies in wheat (Triticum Aestivum L.) germplasm. Pak J Bot 40:2087–2097
Ethics declarations
Conflict of interest
Not applicable.
Ethical Standards
This manuscript has not been submitted in whole or in part elsewhere. The manuscript is not currently being considered for publication in another journal in any form or language (partially or in full). This manuscript will not spill up into several parts to increase the quantity of submissions and submitted to various journals or to one journal over time. Result is presented clearly, honestly, and without fabrication, falsification or inappropriate data manipulation (including image based manipulation). We adhere to discipline-specific rules for acquiring, selecting and processing data. This manuscript does not include data, text, or theories by others without their name.
Informed consent
Subjects in this study will participate willingly. We consent to publish this study in this journal.
Additional information
Publisher's Note
Springer Nature remains neutral with regard to jurisdictional claims in published maps and institutional affiliations.
About this article
Cite this article
Hassanpour, F., Sahhafi, S.R. Genetic variation in some Iranian bitter vetch (Vicia ervilia L.) landraces based on agronomic-morphological traits for use in breeding program in Rafsanjan. Genet Resour Crop Evol (2020). https://doi.org/10.1007/s10722-020-00962-z
Received:

Accepted:

Published:
Keywords
Bitter vetch

Genetic variation

Principal component analysis

Cluster analysis