Abstract
Studying how traditional knowledge regarding wild food plants and particularly wild vegetables changes over time and space is crucial for understanding which socio-ecological variables may have an influence on traditional foraging behaviors. Recent work has found that religious affiliation may play a central role since, in specific cultural contexts, religion shapes kinship relations and consequently the vertical transmission of traditional knowledge and practices. In order to further test this hypothesis, a field ethnobotanical study specifically focusing on wild vegetables was conducted among four religious communities (Shias, Sunnis, Christians, and Sikhs) in Kurram District, North-West Pakistan. Results show that a remarkable bio-cultural heritage comprising fifty-five folk wild food taxa survives today; most of the wild plants were however quoted by few informants, suggesting that this traditional knowledge system is possibly under threat. More than the half of the quoted wild vegetables were not yet reported so far in the Pakistan wild food ethnobotanical literature. The most commonly gathered wild vegetables were Amaranthus viridis L., Margarospermum officinale L., Malva neglecta Wallr., Portulaca oleracea L., and Rumex dentatus L. Most of the recorded wild vegetables were quoted by Shia and, to less extent, by Sunni community members, while Christians and Sikhs showed an extremely restricted wild plant food repertoire. These differences may be related to the different history and socio-economic conditions of the considered religious groups,  to geographical/ecological factors and probably to the very specific origin of the Shia groups (Turi tribe) of the region, which moved from Western Asia a few centuries ago. Moreover, a remarkable portion of the quoted wild vegetables are perceived to have specific medicinal properties. A serious reconsideration of the recorded wild food plant resources, especially also within educational platforms, could be crucial for fostering culturally-appropriate food security strategies in marginal areas of Pakistan.
This is a preview of subscription content, log in to check access.
Access options
Buy single article
Instant access to the full article PDF.
US$ 39.95
Price includes VAT for USA
Subscribe to journal
Immediate online access to all issues from 2019. Subscription will auto renew annually.
US$ 199
This is the net price. Taxes to be calculated in checkout.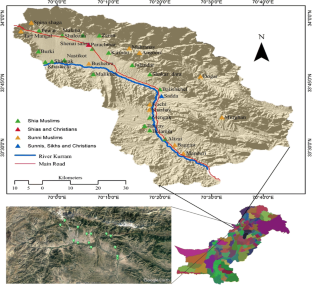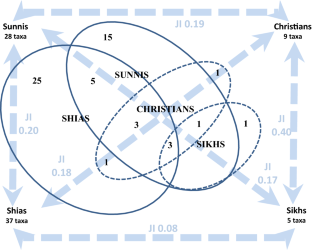 References
Abbasi AM, Khan MA, Shah MH, Shah MM, Pervez A, Ahmad M (2013a) Ethnobotanical appraisal and cultural values of medicinally important wild edible vegetables of Lesser Himalayas-Pakistan. J Ethnobiol Ethnomed 9:66

Abbasi AM, Khan MA, Zafar M (2013b) Ethno-medicinal assessment of some selected wild edible fruits and vegetables of Lesser-Himalayas, Pakistan. Pak. J. Bot 45:215–222

Ahmad K, Pieroni A (2016) Folk knowledge of wild food plants among the tribal communities of Thakht-e-Sulaiman Hills, North-West Pakistan. J Ethnobiol Ethnomed 12:7. https://doi.org/10.1186/s13002-016-0090-2

Ahmad K, Weckerle CS, Nazir A (2019) Ethnobotanical investigation of wild vegetables used among local communities in northwest Pakistan. Acta Soc Bot Pol. 88(1):3616. https://doi.org/10.5586/asbp.3616

Ajaib M, Haider SK, Zikrea A, Siddiqui MF (2014) Ethnobotanical studies of shrubs and trees of Agra valley Parachinar, upper Kurram agency, Pakistan. FUUAST J Biol 4(1):73-81

Ali M, Aldosari A, Tng DY, Ullah M, Hussain W, Ahmad M, Bussmann RW (2019) Traditional uses of plants by indigenous communities for veterinary practices at Kurram District, Pakistan. Ethnobot Res Appl 18:1–19. https://doi.org/10.32859/era.18.24.1-19

Bhatia H, Sharma YP, Manhas RK, Kumar K (2018) Traditionally used wild edible plants of district Udhampur, J&K, India. J Ethnobiol Ethnomed 14:73. https://doi.org/10.1186/s13002-018-0272-1

Caroe O (1958) The Pathans 550 B.C.-A.D. 1957. Macmillan, London.

Chauhan SH, Yadav S, Takahashi T, Łuczaj Ł, D'Cruz L, Okada K (2018) Consumption patterns of wild edibles by the Vasavas: a case study from Gujarat, India. J Ethnobiol Ethnomed 14:57. https://doi.org/10.1186/s13002-018-0254-3

Cornara L, Smeriglio A, Frigerio J, Labra M, Gristina E, Denaro M, Trombetta D (2018) The problem of misidentification between edible and poisonous wild plants: reports from the Mediterranean area. Food Chem Toxicol 119:112–121. https://doi.org/10.1016/j.fct.2018.04.066

Deb D, Sarkar A, Barma BD, Datta BK, Majumdar K (2013) Wild edible plants and their utilization in traditional recipes of Tripura, Northeast India. Adv Biol Res 7:203–211. https://doi.org/10.5829/idosi.abr.2013.7.5.11895

Dogan Y (2016) Wild edible plants: from the past to the future. Austin Food Sci 1:1006

García RV, Menendez-Baceta G, Aceituno-Mata L, Acosta-Naranjo R, Calvet-Mir L, Domínguez P, Rodríguez-Franco R (2015) From famine foods to delicatessen: interpreting trends in the use of wild edible plants through cultural ecosystem services. J Ecol Econ 120:303–311. https://doi.org/10.1016/j.ecolecon.2015.11.003

Gawali AS, Narkhede SS (2018) Diversity in wild vegetables in forest of Konkan region of India. J Med Plants Stud 6:1–6

Geng Y, Zhang Y, Ranjitkar S, Huai H, Wang Y (2016) Traditional knowledge and its transmission of wild edibles used by the Naxi in Baidi Village, northwest Yunnan province. J Ethnobiol Ethnomed 12:10. https://doi.org/10.1186/s13002-016-0082-2

Gilani SS, Abbas SQ, Shinwari ZK, Hussain F, Nargis K (2003) Ethnobotanical studies of Kurram Agency Pakistan through rural community participation. Pak J Biol Sci. 6:1368–1375. https://doi.org/10.3923/pjbs.2003

Hadi SMJ (2009) The Kurram Valley and the history of the inhabitants of different tribes in Kurram, KPK, Pakistan. Publishers Idara e Tahqiqat Milli, Parachinar

Heywood V, Skoula M (1999) The MEDUSA Network: Conservation and sustainable use of wild plants of the Mediterranean region. In: Janick J (ed) Perspectives on new crops and new uses. ASHS Press, Alexandria, VA, pp 148–151

Hussain W, Hussain J, Ali R, Hussain S, Khan MA, Khan I, Nascimento IA (2012) Phytomedicinal studies of Kurram agency in the federally administered tribal areas (FATA) of Pakistan. J Appl Pharm Sci 2:81-85. https://doi.org/10.7324/JAPS.2012.21016

Hussain W, Hussain J, Hussain S, Shinwari ZK, Ali R, Basir A (2013) Ethno medicinal study of Parachinar, Kurram Valley (FATA) KPK, Pakistan. J Appl Pharm Sci 3:85–88. https://doi.org/10.7324/JAPS.2013.31115

Hussain W, Badshah L, Ullah M, Ali M, Ali A, Hussain F (2018) Quantitative study of medicinal plants used by the communities residing in Koh-e-Safaid Range, northern Pakistani–Afghan borders. J Ethnobiol Ethnomed 14:30. https://doi.org/10.1186/s13002-018-0229-4

Imran M, Talpur FN, Jan MI, Khan A, Khan I (2007) Analysis of nutritional components of some wild edible plants. J Chem Soc Pak 29(5):500–508

Jaccard P (1902) Lois de distribution florale dans la zone alpine. Bull Soc Vaudoise Sci Nat 38:69–130

Jhamta R, Puri R, Sharma ML, Khan S, Kaur H (2019) Traditional knowledge and ways of consumption of wild edible plants by rural communities of Shimla District, Himachal Pradesh (India). Plant Sci Today 6(2):201–207

Ju Y, Zhuo J, Liu B, Long C (2013) Eating from the wild: diversity of wild edible plants used by Tibetans in Shangri-la region, Yunnan, China. J Ethnobiol Ethnomed 9:28. https://doi.org/10.1186/1746-4269-9-28

Kaliszewska I, Kołodziejska-Degórska I (2015) The social context of wild leafy vegetables uses in Shiri, Daghestan. J Ethnobiol Ethnomed 11(1):63. https://doi.org/10.1186/s13002-015-0047-x

Kapur BK (1908) Settlement report of Captain B.K. Kapur, N. -W F. Province Gazetteer Kurram Agency, p 1–64

Kayani S, Ahmad M, Sultana S, Shinwari ZK, Zafar M, Yaseen G, Bibi T (2015) Ethnobotany of medicinal plants among the communities of Alpine and Sub-alpine regions of Pakistan. J Ethnopharmacol 164:186–202. https://doi.org/10.1016/j.jep.2015.02.004

Kebede A, Tesfaye W, Fentie M, Zewide H (2017) An ethnobotanical survey of wild edible plants commercialized, in Kefira Market, Dire Dawa City, eastern Ethiopia. Plant 5:42–46. https://doi.org/10.11648/j.plant.20170502.13

Khan T (2005) Gazetteer of kurram agency Parachinar. pp 43–47

Khan N, Sultana A, Tahir N, Jamila N (2013) Nutritional composition, vitamins, minerals and toxic heavy metals analysis of Trianthema portulacastrum L., a wild edible plant from Peshawar, Khyber Pakhtunkhwa, Pakistan. Afr J Biotechnol 12(42):6079–6085. https://doi.org/10.5897/AJB2013.12972

Konsam S, Thongam B, Handique AK (2016) Assessment of wild leafy vegetables traditionally consumed by the ethnic communities of Manipur, northeast India. J Ethnobiol Ethnomed 12:9. https://doi.org/10.1186/s13002-016-0080-4

Łuczaj Ł (2010) Changes in the utilization of wild green vegetables in Poland since the 19th century: a comparison of four ethnobotanical surveys. J Ehnopharmacol 128:395–404. https://doi.org/10.1016/j.jep.2010.01.038

Łuczaj Ł, Končić MZ, Miličević T, Dolina K, Pandža M (2013) Wild vegetable mixes sold in the markets of Dalmatia (southern Croatia). J Ethnobiol Ethnomed 9:2. https://doi.org/10.1186/1746-4269-9-2

Mahon BM (1912) Cavalry in kurram and khost. Commandant kurram militia. Reprinted from the cavalry journal

Munir H, Ejaz Q (2010) Global water crisis and future food security in an era of climate change. Food Policy 35:365–377. https://doi.org/10.1016/j.foodpol.2010.05.006

Government of Pakistan / UNICEF (2019) National nutrition survey (NNS). https://www.unicef.org/pakistan/reports/national-nutrition-survey-2018-key-findings-report. Accessed 26 Mar 2020

Nordeide MB, Hatløy A, Følling M, Lied E, Oshaug A (1996) Nutrient composition and nutritional importance of green leaves and wild food resources in an agricultural district, Koutiala, in southern Mali. Int J Food Sci Nutr 47:455–468

Pieroni A, Cattero V (2019) Wild vegetables do not lie: comparative gastronomic ethnobotany and ethnolinguistics on the Greek traces of the Mediterranean Diet of southeastern Italy. Acta Bot Bras 33(2):198–211. https://doi.org/10.1590/0102-33062018abb0323

Pieroni A, Nedelcheva A, Dogan Y (2015) Local knowledge of medicinal plants and wild food plants among Tatars and Romanians in Dobruja (South-East Romania). Gen Resour Crop Evol 62:605–620

Pieroni A, Sõukand R, Amin HIM, Zahir H, Kukk T (2018) Celebrating multi-religious co-existence in central Kurdistan: the bio-culturally diverse traditional gathering of wild vegetables among Yazidis, Assyrians, and Muslim Kurds. Hum Ecol 46:217–227

Pimentel D, McNair M, Buck L, Pimentel M, Kamil J (1997) The value of forests to world food security. Hum Ecol 25:91–120

Rao PK, Hasan SS, Bhellum BL, Manhas RK (2015) Ethnomedicinal plants of Kathua district, J&K, India. J Ethnopharmacol 171:12–27

Rieck AT (2015) The shias of Pakistan: An assertive and beleaguered minority. Oxford University Press, Oxford

Salvi J, Katewa SS (2016) A review: underutilized wild edible plants as a potential source of alternative nutrition. Int J Bot Stud 1:32–36

Shad AA, Shah HU, Bakht J (2013) Ethnobotanical assessment and nutritive potential of wild food plants. J Anim Plant Sci 23:92–99

Shah GM, Khan MA (2006) Common medicinal folk recipes of siran valley, Mansehra. Pakistan. Ethnobot Leaflets 10:69–42

Shah AH, Khan SM, Shah AH, Mehmood A, Rahman I, Ahmad H (2015) Cultural uses of plants among Basikhel tribe of district Tor Ghar, Khyber Pakhtunkhwa, Pakistan. Pak J Bot 47:23–41

Shin T, Fujikawa K, Moe AZ, Uchiyama H (2018) Traditional knowledge of wild edible plants with special emphasis on medicinal uses in Southern Shan State, Myanmar. J Ethnobiol Ethnomed 14:48. https://doi.org/10.1186/s13002-018-0248-1

Singh B, Sultan P, Hassan QP, Gairola S, Bedi YS (2016) Ethnobotany, traditional knowledge and diversity of wild edible plants and fungi: a case study in the Bandipora District of Kashmir Himalaya, India. J Herbs Spices Med Plants 22:247–278. https://doi.org/10.1080/10496475.2016.1193833

Sundriyal M, Sundriyal DC (2001) Wild edible plants of the Sikkim Himalaya: nutritive values of selected species. J Econ Bot 55(3):377–390. https://doi.org/10.1007/BF02866561

Tareen NM, Rehman MA, Shinwari ZK, Bibi T (2016) Ethnomedicinal utilization of wild edible vegetables in district Harnai of Balochistan Province-Pakistan. Pak J Bot 3:1159–1171

Thakur D, Sharma A, Uniyal SK (2017) Why they eat, what they eat: patterns of wild edible plants consumption in a tribal area of Western Himalaya. J Ethnobiol Ethnomed 13:70. https://doi.org/10.1186/s13002-017-0198-z

Uprety Y, Poudel RC, Shrestha KK, Rajbhandary S, Tiwari NN, Shrestha UB, Asselin H (2012) Diversity of use and local knowledge of wild edible plant resources in Nepal. J Ethnobiol Ethnomed 8:16. https://doi.org/10.1186/1746-4269-8-16

FAO (2010) Nutrition country profiles: Pakistan. http://www.fao.org/ag/agn/nutrition/pak_en.stm. Accessed 26 Mar 2020
Acknowledgements
This research work is the part of Bachelor of Science research work of first and second author. We are very thankful to the rural communities of the study area for their hospitality and support and for sharing their knowledge. This project would never have been possible without their cooperation. We offer sincere and deep thanks to all of the people around us who contributed and provided help throughout the study. Special thanks are also due to the University of Gastronomic Sciences, Pollenzo, Italy, which partially funded the research.
Ethics declarations
Conflict of interest
The authors declared that they had no conflict of interest. Study participants provided verbal consent for the information they shared to be used for academic purposes.
Ethical statement
We certify that preparation of this manuscript has been clearly described in compliance with the ethical standards section of the journal.
Additional information
Publisher's Note
Springer Nature remains neutral with regard to jurisdictional claims in published maps and institutional affiliations.
About this article
Cite this article
Abbas, W., Hussain, W., Hussain, W. et al. Traditional wild vegetables gathered by four religious groups in Kurram District, Khyber Pakhtunkhwa, North-West Pakistan. Genet Resour Crop Evol 67, 1521–1536 (2020). https://doi.org/10.1007/s10722-020-00926-3
Received:

Accepted:

Published:

Issue Date:
Keywords
Ethnobotany

Pakistan

Kurram

Wild food plants

Religious groups