Abstract
An experiment was performed to detect the genetic diversity and heat tolerance in sixty cotton (Gossypium hirsutum L.) genotypes at Cotton Research Station D. I. Khan during the crop Season 2016–2017 in randomized complete block design in which three replications were used. These genotypes were evaluated for various morphological [plant height (cm), monopodial branches plant−1 and sympodial branches plant−1, bolls plant−1, boll weight (g) and seed cotton yield (g plant−1)], physiological [relative cell injury percentage (RCI%) and chlorophyll content] and fiber quality traits [ginning out turn (%), fiber strength (g tex−1), micronaire value (µg inch−1), fiber length (mm) and uniformity index (%)]. Genetic analysis revealed that genotypes were containing marked phenotypic variabilities. High values of GCV, PCV, heritability and genetic advance were found for monopodial branches plant−1, boll weight, seed cotton yield plant−1, RCI%, chlorophyll contents and micronaire value. Variable trends of RCI% among the genotypes showed different levels of cell membrane thermostability. The results of RCI% indicated that Neelam-131 (32.34%), Sitara-008 (36.26%), Sitara-009 (39.89%) and Thakkar-80 (40.22%) had lower RCI% which depicted their higher cell membrane thermostability. These four genotypes were also superior in seed cotton yield having 124.12 g, 112.78 g, 102.63 g and 98.25 g plant−1 respectively. Three principle components were depicted having Eigen value > 1 and cumulative variation of 70.4% in which the contribution of individual PCs was; PC1 (48.3%), PC2 (11.3%) and PC3 (10.9%). Score plot revealed that Auriga-216, VH-Gulzar, Thakkar-80, Neelam-131, Sitara-008, BH-184, CRIS-600IR-NIBGE-7, VH-327 and FH-Noor were the most divergent genotypes and hence can be effectively utilized in the future breeding program.
This is a preview of subscription content, log in to check access.
Access options
Buy single article
Instant access to the full article PDF.
US$ 39.95
Price includes VAT for USA
Subscribe to journal
Immediate online access to all issues from 2019. Subscription will auto renew annually.
US$ 199
This is the net price. Taxes to be calculated in checkout.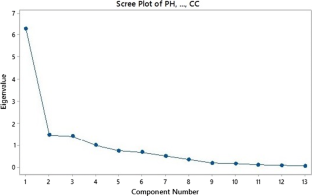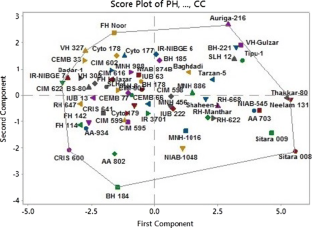 References
Ahmed HM, Kandhro MM, Laghari S, Abro S (2006) Heritability and genetic advance as selection indicators for improvement in cotton (Gossypium hirsutum L.). J Biosci 6:96–99

Anil DN, Abhay NS, Narendrakumar PP (2017) Genetic divergence study in cotton (Gossypium hirsutum L.). Int J Biol Res 2(2):37–38

Asha R, Ahamed LM (2016) Screening of cotton genotypes for heat tolerance. Int J Bioresour Stress Manag 4(4):599–604

Bhardwaj SN, Singh M (1991) Thermal relation of light utilization and biomass production in upland cotton (Gossypium hirsutum L.). In: Abrol IP (ed) Proceedings of indo US workshop on impact of global climatic changes on photosynthesis and plant productivity, January 8–12, 1991. Oxford and IBH Publishing Company Ltd., New Delhi, pp 651–662

Bhatt GM (1970) Multivariate analysis approach to selection of parents for hybridization aiming at yield component in self-pollination crops. Aust J Agric Res 21:1–7

Bibi AC, Oosterhuis DM, Gonias ED, Bourland FM (2006) High temperature effect on physiology and biochemistry of cotton. In: Beltwide cotton conference, San Antonio, TX, pp 2266–2270

Bibi AC, Oosterhuis DM, Gonias ED (2008) Photosynthesis, quantum yield of photosystem II and membrane leakage as affected by high temperatures in cotton genotypes. J Cotton Sci 12:150–159

Brown PW (2001) Heat stress and cotton yields in Arizona. In: Cotton: a College of Agriculture report, AZ1224, College of Agriculture, Univ of Arizona Tucson, AZ, p 7

Brown PW, Zeiher CA (1998) Development of an effective screen for identifying cotton cultivars tolerant to elevated night temperatures during the monsoon. Final report: project 96-342AZ, Cotton Inc, Raleigh, NC

Burke JJ, Velten J, Oliver MJ (2004) In vitro analysis of cotton pollen germination. Agron J 96:359–368

Burton GW (1952) Quantitative inheritance in grasses. In: Proceedings of the sixth international congress, pp 277–283

Carves BF, Smith EL, England HO (1987) Regression and cluster analysis of environmental responses of hybrid and pure line winter wheat cultivars. Crop Sci 27:659–664

Chaisompongopan N, Li PH, Davis DW, Mackhart AH (1990) Photosynthetic responses to heat stress in common bean genotypes in heat acclimation potential. Crop Sci 30:100–104

Cottee NS, Bange MP, Daniel KYT, Campbell LC (2010) Multi-level determination of heat tolerance in cotton (Gossypium hirsutum L.) under field conditions. Crop Sci 50:2553–2564

Falconer DS (1989) Introduction to quantitative genetics, 3rd edn. Longman Scientific and Technical, Essex

Gupta PK, Langridge P, Mir RR (2010) Marker-assisted wheat breeding: present status and future possibilities. Mol Breed 26(2):145–161

Hall AE, Allen LHJ (1993) Designing cultivars for the climatic conditions of the next century. In: Buxton DR, Shibles R, Forsberg RA, Blad BL, Asay KH, Paulsen GM, Wilson RF (eds) International crop science I. CSSA, Madison, pp 291–297

Hanson C, Robinson H, Comstock R (1956) Biometrical studies of yield in segregating populations of Korean Lespedeza. Agron J 48(6):268–272

Horvath I, Glatz A, Varvasovszki V, Torok Z, Pali T, Balogh G, Kovacs E, Nadasdi L, Benko S, Joo F, Vıgh L (1998) Membrane physical state controls the signaling mechanism of heat shock response in Synechocystis PCC 6803: identification of hsp 17 as a 'fluidity gene'. Proc Natl Acad Sci USA 95:3513–3518

Javed M, Hussain SB, Baber M (2017) Assessment of genetic diversity of cotton genotypes for various economic traits against cotton leaf curl disease (CLCuD). Genet Mol Res 16(1):1–12

Joshi V, Patil BR (2018) Genetic variability and heritability study in F2 population for yield, yiled attributes and fibre quality traits in cotton (Gossypium hirsutum L.). J Pharmacogn Phytochem 7(4):2816–2818

Kaiser HF (1960) The application of electronic computers to factor analysis. Educ Psychol Meas 20:141–151

Kumar SM, Kumar UM (2004) Development of thermotolerant tomato (Lycopersicon esculentum Mill.) lines: an approach based on mutagenesis. J Plant Biol 31:139–148

Law RD, Brandner SJ (1999) Inhibition and acclimation of photosynthesis to heat stress is closely correlated with activation of ribulose-1,5-bisphosphate carboxylase/oxygenase. Plant Physiol 120(1):173–182

Lush JL (1940) Intra-sire correlation and regression of offspring on dams as a method of estimating heritability of characters. Proc Am Soc Anim Prod 33:293–301

Malik W, Iqbal MZ, Khan AA, Noor E (2011) Genetic basis of variation for seedling traits in (Gossypium hirsutum L.). Afr J Biotechnol 10:1099–1105

McDaniel RG (1982) The physiology of temperature effects on plants. In: Christiansen MN, Lewis CF (eds) Breeding plants for less favourable environments. Wiley, New York, pp 13–45

Mohammadi SA, Prasanna BM (2003) Analysis of genetic diversity in crop plants: salient statical tools and considerations. Crop Sci 43:1235–1248

Nazir A, Farooq J, Mahmood A, Shahid M (2013) Estimation of genetic diversity for CLCuV, earliness and fiber quality traits using various statistical procedures in different crosses of (Gossypium hirsutum L.). Vestn OrelGAU 4(43):2–9

Orvar BL, Sangwan V, Omann F, Dhindsa RS (2000) Early steps in cold sensing by plant cells: the role of actin cytoskeleton and membrane fluidity. Plant J 23:785–794

Preetha S, Raveendran TS (2007) Genetic variability and association analysis in three different morphological groups of cotton (Gossypium hirsutum L.). Asian J Plant Sci 6(1):122–128

Pujer S, Siwach SS, Deshmukh J, Sangwan RS, Sangwan O (2014) Genetic variability, correlation and path analysis in upland cotton (Gossypium hirsutum L.). Electron J Plant Breed 5(2):284–289

Rahman H, Malik SA, Saleem M (2004) Heat tolerance of upland cotton during the fruiting stage evaluated using cellular membrane thermostability. Field Crops Res 85:149–158

Reddy KR, Hodges HF, Reddy VR (1992) Temperature effects on cotton fruit retention. Agron J 84:26–30

Reddy KR, Hodges HF, McKinion JM (1995) Carbon dioxide and temperature effects on pima cotton development. Agron J 87(5):820–826

Reddy KR, Kakani VG, Zhao D, Koti S, Gao W (2004) Interactive effects of ultraviolet-B radiation and temperature on cotton growth, development, physiology and hyperspectral reflectance. Photochem Photobiol 79:416–427

Schrader SM, Wise RR, Wachpltz WF, Ort DR, Sharkey TD (2004) Thylakoid membrane responses to moderately high leaf temperature in pima cotton. Plant Cell Environ 27(6):725–735

Shao D, Wang T, Zhang H, Zhu J, Tang F (2016) Variation, heritability and association of yield, fiber and morphological traits in a near long staple upland cotton population. Pak J Bot 48(5):1945–1949

Singh RP, Prasad PVV, Sunita K, Giri SN, Reddy KR (2007) Influence of high temperature and breeding for heat tolerance in cotton: a review. Adv Agron 93:313–385

Singh D, Gill J, Gumber R, Singh R, Singh S (2013) Yield and fibre quality associated with cotton leaf curl disease of Bt-cotton in Punjab. J Environ Biol 34:113–116

Steel RGD, Torrie JH, Dickey DA (1997) Principles and procedures of statistics: a biometrical approach, 3rd edn. McGraw Hill Book Co. Inc., New York, pp 400–428

Sullivan CY (1972) Mechanisms of heat and drought resistance in grain sorghum and methods of measurements. Sorghum in seventies. Oxford and IBH Publishing Co., New Delhi, pp 247–264

Sunayana R, Sangwan S, Nimbal S (2017) Studies on association, path analysis and genetic parameters for seed cotton yield and it's contributing characters in desi cotton (Gossypium arboreum L.). Int J Curr Microbiol Appl Sci 6(11):104–111

Usharani KS, Amalabalu P, Boopathi NM (2016) Genetic variability, heritability, genetic advance & correlation of yield & quality traits in segregating generation of upland cotton. Green Farming 7(3):569–573

Wullschleger SD, Oosterhuis DM (1986) A rapid leaf-disc sampler for psychrometric water potential measurements. Plant Physiol 81:684–685
Ethics declarations
Ethics approval and consent to participate
No investigations were undertaken using humans/human samples in this study. No experimental animals were used to conduct any of the experiments reported in this manuscript. Our study did not involve endangered or protected species. No specific permits were required from the studies and corresponding author should be contacted for future permissions.
Additional information
Publisher's Note
Springer Nature remains neutral with regard to jurisdictional claims in published maps and institutional affiliations.
About this article
Cite this article
Jamil, A., Khan, S.J. & Ullah, K. Genetic diversity for cell membrane thermostability, yield and quality attributes in cotton (Gossypium hirsutum L.). Genet Resour Crop Evol 67, 1405–1414 (2020). https://doi.org/10.1007/s10722-020-00911-w
Received:

Accepted:

Published:

Issue Date:
Keywords
Cell membrane thermostability

Cotton

Genotypes

Genetic diversity

Principle components