Abstract
The results of the exploration missions for the gathering of legume germplasm in Monti Dauni district (southern Italy) are presented. The 52% of collected samples were common beans (Phaseolus vulgaris L.), mainly white seeded types. Information acquired in the frame of different research areas, such as passport data, GIS data, historical documents on crop cultivation in the study district, were integrated data with orthophotos and satellite images. This interdisciplinary approach allowed to obtain a multidimensional data set for the collected local varieties. A similar holistic approach permits a better knowledge of the link between the local varieties and the traditional area of cultivation, as well as the contextualization of their cultivation in both space and time. The merger of different information overcomes the limits derived from the use of a single methodology and might support local communities and policy-makers in the planning of effective actions aimed to safeguard the autochthonous germplasm.
Access options
Buy single article
Instant access to the full article PDF.
US$ 39.95
Tax calculation will be finalised during checkout.
Subscribe to journal
Immediate online access to all issues from 2019. Subscription will auto renew annually.
US$ 119
Tax calculation will be finalised during checkout.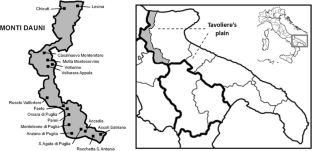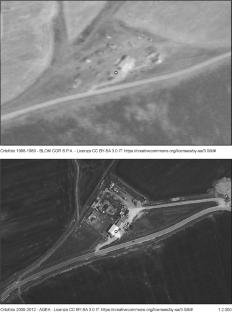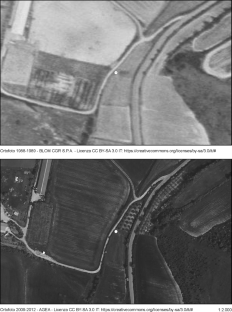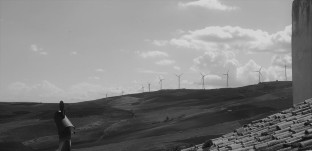 References
Baselice G (1791) Su di un viaggio fisico-botanico, e sulle piante economiche della provincia di Capitanata. Memorie del signor Gaetano Baselice farmacista, e corrispondente del real giardino delle piante. Estratto dal Giornale enciclopedico di Napoli, anno VII, n. 3 and 4

Chabert A, Amosse A, Sarthou JP (2019) Assessing landscape composition using visual assessment: accuracy of rapid description compared to digital mapping. Landsc Res 44:6–18. https://doi.org/10.1080/01426397.2017.1392493

Fahrig L, Baudry J, Brotons L, Burel FG, Crist TO, Fuller RJ, Sirami C, Siriwardena GM, Martin JL (2011) Functional landscape heterogeneity and animal biodiversity in agricultural landscapes. Ecol Lett 14:101–112. https://doi.org/10.1111/j.1461-0248.2010.01559.x

Falcucci A, Maiorano L, Boitani L (2007) Changes in land use/land cover patterns in Italy and their implications for biodiversity conservation. Landsc Ecol 22:617–631. https://doi.org/10.1007/s10980-006-9056-4

FAOSTAT (2016) http://www.fao.org/faostat/en/#data/QC. Accessed Nov 2018

Giupponi C, Ramanzin M, Sturaro E, Fuser S (2006) Climate and land use changes, biodiversity and agri-environmental measures in the Belluno province, Italy. Environ Sci Policy 9:163–173. https://doi.org/10.1016/j.envsci.2005.11.007

Istituto Centrale di Statistica del Regno d'Italia (1929) Catasto agrario. Compartimento delle Puglie. Provincia di Foggia. Fascicolo 73. Istituto Poligrafico dello Stato, Roma. https://www.ebiblio.istat.it/digibib/Catasto/Catasto%20agrario%201929/IST0006646CatAgr1929_73FG.pdf. Accessed July 2019

Laghetti G, Ghiglione G, De Lisi A, Maruca G, Losavio FP, Pignone D (2013) Survey for the conservation of agrobiodiversity in three Italian linguistic (Occitan, Croatian and Franco-Provençal) islands. J Biol Life Sci 4:79–114. https://doi.org/10.5296/jbls.v4i1.2147

Letterio R (2004) La carestia e l'epidemia del 1816–17 a Foggia. In: Capitanata, Rivista quadrimestrale della Biblioteca Provinciale di Foggia, pp 175–200. http://www.bibliotecaprovinciale.foggia.it/capitanata/arch_pdf/Capitanata_2004_15.pdf. Accessed July 2019

Lioi L (1989) Geographical variation of phaseolin pattern in an old world collection of Phaseolus vulgaris. Seed Sci Technol 17:317–324

Lioi L, Piergiovanni AR (2013) European common bean. In: Singh M, Upadhyaya HD, Bisht IS (eds) Genetic and genomic resources of grain legume improvement. Elsevier Inc, Amsterdam, pp 11–40. https://doi.org/10.1016/B978-0-12-397935-3.00002-5

Lioi L, Nuzzi A, Campion B, Piergiovanni AR (2012) Assessment of genetic variation in common bean (Phaseolus vulgaris L.) from Nebrodi mountains (Sicily, Italy). Genet Res Crop Evol 59:455–464. https://doi.org/10.1007/s10722-011-9696-3

Logozzo G, Donnoli R, Macaluso L, Papa R, Knupffer H, Spagnoletti Zeuli PL (2007) Analysis of the contribution of Mesoamerican and Andean gene pools to European common bean (Phaseolus vulgaris L.) germplasm and strategies to establish a core collection. Genet Res Crop Evol 54:1763–1779. https://doi.org/10.1007/s10722-006-9185-2

Longano F (1790) Viaggi dell'abate Longano per lo regno di Napoli, volume II, Capitanata. Sangiacomo, Napoli

Lucchino A (1930) Del terremoto che addì 30 luglio 1627 ruinò la città di Sansevero e terre convicine (cronaca inedita del 1630), a cura di N. Checchia, Foggia

Malczewski J (2004) GIS-based land-use suitability analysis: a critical overview. Prog Plan 62:3–65. https://doi.org/10.1016/j.progress.2003.09.002

MiPAAF, Ministero delle politiche agricole, alimentari e forestali (2013) Linee guida per la conservazione e la caratterizzazione della biodiversità vegetale, animale e microbica di interesse per l'agricoltura. Piano Nazionale sulla Biodiversità di Interesse Agricolo, INEA, Roma. https://www.reterurale.it/flex/cm/pages/ServeBLOB.php/L/IT/IDPagina/9580. Accessed July 2019

Montesano V, Negro D, Sarli G, Logozzo G, Spagnoletti Zeuli PL (2012) Landraces in Inland areas of the Basilicata region, Italy: monitoring and perspectives for on farm conservation. Genet Res Crop Evol 59:701–716. https://doi.org/10.1007/s10722-011-9712-7

Negri V, Maxted N, Vetelainen M (2009) European landrace conservation: an introduction. In: Vetelainen M, Negri V, Maxted N (eds) Technical Bullettin n. X. European landraces: on-farm conservation, management and use. Bioversity International, Rome

Ocampo CH, Martin JP, Sanchez-Yelamo MD, Ortiz JM, Toro O (2005) Tracing the origin of Spanish common bean cultivars using biochemical and molecular markers. Genet Res Crop Evol 52:33–40. https://doi.org/10.1007/s10722-005-1931-3

Piergiovanni AR, Lioi L (2010) Italian common bean landraces: history, genetic diversity and seed quality. Diversity 2:837–862. https://doi.org/10.3390/d2060837

Piergiovanni AR, Villecco D, Lioi L, Zaccardelli M (2015) Comparison among recognized and non-recognized Phaseolus vulgaris L. landraces as traditional agro-food products of the Campania region (Italy). Genet Res Crop Evol 62:1009–1019. https://doi.org/10.1007/s10722-014-0204-4

Piergiovanni AR, Laghetti G, Margiotta B (2017) Leguminose, cereali, foraggere di Puglia. Fonti storiche. Tipolito Vitetum snc, Bitetto, pp 1–154

Pulighe G, Bonati G, Fabiani S, Barsali T, Lupia F, Vanino S, Nino P, Arca P, Roggero PP (2016) Assessment of the agronomic feasibility of bioenergy crop cultivation on marginal and polluted land: a GIS-based suitability study from the Sulcis area, Italy. Energies 9:895. https://doi.org/10.3390/en9110895

Regione Puglia (2015) Piano paesaggistico territoriale regionale, PPTR. http://paesaggio.regione.puglia.it/PPTR_2015/5_Schede%20degli%20Ambiti%20Paesaggistici/5.2_monti.dauni.pdf. Accessed Nov 2018

Reis S (2008) Analysing land use/land cover changes using remote sensing and GIS in Rize, north-east Turkey. Sensors 8:6188–6202. https://doi.org/10.3390/s8106188

Rodiño AP, Santalla M, Montero I, Casquero PA, De Ron AM (2001) Diversity of common bean (Phaseolus vulgaris L.) germplasm from Portugal. Genet Res Crop Evol 48:409–417. https://doi.org/10.1023/A:1012248002436

Saidur R, Rahim NA, Islam MR, Solangi KH (2011) Environmental impact of wind energy. Renew Sustain Energy Rev 15:2423–2430. https://doi.org/10.1016/j.rser.2011.02.024

Scarano D, Rubio F, Ruiz JJ, Rao R, Corrado G (2014) Morphological and genetic diversity among and within common bean (Phaseolus vulgaris L.) landraces from the Campania region (Southern Italy). Sci Hortic 180:72–78

S.I.T. (2011) https://webapps.sit.puglia.it/freewebapps/UDS2011/index.html. Accessed July 2019

Zohary D, Hopf M, Weiss E (2012) Domestication of plants in the Old World: the origin and spread of domesticated plants in Southwest Asia, Europe, and the Mediterranean Basin, 4th edn. Oxford University, Oxford
Acknowledgements
This research was supported by the Programma Sviluppo Rurale (PSR) FEASR 2007–2013, Asse II "Miglioramento dell'Ambiente e dello Spazio Rurale". Misura 214 Az. 4 sub azione a) Progetti integrati per la biodiversità—Progetto "Recovery, characterization, preservation and valorisation of legumes, cereals and forage in Apulia" (SaVeGraINPuglia).
Additional information
Publisher's Note
Springer Nature remains neutral with regard to jurisdictional claims in published maps and institutional affiliations.
Electronic supplementary material
Below is the link to the electronic supplementary material.
Pictures showing common bean seeds of some collected accessions. (For village correspondence, see Figure 1). (DOCX 570 kb)
Satellite image of the collection site near Orsara di Puglia (lat. 41.31545 lon. 15.27165) by Google maps (accessed February 2019). (PNG 1748 kb)
About this article
Cite this article
Piergiovanni, A.R., Procino, G., Cifarelli, S. et al. Monti Dauni district (Apulia region, southern Italy): an environment promoting on farm conservation of common bean (Phaseolus vulgaris L.) landraces. Genet Resour Crop Evol 66, 1459–1468 (2019). https://doi.org/10.1007/s10722-019-00810-9
Received:

Accepted:

Published:

Issue Date:
Keywords
Germplasm

GIS

Land use

Phaseolus vulgaris

Safeguard