Abstract
Gathering and consuming wild food plants are traditional practices in many areas of the world and their role in fostering food security has been increasingly discussed in recent years. In this field study, we focused on traditional foraging among Azeris, Tats, Russian Molokans, and Udis in Central Azerbaijan. Via 78 semi-structured interviews, with an equal number of individuals from the four ethnic/religious communities, 73 wild food folk taxa were recorded. While Caucasian autochthonous Udis have a restricted use of wild food plants in comparison with the other groups, possibly due to the fact that they live in a plains area that is horticultural-driven and well-connected, the most divergent ethnobotany was exhibited by the Tats (10 folk taxa exclusively used by them) which may be related to both their cultural and geographical isolation and the fact that this community was endogamic until only a few decades ago. Whereas the Azeri plant cultural markers are mainly retained by refugees from Karabakh, Russian Molokans, who represent a distinct, conservative ethno-religious group, seem to have preserved a few ancient Slavic culinary uses of wild plants (Armoracia rusticana Gaertn., B.Mey. and Scherb., Crataegus spp., Rumex acetosella L., and especially Viburnum opulus). Tat cultural markers were represented by barberries (especially in their original lacto-fermented preparation) and Ornithogalum spp., while for Udis Smilax excelsa L. shoots were particularly salient, as were wild Allium, Chaerophyllum, Prangos, Smyrnium, and Tragopogon spp. among the Azeris. Overall, the practice of traditional foraging is alive in the Azeri Caucasus in the most remote mountainous areas and this heritage is the result of a complex co-evolution, in which both human ecological trajectories and cultural attachment to certain plant tastes have possibly shaped specific foraging patterns over centuries.
Access options
Buy single article
Instant access to the full article PDF.
US$ 39.95
Tax calculation will be finalised during checkout.
Subscribe to journal
Immediate online access to all issues from 2019. Subscription will auto renew annually.
US$ 119
Tax calculation will be finalised during checkout.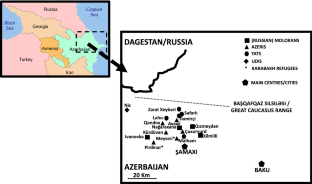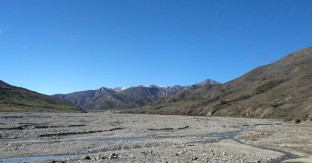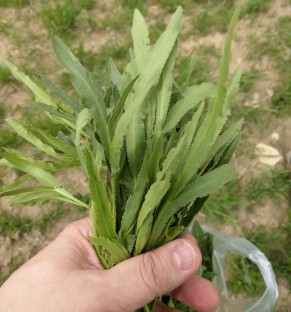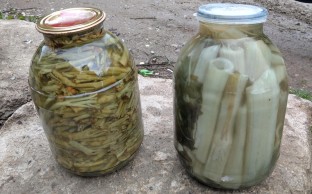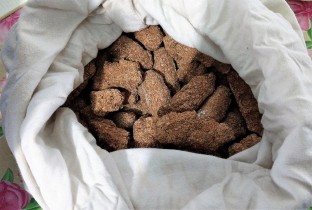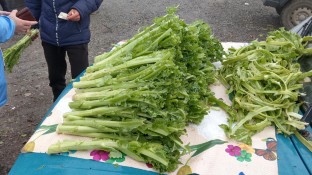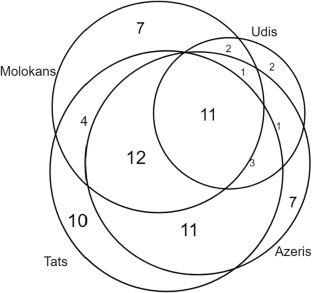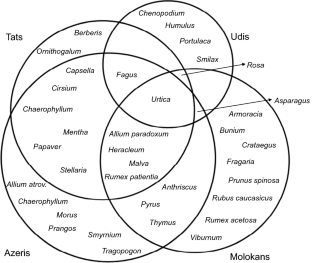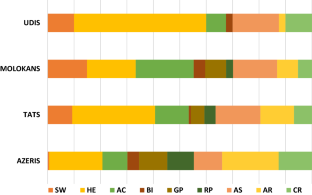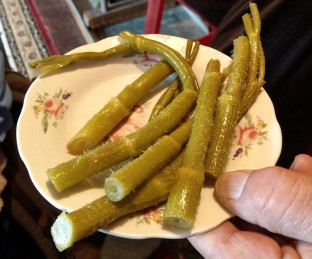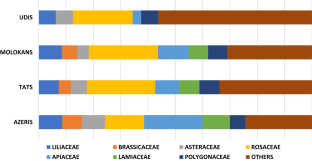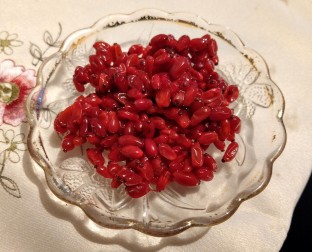 References
Abdalla M (2004) Wild growing plants in the cuisine of modern Assyrians in the Eastern Syrian-Turkish borderland. J Assyr Acad Stud 18(2):50–58

Bharucha Z, Pretty J (2010) The roles and values of wild foods in agricultural systems. Philos Trans R Soc B 365(1554):2913–2926. https://doi.org/10.1098/rstb.2010.0123

Bussmann RW, Paniagua-Zambrana NY, Sikharulidze S, Kikvidze Z, Kikodze D, Tchelidze D, Kutsishvili M, Batsatsashvili K, Hart RE (2016) A comparative ethnobotany of Khevsureti, Samtskhe-Javakheti, Tusheti, Svaneti, and Racha-Lechkhumi, Republic of Georgia (Sakartvelo), Caucasus. J Ethnobiol Ethnomed 12:43. https://doi.org/10.1186/s13002-016-0110-2

Bussmann RW, Paniagua-Zambrana NY, Sikharulidze S, Kikvidze Z, Kikodze D, Tchelidze D, Batsatsashvili K, Hart RE (2017) Ethnobotany of Samtskhe-Javakheti, Sakartvelo (Republic of Georgia), Caucasus. Indian J Tradit Knowl 16(1):7–24

Çakır EA (2017) Traditional knowledge of wild edible plants of Iğdır Province (East Anatolia, Turkey). Acta Soc Bot Pol 86:4. https://doi.org/10.1016/j.sbspro.2011.05.195

Cucinotta F, Pieroni A (2018) "If you want to get married, you have to collect virdura": the vanishing custom of gathering and cooking wild food plants on Vulcano, Aeolian Islands, Sicily. Food Cult Soc 21(4):539–567. https://doi.org/10.1080/15528014.2018.1481263

Duguid N (2016) Taste of persia: a cook's travels through Armenia, Azerbaijan, Georgia, Iran, and Kurdistan. Artisan, New York

Əsgərov A (2016) Azərbaicanin bitki aləmi. Tea Press, Baku

Facciola S (1990) Cornocupia. A source book of edible plants. Campong, Vista

Global Food Security Index (2018) https://foodsecurityindex.eiu.com/Index. Accessed 18 May 2019

Hedrick UP (1919) Sturtevant's notes on edible plants. Albany, Lyon

Heywood VH (2013) Overview of agricultural biodiversity and its contribution to nutrition and health. In: Fanzo J, Hunter D, Borelli T, Mattei F (eds) Diversifying food and diets using agricultural biodiversity to improve nutrition and health. Routledge, London, pp 35–67

Hovsepyan R, Stepanyan-Gandilyan N, Melkumyan H, Harutyunyan L (2016) Food as a marker for economy and part of identity: traditional vegetal food of Yezidis and Kurds in Armenia. J Ethnic Foods 3(1):32–41. https://doi.org/10.1016/j.jef.2016.01.003

ISE/International Society of Ethnobiology (2008) The ISE Code of Ethics. http://www.ethnobiology.net/what-we-do/core-programs/ise-ethics-program/code-of-ethics/. Accessed 1 Mar 2019

ISO (1995) Information and documentation—Transliteration of Cyrillic characters into Latin characters—Slavic and non-Slavic languages. https://www.iso.org/standard/3589.html. Accessed 11 Mar 2019

Kaliszewska I, Kołodziejska-Degórska I (2015) The social context of wild leafy vegetables uses in Shiri, Daghestan. J Ethnobiol Ethnomed 11:63. https://doi.org/10.1186/s13002-015-0047-x

Karjagin II (ed) (1950–1960) Flora Azerbajdžana. AN Azerbajdžanskoj SSR Press, Baku

Kaval İ, Behçet L, Çakılcioğlu U (2015) Survey of wild food plants for human consumption in Geçitli (Hakkari, Turkey). Indian J Tradit Knowl 14(2):183–190

Lietava J (1992) Medicinal plants in a Middle Paleolithic grave Shanidar IV. J Ethnopharmacol 35(3):263–266

Łuczaj Ł, Pieroni A, Tardío J, Pardo-de-Santayana M, Sõukand R, Svanberg I, Kalle R (2012) Wild food plant use in 21st century Europe: the disappearance of old traditions and the search for new cuisines involving wild edibles. Acta Soc Bot Pol 81(4):59–370. https://doi.org/10.1016/j.jep.2010.01.038

Łuczaj Ł, Tvalodze B, Zalkaliani D (2017) Comfrey and Buttercup Eaters: wild Vegetables of the Imereti Region in Western Georgia, Caucasus. Econ Bot 71(2):188–193. https://doi.org/10.1007/s12231-017-9379-x

Maassoumi SM, Bobrov AB (2004) Etnobotanika. Dikorastushchiye pishchevyye rasteniya Zapadnogo Irana. Rastitel'nyye Resursy 40:86–93

Marouf M, Batal M, Moledor S, Talhouk SN (2015) Exploring the practice of traditional wild plant collection in Lebanon. Food Cult Soc 18(3):355–378. https://doi.org/10.1080/15528014.2015.1043103

Maurizio A (1927) Die geschichte unserer pflanzennahrung von den urzeiten bis zur gegenwart. Parey, Berlin

Neudeck L, Avelino L, Bareetseng P, Ngwenya BN, Teketay D, Motsholapheko MR (2012) The contribution of edible wild plants to food security, dietary diversity and income of households in Shorobe Village, Northern Botswana. Ethnobot Res Appl 10:449–462

Nolan JM, Pieroni A (2014) Introduction to special issue on food security in a changing world. J Ethnobiol 34(1):4–6. https://doi.org/10.2993/0278-0771-34.1.4

Ong HG, Kim YD (2017) The role of wild edible plants in household food security among transitioning hunter-gatherers: evidence from the Philippines. Food Secur 9(1):11–24. https://doi.org/10.1007/s12571-016-0630-6

Pieroni A (2003) Wild food plants and Arbëresh women in Lucania, Southern Italy. In: Howard PL (ed) Women and Plants. Case Studies on Gender Relations in Biodiversity Management and Conservation Zed Press, London, pp 66–82

Pieroni A, Quave CL (eds) (2014) Ethnobotany and biocultural diversities in the Balkans. Perspectives on sustainable rural development and reconciliation. Springer, New York

Pieroni A, Cattero V (2019) Wild vegetables do not lie: Comparative gastronomic ethnobotany and ethnolinguistics on the Greek traces of the Mediterranean Diet of southeastern Italy. Acta Bot Bras. https://doi.org/10.1590/0102-33062018abb0323

Pieroni A, Sõukand R (2018) Forest as stronghold of local ecological practice: currently used wild food plants in Polesia, Northern Ukraine. Econ Bot 72(3):311–331. https://doi.org/10.1007/s12231-018-9425-3

Pieroni A, Quave CL, Giusti ME, Papp N (2012) We are Italians!: the hybrid ethnobotany of a Venetian diaspora in Eastern Romania. Hum Ecol 40(3):435–451

Pieroni A, Nedelcheva A, Dogan Y (2015) Local knowledge of medicinal plants and wild food plants among Tatars and Romanians in Dobruja (South-East Romania). Genet Resour Crop Evol 62(4):605–620. https://doi.org/10.1007/s10722-014-0185-3

Pieroni A, Ahmed HM, Zahir H (2017) The spring has arrived: traditional wild vegetables gathered by Yarsanis (Ahl-e Haqq) and Sunni Muslims in Western Hawraman, SE Kurdistan (Iraq). Acta Soc Bot Pol 86(1):3519

Pieroni A, Sõukand R, Amin HIM, Zahir H, Kukk T (2018) Celebrating multi-religious co-existence in Central Kurdistan: the bio-culturally diverse traditional gathering of wild vegetables among Yazidis, Assyrians, and Muslim Kurds. Hum Ecol 46(2):217–227. https://doi.org/10.1007/s10745-018-9978-x

Polat R, Çakılcıoğlu U, Ulusan MD, Paksoy MP (2015) Survey of wild food plants for human consumption in Elazığ (Turkey). Ind J Tradit Knowl 14(1):69–75

Polat R, Güner B, Babacan EY, Çakılcıoğlu U (2017) Survey of wild food plants for human consumption in Bingöl (Turkey). Ind J Tradit Knowl 16(3):378–384

Reyes-García V, Mendez-Baceta G, Acetuno-Mata L, Acosta-Naranjo R, Calvet-Mir L, Domínguez P, Garnathe T, Gómez-Baggethun E, Molina-Bustamante M, Molina M, Rodríguez-Franco R, Serrasolses G, Vallès J, Pardo-de-Santayana M (2015) From famine foods to delicatessen: interpreting trends In the use of wild edible plants through cultural ecosystem services. Ecol Econ 120:303–311. https://doi.org/10.1016/j.ecolecon.2015.11.003

Shaheen S, Ahmad M, Haroon N (2017) Edible wild plants: an alternative approach to food security. Springer, New York

Shumsky SA, Hickey GM, Pelletier B, Johns T (2014) Understanding the contribution of wild edible plants to rural socio-ecological resilience in semi-arid Kenya. Ecol Soc 19:34. https://doi.org/10.5751/ES-06924-190434

Stevens PF (2017) Angiosperm Phylogeny Website. Version 14. www.mobot.org/MOBOT/research/APweb/. Accessed 23 Jan 2019

Sutton QM, Anderson EN (2004) Introduction to cultural ecology. Alta Mira Press, Walnut Creek

Tanaka T (1976) Tanaka'y cylopedia of the edible plants of the world. Keigaku, Tokyo

The Plant List (2013) www.theplantlist.org. Accessed 12 Feb 2019

Trubetzkoy N (2000) Nasledie chingiskhana. Agraf, Moscow
Acknowledgements
We are grateful to the study participants who shared their plant knowledge with the authors; the University of Gastronomic Sciences, Pollenzo and the Department of Environmental Sciences, Informatics, and Statistics at the Ca' Foscari Ca' Foscari University of Venice (departmental funds) for having funded the field study. This research made use of Venn diagrams from BioVinci version 1.1.5, developed by BioTuring Inc., San Diego California USA (www.bioturing.com).
Ethics declarations
Conflict of interest
The authors declare that they have no conflict of interest.
Human and animal rights
Interviews were conducted following ISE Code of Ethics (ISE 2008).
Additional information
Publisher's Note
Springer Nature remains neutral with regard to jurisdictional claims in published maps and institutional affiliations.
About this article
Cite this article
Pieroni, A., Sõukand, R. Ethnic and religious affiliations affect traditional wild plant foraging in Central Azerbaijan. Genet Resour Crop Evol 66, 1495–1513 (2019). https://doi.org/10.1007/s10722-019-00802-9
Received:

Accepted:

Published:

Issue Date:
Keywords
Ethnobotany

Wild food plants

Foraging

Local knowledge

Minorities

Caucasus

Azerbaijan

Plant genetic resources