Abstract
AFLP markers were used to characterize diversity and asses the genetic structure among 17 accessions of kale landraces, cultivars and wild populations from Europe. The range of average gene diversity in accessions was 0.11–0.27. Several landraces showed higher levels of diversity than the wild populations and one cultivar had the lowest diversity measures. The landraces that were most genetically diverse were from areas where kales are known to be extensively grown, suggesting in situ conservation in these areas as a supplement to storage of seeds in gene banks. An analysis of molecular variance (AMOVA) showed that 62% of the total variation was found within accessions. For most accessions, genetic distance was not related to geographic distance. Similarities among accessions were probably not caused by recent gene flow since they were widely separated geographically; more likely the relationship among them is due to seed dispersal through human interactions. Our results indicate that a kale population found in a natural habitat in Denmark was probably not truly wild but most likely an escape from a cultivated Danish kale that had subsequently become naturalized.
Access options
Buy single article
Instant access to the full article PDF.
US$ 39.95
Tax calculation will be finalised during checkout.
Subscribe to journal
Immediate online access to all issues from 2019. Subscription will auto renew annually.
US$ 119
Tax calculation will be finalised during checkout.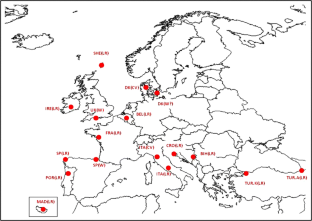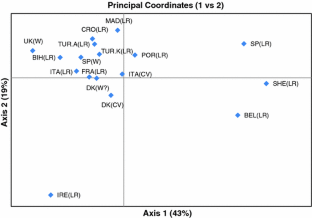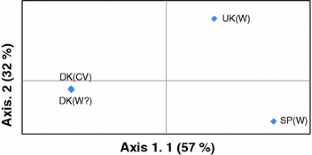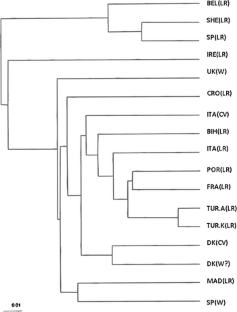 References
Andersen N, Pousen G, Andersen B, Kiær L, D′Hertefeldt T, Wilkinson M, Jørgensen R (2009) Processes affecting genetic structure and conservation: a case study of wild and cultivated Brassica rapa. Genet Resour Crop Evol 56:189–200

Balkaya A, Yanmaz R (2005) Promising kale (Brassica oleracea var. acephala) populations from Black Sea region, Turkey. N Z J Crop Hortic Sci 33:1–7

Brugière N, Rothstein SJ, Cui Y (2000) Molecular mechanisms of self-recognition in Brassica self-incompatibility. Trends Plant Sci 5:432–438

Camacho Villa TC, Maxted N, Scholten M, Ford-Lloyd B (2006) Defining and identifying crop landraces. Plant Genet Resour 3:373–384

Dias JS (1995) The Portuguese tronchuda cabbage and galega kale landraces: a historical review. Genet Resour Crop Evol 42:179–194

Dias JS, Ferreira ME, Williams PH (1993) Screening of Portuguese cole landraces (Brassica oleracea L.) with Peronospora parasitica and Plasmodiophora brassicae. Euphytica 67:135–141

Doyle JJ, Doyle JL (1987) A rapid DNA isolation procedure for small quantities of fresh leaf tissue. Phytochem Bull 19:11–15

Duchesne P, Bernatchez L (2002) Aflpop: a computer program for simulated and real population allocation, based on AFLP data. Mol Ecol Notes 2:380–383

Falush D, Stephens M, Pritchard JK (2007) Inference of population structure using multilocus genotype data: dominant markers and null alleles. Mol Ecol Notes 7:574–578

Farnham M, Davis E, Morgan J, Smith J (2007) Neglected landraces of collard (Brassica oleracea L. var. viridis) from the Carolinas (USA). Genet Resour Crop Evol 55:797–801

Felsenstein J (1993) PHYLIP (Phylogeny Inference Package). Version 3.68. University of Washington, Seattle. http://www.megasoftware.net/WebHelp/helpfile.htm#references/felsenstein_1993.htm

Gepts P (2006) Plant genetic resources conservation and utilization: the accomplishments and future of a societal insurance policy. Crop Sci 46:2278–2292

Hirano R, Kikuchi A, Kawase M, Watanabe K (2008) Evaluation of genetic diversity of bread wheat landraces from Pakistan by AFLP and implications for a future collection strategy. Genet Resour Crop Evol 55:1007–1015

Koutita O, Tertivanidis K, Koutsos TV, Koutsika-Sotiriou M, Skaracis GN (2005) Genetic diversity in four cabbage populations based on random amplified polymorphic DNA markers. J Agric Sci 143:377–387

Laghetti G, Martignano F, Falco V, Cifarelli S, Gladis T, Hammer K (2005) ''Mugnoli'': a neglected race of Brassica oleracea L. from Salento (Italy). Genet Resour Crop Evol 52:635–639

Lannér-Herrera C, Gustafeson M, Filt AS, Bryngelsson T (1996) Diversity in natural populations of wild Brassica oleracea as estimated by isozyme and RAPD analysis. Genet Resour Crop Evol 43:13–23

Maggioni L, von Bothmer R, Poulsen G, Branca F (2010) Origin and domestication of cole crops (Brassica oleracea L.). Linguistic and literary considerations. Econ Bot 64:109–123

Manzanares-Dauleux MJ, Divaret I, Baron F, Thomas G (2000) Evaluation of French Brassica oleracea landraces for resistance to Plasmodiophora brassicae. Euphytica 113:211–218

Nei M (1972) Genetic distance between populations. Am Nat 106:283–292

Nei M (1973) Analysis of gene diversity in subdivided populations. Proc Natl Acad Sci USA 70:3321–3323

Okumus A, Balkaya A (2007) Estimation of genetic diversity among Turkish kale populations (Brassica oleracea var. acephala L.) using RAPD markers. Russ J Genet 43:411–415

Page RDM (1996) TREEVIEW: an application to display phylogenetic trees on personal computers. Comput Appl Biosci 12:357–358

Peakall R, Smouse PE (2006) GENALEX 6: genetic analysis in Excel. Population genetic software for teaching and research. Mol Ecol Notes 6:288–295

Pritchard JK, Stephens M, Donnelly P (2000) Inference of population structure using multilocus genotype data. Genetics 155:945–959

Raybould AF, Mogg RJ, Clarke RT, Gliddon CJ, Gray AJ (1999) Variation and population structure at microsatellite and isozyme loci in wild cabbage (Brassica oleracea L.) in Dorset (UK). Genet Resour Crop Evol 46:351–360

Rosa EAS (1999) Chemical composition. In: Gómez-Campo C (ed) Biology of Brassica Coenospecies. Elsevier Science B.V, Amsterdam, pp 315–358

Sanchez JJ, Goodman MM, Stuber CW (2000) Isozymatic and morphological diversity in the races of maize of Mexico. Econ Bot 54:43–59

Snogerup S (1980) The wild forms of the Brassica oleracea group (2n = 18) and their possible relations to the cultivated ones. In: Tsunoda S, Hinata K, Gomez-Campo C (eds) Brassica Crops and Wild Allies, Biology and Breeding. Scientific Society Press, Tokyo, pp 121–132

Snogerup S, Gustafsson M, von Bothmer R (1990) Brassica sect. Brassica (Brassicaceae) I. Taxonomy and variation. Willdenowia 19:271–365

Vellvé R (1993) The decline of diversity in European agriculture. Ecologist 23:64–69

Vos P, Hogers R, Bleeker M, Reijans M, Vandelee T, Hornes M, Frijters A, Pot J, Peleman J, Kuiper M, Zabeau M (1995) AFLP – a New Technique for DNA-Fingerprinting. Nucleic Acids Res 23:4407–4414

Watson-Jones SJ, Maxted N, Ford-Lloyd BV (2006) Population baseline data for monitoring genetic diversity loss for 2010: a case study for Brassica species in the UK. Biol Conserv 132:490–499
Acknowledgments
This research was financially supported by the Nilsson-Ehle Foundation (The Royal Physiographic Society in Lund), and by the Erik Philip-Sörensen Foundation.
About this article
Cite this article
Christensen, S., von Bothmer, R., Poulsen, G. et al. AFLP analysis of genetic diversity in leafy kale (Brassica oleracea L. convar. acephala (DC.) Alef.) landraces, cultivars and wild populations in Europe. Genet Resour Crop Evol 58, 657–666 (2011). https://doi.org/10.1007/s10722-010-9607-z
Received:

Accepted:

Published:

Issue Date:
Keywords
Brassica oleracea

Genetic resources

Molecular markers

Genetic differentiation