Abstract
Wild barley, Hordeum vulgare L. ssp. spontaneum (C. Koch) Thell., is the progenitor of cultivated barley. Almost unanimously the center of diversity is considered to be in the Fertile Crescent of the Near East, where wild barley grows under a wide range of environmental and climatic conditions. Jordanian wild barley is expected to harbor genes useful for the improvement of cultivated barley, particularly those associated with tolerance to drought. This study evaluated 103 wild barley accessions collected from different areas of Jordan along with 29 cultivated barley genotypes for several morphological and agronomical traits. The Hordeum vulgare ssp. spontaneum C. Koch accessions were grouped into six populations according to the longitude, latitude, altitude, and rainfall zone of the collection site, and the cultivated barley in one population. The evaluation was conducted during the 2004–2005 growing season under field conditions in three locations in Jordan; namely, Khanasri, Ramtha, and Maru with 123.0, 222.9, and 429.2 mm annual rainfall, respectively. We used an unreplicated design with two systematic checks (the cultivars Rum and Mu'ta) each repeated 15 times. The results showed the existence of high variability among the Hordeum vulgare ssp. spontaneum C. Koch accessions for most of the traits, especially for plant height, tiller number, days to heading, days to anthesis, peduncle length, and peduncle extrusion. Plant height, earliness, peduncle length, and peduncle extrusion were found to be adaptive traits under drought conditions and several superior genotypes for each trait were identified. Genetic variation within population was much higher than between populations. Clustering of populations was according to their ecological geographical pattern.
Access options
Buy single article
Instant access to the full article PDF.
US$ 39.95
Tax calculation will be finalised during checkout.
Subscribe to journal
Immediate online access to all issues from 2019. Subscription will auto renew annually.
US$ 119
Tax calculation will be finalised during checkout.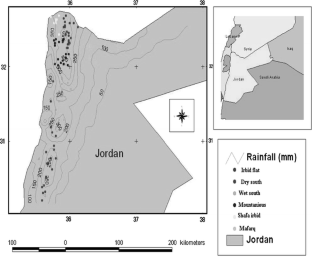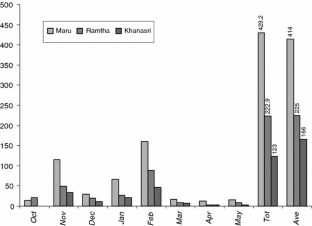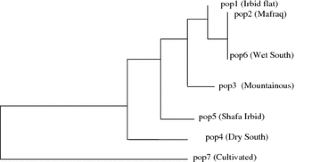 References
Badr A, Mueller K, Schaefer-Pregl EI, Rabey H, Effgen S, Ibrahim HH, Pozzi C, Rohde W, Salamini F (2000) On the origin and domestication history of barley (Hordeum vulgare). Mol Biol Evol 17:499–510

Baek HJ, Beharav A, Nevo E (2003) Ecological-genomic diversity of microsatellites in wild barley, Hordeum spontaneum, populations in Jordan. Theor Appl Genet 106:397–410

Baum M, Grando S, Backes G, Jahoor A, Sabbagh A, Ceccarelli S (2003) QTL for agronomic traits in the Mediterranean environment identified in recombinant inbred lines of the cross 'Arta' × H. spontaneum 41-1. Theor Appl Genet 107:1215–1225

Bekele E (1983) A differential rate of regional distribution of barley flavonoid patterns in Ethiopia, and a view on the center of origin of barley. Hereditas 98:269–280

Ceccarelli S (1994) Specific adaptation and breeding for marginal conditions. Euphytica 77:205–219

Ceccarelli S, Grando S, Van Leur JAG (1987) Genetic diversity in barley landraces from Syria and Jordan. Euphytica 36:389–405

Ceccarelli S, Grando S, Tutwiler R, Baha J, Martini AM, Salahieh H, Goochild A, Michael MJ (2000) A methodological study on participatory barley breeding: I. Selection phase. Euphytica 111:81–104

Dreiseitl A, Dinoor A (2004) Phenotypic diversity of barley mildew resistance sources. Genet Resour Crop Evol 51:251–257

Ellis RP, Foster BP, Robinson D, Handley LL, Gordon DC, Russell JR, Powell W (2000) Wild barley: a source of genes for crop improvement in the 21st century? J Exp Bot 51:9–17

Faccioli P, Grossi M, Pecchioni N, Vale G, Stanca AM (1998) Barley evolution. In: Scarascia GJ, Pagnotta MA (eds) Italian contribution to plant genetics and breeding. XV Congress of Eucarpia, Viterbo, 21–25 September 1998

Grando S, von Bothmer R, Ceccarelli S (2001) Genetic diversity of barley: use of locally adapted germplasm to enhance yield and yield stability of barley in dry areas. In: Cooper HD, Spillane C, Hodgkin T (eds) Broadening the genetic base of crop production. CABI/FAO/IPGRI, pp 351–372

Grossi M, Giorni E, Rizza F, Stanca MA, Cattivelli L (1998) Wild and cultivated barleys show differences in the expression pattern of a cold-regulated gene family under different light and temperature conditions. Plant Mol Biol 38:1061–1069

Harlan JR, Zohary D (1966) Distribution of wild wheats and barley. Science 153:1074–1080

Ivandic V, Hackett CA, Nevo E, Keith R, Thomas WTB, Forster BP (2002) Analysis of sequence repeats (SSRs) in wild barley from the Fertile Crescent: associations with ecology, geography and flowering time. Plant Mol Biol Evol 48:511–527

Jana S, Pietrzak LN (1988) Comparative assessment of genetic diversity in wild and primitive cultivated barley in center of diversity. Genetics 119:981–990

Jaradat AA (1991) Grain protein variability among populations of wild barley (Hordeum spontaneum C. Koch) from Jordan. Theor Appl Genet 83:164–168

Jaradat AA, Shahid M, Al Maskri AY (2004) Genetic diversity in the Batani barley landraces from Oman: I. spike and seed quantitative and qualitative traits. Crop Sci 44:304–315

Koornneef M, Blanco A, Peeters AJM (1997) Genetic approaches in plant physiology. New Phytol 137:1–8

Korff VM, Wang H, Leon J, Pillen K (2004) Detection of QTL for agronomic traits in an advanced backcross population with introgression from wild barley (Hordeum vulgare ssp. spontaneum). In: Genetic variation for plant breeding, Proceeding of the 17th EUCARPIA General Congress, 8–11 September, 2004, Tulln, pp 207–211

Li JZ, Huang XO, Heinrichs F, Ganal MW (2005) Analysis of QTLs for yield, yield components, and malting quality in a BC3-DH population of spring barley. Theor Appl Genet 110:356–363

Lu Z, Neumann PM, Tamar K, Nevo E (1999) Physiological characterization of drought tolerance in wild barley (Hordeum spontaneum) from the Judean Desert. http://wheat.pw.usda.gov/ggpages/bgn/29/a29-09.html

Magurran AE (1988) Ecological diversity and its measurement. Princeton University Press, Princeton

Molina-Cano JL, Moralejo MA, Igartua E, Romagosa I (1999) Further evidence supporting Morocco as a center of origin of barley. Theor Appl Genet 98:913–918

Molina-Cano JL, Russell JR, Moralejo MA, Escacena JL, Arias G, Powell W (2005) Chloroplast DNA microsatellite analysis supports a polyphyletic origin for barley. Theor Appl Genet 110:613–619

Nei M (1973) Analysis of gene diversity in subdivided populations. Proc Natl Acad Sci USA 70:3321–3323

Nei M (1978) Estimation of average hetrozygosity and genetic distance from small number of individuals. Genetics 89:583–590

Nei M (1987) Molecular evolutionary genetics. Columbia University Press, New York

Nevo E, Beiles A, Zohari D (1986a) Genetic resources of wild barley in the near east: structure, evaluation and application in breeding. Biol J Linn Soc 27:355–380

Nevo E, Beiles A, Kaplan D, Storch N, Zohari D (1986b) Genetic diversity and environmental associations of wild barley, Hordeum spontaneum (Poaceae), in Iran. Plant Syst Evol 153:141–164

Shakhatreh Y (2006) Genetic diversity assessment among Jordanian wild barley, (Hordeum spontaneum) genotypes and relationship with morphological traits revealed by SSR molecular markers. PhD Thesis, Faculty of Agriculture, University of Jordan, Amman

Singh M, Ceccarelli S, Grando S (1997) Precision of the genotypic correlation estimated from variety trials conducted in incomplete block design. Theor Appl Genet 95:1044–1048

Singh M, Malhotra RS, Ceccarelli S, Sarker A, Grando S, Erskine W (2003) Spatial variability models to improve dryland field trails. Expl Agric 39:151–160

Slatkin M, Barton NH (1989) A comparison of three indirect methods for estimating average levels of gene flow. Evolution 43:1349–1368

Terzi V, Pecchioni N, Faccioli P, Kucera L, Stanca AM (2001) Phyletic relationships within the genus Hordeum using PCR-based markers. Genet Resour Crop Evol 48:447–458

Vanhala TK, Van Rijn CPE, Buntjer J, Stam P, Nevo E, Poorter H, Van Eeuwijk FA (2004) Environmental, phenotypic and genetic variation of wild barley (Hordeum spontaneum) from Israel. Euphytica 137:297–309

Volis S, Mendlinger S, Ward D (2002) Adaptive traits of wild barley of Mediterranean and desert origin. Oecologia 133:131–138

von Bothmer R, Van Hintum H, Knüpffer H, Sato K (2003) Diversity in barley (Hordeum vulgare), vol XVII. Elsevier, Amsterdam, pp 129–136

Xu YW (1982) The origin and evolution of cultivated barley in China. Acta Genetica Sinica 9:440–446
Acknowledgments
Thanks are extended to the National Center for Agricultural Research and Extension (NCARE) for financing the study and to ICARDA for providing the germplasm and co-financing the laboratory work.
About this article
Cite this article
Shakhatreh, Y., Haddad, N., Alrababah, M. et al. Phenotypic diversity in wild barley (Hordeum vulgare L. ssp. spontaneum (C. Koch) Thell.) accessions collected in Jordan. Genet Resour Crop Evol 57, 131–146 (2010). https://doi.org/10.1007/s10722-009-9457-8
Received:

Accepted:

Published:

Issue Date:
Keywords
Abiotic stress

Drought

Hordeum spontaneum

Phenotypic diversity

Wild barley