Abstract
The maize of Latin America, with its enormous diversity, has played an important role in the development of modern maize cultivars of the American continent. Peruvian highland maize shows a high degree of variation stemming from its history of cultivation by Andean farmers. Multivariate statistical methods for classifying accessions have become powerful tools for classifying genetic resources conservation and the formation of core subsets. This study has two objectives: (1) to use a numerical classification strategy for classifying eight Peruvian highland races of maize based on six vegetative traits evaluated in two years and (2) to compare this classification with the existing racial classification. The numerical classification maintained the main structure of the eight races, but reclassified parts of the races into new groups (Gi). The new groups are more separated and well defined with a decreasing accession within group × environment interaction. Most of the accessions from G1 are from Cusco Gigante, all of the accessions from G3 (except one) are from Confite Morocho, and all of the accessions from G7 are from Chullpi. Group G2 has four accessions from Huayleño and four accessions from Paro, whereas G4 has four accessions from Huayleño and five accessions from San Geronimo. Group G5 has accessions from four races, and G6 and G8 formed small groups with two and one accession each, respectively. These groups can be used for forming core subsets for the purpose of germplasm enhancement and assembling gene pools for further breeding.
Access options
Buy single article
Instant access to the full article PDF.
US$ 39.95
Tax calculation will be finalised during checkout.
Subscribe to journal
Immediate online access to all issues from 2019. Subscription will auto renew annually.
US$ 119
Tax calculation will be finalised during checkout.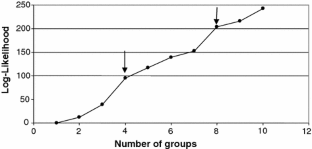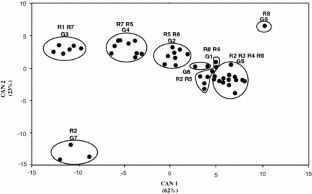 References
Abu-Alrub I, Christiansen J, Madsen S, Sevilla R, Ortiz R (2004) Assessing tassel, kernel and ear variation in Peruvian highland maize. Plant Genet Resour Newsl 137:34–41

Anderson E, Cutler HC (1942) Races of Zae Mays, L. Their recognizition and classification. Ann Mo Bot Gard 29:69–88

Binder DA (1978) Bayesian cluster analysis. Biometrika 65:31–38

Crossa J, Franco J (2004) Statistical methods for classifying genotypes. Euphytica 137:19–37

Dempster AP, Laird NM, Rubin DB (1977) Maximum likelihood from incomplete data via the EM algorithm. J Royal Stat Soc Ser B 39:1–38

Everitt BS (1981) A Monte Carlo investigation of the likelihood ratio test for the number of components in a mixture of normal distributions. Multivar Behav Res 16:171–180

Franco J, Crossa J, Villaseñor J, Taba S, Eberhart SA (1998) Classifying genetic resources by categorical and continuous variables. Crop Sci 38:1688–1696

Franco J, Crossa J, Villaseñor J, Castillo A, Taba S, Eberhart SA (1999) A two stages, three-way method for classifying genetic resources in multiple environments. Crop Sci 39:259–267

Franco J, Crossa J, Taba S, Shands H (2003) A multivariate method for classifying cultivars and studying group × environment × trait interaction. Crop Sci 43:1249–1258

Grobman A, Salhuana W, Sevilla R, Mangelsdorf E (1961) Races of maize in Peru; their origin, evolution and classification. Nat Acad Sci – Nat Res Council Pub. 915, Washington DC

Gutierrez L, Franco J, Crossa J, Abadie T (2003) Comparing a preliminary classification with a numerical classification of the maize landraces of Uruguay. Crop Sci 43:718–727

Lawrence CJ, Krzanowski WJ (1996) Mixture separation for mixed-mode data. Stat Comput 6:85–92

Ludeña L (1974) Posible origen del maíz en base a presencia de nudos cromosómicos. Inf Maiz (UNALM) 3:6–7

Mahalanobis PC (1930) On tests and measures of group divergences. J Proc Asiatic Soc Bengal 26:541–588

Manrique Chavez PA (1997) El maíz en Perú. CONCYTEC, Lima, Perú

Mardia KV, Kent JT, Bibby JM (1979) Multivariate analysis. Academic Press, London

McLachlan GJ, Basford KE (1988) Mixture models, inference and applications to clustering. Marcel Dekker, New York

Milligan GW, Cooper M (1985) An examination of procedures for determining the number of clusters in a data set. Psychometrika 50–2:159–179

Olkin I, Tate RF (1961) Multivariate correlation models with mixed discrete and continuous variables. Ann Math Stat 32:448–465

Ortiz R, Sevilla R (1997) Quantitative descriptors for classification and characterization of highland Peruvian maize. Plant Genet Resour Newsl 110:49–52

SAS Institute Inc (1999) SAS OnlineDoc®, Version 8. SAS Institute Inc., Cary, North Carolina

Taba S, Díaz J, Franco J, Crossa J (1998) Evaluation of Caribbean maize accessions to develop a core subset. Crop Sci 38:1378–1386

Ward J (1963) Hierarchical grouping to optimize an objective function. J Amer Stat Assoc 58:236–244

Wolfe JH (1971) A Monte Carlo study of the sampling distribution of the likelihood ratio for mixtures of multinormal distributions. Naval Personnel Training Res. Lab. Tech. Bull, STB 72–2

Wellhausen EJ, Roberts LM, Hernandez E, Mangelsdorf PC (1952) Races of maize in Mexico. The Bussey Institution, Harvard Univ. Press, Cambridge, Massachusetts
About this article
Cite this article
Ortiz, R., Crossa, J., Franco, J. et al. Classification of Peruvian highland maize races using plant traits. Genet Resour Crop Evol 55, 151–162 (2008). https://doi.org/10.1007/s10722-007-9224-7
Received:

Accepted:

Published:

Issue Date:
Keywords
Ear height

Leaf length

Leaf number

Leaf number above the ear

Leaf width

Modified Location Model

Plant height