The effect of the pH and rotational mixing time of slip on the likelihood of the appearance of cracked rejects was determined by means of statistical analysis of data on the preparation of slip from quartz glass and data on ceramic rejects. By means of data on the zeta-potential of slip particles and an examination of the scheme of physicochemical transformations of submicron particles of quartz glass and silica sol in the slip we were able to identify the intervals of optimal values of the pH and rotational mixing time of the slip.
This is a preview of subscription content, log in to check access.
Access options
Buy single article
Instant access to the full article PDF.
US$ 39.95
Price includes VAT for USA
Subscribe to journal
Immediate online access to all issues from 2019. Subscription will auto renew annually.
US$ 199
This is the net price. Taxes to be calculated in checkout.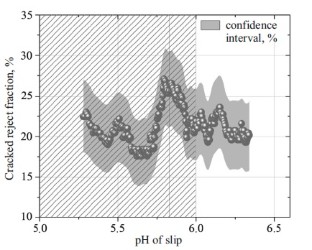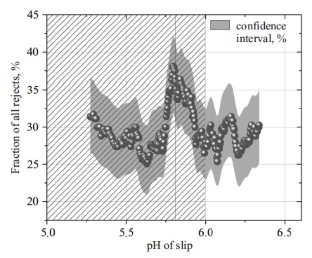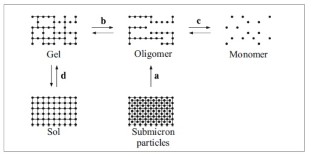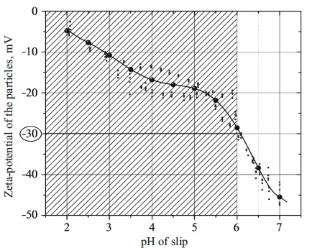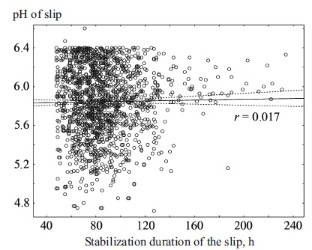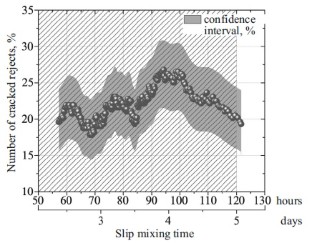 References
1.

N. A. Shabanova and P. D. Sarkisov, Sol-Gel Technology. Nanodispersed Silica [in Russian], BINOM – Laboratoriya Znanii, Moscow (2015).

2.

N. A. Shabanova, T. V. Savochkina, Yu. G. Frolov, and E. Yu. Prishchep, "Influence of electrolytes and pH on structure formation in silica hydrosols," Izv. Vyssh. Uchebn. Zaved., Khim. Khimich. Tekhnol., 27(7), 830 – 833 (1984).

3.

B. Delmon, Kinetics of Heterogeneous Processes [Russian translation], Mir, Moscow (1972).

4.

N. A. Shabanova, V. V. Popov, and Yu. G. Frolov, Investigation of the Polycondensation of Silicic Acid in Aqueous Solutions [in Russian], MKhTI im. D. I. Mendeleeva, Moscow (1981).
Additional information
Translated from Steklo i Keramika, No. 1, pp. 32 – 36, January, 2020.
About this article
Cite this article
Okhlupin, Y.S., Motornova, M.S., Kharitonov, D.V. et al. Effect of pH and Rotational Mixing Time of Slip on the Cracked Reject Ratio for Quartz Ceramic Articles. Glass Ceram 77, 29–32 (2020). https://doi.org/10.1007/s10717-020-00241-4
Key word
quartz glass

ceramic

slip

cracked rejects

pH

mixing time

zeta-potential

silica sol

silicic acid gel