Abstract
This study examined the changes in the area of land occupied by cocoa plantation in Ondo state in order to provide useful information for effective agricultural policy to increase cocoa yield as the leading export agricultural commodity in Nigeria. Satellite remote sensing technique was employed using satellite imagery of year 2000, 2002, 2014 and 2015 respectively acquired from Landsat-7 ETM+ and Landsat-8 OLI. The land cover of the study area was classified into six classes of cocoa plantation, forest, light forest and grassland, water body, bare surface and rock outcrop as well as settlement area. The result revealed that cocoa plantation occupied 31.3% in 2000, 32.7% in 2002, 41.4% in 2014 and 41.6% in 2015 respectively which depicts gradual increased in the area of land covered by cocoa plantation and its yield at the expense of other land cover classes which prove the potency of this tree crop of generating huge amount of foreign earning for supplementing revenue derived from crude oil in Nigeria. The area of land of other themes changes at different proportions but attention was on the cocoa plantation theme being focus in this research.
This is a preview of subscription content, log in to check access.
Access options
Buy single article
Instant access to the full article PDF.
US$ 39.95
Price includes VAT for USA
Subscribe to journal
Immediate online access to all issues from 2019. Subscription will auto renew annually.
US$ 199
This is the net price. Taxes to be calculated in checkout.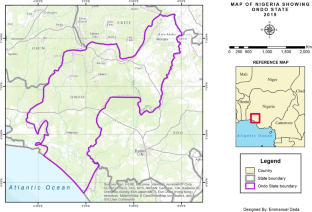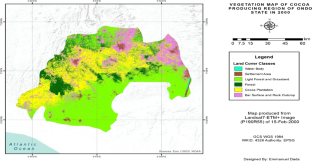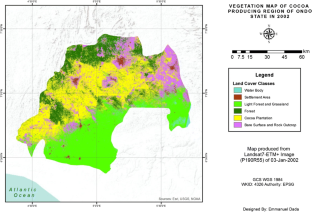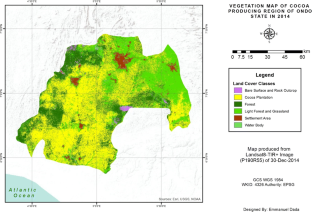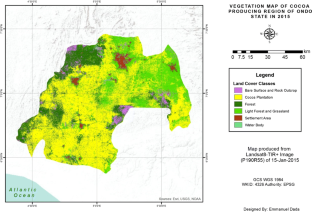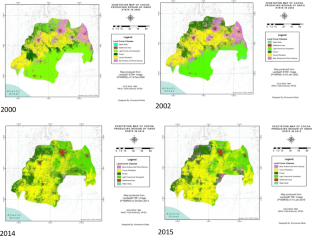 References
Adebekun, O. (1978). Atlas of the Federal Republic of Nigeria. 1st edn, under the chairmanship of National Atlas Committee, (p. 136).

Adegeye, A. O. (2006). Introduction to forest entomology and pathology. Faculty of Agriculture and Forestry, University of Ibadan Nigeria.

Adegeye, A. J., (1996). Production and Marketing of Cocoa in Nigeria: Problems and Solutions. In Adegeye, A. J., & Ajayi W. O. (Eds.), Cocoa Revolution in Nigeria: Proceedings of a National Seminar on Revolutionizing Nigeria's Cocoa Industry, University of Ibadan, Ibadan, Nigeria, 28–30th November, 1995. Adaptive Research Group, Ibadan, Nigeria, (pp: 10–13), ISBN-13: 9789783187337.

Adefolalu, B. O. S., & Tobi, E. M. (2014). Rainfall distribution and change detection across climatic zones in Nigeria. Weather and climate extreme journal of Science Direct,5–6, 1–6.

Agboola, S., Darren, N., & Mills, D. (2005). Characterization and functional properties of Australian rice protein isolates. Journal of ceraeal science,41, 283–290.

Albertz, J. (2007). Investigation of Landsat satellite image change detection. Planetary and space science,55, 2173–2191.

Aldrich, R. C. (1975). Detects disturbances in a forest environment. Photogrammetry Engineering Remote Sensing,41, 39–48.

Allen, A. A., & Adekola, P. O. (2015). Spatio-temporal factors and dynamics of population growth in Ondo State Nigeria (1970–2010). International journal of innovation and scientific research,17, 43–50.

Aliyu, Z. O. (2002). Site suitability analysis using Geospatial Information System, A case study of aero port for RECTAS, Ile-Ife, African Association of Remote Sensing of the Environment (AARSE).

Anim-Kwapong, G. J., Anim-Kwapong, E., & Oppong, F. K. (2008). Evaluation of some robusta coffee (Coffea canephora pierre ex A. Froehner) clones for high density planting in Ghana. In 22nd International conference on coffee in Brazil, (pp 14–19) September, 2008.

Asase, A., & Ofori-Frimpong, K. (2009). Impact of cocoa farming on vegetation in an agricultural landscape in Ghana. Africa Journal of Ecology,48, 338–346.

Central Bank of Nigeria (1998). Annual report and statement of accounts for the year 1998.

Cocoa Market Update, 2012. Cocoa-Market-Update-as-of-3.20.2012 [Online]. Available at: https://worldcocoafoundation.org/wp-content/uploads/Cocoa-Market-Update-as-of-3.20.2012.pdf Accessed 12 Nov 2015.

Cohen, W. B., Fiorella, M., & Anderson, K. (1998). An efficient and accurate method for mapping forest clear-cuts in the Pacific Northwest using Landsat imagery. Photogrammetry Engineering and Remote Sensing,64(4), 293–300.

Copping, P., & Bauer, M. (1996). Digital change detection in forest ecosystems with remote sensing imagery. International journal of Remote Sensing,25(9), 1565–1596.

Coppin, P., & Marvin, E. B. (1996). Change detection in forest ecosystems with Remote Sensing digital imagery. Remote Sensing Reviews,13, 207–234.

Dawoe, K. E., Quashie-Sam, J., & Opong, K. S. (2014). Effect of land-use conversion from forest to cocoa agroforest on soil characteristics and quality of a Ferric Lixisol in lowland humid, Ghana. Agroforestry System,88, 87–99.

Donald, P. F. (2004). Biodiversity impacts of some agricultural production systems. Conservation Biology,18, 17–37.

Duguma, B., Gockowski, J., & Bakala, J. (2001). Smallholder cacao (Theobroma cacao Linn.) cultivation in agroforestry systems of west and central Africa: Challenges and opportunities. Agroforestry Systems,51, 177–188.

Ekanade, O. (1990). An evaluation of soil productivity in inter-planted cocoa and Kola environmental systems in Southwestern Nigeria. In International Journal of Environmental study ( Vol. 35, pp. 253–261). London, UK: Gordon and Breach science publications.

Ekanade, O., Ayanlade, O., & Orimoogunje, O. O. I. (2007). Climate change impacts on coastal urban settlements in Nigeria. Interdisciplinary environmental review,12(1), 57–72.

Galford, G. L., Mustard, J. F., Melillo, J., Gendrin, A., Cerri, C. C., & Carlos, E. P. (2008). Wavelet analysis of MODIS time series to detect expansion and intensification of row-crop agriculture in Brazil. Remote sensing of environment,112(2), 576–578.

Gockowski, J., & Sonwa, D. (2011). Cocoa intensification scenarios and their predicted impact on CO2 emissions, biodiversity conservation, and rural livelihoods in Guinea rainforest of West Africa. Environmental management,48, 307–321.

Greenberg, R., Bichier, P., & Cruz, A. (2000). The conservation value for birds of cacao plantations with diverse planted shade in Tabacco Mexico. Animal Conservation,3, 105–112.

Herold, M., Brice, M., Nandin-Erdene, T., & Oliver, A. (2006). Global land cover mapping: Current status and future trend (pp. 11–30). In Land use and land cover mapping in Europe: Practices and trend. Springer: Netherlands, 2014

International Cocoa Organization (ICCO) (2003). ICCO quarterly bulleting of cocoa statistics. Available at: https://www.icco.org/statistics/production-and-grindings/production. Accessed 23 Jan 2016.

Jensen, J. (1996). Introductory digital image processing. A remote sensing perspective (2nd ed.). New Jersey: Prentice Hall.

Jin, C., Peng, G., Chunyang, H., Ruiliang, P., & Peijun, S. (2003). Land use/Land cover change detection using improved change vector analysis. Photogrammetric Engineering and Remote Sensing journal,69, 369–379.

Lal, R. (2009). Soil degradation as a reason for inadequate human nutrition. Food secure,1, 45–57.

Leakey, R. B., & Tchoundjeu, Z. (2001). Diversification of tree crops: Domestication of companion crops for poverty reduction and environmental services. Experimental Agriculture,37, 279–296.

Loeffler, J. (2015). Ecosystem services in coupled social-ecological systems-closing the cycle of service provision and societal feedback. https://doi.org/10.1007/513280-015-0651-y.

Lunetta, R. I., Knight, F. K., Ediriwickrema, J., Lyon, J. G., & Worthy, L. D. (2006). Land cover change detection using temporal MODIS NDVI data. Remore sensing of environment,105, 142–154.

Wessel, M., & Foluke, P. M. (2015). Cocoa production in West Africa, A review and analysis of recent developments. NJAS-Wageningen Journal of Life sciences,7, 74–75.

National Bureau of Statistics, National Population Commission, Renaissance Capital estimates (2015). https://ondo.gov.ng/wp-content/uploads/2014/04/Renaissance-capital-36-shades-of-Nigeria.pdf. Accessed 23 Jan 2016.

National Bureau of Statistics (2015). https://www.nigerianstat.gov.ng/. Accessed 23 Jan 2016.

National Population Commission (2006). https://www.devex.com/organizations/national-population-commission-npopc-nigeria-132608. Accessed 12 Dec 2016.

Ogunbadewa, E. Y. (2012). Developing natural resources database with Nigeriasat-1 satellite data and geographical information systems. Egyptian journal of Remote Sensing and Space Science,15, 207–214.

Oke, D. O., & Odebiyi, K. A. (2007). Traditional cocoa-based agroforestry and forest species conservation in Ondo State, Nigeria. Agriculture, Ecosystem and Environment,122, 305–311.

Olajide, M. G., & Adeogun, S. O. (2006). Assessment of cocoa growers' farm management practices in Ondo state Nigeria. Spanish journal of Agricultural research,4(2), 173–179.

Owojori, A., & Xie, H. (2005). Landsat image-based LULC change of San Antonio Texas using advanced atmospheric correction and object-oriented. Egypt journal of Remote Sensing space science,16, 111–117.

Oyinloye, R. O., & Olukoi, J. (2012). Spatio-temporal and mapping of the land use and land cover dynamics in the central forest belt of Southwestern Nigeria. Research journal of environmental and earth sciences,4(7), 720–730.

Park, A. B., Woodwell, G. M., Houghton, R. A. & Stone, T. A. (1983). Multi-temporal change detection techniques for the identification and monitoring of forest disturbances. In Proceedings of the 17th international Symposium On Remote Sensing of Environment (pp. 77–79), Ann Arbor, Michigan.

Roy, D., Jin, Y., Lewis, P., & Justice, C. (2005). Prototyping a global algorithm for systematic fire-affected area mapping using MODIS time series data. Remote Sensing of Environment, 97, 137–162.

Ruf, F., Schroth, G., & Harvey, C. (2007). Biodiversity Conservation in Cocoa Production Landscapes: An Overview. Biodiversity and Conservation.,16(8), 2237–2244. https://doi.org/10.1007/s10531-007-9195-1.

Sauder, S. A., & Winne, J. C. (1992). RGB- NDVI color composites for visualizing forest change dynamics. International journal for Remote Sensing,13, 3055–3067.

Setiawan, Y., Yoshino, K., & William, D. P. (2011). Characterizing temporal vegetation dynamics of land use in regional scale of Java Island Indonesia. Journal of Land Use Science. https://doi.org/10.1080/1747423X.2011.605178.

Simons, A. J., & Leakey, R. B. (2004). Tree domestication in tropical agroforestry. Agroforestry Systems,61, 167–181.

Singh, A. (1998). Digital change detection techniques using remotely sensed data. International journal of Remote Sensing,10(6), 989–1003.

Smyth, A., & Montgomery, R. F. (1962). Soil and Land Use in Central Western Nigeria (p. 265). Ibadan: Government Printer.

Tscharntke, T., Clough, Y., Shonil, A., Bhagwat, A. S., Buchori, D., Faust, H., et al. (2011). Multifunctional shade-tree management in tropical agroforestry landscape-a review. Journal of Applied Ecology,48, 619–629.

Utomo, B., Prawoto, A. A., Bonnet, S., Bangviwat, A., & Gheewala, S. H. (2015). Environmental performance of cocoa production from monoculture and agroforestry systems in Indonesia. Journal of cleaner production. https://doi.org/10.1016/j.jdepro.2015.08.102.

Verbesselt, J., Hyndman, R., Zeileis, A., & Culvenor, D. (2010). Phenological change detection while accounting for abrupt and gradual trend in satellite image time series. Remote Sensing of Environment, 114, 2970–2980.

Zapfack, I., Engwald, S., Sonke, B., Achoundong, G., & Madon, B. A. (2002). The impact of land use conversion on plant biodiversity in the forest zone of Cameroon. Bio diverse conserve,11, 2047–2061.
Ethics declarations
Conflict of interest
The authors declare that they have no Conflict of interest
Additional information
Publisher's Note
Springer Nature remains neutral with regard to jurisdictional claims in published maps and institutional affiliations.
About this article
Cite this article
Dada, E., Hahn, M. Application of satellite remote sensing to observe and analyse temporal changes of cocoa plantation in Ondo State, Nigeria. GeoJournal (2020). https://doi.org/10.1007/s10708-020-10243-y
Keywords
Cocoa plantation

Satellite imagery

Land cover classes

Change in area of land