Abstract
The study was accomplished to examine the impact of agricultural modernization on sustainable livelihood among the tribal and non-tribal farmers in Bangladesh. Two districts had been selected purposively as study areas which were Sherpur and Mymensingh districts. A total of 160 households (i.e., 80 samples from each district and 40 from tribal and 40 from non-tribal community) were interviewed from different villages for field survey where the indigenous people were involved with different agricultural practices. The majority (43.7%) of the tribal farmers had no education whereas only 30% of the non-tribal farmers were illiterate. It is also showed that 22.5% tribal farmers were engaged in crop cultivation where it was 26.25% for non-tribal farmers. Most of the tribal and non-tribal farmers opined that training is essential for operating new technology. Majority of the farmers had low extent of using modern agricultural practices in the study areas. The Simpson livelihood diversification index was found higher for crop cultivation as well as small business group. The households in the study areas are likely to have a diversified livelihood when they have better education. The scope for livelihood diversification also gets boosted when there was better irrigation, educational and membership facilities. Five components altogether explained about (74.10%) of total variations and first three components account for about half of the variations of the model results. In spite of all problems and threats, there is a strong and great prospect for the upliftment of living standards of underprivileged people through agricultural innovations.
Access options
Buy single article
Instant access to the full article PDF.
US$ 39.95
Tax calculation will be finalised during checkout.
Subscribe to journal
Immediate online access to all issues from 2019. Subscription will auto renew annually.
US$ 119
Tax calculation will be finalised during checkout.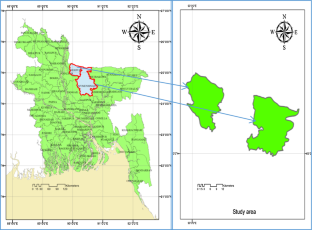 References
Acharya, S., & Alam, S. (2009). Livelihood opportunities in tasar sericulture. New Delhi: PRADAN Publisher.

Ahmed, M. T., Bhandari, H., Gordoncillo, P. U., Quicoy, C. B., & Carnaje, G. P. (2015). Diversification of rural livelihoods in Bangladesh. Journal of Agricultural Economics and Rural Development, 2(2), 32–37.

Alamgir, M. S., Furuya, J., & Kobayashi, S. (2017). Determinants of early cropping of rice in Bangladesh: An assessment as a strategy of avoiding cyclone risk. Japanese Journal of Agricultural Economics, 19, 27–30. https://doi.org/10.18480/jjae.19.0_27 .

Ansari, A. M., & Ansar, M. (2011). Prospects of commercial cultivation of hybrid mango and guava. Indian Farmer Digest, 44(6), 25–29.

Babatunde, R. O., & Matin, Q. (2009). Patterns of income diversification in rural Nigeria: determinates and impacts. Quarterly Journal of International Agriculture, 48(4), 305–320.

Bappy, A. K. M. A. A. (2012). Indigenous people in greater Mymensingh area: an economic study on their livelihood and food security. An Unpublished MS Thesis, Department of Agricultural Economics. Bangladesh Agricultural University, Mymensingh.

Barrett, C. B., Reardon, T., & Webb, P. (2001). Non-farm income diversification and household livelihood strategies in rural Africa: Concepts, dynamics, and policy implications. Food Policy, 26(4), 315–331.

Bartlett, J. E., Kotrlik, J. W., & Higgins, C. C. (2001). Organizational research: Determining appropriate sample size in survey research. Information Technology, Learning, and Performance Journal, 19(1), 43–50.

Bhatia, N. K., Bhat, M. M., & Khan, M. A. (2011). Improving livelihood of tribals in Chhattisgarh: Adopted silkworm seed rearing of tropical tasar Antheraea mylitta Drury. The Indian Forester, 137(2), 225–234.

Bryceson, D. F. (1999). Sub-Saharan Africa betwixt and between: Rural livelihood practices and policies. ASC Working Paper 43, De-Agrarianisation and Rural Employment Network, Afrika Studiecentrum, Leiden.

Datta, S. K., & Sing, K. (2011). Livelihood diversification: Case study of some backward region of India. International Journal of Current Research, 3(2), 139–151.

Davies, S. (1993). Versatile livelihoods: strategic adaptation to food insecurity in the Malian Sahel. Brighton: Institute of Development Studies.

Dercon, S., & Krishnan, P. (1996). Income portfolios in rural Ethiopia and Tanzania: Choices and constraints. The Journal of Development Studies, 32(6), 850–875.

DFID. (2000). Livelihood assessment of communities and households and technical assistance of aquaculture technologies and methods. Dhaka: Department for International Development.

Ellis, F. (1998). Survey article: Household strategies and rural livelihood diversification. The Journal of Development Studies, 35(1), 1–38.

Ellis, F. (2000). Rural livelihoods and diversity in developing countries. Oxford: Oxford University Press.

Gujarati, D. N. (2003). Basic econometric (4th ed., pp. 616–619). New York: Mac Grow Hill Company.

Islam, M. A., Quli, S. M. S., Rai, R., & Ali, A. (2014). Exploration of variables predicting livelihood assets status of tribal communities subsisting in forests of Jharkhand, India. Journal of Human Ecology, 47(3), 241–249.

Islam, M. A., Quli, S. M. S., Sofi, P. A., Bhat, G. M., & Malik, A. R. (2015). Livelihood dependency of indigenous people on Forest in Jharkhand, India. Vegetos, 28(3), 106–118.

Jannat, A., & Uddin, M. T. (2016). Farmers' perception about 'One house one farm' project and its impact on enterprise profitability in selected areas of Mymensingh District. The Agriculturists, 14(1), 43–53.

Joshi, P. K., Gulati, A., Birathal, P. S., & Twari, L. (2003). Agricultural diversification in South Asia: Patterns, determinants and policy implications. Markets, Trade and Institution Division Discussion Paper No. 57. Washington, DC: International Food Policy Research Institute

Khan, M. A. H., Ali, M. Y., Quayyum, M. A., Nazrul, M. I., & Hossain, M. J. (2009). Year round homestead vegetable production: a means of reducing poverty and nutritional deficiency for small farm. Bangladesh Journal of Agricultural Resources, 34(1), 169–174.

Khatun, D., & Roy, B. C. (2012). Rural livelihood diversification in West Bengal: Determinants and constraints. Agricultural Economics Research Review, 25(1), 115–124.

Khin Pwint Oo. (2003). Gender profile in agriculture and rural development in Myanmar. Report submitted to FAO Regional Office for Asia and the Pacific, Bangkok.

Kotler, P., Keller, K. L., Brady, M., Goodman, M., & Hansen, T. (2009). Marketing management. Harlow: Pearson Education Limited.

Kumar, D. (2016). New agrotechnology and traditional agricultural knowledge: Some anthropological reflection from tribal India. Asian Journal of Research in Social Sciences & Humanities, 6(4), 1–10.

Maloney, C. (1984). Tribes to Bangladesh and synthesis of Bengali culture. In M. S. Qureshi (Ed.), Tribal cultures in Bangladesh (pp. 5–52). Rajshahi: Institute of Bangladesh Studies, Rajshahi University.

Natarajan, M., & Govind, S. (2006). Indigenous agricultural practices among tribal women. Indian Journal of Traditional Knowledge, 5(1), 118–126.

Pal, G. (2009). Resource-use efficiency and level of technology adoption in lac cultivation among trained and untrained lac growers in Jharkhand. International Journal of Agricultural Sciences, 5(2), 615–618.

Parida, B. (2015). Santal and their agricultural practices: continuity and change. International Journal of Applied Research, 1(11), 331–335.

Prajapati, M. M., Patel, R. N., Dhandhukia, R. D., & Solnaki, K. D. (2013). Impact of agriculture modernization on sustainable livelihood among the tribal and non-tribal farmers. Journal of Agriculture Extension and Rural Development, 6(4), 138–142.

Prajapati, M. M., Prajapati, M. R., Patel, R. N., & Joshi, H. N. (2015). Extent of agricultural modernization among the tribal and non-tribal farmers of Sabarkantha district of Gujarat state. International Journal of Agriculture Sciences, 7(6), 550–553.

Rahman, M. H., & Fardusi, M. J. (2012). Indigenous plant utilization and farming system of Garo tribe in north-east Bangladesh: A means of sustainable biodiversity conservation. Journal of Forest Science, 28(2), 84–96.

Raufu, M. O. (2010). Characteristics of input use by crop farmers in South-Western Nigeria. The Pacific Journal of Science and Technology, 11(1), 436–441.

Ravishankar, T., & Selvam, V. (1996). Contributions of tribal communities in the conservation of traditional cultivars. In L. Sperling & M. Loevinsohn (Eds.), Using diversity: Enhancing and maintaining genetic resources on-farm (pp. 78–86). New Delhi: International Development Research Centre.

Roy, B. S. (2009). Farmers' perception of the effect of IPM for sustainable crop production. Unpublished M.S. Thesis, Department of Agricultural Extension Education, Bangladesh Agricultural University, Mymensingh.

Saha, B., & Bahal, R. (2010). Livelihood diversification pursued by farmers in West Bengal. Indian Research Journal of Extension Education, 10(2), 1–9.

Sarkar, S. K., & Chatopadhyay, R. N. (2006). Sal leaves—The source of poor man's income and employment. Journal of Non-Timber Forest Products, 13(1), 9–15.

Shah, K. U., Dulal, H. B., Johnson, C., & Baptiste, A. (2013). Understanding livelihood vulnerability to climate change: Applying the livelihood vulnerability index in Trinidad and Tobago. Geoforum, 47, 125–137.

Shiyani, R. L., & Pandya, H. R. (1998). Diversification of agriculture in Gujarat: A spatiotemporal analysis. Indian Journal of Agricultural Economics, 53(4), 627.

Singh, A., & Sadangi, B. N. (2012). Traditional foods of tribal households of Southern Odisha. Asian Journal of Home Science, 7(2), 567–570.

Subedi, B. P. (2016). Using Likert type data in social science research: Confusion, issues and challenges. International Journal of Contemporary Applied Sciences, 3(2), 36–49.

Thakur, A. P., & Sunil, P. (2009). 21st Century India (p. 510). New Delhi: Global Vision Publishing House.

Toppo, A., Rahman, M. R., Ali, M. Y., & Javed, A. (2016). Socio-economic condition of plain land tribal people in Bangladesh. Social Sciences, 5(4), 58–63. https://doi.org/10.11648/j.ss.20160504.12.

Trading Economics. (2015). GDP growth rate of Bangladesh. http://www.tradingeconomics.com/bangladesh/gdp-growth. Accessed 15 Mar 2015.

USAID. (2011). Nutrition and Food Security Impacts of Agriculture Projects. USAID' s Infant & Young Child Nutrition Project. The Manoff Group; and University Research Co., LLC., 455 Massachusetts Avenue NW, Suite 1000, Washington, DC 20001, USA.

WB. (2017). Handbook of impact evaluation. Washington, DC: World Bank.
Acknowledgements
We express our thanks to Bangladesh Agricultural University, the villagers and respondents from Mymensingh, Sherpur districts who funded, participated and contributed to accomplish this, respectively. Present research work was supported by the Bangladesh Agricultural University Research System (BAURES) (Grant No. 365/2018). The authors are also extending their gratitude's to other co-author for their valuable time, constructive comments and useful suggestions to improve the manuscript.
Ethics declarations
Conflict of interest
The authors declare that there is no issue of competing interest.
Research involving human participants and/or animals
This article does not contain any studies with human participants or animals performed by any of the authors.
Additional information
Publisher's Note
Springer Nature remains neutral with regard to jurisdictional claims in published maps and institutional affiliations.
About this article
Cite this article
Jannat, A., Islam, M.M., Alamgir, M.S. et al. Impact assessment of agricultural modernization on sustainable livelihood among tribal and non-tribal farmers in Bangladesh. GeoJournal 86, 399–415 (2021). https://doi.org/10.1007/s10708-019-10076-4
Keywords
Agricultural modernization index

Principal component analysis

Sustainable livelihood

Simpson livelihood diversification index

Tribal and non-tribal farmers