Abstract
Do all the clayey soils have the same behavior in terms of the generation and dissipation of excess pore water pressure during the piezocone penetration process? To find the answer, a coupled numerical simulation of CPTu in clays based on finite element analysis is presented in this paper. In this regard, the numerical modeling is verified by some laboratory tests on the samples with known initial conditions and stress states as well as field measurements of piezocone testing. Generation of excess pore water pressure during the penetration process is then investigated at different locations around the cone. This study encompasses piezocone penetration in both normally consolidated and heavily overconsolidated clayey soils. The dissipation of induced excess pore water pressures is also examined by stopping the cone after penetrating into the soil. The obtained results show that the measured excess pore water pressure at the cone shoulder is a key parameter for interpreting the soil behavior in terms of the generation and dissipation of excess pore water pressure around the piezocone during the penetration process. Caution should, therefore, be exercised to use existing correlations for estimating the flow characteristic parameters of cohesive soils (e.g. the coefficients of permeability and consolidation) from the piezocone test results.
Access options
Buy single article
Instant access to the full article PDF.
US$ 39.95
Tax calculation will be finalised during checkout.
Subscribe to journal
Immediate online access to all issues from 2019. Subscription will auto renew annually.
US$ 79
Tax calculation will be finalised during checkout.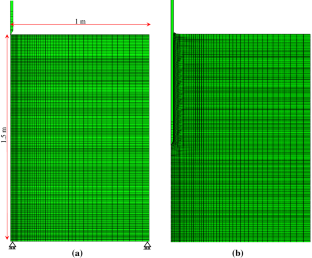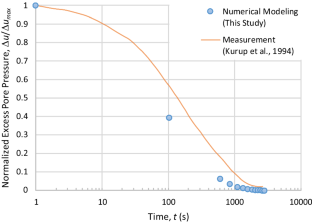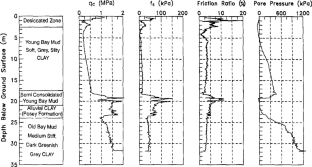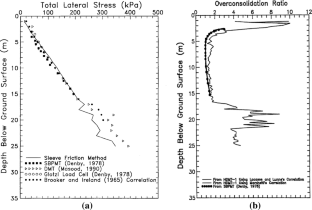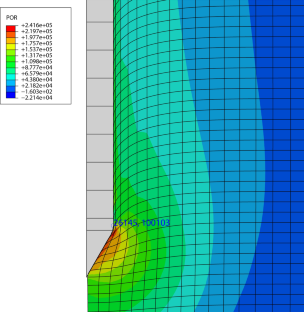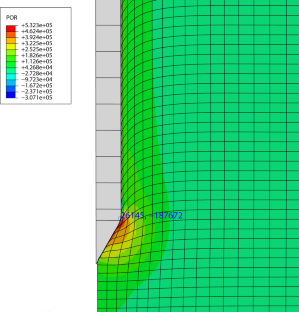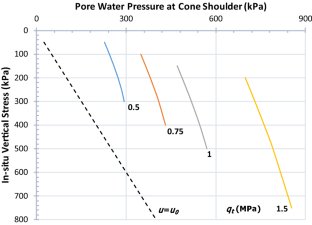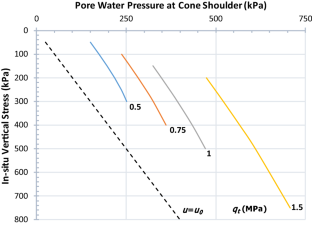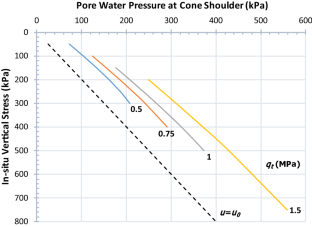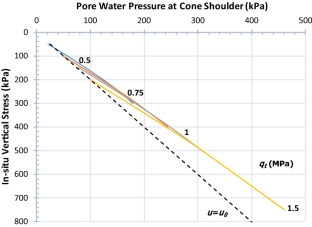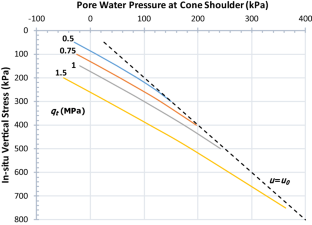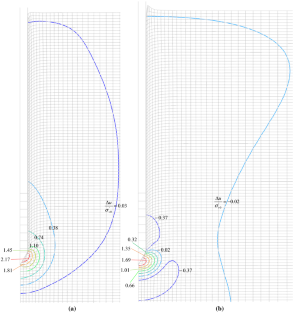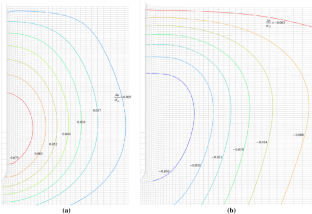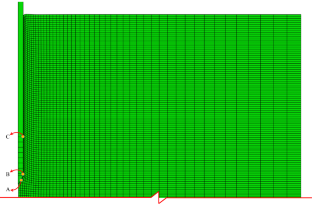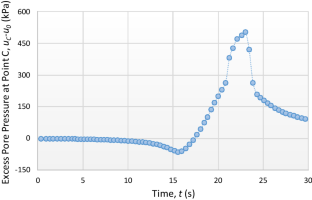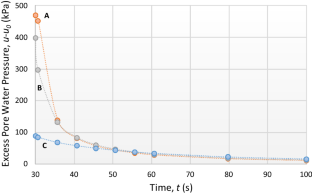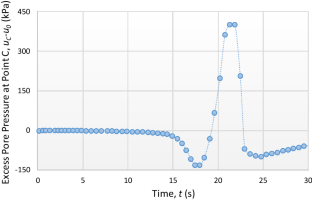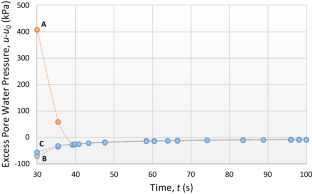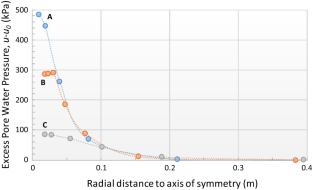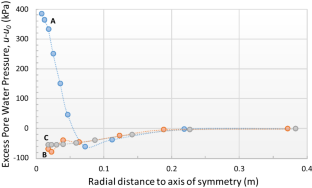 References
ABAQUS User's Manual (2011) ABAQUS Version 6.11 Documentation, Dassault Systems Simulia Corporation

Abu-Farsakh MY, Voyiadjis GZ, Tumay MT (1998) Numerical analysis of the miniature piezocone penetration tests (PCPT) in cohesive soils. Int J Numer Anal Methods Geomech 22:791–818

Abu-Farsakh MY, Tumay MT, Voyiadjis GZ (2003) Numerical parametric study of piezocone penetration test in clays. Int J Geomech 3(2):170–181

Ansari Y, Merifield R, Sheng D (2014) A piezocone dissipation test interpretation method for hydraulic conductivity of soft clays. Soils Found 54(6):1104–1116

Baligh MM, Levadoux JN (1986) Consolidation after undrained piezocone penetration. J Geotech Eng 112(7):727–745

Burns SE, Mayne PW (1998) Monotonic and dilatory pore pressure decay during piezocone tests in clay. Can Geotech J 35(6):1063–1073

Ceccato F, Beuth L, Vermeer PA, Simonini P (2016) Two-phase material point method applied to the study of cone penetration. Comput Geotech 80:440–452

Chai JC, Sheng DC, Carter JP, Zhu HH (2012) Coefficient of consolidation from non-standard piezocone dissipation curves. Comput Geotech 41:13–22

Chang MF, Teh CI, Cao L (1999) Critical state strength parameters of saturated clays from the modified Cam clay model. Can Geotech J 36(5):876–890

Chung SG, Kweon HJ, Jang WY (2014) Hyperbolic fit method for interpretation of piezocone dissipation tests. J Geotech Geoenviron Eng 140(1):251–254

Das BM (2011) Principles of foundation engineering. SI edition, 7th edn. Cengage Learning, Stamford

Dientmann G, Schnaid F, Maghous S, DeJong J (2017) Piezocone penetration rate effects in transient gold tailings. J Geotech Geoenviron Eng 144(2):04017116

Golestani Dariani AA, Ahmadi MM (2018) Undrained shear strength and in-situ horizontal effective stress from piezocone penetration test measurements in clayey soils: a new approach. Int J Geomech (ASCE) 18(9):04018097. https://doi.org/10.1061/(ASCE)GM.1943-5622.0001210

Gupta RC, Davidson JL (1986) Piezoprobe determined coefficient of consolidation. Soils Found 26(3):12–22

Hamann T, Qiu G, Grabe J (2015) Application of a coupled Eulerian–Lagrangian approach on pile installation problems under partially drained conditions. Comput Geotech 63:279–290

Kurup PU, Vojiadjis GZ, Tumay MT (1994) Calibration chamber studies of piezocone test in cohesive soils. J Geotech Eng (ASCE) 120(1):81–107

Mahmoodzadeh H, Randolph MF, Wang D (2014) Numerical simulation of piezocone dissipation test in clays. Geotechnique 64(8):657–666

Mantaras FM, Odebrecht E, Schnaid F (2014) Using piezocone dissipation test to estimate the undrained shear strength in cohesive soil. Can Geotech J 52(3):318–325

Masood T (1990). Determination of lateral earth pressure in soils by in-situ measurement. PhD thesis, University of California, Berkeley, California

Masood T, Mitchell JK (1993) Estimation of in situ lateral stresses in soils by cone-penetration test. J Geotech Eng (ASCE) 119(10):1624–1639

Mayne PW, Kulhawy FH (1982) K0-OCR relationship in soil. J Geotech Eng (ASCE) 108(6):851–872

Robertson PK, Sully JP, Woeller DJ, Lunne T, Powell JJM, Gillespie DG (1992) Estimating coefficient of consolidation from piezocone tests. Can Geotech J 29(4):539–550

Shen SL, Wang JP, Wu HN, Xu YS, Ye GL, Yin ZY (2015) Evaluation of hydraulic conductivity for both marine and deltaic deposits based on piezocone testing. Ocean Eng 110(2015):174–182

Silva MF, White DJ, Bolton MD (2006) An analytical study of the effect of penetration rate on piezocone tests in clay. Int J Numer Anal Methods Geomech 30(6):501–527

Terzaghi K, Peck RB, Mesri G (1996) Soil mechanics in engineering practice. Wiley, New York

Voyiadjis GZ, Song CR (2003) Determination of hydraulic conductivity using piezocone penetration test. Int J Geomech 3(3–4):217–224

Yi JT, Goh SH, Lee FH, Randolph MF (2012) A numerical study of cone penetration in fine-grained soils allowing for consolidation effects. Geotechnique 62(8):707–719

Zhang M, Tong L, Yang Y, Che H, Pan H (2018) In situ determination of hydraulic conductivity in Yangtze Delta deposits using a modified piezocone model. Bull Eng Geol Env 77(1):153–164
Funding
This research did not receive any specific Grant from funding agencies in the public, commercial, or not-for-profit sectors.
Additional information
Publisher's Note
Springer Nature remains neutral with regard to jurisdictional claims in published maps and institutional affiliations.
About this article
Cite this article
Golestani Dariani, A.A., Ahmadi, M.M. Generation and Dissipation of Excess Pore Water Pressure During CPTu in Clayey Soils: A Numerical Approach. Geotech Geol Eng (2021). https://doi.org/10.1007/s10706-021-01716-z
Received:

Accepted:

Published:
Keywords
Piezocone penetration test (CPTu)

Numerical modeling

Clayey soils

Excess pore water pressure

Generation and dissipation

Overconsolidation ratio