Abstract
In the survey of high slope perilous rock-mass in open-pit iron mine, the traditional unmanned aerial vehicle (UAV) can overcome the shortcomings of high difficulty and high risk factor in artificial geological exploration. However, it is very easy to be disturbed by the magnetic field of iron ore due to its orientation with magnetic compass, which makes the work unable to carry out normally. In order to solve the above problems, the UAV with dual-GPS equipped with laser radar can resist the magnetic field interference to a large extent and scan the high slope. By means of field experiment and point cloud data post-progressing, a set of application method of dual GPS multi-rotor UAV laser measurement technology was proposed for geological survey of high slope perilous rock under the interference of magnetic field. The preliminary conclusions are also obtained: the dual GPS combined orientation method makes the multi-rotor UAV not affected by the iron ore magnetic field and can fly normally according to the flight route. At the same time, the airborne LiDAR technology can realize the long-distance and fast acquisition of the valid terrain data of high-slope dangerous rock mass. Through the fuzzy clustering method (FCM), the joint system of outcrop rock-mass is automatically recognized and categorized based on point cloud data captured. The plane normal vector of fitting structural surface and structural surface occurrence can then be acquired. The normal vector of structural surface and the occurrence of structural surface can be obtained by substituting calculation. The occurrence of the slope and the shape of the structural surface was further drew into the stereographic projection map in order to determine the dominant joint group which affects rock slope stability.
This is a preview of subscription content, log in to check access.
Access options
Buy single article
Instant access to the full article PDF.
US$ 39.95
Tax calculation will be finalised during checkout.
Subscribe to journal
Immediate online access to all issues from 2019. Subscription will auto renew annually.
US$ 79
Tax calculation will be finalised during checkout.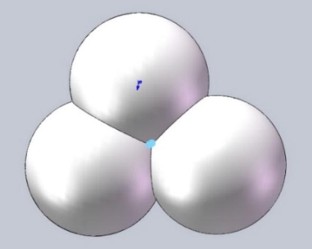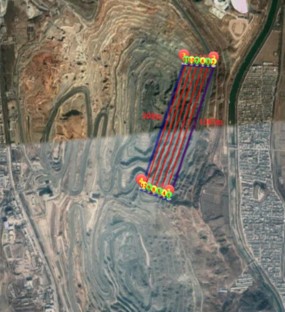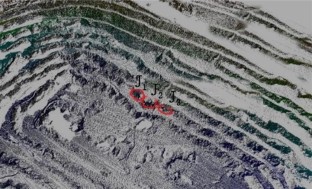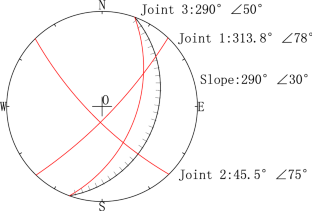 References
Chen L, Xiaoming Z, Jie T et al (2018) Research of on-line magnetic compensation technology for UAV based on forgetting factor and RLS. Chin J Sensors Actuators 31(02):218–222

Chenlin L, Shicheng W, Ting L et al (2018) UAV based regional geomagnetic field test and correction technology. Electron Opt Control 25(07):14–18

GPS Basics. U-blox (2002) 3

Jiang H, Yucuan S, Feng J et al (2013) Discussion on the application of 3-D laser scanning technology to the investigation of high slope perilous rockmass. J Yangtze River Sci Res Inst 30(11):45–49

Jie S, Hui H, Azzam R (2013) Lidar-based finite element simulation for jointed rock slope. Chin J Rock Mech Eng 32(Supp.2):3972–3978

Lu G et al (1993) Attitude determination in a survey launch using multi-antenna GPS technologies. In: Proceedings of National Technical Meeting, vol. 251. The Institute of Navigation, Alexandria, VA

Lei H, Bing L, Wenqi W (2017) Research on magnetic interference detection of multi-rotor UAV based on DGPS flight path deviation. Comput Meas Control 25(10):39–42

Li C, Zhang S, Yu L et al (2012) Identification of dangerous rock mass of high slope and study of anchoring method based on laser scanning. Chin J Rock Mechan Eng 31(10):2139–2146

Meiping W, Xiaoping L, Liangqing H (2013) Satellite orientation technology. National Defense Industry Press, Beijing

Qi-Zhu C, Liwei D (2013) Graphic template for analysis of rock slope stability by stereographic projection method. Northwest Hydropower 4:13–16

Tianru Z, Limin S, Tingting L et al (2018) Determination method of safe flight area for UAV inspection for transmission line based on the electromagnetic field calculation. ShanDong Electric Power 45(02):27–30

Xiujun D (2015) Research of comprehensive application of three-dimensional image technology in geological engineering. Chengdu University of Technology, Chengdu

Yuren Y (2017) Slope stability analysis by stereographic projection method and engineering counter measures. Hydropower New Energy 10:18–21
Acknowledgements
This work was supported by Fundamental Research Funds for the Central Universities(No.FRF-TP-18-015A3).
Additional information
Publisher's Note
Springer Nature remains neutral with regard to jurisdictional claims in published maps and institutional affiliations.
About this article
Cite this article
Wu, X., Guo, Q. & Zhang, J. Application of Double GPS Multi-rotor UAV in the Investigation of High Slope Perilous Rock-Mass in An Open Pit Iron Mine. Geotech Geol Eng 38, 71–78 (2020). https://doi.org/10.1007/s10706-019-00999-7
Received:

Accepted:

Published:

Issue Date:
Keywords
Double GPS orientation

Unmanned aerial vehicle (UAV)

Airborne LiDAR

High slope

Occurrence of rock-mass