Abstract
Limited availability of soil organic amendments and unpredictable rainfall, decrease crop yields drastically in the Sahel. There is, therefore, a need to develop an improved technology for conserving soil moisture and enhancing crop yields in the Sahelian semi-arid environment. A 2-year field experiment was conducted to investigate the mulching effects of Acacia tumida pruning relative to commonly applied organic materials in Niger on millet growth, yields and water use efficiency (WUE) under fertilizer micro-dosing technology. We hypothesized that (1) A. tumida pruning is a suitable mulching alternative for crop residues in the biomass-scarce areas of Niger and (2) combined application of A. tumida mulch and fertilizer micro-dosing increases millet yield and water use efficiency. Two fertilizer micro-dosing options (20 kg DAP ha−1, 60 kg NPK ha−1) and three types of organic mulches (millet straw, A. tumida mulch, and manure) and the relevant control treatments were arranged in factorial experiment organized in a randomized complete block design with four replications. Fertilizer micro-dosing increased millet grain yield on average by 28 %. This millet grain yield increased further by 37 % with combined application of fertilizer micro-dosing and organic mulch. Grain yield increases relative to the un-mulched control were 51 % for manure, 46 % for A. tumida mulch and 36 % for millet mulch. Leaf area index and root length density were also greater under mulched plots. Fertilizer micro-dosing increased WUE of millet on average by 24 %, while the addition of A. tumida pruning, manure and millet increased WUE on average 55, 49 and 25 %, respectively. We conclude that combined application of micro-dosing and organic mulch is an effective fertilization strategy to enhance millet yield and water use efficiency in low-input cropping systems and that A. tumida pruning could serve as an appropriate mulching alternative for further increasing crop yields and water use efficiency in the biomass-scarce and drought prone environment such as the Sahel. However, the economic and social implications and the long-term agronomic effects of this agroforestry tree in Sahelian millet based system have to be explored further.
Access options
Buy single article
Instant access to the full article PDF.
US$ 39.95
Tax calculation will be finalised during checkout.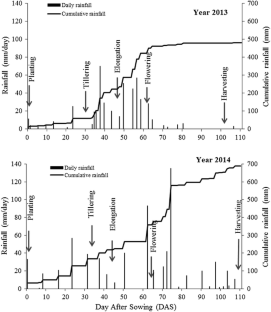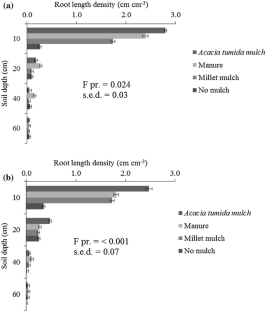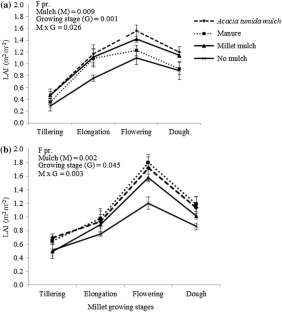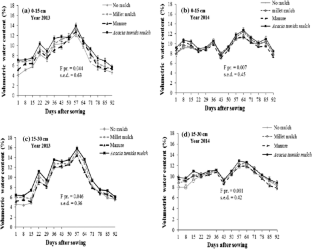 References
Abdoulaye T, Sanders JH (2005) Stages and determinants of fertilizer use in semiarid African agriculture: the Niger experience. Agric Econ 32:167–179

Akponikpè PBI, Gerard B, Bielders C (2014) Soil water crop modeling for decision support in millet-based systems in the Sahel: a challenge. Afr J Agric Res 9:1700–1713

Aune JB, Bationo A (2008) Agricultural intensification in the Sahel—the ladder approach. Agric Syst 98(2):119–125

Bagayoko M, Maman N, Palé S, Sirifi S, Taonda S, Traore S, Mason S (2011) Microdose and N and P fertilizer application rates for pearl millet in West Africa. Afr J Agric Res 6:1141–1150

Baidu-Forson J (1995) Determinants of the availability of adequate millet stover for mulching in the Sahel. J Sustain Agric 5:101–116

Bationo A, Christianson CB, Klaij MC (1993) The effect of crop residue and fertilizer use on pearl millet yields in Niger. Fertil Res 34:251–258

Bationo A, Buerkert A, Sedogo M, Christianson B, Mokwunye A (1995) A critical review of crop residue use as soil amendment in the West African semi-arid tropics. Livestock and sustainable nutrient cycling in mixed farming systems of sub-Saharan Africa. 2:305–322

Bationo A, Ndjeunga J, Bielders C, Prabhakar V, Buerkert A, Koala S (1998) Soil fertility restoration options to enhance pearl millet productivity on sandy Sahelian soils in south-west Niger. Proceedings of an international workshop on the evaluation of technical and institutional options for small farmers in West Africa. University of Hohenheim, Stuttgart, Germany, pp 93–104

Bielders CL, Gérard B (2014) Millet response to microdose fertilization in south–western Niger: effect of antecedent fertility management and environmental factors. Field Crops Res 171:165–175

Buerkert A, Bationo A, Dossa K (2000) Mechanisms of residue mulch-induced cereal growth increases in West Africa 11 dedicated to Horst Marschner and his commitment to process-oriented soil fertility research in West Africa. Soil Sci Soc Am J 64:346–358

Buerkert A, Piepho HP, Bationo A (2002) Multi-site time-trend analysis of soil fertility management effects on crop production in sub-Saharan West Africa. Exp Agric 38:163–183

Chakraborty D, Nagarajan S, Aggarwal P, Gupta VK, Tomar RK, Garg RN, Sahoo RN, Sarkar A, Chopra UK, Sarma KSS, Kalra N (2008) Effect of mulching on soil and plant water status, and the growth and yield of wheat (Triticum aestivum L.) in a semi-arid environment. Agric Water Manag 95:1323–1334

Cook HF, Valdes GSB, Lee HC (2006) Mulch effects on rainfall interception, soil physical characteristics and temperature under Zea mays L. Soil Tillage Res 91:227–237

Fatondji D (2002) Organic amendment decomposition, nutrient release and nutrient uptake by millet (Pennisetum glaucum) in a traditional land rehabilitation technique (zaï) in the Sahel. PhD Thesis, Centre for Development Research, University of Bonn, Ecological and Development Series.

Gee GW, Or D (2002) Particle-size analysis. Methods Soil Anal Part 1 4(598):255–293

Hatfield JL, Sauer TJ, Prueger JH (2001) Managing soils to achieve greater water use efficiency. Agron J 93:271–280

Houba V, Van der Lee J, Novozamsky I (1995). Soil analysis procedures; other procedures (soil and plant analysis, part 5B), vol 217, Department of Soil Science and Plant Nutrition, Wageningen Agricultural University

Huang Y, Chen L, Fu B, Huang Z, Gong J (2005) The wheat yields and water-use efficiency in the Loess Plateau: straw mulch and irrigation effects. Agric Water Manag 72:209–222

Ibrahim A, Pasternak D, Fatondji D (2014) Impact of depth of placement of mineral fertilizer micro-dosing on growth, yield and partial nutrient balance in pearl millet cropping system in the Sahel. J Agric Sci 153:1412–1421

Ibrahim A, Abaidoo RC, Fatondji D, Opoku A (2015) Hill placement of manure and fertilizer micro-dosing improves yield and water use efficiency in the Sahelian low input millet-based cropping system. Field Crops Res 180:29–36

Klaij M, Vachaud G (1992) Seasonal water balance of a sandy soil in Niger cropped with pearl millet, based on profile moisture measurements. Agric Water Manag 21:313–330

Lal R (2006) Enhancing crop yields in the developing countries through restoration of the soil organic carbon pool in agricultural lands. Land Degrad Dev 17:197–209

Larbi A, Smith J, Adekunle I, Agyare W, Gbaraneh L, Tanko R, Akinlade J, Omokaye A, Karbo N, Aboh A (2002) Crop residues for much and feed in crop-livestock systems: impact on maize grain yield and soil properties in the West African humid forest and Savanna zones. Exp Agric 38:253–264

Li FM, Gong JD, Gao QZ, Li FR (1999) Effects of clear film mulch on yield of spring wheat. Field Crops Res 63:293–304

Ma Q, Zhang F, Rengel Z, Shen J (2013) Localized application of NH4+-N plus P at the seedling and later growth stages enhances nutrient uptake and maize yield by inducing lateral root proliferation. Plant Soil 372:65–80

Movahedi Naeni SAR, Cook HF (2000) Influence of compost on temperature, water, nutrient status and the yield of maize in a temperate soil. Soil Use Manag 16:215–221

Muehlig-Versen B, Buerkert A, Bationo A, Roeheld V (2003) Phosphorus placement on acid arenosol of the west African Sahel. Exp Agric 39:307–325

Opoku A (2011) Sustainability of crop residues and manure management in smallholder cereal-legume-livestock systems in the Savannas of West Africa. PhD Thesis, Kwame Nkrumah University of Science and Technology, Kumasi-Ghana.

Payne WA (1997) Managing yield and water use of pearl millet in the Sahel. Agron J 89:481–490

Ram M, Ram D, Roy S (2003) Influence of an organic mulching on fertilizer nitrogen use efficiency and herb and essential oil yields in geranium (Pelargonium graveolens). Bioresour Technol 87:273–278

Rebafka FP, Hebel A, Bationo A, Stahr K, Marschner H (1994) Short- and long-term effects of crop residues and of phosphorus fertilization on pearl millet yield on an acid sandy soil in Niger, West Africa. Field Crops Res 36:113–124

Rinaudo A, Cunningham P (2008) Australian acacias as multi-purpose agro-forestry species for semi-arid regions of Africa. Muelleria 26:79–85

Rinaudo A, Patel P, Thomson L (2002) Potential of Australian Acacias in combating hunger in semi-arid lands. Conserv Sci West Aust 4:161–169

Schlecht E, Buerkert A, Tielkes E, Bationo A (2006) A critical analysis of challenges and opportunities for soil fertility restoration in Sudano-Sahelian West Africa. Nutr Cycl Agroecosyst 76:109–136

Tabo R, Bationo A, Amadou B, Marchal D, Lompo F, Gandah M, Hassane O, Diallo MK, Ndjeunga J, Fatondji D, Gerard B, Sogodogo D, Taonda JBS, Sako K, Boubacar S, Abdou A, Koala S (2011) Fertilizer microdosing and "warrantage" or inventory credit system to improve food security and farmers' income in West Africa. In: Bationo A, Waswa B, Okeyo JM, Maina F, Kihara JM (eds) Innovations as key to the green revolution in Africa. Springer, The Netherlands, pp 113–121

Tennant D (1975) A test of a modified line intersect method of estimating root length. J Ecol 63:995–1001

Tilander Y, Bonzi M (1997) Water and nutrient conservation through the use of agroforestry mulches, and sorghum yield response. Plant Soil 197:219–232

Turmel M-S, Speratti A, Baudron F, Verhulst N, Govaerts B (2014) Crop residue management and soil health: a systems analysis. Agric Syst 134:6–16

Valbuena D, Tui SH-K, Erenstein O, Teufel N, Duncan A, Abdoulaye T, Swain B, Mekonnen K, Germaine I, Gérard B (2014) Identifying determinants, pressures and trade-offs of crop residue use in mixed smallholder farms in Sub-Saharan Africa and South Asia. Agric Syst 134:107–118

van Reeuwijk LP (1993) Procedures for soil analysis. Technical paper No 9, Fourth Edition edited by the International Soil Reference and Information Center (ISRIC). The Netherlands

Vial L, Lefroy R, Fukai S (2015) Application of mulch under reduced water input to increase yield and water productivity of sweet corn in a lowland rice system. Field Crops Res 171:120–129

Walkley A, Black IA (1934) An examination of the Degtjareff method for determining soil organic matter, and a proposed modification of the chromic acid titration method. Soil Sci 37:29–38

Wang X, Dai K, Wang Y, Zhang X, Zhao Q, Wu X, Cai D, Hoogmoed W, Oenema O (2010) Nutrient management adaptation for dryland maize yields and water use efficiency to long-term rainfall variability in China. Agric Water Manag 97:1344–1350

West LT, Wilding LP, Landeck JK, Calhoun FG (1984) Soil survey of the ICRISAT Sahelian Center. Niger, West Africa

Yamoah CF, Bationo A, Shapiro B, Koala S (2002) Trend and stability analyses of millet yields treated with fertilizer and crop residues in the Sahel. Field Crops Res 75:53–62
Acknowledgments
We thank Alliance for Green Revolution in Africa (AGRA) for the Ph.D. grant to the first author, and Prof. Oene Oenema and Prof. Thom W. Kuyper for reviewing the draft version of this manuscript. We thank Moustapha Amadou and Laouali Issaka for their technical assistance. We are also greateful to two anonymous reviewers for their valuable comments on the manuscript.
About this article
Cite this article
Ibrahim, A., Abaidoo, R.C., Fatondji, D. et al. Integrated use of fertilizer micro-dosing and Acacia tumida mulching increases millet yield and water use efficiency in Sahelian semi-arid environment. Nutr Cycl Agroecosyst 103, 375–388 (2015). https://doi.org/10.1007/s10705-015-9752-z
Received:

Accepted:

Published:

Issue Date:
Keywords
Organic mulch

Fertilizer micro-dosing

Acacia tumida

Millet yield

Water use efficiency