Abstract
Soil microbes such as plant growth promoting rhizobacteria play significant roles in the solubilisation of inorganic phosphorus (P), mineralization of organic P and in improving plant P uptake. It is known that phosphate solubilising microorganisms (PSM) populations largely vary depending on the ecosystems, the cropping systems or the soil management. The capacity of Minjingu phosphate rock (PR) to enhance the populations of native PSM under three cereal–legume rotation systems was assessed in the third season of rotation. Triple super phosphate (TSP) was used as a positive control. In comparison to the negative control, application of Minjingu PR increased the total fungal diversity and phosphate solubilising bacteria (PSB) population by 67–90 % while high rates of TSP significantly (p < 0.05) reduced bacterial diversity and populations of PSB by 46–69 %. Minjingu PR also resulted in both crop and legume yields increase (41–104 % compared to the control), which were similar to those obtained with TSP application. Cropping systems incorporating sparingly soluble P sources such as Minjingu PR into soils can stimulate the populations of native PSB and agronomic productivity. They may represent a promising way of minimizing the utilization of mineral P fertilizers.
Access options
Buy single article
Instant access to the full article PDF.
USD 39.95
Price includes VAT (USA)
Tax calculation will be finalised during checkout.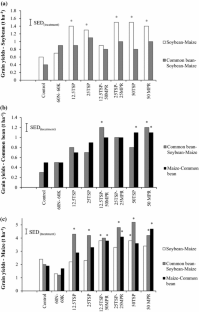 References
Acosta-Martínez V, Rowland D, Sorensen RB, Yeater KM (2008) Microbial community structure and functionality under peanut-based cropping systems in a sandy soil. Biol Fertil Soils 44:681–692

Alvey S, Yang CH, Buerkert A, Crowley DE (2003) Cereal/legume rotation effects on rhizosphere bacterial community structure in west African soils. Biol Fertil Soils 37:73–82

Chabot R, Beauchamp CJ, Kloepper JW, Antoun H (1998) Effect of phosphorus on root colonization and growth promotion of maize by bioluminescent mutants of phosphate-solubilizing Rhizobium leguminosarum biovar phaseoli. Soil Biol Biochem 30:1615–1618

Fankem H, Nwaga D, Deubel A, Dieng L, Merbach W, Etoa FX (2006) Occurrence and functioning of phosphate solubilizing microorganisms from oil palm tree (Elaeis guineensis) rhizosphere in Cameroon. Afr J Biotechnol 5:2450–2460

Fengping L, Wenju L, Xiaoke Z, Yong J, Jiangkuan W (2008) Changes in soil microbial biomass and bacterial community in a long-term fertilization experiment during the growth of maize. Adv Environ Biol 2:1–8

Govaerts B, Mezzalama M, Unno Y, Sayre KD, Luna-Guido M, Dendooven L, Deckers J (2007) Influence of tillage, residue management, and crop rotation on soil microbial biomass and catabolic diversity. Appl Soil Ecol 37:18–30

Herrmann L, Chotte JL, Thuita M, Lesueur D (2014) Effects of cropping systems, maize residues application and N fertilization on promiscuous soybean yields and diversity of native rhizobia in Central Kenya. Pedobiologia 57:75–85

Heuer H, Smalla K (1997) Application of denaturing gradient gel electrophoresis and temperature gradient gel electrophoresis studying soil microbial communities. In: van Elsas JD, Trevors JT, Wellington EMH (eds) Modern soil microbiology. Marcel Dekker, New York, pp 353–373

Hinsinger P (2001) Bioavailability of soil inorganic P in the rhizosphere as affected by root-induced chemical changes: a review. Plant Soil 237:173–195

Jama B, Van Straaten P (2006) Potential of East African phosphate rock deposits in integratednutrient management strategies. Anais da Academia Brasileira de Ciências 8(4):781–790

Kalala AM, Semoka JMR (2010) Comparative effects of Minjingu phosphate rock and triple super phosphate on residual P in an Ultisol. Second RUFORUM Biennial Meeting. Entebbe, Uganda, pp 679–682

Kamaa M, Mburu H, Blanchart E, Chibole L, Chotte JL, Kibunja C, Lesueur D (2011) Effects of organic and inorganic fertilization on soil bacterial and fungal microbial diversity in the Kabete long-term trial, Kenya. Biol Fertil Soils 47:315–321

Khan MS, Zaidi A, Wani PA (2007) Role of phosphate-solubilizing microorganisms in sustainable agriculture—a review. Agron Sust Dev 27(1):29–43

Kibunja CN, Mwaura FB, Mugendi DN (2010) Long-term land management effects on soil properties and microbial populations in a maize-bean rotation at Kabete, Kenya. Afr J Agric Res 5:108–113

Kihara J, Martius C, Bationo A, Thuita M, Lesueur D, Herrmann L, Amelung W, Vlek PLG (2012) Soil aggregation and total diversity of bacteria and fungi in various tillage systems of sub-humid and semi-arid Kenya. Appl Soil Ecol 58:12–20

Kisethu E, Mtakimwa ZS (2013) Incorporating pigeon pea compost with Minjingu fertilizer brands to determine their effects on maize production in Morogoro, Tanzania. World J Agric Sci 1(9):294–298

Lelie JJ, Onwonga RN (2014) White lupin (Lupinus albus L. cv. Amiga) increases solubility of Minjingu phosphate rock, phosphorus balances and maize yields in Njoro Kenya. Sust Agric Res 3(3):37–49

Marschner P (2012) Marschner's mineral nutrition of higher plants. Academic Press - Elsevier, London UK - Waltham USA - San Diego USA

Minja RR, Ngailo J, Mwalukasa N, Kyando S (2014) Effects of phosphate rock on phosphorus availability for vegetable crops in cropping sequence. Int J Plant Soil Sci 3(5):434–447

Msolla MM, Semoka JMR, Borggaard OK (2005) Minjingu phosphate rock: an alternative P source for maize production on acid soils in Tanzania. Nutr Cycl Agroecosystems 72:299–308

Murphy DV, Stockdale EA, Poulton PR, Willison TW, Goulding KWT (2007) Seasonal dynamics of carbon and nitrogen pools and fluxes under continuous arable and ley-arable rotations in a temperate environment. Eur J Soil Sci 58:1410–1424

Nabahungu NL, Semoka JMR, Zaongo C (2007) Limestone, Minjingu phosphate rock and green manure application on improvement of acid soils in Rwanda. In: Bationo A, Wasma B, Kihara J (eds) Advances in integrated soil fertility management in Sub-Saharan Africa: challenges and opportunities. Springer, Netherlands, pp 703–711

Ndung'u-Magiroi KW, Herrmann L, Okalebo JR, Othieno CO, Pypers P, Lesueur D (2012) Occurrence and diversity of phosphate solubilizing bacteria in soils of differing chemical characteristics in Kenya. Ann Microb 62:897–904

Nyambati RO, Opala PA (2014) The effect of Minjingu phosphate rock and triple superphosphate on soil phosphorus fractions and maize yield in Western Kenya. ISRN Soil Sci 2014:1–8

Okalebo JR, Gathua KW, Woomer PL (2002) Laboratory methods of soil and plant analysis. A working manual. Marvel EPZ (K) Limited, Nairobi

Okalebo JR, Woomer PL, Othieno CO, Karanja NK, Ikerra S, Esilaba AO, Nekesa AO, Ruto EC, Thuita MN, Ndungu KW, Kifuko MN, Bationo A (2007) Potential for agricultural lime on improved soil health and agricultural production in Kenya. African Crop Science Proceedings, Egypt, pp 1589–1593

Olivera M, Tejera N, Iribarne C, Ocana A, Lluch C (2007) Effect of phosphorus on nodulation and nitrogen fixation by Phaseolus vulgaris. In: Velazquez E, Rodrýguez-Barrueco C (eds) First International meeting on microbial phosphate solubilization. Springer, Dordrecht, pp 157–160

Onwonga RN, Lelei JJ, Freyer B, Friedel JK, Mwonga SM, Wandhawa P (2008) Low cost technologies for enhancing N and P availability and maize (Zea mays L.) performance on acid soils. World J Agric Sci 4:862–873

Onwonga RN, Lelei JJ, Macharia JK (2013) Comparative effects of soil amendments on phosphorus use and agronomic efficiencies of two maize hybrids in acidic soils of Molo county, Kenya. Am J Exp Agric 3(4):939–958

Opala PA, Okalebo JR, Othieno C, Kisinyo P (2010) Effect of organic and inorganic phosphorus sources on maize yields in an acid soil in western Kenya. Nutr Cycl Agroecosystems 86:317–329

Øvreås L, Forney L, Daae FT, Torsvik V (1997) Distribution of bacterioplankton in meromictic Lake Saelenvannet, as determined by denaturing gradient gel electrophoresis of PCR-amplified gene fragments coding for 16S rRNA. Appl Environ Microbiol 63:3367–3373

Phiri AT, Njoloma JP, Kanyama-Phiri GY, Snapp S, Lowole MW (2010) Maize yield response to the combined application of Tundulu rock phosphate and Pigeon Pea residues in Kasungu, Central Malawi. Afr J Agric Res 5:1235–1242

Porteous LA, Seidler RJ, Watrud LS (1997) An improved method for purifying DNA from soil for polymerase chain reaction amplification and molecular ecology applications. Mol Ecol 6:787–791

Richardson AE, Simpson RJ (2011) Soil microorganisms mediating phosphorus availability. Plant Physiol 156:989–996

Rosas SB, Rovera M, Andres JA, Correa NS (2007) Effect of phosphorous solubilizing bacteria on the rhizobia-legume symbiosis. In: Velazquez E, Rodrýguez-Barrueco C (eds) First international meeting on microbial phosphate solubilization. Springer, Dordrecht, pp 125–128

SAS (2006) SAS users' guide statistics. SAS Institute Inc, Cary

Sigler WV, Nakatsu CH, Reicher ZJ, Turco RF (2001) Fate of the biological control agent Pseudomonas aureofaciens TX-1 after application to turfgrass. Appl Environ Microbiol 67:3542–3548

Suman A, Lal ML, Singh AK, Gaur A (2006) Microbial biomass turnover in Indian subtropical soils under different sugarcane intercropping systems. Agron J 98:698–704

van Elsas JD, Duarte GF, Rosado AS, Smalla K (1998) Microbiological and molecular biology methods for monitoring microbial inoculants and their effects in the environment. J Mol Methods 32:132–154

Wasule DL, Wadyalkar SR, Buldeo AN (2007) Effect of phosphate solubilizing bacteria on role of Rhizobium on nodulation by soybean. In: Velazquez E, Rodrýguez-Barrueco C (eds) First international meeting on microbial phosphate solubilization. Springer, Dordrecht, pp 139–142

Zaidi A, Ahemad M, Oves M, Ahmed E, Khan MS (2010) Role of PSB in legume improvement. In: Khan MS, Zaidi A, Musarrat J (eds) Microbes for legume improvement. Springer/Wien, The Netherlands, pp 273–392
Acknowledgments
The authors are grateful to the Bill and Melinda Gates Foundation for the financial support towards this study through the Commercial Products project ("COMPRO") and AfNET program coordinated by the Tropical Soil Biology and Fertility Institute of CIAT (TSBF- CIAT). Field technicians, Mukalama, J. and Aswani are appreciated for managing the trial. We are also indebted to TSBF-CIAT for providing the laboratory facilities and chemicals for studies.
About this article
Cite this article
Ndungu-Magiroi, K.W., Waswa, B., Bationo, A. et al. Minjingu phosphate rock applications increase the population of phosphate solubilising microorganisms with a positive impact on crop yields in a Kenyan Ferralsol. Nutr Cycl Agroecosyst 102, 91–99 (2015). https://doi.org/10.1007/s10705-014-9661-6
Received:

Accepted:

Published:

Issue Date:
Keywords
Minjingu phosphate rock

Phosphate solubilising bacteria

Fungal and bacterial diversity

PCR–DGGE