Abstract
Biological nitrogen fixation (BNF) potential of 12 soybean genotypes was evaluated in conditions of low and sufficient phosphorus (P) supply in two acid soils of southern Cameroon. The P sources were phosphate rock (PR) and triple superphosphate (TSP). The experiment was carried out during two consecutive years (2001 and 2002) at two locations with different soil types. Shoot dry matter, nodule dry matter, and nitrogen (N) and P uptake were assessed at flowering and the grain yield at maturity. Shoot dry matter, nodule dry matter, N and P uptake, and grain yield varied significantly with site and genotypes (P < 0.05). On Typic Kandiudult soil, nodule dry matter ranged from 0.3 to 99.3 mg plant−1 and increased significantly with P application (P < 0.05). Total N uptake of soybean ranged from 38.3 to 60.1 kg N ha−1 on Typic Kandiudult and from 18 to 33 kg N ha−1 on Rhodic Kandiudult soil. Under P-limiting conditions, BNF ranged from −5.8 to 16 kg N ha−1 with significantly higher values for genotype TGm 1511 irrespective of soil type. Genotype TGm 1511 can be considered as an important companion crop for the development of smallholder agriculture in southern Cameroon.
Access options
Buy single article
Instant access to the full article PDF.
USD 39.95
Price includes VAT (USA)
Tax calculation will be finalised during checkout.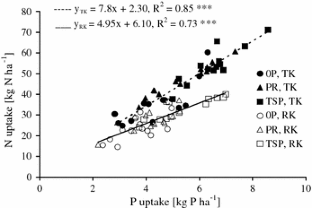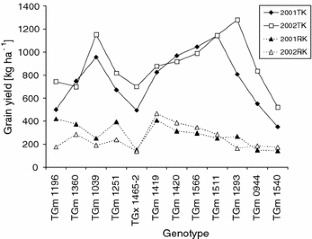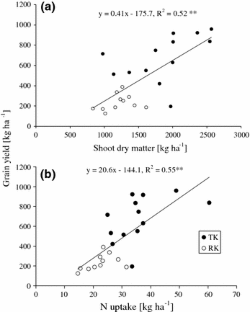 References
Adu-Gyamfi JJ, Fujita K, Ogata S (1989) Phosphorus absorption and utilisation efficiency of pigeon pea (Cajanus cajan L. Millsp) in relation to dry matter production and nitrogen fixation. Plant Soil 119:315–324. doi:10.1007/BF02370424

Alves BJR, Boddey RM, Urquiaga S (2003) The success of BNF in soybean in Brazil. Plant Soil 252:1–9. doi:10.1023/A:1024191913296

Bagayoko M, Buerkert A, Lung G, Bationo A, Römheld V (2000) Cereal/legume rotation effects on cereal growth in Sudano-Sahelian West Africa: soil mineral nitrogen, mycorrhizae and nematodes. Plant Soil 218:103–116. doi:10.1023/A:1014957605852

Carsky RJ, Abaidoo R, Dashiell K, Sanginga N (1997) Effect of soybean on subsequent maize grain yield in the Guinea savanna zone of West Africa. Afr J Crop Sci 5:31–38

Christiansen I, Graham PH (2002) Variation in nitrogen (N2) fixation among Andean bean (Phaseolus vulgaris L.) genotypes grown at two levels of phosphorus supply. Field Crops Res 73:133–142. doi:10.1016/S0378-4290(01)00190-3

Gahoonia TS, Claassen N, Junky A (1992) Mobilisation of phosphate in different soils by ryegrass supplied with ammonium and nitrate. Plant Soil 143:241–248. doi:10.1007/BF00010600

Giller KE (2001) Nitrogen fixation in tropical cropping systems, 2nd edn. CAB International

Horst WJ, Kamh M, Jibrin JM, Chude VO (2001) Agronomic measures for increasing P availability to crops. Plant Soil 237:211–223. doi:10.1023/A:1013353610570

Israel DW (1987) Investigation of the role of phosphorus in symbiotic dinitrogen fixation. Plant Physiol 84:835–840

Jakobsen I (1985) The roles of phosphorus in symbiotic nitrogen fixation by young pea plants (Pisium sativum). Physiol Plant 64:190–196. doi:10.1111/j.1399-3054.1985.tb02334.x

Jemo M, Abaidoo RC, Nolte C, Tchienkoua M, Sanginga N, Horst WJ (2006) Phosphorus benefits from grain-legume crops to subsequent maize grown on acid soils of southern Cameroon. Plant Soil 284:385–397. doi:10.1007/s11104-006-0052-x

Krasilnikoff G, Gahoonia T, Nielsen NE (2003) Variation in phosphorus uptake efficiency by genotypes of cowpea (Vigna unguiculata) due to differences in root and root hair length and induced rhizosphere processes. Plant Soil 251:83–91. doi:10.1023/A:1022934213879

Li M, Osaki M, Rao IM, Tadano T (1997) Secretion of phytase from the roots of several plant species under phosphorus-deficient conditions. Plant Soil 195:161–169. doi:10.1023/A:1004264002524

Maesen LJG, Somaatmadja PS (1992) Plant resources of south-east Asia (PROSEA). Pulses. Prosea Foundation, Bogor, Indonesia, pp 106

Menzies NW, Gillman GP (1997) Chemical characterization of soils of a tropical humid forest zone: a methodology. Soil Sci Soc Am J 62:1355–1363

Motomizu S, Wakimoto P, Toei K (1983) Spectrophotometric determination of phosphate in river waters with molybdate and malachite green. Analyst (Lond) 108:361–367. doi:10.1039/an9830800361

Othman WMW, Lie TA, Mannetje LT, Wassink GY (1991) Low level phosphorus supply affecting nodulation, N2 fixation and growth of cowpea (Vigna unguiculata L. Walp). Plant Soil 135:67–74. doi:10.1007/BF00014779

Powers RF, van Gent D, Townsend RF (1981) Ammonia electrode analysis of nitrogen in microKjeldahl digests of forest vegetation. Commun Soil Sci Plant Anal 12:19–30

Raghothama KG (1999) Phosphate acquisition. Ann Rev Plant Physiol Plant Mol Biol 50:665–693. doi:10.1146/annurev.arplant.50.1.665

Sample EC, Soper RJ, Racz GJ (1980) Reactions of phosphate in soils. In: Khasawneh FE, Sample EC, Kamprath EJ (eds) The role of phosphorus in agriculture. Am. Soc. Agron, Madison, pp 263–310

Sanginga N (2003) Role of biological nitrogen fixation in legume based cropping systems; a case study of West Africa farming systems. Plant Soil 252:25–39. doi:10.1023/A:1024192604607

Sanginga N, Dashiell KE, Okogun JA, Thottappilly G (1997) Nitrogen fixation and N contribution by promiscuous nodulating soybeans in the southern Guinea Savanna of Nigeria. Plant Soil 195:257–266. doi:10.1023/A:1004207530131

Sanginga N, Okogun J, Vanlauwe B, Dashiell KE (2002) The contribution of nitrogen by promiscuous soybeans to maize based cropping the moist savanna of Nigeria. Plant Soil 241:223–231. doi:10.1023/A:1016192514568

SAS Institute (2001) SAS/STAT user's guide, vol 1. 4th SAS, Cary NC, USA

Smith SE, Read DJ (1997) Mycorrhizal symbiosis. Academic, San Diego, pp 126–160

Ssali H, Ahn PM, Mokwunye AU (1996) Fertility of soil tropical Africa: a historical perspective. In: Mokwunye AU, Vlek PLG (eds) Management of nitrogen and phosphorus fertilizers in Sub-Saharan Africa. Martinus Nijhoff, Dordrecht, pp 59–82

Vance CP (2001) Update on the state of nitrogen and phosphorus nutrition symbiotic nitrogen fixation and phosphorus acquisition plant nutrition in a world of declining renewable resources. Plant Physiol 127:390–397. doi:10.1104/pp.127.2.390

Weber GK, Chindo PS, Elemo KA, Oikeh S (1995) Nematodes as production constraints in intensifying cereal based cropping systems of the northern Guinea savannas. Resource and Crop Management Research, Monograph no. 17. IITA, Ibadan, Nigeria

Wendt JW, Atemkeng MF (2004) Soybean, cowpea, groundnut, and pigeon pea response to soils, rainfall, and cropping season in the forest margins of Cameroon. Plant Soil 263:121–132. doi:10.1023/B:PLSO.0000047731.35668.e0

Wichern F, Eberhardt E, Mayer J, Joergensen RG, Muller T (2008) Nitrogen rhizodeposition in agricultural crops: methods, estimates and future prospects. Soil Biol Biochem 40:30–48
Acknowledgements
The research work was financially supported by the Australian Centre for International Agricultural Research (ACIAR) through contract grant no. SMCN2/1999/004. The breeding program of IITA-Ibadan is acknowledged for the grain legume seed supply.
About this article
Cite this article
Jemo, M., Nolte, C., Tchienkoua, M. et al. Biological nitrogen fixation potential by soybeans in two low-P soils of southern Cameroon. Nutr Cycl Agroecosyst 88, 49–58 (2010). https://doi.org/10.1007/s10705-008-9187-x
Received:

Accepted:

Published:

Issue Date:
Keywords
Biological nitrogen fixation (BNF)

P-uptake

Soybean