Abstract
Emergency departments (EDs) are continuously exploring opportunities to improve their efficiency. A new opportunity lies in revising the patient–physician assignment process by limiting the number of patients simultaneously assigned to a single physician, which is defined as the application of a case manager approach with limited caseloads. The potential of introducing a case manager approach with limited caseloads as a way to improve physician productivity, and consequently ED performance, is investigated by use of a discrete-event simulation model based on a real-life case study. In addition, as the case manager system is characterised by three parameters that can be customised and optimised (i.e. caseload limit, pre-assignment queueing discipline and internal queueing discipline), the impact of these parameters on the effectiveness to improve ED performance in terms of length-of-stay and door-to-doctor time is evaluated. To the best of our knowledge, this paper is the first to examine the potential of a case manager system with limited caseloads in a complex service system like a real-life ED, and to investigate the impact of the three system parameters on the results. The outcomes of the study show that performance can be improved significantly by introducing a case manager system, and that the system parameters have an impact on the effect size.
This is a preview of subscription content, log in to check access.
Access options
Buy single article
Instant access to the full article PDF.
US$ 39.95
Price includes VAT for USA
Subscribe to journal
Immediate online access to all issues from 2019. Subscription will auto renew annually.
US$ 99
This is the net price. Taxes to be calculated in checkout.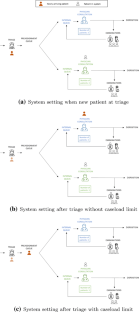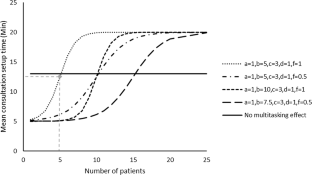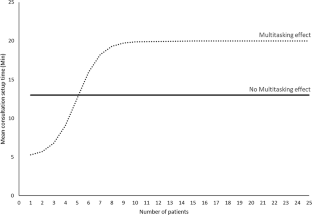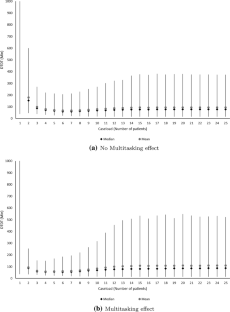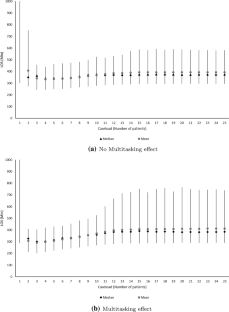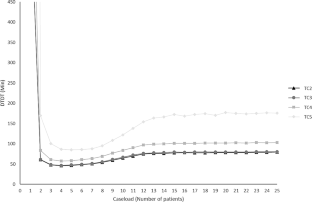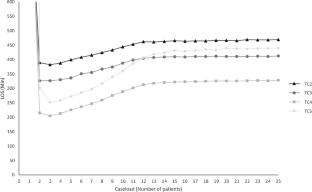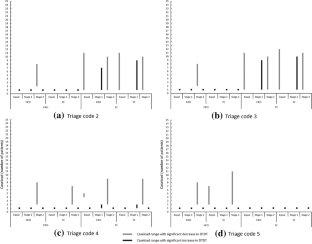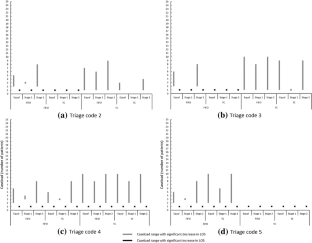 Notes
1.

Shortened as case manager approach in the remainder of this paper.

2.
References
Abo-Hamad W, Arisha A (2013) Simulation-based framework to improve patient experience in an emergency department. Eur J Oper Res 224(1):154–166. https://doi.org/10.1016/j.ejor.2012.07.028

Aral S, Brynjolfsson E, Van Alstyne M (2012) Information, technology, and information worker productivity. Inf Syst Res 23(3–part–2):849–867. https://doi.org/10.1287/isre.1110.0408

Batt RJ, Terwiesch C (2012) Doctors under load: an empirical study of state-dependent service times in emergency care. The Wharton School, The University of Pennsylvania, Philadelphia

Batt RJ, Terwiesch C (2016) Early task initiation and other load-adaptive mechanisms in the emergency department. Manag Sci 63(11):3531–3551. https://doi.org/10.1287/mnsc.2016.2516

Bhattacharjee P, Ray PK (2014) Patient flow modelling and performance analysis of healthcare delivery processes in hospitals: a review and reflections. Comput Ind Eng 78:299–312. https://doi.org/10.1016/j.cie.2014.04.016

Brailsford SC, Hilton NA (2001) A comparison of discrete event simulation and system dynamics for modelling health care systems. In: Riley J (ed) Planning for the future: health service quality and emergency accessibility. Glasgow Caledonian University, Glasgow

Campello F, Ingolfsson A, Shumsky RA (2017) Queueing models of case managers. Manag Sci 63(3):882–900. https://doi.org/10.1287/mnsc.2015.2368

Carmen R, Defraeye M, Van Nieuwenhuyse I (2015) A decision support system for capacity planning in emergency departments. Int J Simul Model 14(2):299–312. https://doi.org/10.2507/IJSIMM14(2)10.308

Chisholm CD, Collison EK, Nelson DR, Cordell WH (2000) Emergency department workplace interruptions are emergency physicians "interrupt-driven" and "multitasking"? Acad Emerg Med 7(11):1239–1243. https://doi.org/10.1111/j.1553-2712.2000.tb00469.x

Cildoz M, Mallor F, Ibarra A (2018) Analysing the ED patient flow management problem by using accumulating priority queues and simulation-based optimization. In: 2018 winter simulation conference (WSC). IEEE, Gothenburg, Sweden, pp 2107–2118

Delasay M, Ingolfsson A, Kolfal B, Schultz KL (2015) Load effect on service times. SSRN Electron J. https://doi.org/10.2139/ssrn.2647201

Dobson G, Tezcan T, Tilson V (2013) Optimal workflow decisions for investigators in systems with interruptions. Manag Sci 59(5):1125–1141. https://doi.org/10.1287/mnsc.1120.1632

Duguay C, Chetouane F (2007) Modeling and improving emergency department systems using discrete event simulation. Simulation 83(4):311–320. https://doi.org/10.1177/0037549707083111

Duma D, Aringhieri R (2018) An ad hoc process mining approach to discover patient paths of an emergency department. Flex Serv Manuf J 32:1–29

Ferrand YB, Magazine MJ, Rao US, Glass TF (2018) Managing responsiveness in the emergency department: comparing dynamic priority queue with fast track. J Oper Manag 58–59(1):15–26. https://doi.org/10.1016/j.jom.2018.03.001

Field A (2013) Discovering statistics using IBM SPSS statistics. Sage, London

Forster AJ (2003) The effect of hospital occupancy on emergency department length of stay and patient disposition. Acad Emerg Med 10(2):127–133. https://doi.org/10.1197/aemj.10.2.127

Ghanes K, Wargon M, Jouini O, Jemai Z, Diakogiannis A, Hellmann R, Thomas V, Koole G (2015) Simulation-based optimization of staffing levels in an emergency department. Simulation 91(10):942–953. https://doi.org/10.1177/0037549715606808

Graff LG, Wolf S, Dinwoodie R, Buono D, Mucci D (1993) Emergency physician workload: a time study. Ann Emerg Med 22(7):1156–1163. https://doi.org/10.1016/S0196-0644(05)80982-5

Gul M, Guneri AF (2015) A comprehensive review of emergency department simulation applications for normal and disaster conditions. Comput Ind Eng 83:327–344. https://doi.org/10.1016/j.cie.2015.02.018

Gunal MM, Pidd M (2006) Understanding accident and emergency department performance using simulation. In: Proceedings of the 38th conference on winter simulation, winter simulation conference, pp 446–452

Hoot NR, Aronsky D (2008) Systematic review of emergency department crowding: causes, effects, and solutions. Ann Emerg Med 52(2):126–136.e1. https://doi.org/10.1016/j.annemergmed.2008.03.014

Kang H, Nembhard HB, Rafferty C, DeFlitch CJ (2014) Patient flow in the emergency department: a classification and analysis of admission process policies. Ann Emerg Med 64(4):335–342.e8. https://doi.org/10.1016/j.annemergmed.2014.04.011

Kc DS (2014) Does multitasking improve performance? Evidence from the emergency department. Manuf Serv Oper Manag 16(2):168–183. https://doi.org/10.1287/msom.2013.0464

Kc DS, Terwiesch C (2009) Impact of workload on service time and patient safety: an econometric analysis of hospital operations. Manag Sci 55(9):1486–1498. https://doi.org/10.1287/mnsc.1090.1037

Kelton WD, Sadowski RP, Zupick NB (2015) Simulation with arena, 6th edn. McGraw-Hill Education, New York

Kuo YH, Rado O, Lupia B, Leung JMY, Graham CA (2016) Improving the efficiency of a hospital emergency department: a simulation study with indirectly imputed service-time distributions. Flex Serv Manuf J 28(1–2):120–147. https://doi.org/10.1007/s10696-014-9198-7

Levin S, Aronsky D, Hemphill R, Han J, Slagle J, France DJ (2007) Shifting toward balance: measuring the distribution of workload among emergency physician teams. Ann Emerg Med 50(4):419–423. https://doi.org/10.1016/j.annemergmed.2007.04.007

Li N, Stanford DA (2016) Multi-server accumulating priority queues with heterogeneous servers. Eur J Oper Res 252(3):866–878. https://doi.org/10.1016/j.ejor.2016.02.010

Li N, Stanford DA, Sharif AB, Caron RJ, Pardhan A (2019) Optimising key performance indicator adherence with application to emergency department congestion. Eur J Oper Res 272(1):313–323. https://doi.org/10.1016/j.ejor.2018.06.048

Maidstone R (2012) Discrete event simulation, system dynamics and agent based simulation: discussion and comparison. System 1(6):1–6

McKay KN, Engels JE, Jain S, Chudleigh L, Shilton D, Sharma A (2013) Emergency departments: "repairs while you wait, no appointment necessary". In: Denton B (ed) Handbook of healthcare operations management. Springer, Berlin, pp 349–385

Mohiuddin S, Busby J, Savović J, Richards A, Northstone K, Hollingworth W, Donovan JL, Vasilakis C (2017) Patient flow within UK emergency departments: a systematic review of the use of computer simulation modelling methods. BMJ Open 7(5):e015007. https://doi.org/10.1136/bmjopen-2016-015007

Paul JA, Lin L (2012) Models for improving patient throughput and waiting at hospital emergency departments. J Emerg Med 43(6):1119–1126. https://doi.org/10.1016/j.jemermed.2012.01.063

Pines JM, Hilton JA, Weber EJ, Alkemade AJ, Al Shabanah H, Anderson PD, Bernhard M, Bertini A, Gries A, Ferrandiz S, Kumar VA, Harjola VP, Hogan B, Madsen B, Mason S, Öhlén G, Rainer T, Rathlev N, Revue E, Richardson D, Sattarian M, Schull MJ (2011) International perspectives on emergency department crowding. Acad Emerg Med 18(12):1358–1370. https://doi.org/10.1111/j.1553-2712.2011.01235.x

Saghafian S, Hopp WJ, Van Oyen MP, Desmond JS, Kronick SL (2012) Patient streaming as a mechanism for improving responsiveness in emergency departments. Oper Res 60(5):1080–1097. https://doi.org/10.1287/opre.1120.1096

Saghafian S, Austin G, Traub SJ (2015) Operations research/management contributions to emergency department patient flow optimization: review and research prospects. IIE Trans Healthc Syst Eng 5(2):101–123. https://doi.org/10.1080/19488300.2015.1017676

Tan KW, Wang C, Lau HC (2012) Improving patient flow in emergency department through dynamic priority queue. In: 2012 IEEE international conference on automation science and engineering (CASE). IEEE, Seoul, Korea (South), pp 125–130. https://doi.org/10.1109/CoASE.2012.6386409

Tan TF, Netessine S (2014) When does the devil make work? An empirical study of the impact of workload on worker productivity. Manag Sci 60(6):1574–1593. https://doi.org/10.1287/mnsc.2014.1950

Vanbrabant L, Braekers K, Ramaekers K, Nieuwenhuyse IV (2019a) Simulation of emergency department operations: a comprehensive review of KPIs and operational improvements. Comput Ind Eng. https://doi.org/10.1016/j.cie.2019.03.025

Vanbrabant L, Martin N, Ramaekers K, Braekers K (2019b) Quality of input data in emergency department simulations: framework and assessment techniques. Simul Model Pract Theory 91:83–101. https://doi.org/10.1016/j.simpat.2018.12.002

Yang KK, Lam SSW, Low JM, Ong MEH (2016) Managing emergency department crowding through improved triaging and resource allocation. Oper Res Health Care 10:13–22. https://doi.org/10.1016/j.orhc.2016.05.001

Zeinali F, Mahootchi M, Sepehri MM (2015) Resource planning in the emergency departments: a simulation-based metamodeling approach. Simul Model Pract Theory 53:123–138. https://doi.org/10.1016/j.simpat.2015.02.002
Acknowledgements
This work is supported by the Strategic Basic Research project Data-driven logistics (S007318N), funded by the Research Foundation Flanders (FWO). This work is supported by the Special Research Fund (BOF) of Hasselt University (BOF20TT03).
Additional information
Publisher's Note
Springer Nature remains neutral with regard to jurisdictional claims in published maps and institutional affiliations.
Appendices
Appendix 1: Electronic health record data
Appendix 2: Validation
Appendix 3: Statistical analysis
This online appendix provides the results of Mauchly's test of sphericity and the repeated-measures full factorial ANOVA. For all main effects and 2-way interactions in the ANOVA, the most appropriate F-statistic is determined by the results of Mauchly's test of sphericity Tables 9 and 18. In case the results of Mauchly's test provide evidence for the violation of the sphericity assumption at the 5% significance level (p value < 0.05), the G–G estimate of the F-statistic is used in the ANOVA. Otherwise, the sphericity assumed estimate of the F-statistic is used.
Scenario without multitasking effect
See Tables 9, 10, 11, 12, 13, 14, 15, 16 and 17.
Scenario with multitasking effect
See Tables 18, 19, 20, 21, 22, 23, 24, 25 and 26.
Appendix 4: Results scenario without multitasking effect
See Figs. 14, 15, 16, 17 and Tables 27 and 28.
About this article
Cite this article
Vanbrabant, L., Braekers, K. & Ramaekers, K. Improving emergency department performance by revising the patient–physician assignment process. Flex Serv Manuf J (2020). https://doi.org/10.1007/s10696-020-09388-2
Keywords
Discrete-event simulation

Emergency department

Case managers

Real-life case study

Healthcare operations