Abstract
The Ussuri catfish (Pseudobagrus ussuriensis) has an XX/XY sex determination system but its sex determination gene(s) remain unknown. To better understand the molecular sex determination mechanism, transcriptome analysis was conducted to obtain sex-related gene expression profiles. Transcriptome analyses were made of male and female developing/differentiating gonads by high-throughput RNA sequencing, including gonads from fish given an estradiol-induced sex reversal treatment. A total of 81,569 unigenes were assembled and 39,904 were significantly matched to known unique proteins by comparison with public databases. Twenty specifically expressed and 142 differentially expressed sex-related genes were extracted from annotated data by comparing the treatment groups. These genes are involved in spermatogenesis (e.g., Dnali1, nectin3, klhl10, mybl1, Katnal1, Eno4, Mns1, Spag6, Tsga10, Septin7), oogenesis (e.g., Lagr5, Fmn2, Npm2, zar1, Fbxo5, Fbxo43, Prdx4, Nrip1, Lfng, Atrip), gonadal development/differentiation (e.g., Cxcr4b, Hmgb2, Cftr, Ch25h, brip1, Prdm9, Tdrd1, Star, dmrt1, Tut4, Hsd17b12a, gdf9, dnd, arf1, Spata22), and estradiol response (e.g., Mmp14, Lhcgr, vtg1, vtg2, esr2b, Piwil1, Aifm1, Hsf1, gdf9). Dmrt1 and gdf9 may play an essential role in sex determination in P. ussuriensis. The expression patterns of six random genes were validated by quantitative real-time PCR, which confirmed the reliability and accuracy of the RNA-seq results. These data provide a valuable resource for future studies of gene expression and for understanding the molecular mechanism of sex determination/differentiation and gonadal development/differentiation (including hormone-induced sexual reversal) in Ussuri catfish. This has the potential to assist in producing monosex Ussuri catfish to increase aquacultural productivity.
Access options
Buy single article
Instant access to the full article PDF.
US$ 39.95
Tax calculation will be finalised during checkout.
Subscribe to journal
Immediate online access to all issues from 2019. Subscription will auto renew annually.
US$ 79
Tax calculation will be finalised during checkout.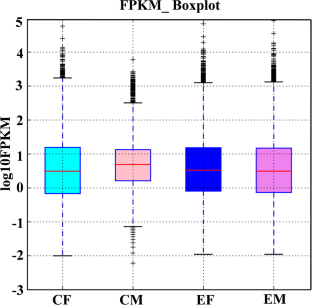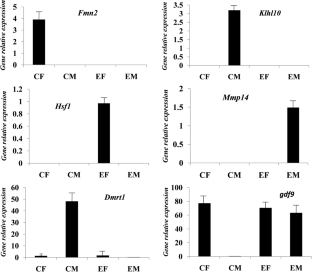 References
Abdelrahman H, Elhady M, Alcivar-Warren A, Allen S, Al-Tobasei R, Bao L et al (2017) Aquaculture genomics, genetics and breeding in the United States: current status, challenges, and priorities for future research. BMC genomics 18:191

Altschul SF, Madden TL, Schäffer AA, Zhang J, Zhang Z, Miller W, Lipman DJ (1997) Gapped BLAST and PSI-BLAST: a new generation of protein database search programs. Nucleic Acids Res 25:3389–3402

Apweiler R, Bairoch A, Wu CH, Barker WC, Boeckmann B, Ferro S, Gasteiger E, Huang H, Lopez R, Magrane M, Martin MJ, Natale DA, O'donovan C, Redaschi N, Yeh L-SL (2004) UniProt: the Universal Protein knowledgebase. Nucleic Acids Res 32:D115–D119

Bouleau A, Desvignes T, Traverso JM, Nguyen T, Chesnel F, Fauvel C, Bobe J (2014) Maternally inherited npm2 mRNA is crucial for egg developmental competence in zebrafish. Biol Repro 91:43

Burns KH, Viveiros MM, Ren Y, Wang P, Demayo FJ, Frail DE (2003) Roles of NPM2 in chromatin and nucleolar organization in oocytes and embryos. Sci 300:633–636

Campanini EB, Vandewege MW, Pillai NE, Tay B-H, Jones JL, Venkatesh B, Hoffmann FG (2015) Early evolution of vertebrate Mybs: an integrative perspective combining synteny, phylogenetic, and gene expression analyses. Genome Biology and Evolution 7:3009–3021

Chao HC, Lin YH, Kuo YC, Shen CJ, Pan HA, Kuo PL (2010) The expression pattern of SEPT7 correlates with sperm morphology. J Assist Reprod Genet 27:299–307

Chen W, Liu L, Ge W (2017) Expression analysis of growth differentiation factor 9 (Gdf9/gdf9), anti-müllerian hormone (Amh/amh) and aromatase (Cyp19a1a/cyp19a1a) during gonadal differentiation of the zebrafish, Danio rerio. Biol Reprod 96:401–413

Chen Y, Liu Y, Gong Q, Lai J, Song M, Du J, Deng X (2018) Gonadal transcriptome sequencing of the critically endangered Acipenser dabryanus to discover candidate sex-related genes. PeerJ 6:e5389

Chen X, Mei J, Wu J, Jing J, Ma W, Zhang J, Dan C, Wang W, Gui JF (2014) A comprehensive transcriptome provides candidate genes for sex determination/differentiation and SSR/SNP markers in yellow catfish. Mar Biotechnol 17:190–198

Chen Y, Qin L, Liao H, Xie J, Yang M, Sun H, Xu W (2016) CFTR deletion in mouse testis induces VDAC1 mediated inflammatory pathway critical for spermatogenesis. PLoS One 11:e0158994. https://doi.org/10.1371/journal.pone.0158994

Chen Y, Tang H, He J, Wu X, Wang L, Liu X, Lin H (2019) Interaction of nuclear ERs and GPER in vitellogenesis in zebrafish. J Steroid Biochem Mol Biol 189:10–18

Chen S, Zhang G, Shao C, Huang Q, Liu G, Zhang P, Song W, An N, Chalopin D, Volff JN, Hong Y, Li Q, Sha Z, Zhou H, Xie M, Yu Q, Liu Y, Xiang H, Wang N, Wu K, Yang C, Zhou Q, Liao X, Yang L, Hu Q, Zhang J, Meng L, Jin L, Tian Y, Lian J, Yang J, Miao G, Liu S, Liang Z, Yan F, Li Y, Sun B, Zhang H, Zhang J, Zhu Y, du M, Zhao Y, Schartl M, Tang Q, Wang J (2014) Whole-genome sequence of a flatfish provides insights into ZW sex chromosome evolution and adaptation to a benthic lifestyle. Nat Genet 46:253–260

Cheung CT, Pasquier J, Bouleau A, Nguyen T, Chesnel F, Guiguen Y, Bobe J (2018) Double maternal-effect: duplicated nucleoplasmin 2 genes, npm2a and npm2b, with essential but distinct functions are shared by fish and tetrapods. BMC Evol Biol 18:167

Cui Z, Liu Y, Wang W, Wang Q, Zhang N, Lin F, Wang N, Shao C, Dong Z, Li Y, Yang Y, Hu M, Li H, Gao F, Wei Z, Meng L, Liu Y, We M, Zhu Y, Guo H, Cheng CHK, Schartl M, Chen S (2017) Genome editing reveals dmrt1 as an essential male sex-determining gene in Chinese tongue sole (Cynoglossus semilaevis). Sci Rep 7:42213

Devlin RH, Nagahama Y (2002) Sex determination and sex differentiation in fish: an overview of genetic, physiological, and environmental influences. Aquac 208:191–364

Diagouraga B, Clément J, Duret L, Kadlec J, De Massy B, Baudat F (2018) PRDM9 methyltransferase activity is essential for meiotic DNA double-strand break formation at its binding sites. Mol Cell 69:853–865.e6

Eshel O, Shirak A, Dor L, Band M, Zak T, Markovich-Gordon M, Chalifa-Caspi V, Feldmesser E, Weller JI, Seroussi E, Hulata G, Ron M (2014) Identification of male-specific amh duplication, sexually differentially expressed genes and microRNAs at early embryonic development of Nile tilapia (Oreochromis niloticus). BMC genomics 15:774

Furukawa F, Hamasaki S, Hara S, Uchimura T, Shiraishi E, Osafune N, Takagi H, Yazawa T, Kamei Y, Kitano T (2019) Heat shock factor 1 protects germ cell proliferation during early ovarian differentiation in medaka. Sci Rep 9:6927

Galluzzi L, Joza N, Tasdemir E, Maiuri MC, Hengartner M, Abrams JM, Tavernarakis N, Penninger J, Madeo F, Kroemer G (2008) No death without life: vital functions of apoptotic effectors. Cell Death Differ 15:1113–1123

Gao J, Wang X, Zou Z, Jia X, Wang Y, Zhang Z (2014) Transcriptome analysis of the differences in gene expression between testis and ovary in green mud crab (Scylla paramamosain). BMC genomics 15:585

García-López Á, Sánchez-Amaya MI, Halm S, Astola A, Prat F (2011) Bone morphogenetic protein 15 and growth differentiation factor 9 expression in the ovary of European sea bass (Dicentrarchus labrax): cellular localization, developmental profiles, and response to unilateral ovariectomy. Gen Comp Endocrinol 174:326–334

Gárriz Á, del Fresno PS, Miranda LA (2017) Exposure to E2 and EE2 environmental concentrations affect different components of the Brain-Pituitary-Gonadal axis in pejerrey fish (Odontesthes bonariensis). Ecotoxicol Environ Saf 144:45–53

Gui JF (2015) Fish biology and biotechnology is the source for sustainable aquaculture. Sci China Life Sci 58:121–123

Gui JF, Zhu ZY (2012) Molecular basis and genetic improvement of economically important traits in aquaculture animals. Chin Sci Bull 57:1751–1760

Ha CM, Choi J, Choi EJ, Costa ME, Lee BJ, Ojeda SR (2008) NELL2, a neuron-specific EGF-like protein, is selectively expressed in glutamatergic neurons and contributes to the glutamatergic control of GnRH neurons at puberty. Neuroendocrinol 88:199–211

Hahn KL, Johnson J, Beres BJ, Howard S, Wilson-Rawls J (2005) Lunatic fringe null female mice are infertile due to defects in meiotic maturation. Dev 132:817–828

Hale MC, Xu P, Scardina J, Wheeler PA, Thorgaard GH, Nichols KM (2011) Differential gene expression in male and female rainbow trout embryos prior to the onset of gross morphological differentiation of the gonads. BMC genomics 12:404

Hattori RS, Murai Y, Oura M, Masuda S, Majhi SK, Sakamoto T, Fernandino JI, Somoza GM, Yokota M, Strussmann CA (2012) A Y-linked anti-Mullerian hormone duplication takes over a critical role in sex determination. Proc Natl Acad Sci U S A 109:2955–2959

Hollander-Cohen L, Böhm B, Hausken K, Levavi-Sivan B (2019) Ontogeny of the specificity of gonadotropin receptors and gene expression in carp. Endocr Connect 8:1433–1446

Honda S, Miki Y, Miyamoto Y, Kawahara Y, Tsukamoto S, Imai H, Minami N (2018) Oocyte-specific gene Oog1 suppresses the expression of spermatogenesis-specific genes in oocytes. J Reprod Dev 64:297–301

Huang C, Wei X, Chen N, Zhang J, Chen L, Wang W, Li J, Wang H (2014) Growth differentiation factor 9 of Megalobrama amblycephala: molecular characterization and expression analysis during the development of early embryos and growing ovaries. Fish Physiol Biochem 40:193–203

Inagaki M, Irie K, Ishizaki H, Tanaka-Okamoto M, Miyoshi J, Takai Y (2006) Role of cell adhesion molecule nectin-3 in spermatid development. Genes to cells 11:1125–1132

Jeng S, Wu G, Yueh W, Kuo S, Dufour S, Chang C (2019) Dmrt1 (doublesex and mab-3-related transcription factor 1) expression during gonadal development and spermatogenesis in the Japanese eel. Gen Comp Endocrinol 279:154–163

Kamiya T, Kai W, Tasumi S, Oka A, Matsunaga T, Mizuno N, Fujita M, Suetake H, Suzuki S, Hosoya S, Tohari S, Brenner S, Miyadai T, Venkatesh B, Suzuki Y, Kikuchi K (2012) A trans-species missense SNP in Amhr2 is associated with sex determination in the tiger pufferfish, Takifugu rubripes (fugu). PLoS genetics 8:e1002798

Kanehisa M, Goto S, Kawashima S, OkunoY HM (2004) The KEGG resource for deciphering the genome. Nucleic Acids Res 32:D277–D280

Khelifa MB, Coutton C, Zouari R, Karaouzène T, Rendu J, Bidart M et al (2014) Mutations in DNAH1, which encodes an inner arm heavy chain dynein, lead to male infertility from multiple morphological abnormalities of the sperm flagella. Am J Hum Genet 94:95–104. https://doi.org/10.1016/j.ajhg.2013.11.017

Lee SL, Horsfield JA, Black MA, Rutherford K, Fisher A, Gemmell NJ (2017) Histological and transcriptomic effects of 17alpha-methyltestosterone on zebrafish gonad development. BMC genomics 18:557

Li M, Sun L, Wang D (2019) Roles of estrogens in fish sexual plasticity and sex differentiation. General and comparative endocrinology 277:9–16

Liang YQ, Huang GY, Ying GG, Liu SS, Jiang YX, Liu S, Peng FJ (2015) The effects of progesterone on transcriptional expression profiles of genes associated with hypothalamic-pituitary-gonadal and hypothalamic-pituitary-adrenal axes during the early development of zebrafish (Danio rerio). Chemosphere 128:199–206

Liao H, Chen Y, Li Y, Xue S, Liu M, Lin Z, Liu Y, Chan HC, Zhang X, Sun H (2018) CFTR is required for the migration of primordial germ cells during zebrafish early embryogenesis. Reprod 156:261–268. https://doi.org/10.1530/REP-17-0681

Lin F, Zhao CY, Xu SH, Ma DY, Xiao ZZ, Xiao YS, Xu CA, Liu QH, Li J (2013) Germline-specific and sexually dimorphic expression of a dead end gene homologue in turbot (Scophthalmus maximus). Theriogenol 80:665–672

Liu H, Guan B, Xu J, Hou C, Tian H, Chen H (2013) Genetic manipulation of sex ratio for the large-scale breeding of YY super-male and XY all-male yellow catfish (Pelteobagrus fulvidraco (Richardson)). Mar Biotechnol (NY) 15:321–328

Liu L, Hong N, Xu H, Li M, Yan Y, Purwanti Y, Yi M, Li Z, Wang L, Hong Y (2009) Medaka dead end encodes a cytoplasmic protein and identifies embryonic and adult germ cells. Gene Expr Patterns 9:541–548

Liu H, Lamm MS, Rutherford K, Black MA, Godwin JR, Gemmell NJ (2015) Large-scale transcriptome sequencing reveals novel expression patterns for key sex-related genes in a sex-changing fish. Biol Sex Differ 6:26

Liu K, Lau S, Ge W (2016) Spatiotemporal expression analysis of nuclear estrogen receptors in the zebrafish ovary and their regulation in vitro by endocrine hormones and paracrine factors. Gen Comp Endocrinol 246:218–225

Lu J, Luan P, Zhang X, Xue S, Peng L, Mahbooband S, Sun X (2014) Gonadal transcriptomic analysis of yellow catfish (Pelteobagrus fulvidraco): identification of sex-related genes and genetic markers. Physiol Genomics 46:798–807

Lu J, Zheng M, Zheng J, Liu J, Liu Y, Peng L, Wang P, Zhang X, Wang Q, Luan P, Mahbooband S, Sun X (2015) Transcriptomic analyses reveal novel genes with sexually dimorphic expression in yellow catfish (Pelteobagrus fulvidraco) brain. Mar Biotechnol (NY) 17:613–623

Madgwick S, Hansen DV, Levasseur M, Jackson PK, Jones KT (2006) Mouse Emi2 is required to enter meiosis II by reestablishing cyclin B1 during interkinesis. J Cell Biol 174:791–801

Marangos P, Verschuren EW, Chen R, Jackson PK, Carroll J (2007) Prophase I arrest and progression to metaphase I in mouse oocytes are controlled by Emi1-dependent regulation of APCCdh1. J Cell Biol 176:65–75

Martínez P, Viñas AM, Sánchez L, Díaz N, Ribas L, Piferrer F (2014) Genetic architecture of sex determination in fish: applications to sex ratio control in aquaculture. Front Genet 5:340

Matsuda M (2003) Sex determination in fish: Lessons from the sex-determining gene of the teleost medaka, Oryzias latipes. Develop Growth Differ 45:397–403

Mei J, Gui JF (2015) Genetic basis and biotechnological manipulation of sexual dimorphism and sex determination in fish. Sci China Life Sci 58:124–136

Miao L, Yuan Y, Cheng F, Fang J, Zhou F, Ma W, Jiang Y, Huang X, Wang Y, Shan L, Chen D, Zhang J (2017) Translation repression by maternal RNA binding protein Zar1 is essential for early oogenesis in zebrafish. Dev 144:128–138

Morgan M, Kabayama Y, Much C, Ivanova I, Giacomo MD, Auchynnikava T, Monahan JM, Vitsios DM, Vasiliauskaitė L, Comazzetto S, Rappsilber J, Allshire RC, Porse BT, Enright AJ, O'carroll D (2019) A programmed wave of uridylation-primed mRNA degradation is essential for meiotic progression and mammalian spermatogenesis. Cell Res 29:221–232

Nakamura N, Dai Q, Williams J, Goulding EH, Willis WD, Brown PR, Eddy EM (2013) Disruption of a spermatogenic cell-specific mouse enolase 4 (eno4) gene causes sperm structural defects and male infertility. Biol Reprod 88:90

Ni F, Yu H, Liu Y, Meng L, Yan W, Zhang Q, Yu H, Wang X (2019) Roles of piwil1 gene in gonad development and gametogenesis in Japanese flounder, Paralichthys olivaceus. Gene 701:104–112

Okamura D, Maeda I, Taniguchi H, Tokitake Y, Ikeda M, Ozato K, Mise N, Abe K, Noce T, Belmonte JCI, Matsui Y (2012) Cell cycle gene-specific control of transcription has a critical role in proliferation of primordial germ cells. Genes Dev 26:2477–2482

Ożegowska K, Dyszkiewicz-Konwińska M, Celichowski P, Nawrocki MJ, Bryja A, Jankowski M, Kranc W, Brązert M, Knap S, Jeseta M, Skowroński MT, Bukowska D, Antosik P, Brüssow KP, Bręborowicz A, Bruska M, Nowicki M, Pawelczyk L, Zabel M, Kempisty B (2018) Expression pattern of new genes regulating female sex differentiation and in vitro maturational status of oocytes in pigs. Theriogenol 121:122–133

Pan Q, Anderson J, Bertho S, Herpin A, Wilson C, Postlethwait JH, Schartl M, Guiguen Y (2016) Vertebrate sex-determining genes play musical chairs. Comptes rendus biologies 339:258–262

Pan Z, Li X, Zhou F, Qiang X, Gui J (2015) Identification of sex-specific markers reveals male heterogametic sex determination in Pseudobagrus ussuriensis. Mar Biotechnol 17:441–451

Pan ZJ, Zhu CK, Wang H, Chang GL, Ding HY, Qiang XG, Yu XS (2017) Induction of meiotic gynogenesis in bagrid catfish (Pseudobagrus ussuriensis) with homologous sperm and its confirmation for female homogamety. Aquacult Res 48:5659–5665

Pan ZJ, Zhu CK, Wang H, Zhou FJ, Qiang XG (2017) Gonadal morphogenesis and sex differentiation in cultured Ussuri catfish Tachysurus ussuriensis. J Fish Biol 91:866–879

Pfender S, Kuznetsov V, Pleiser S, Kerkhoff E, Schuh M (2011) Spire-type actin nucleators cooperate with formin-2 to drive asymmetric oocyte division. Curr Biol 21:955–960

Prucha MS, Martyniuk CJ, Doperalski NJ, Kroll KJ, Barber DS, Denslow ND (2020) Steroidogenic acute regulatory protein transcription is regulated by estrogen receptor signaling in largemouth bass ovary. Gen Comp Endocrinol 286:113300

Qian Y, Shao L, Yuan C, Jiang CY, Liu J, Gao C, Gao L, Cui YG, Jiang SW, Liu JY, Meng Y (2016) Implication of differential peroxiredoxin 4 expression with age in ovaries of mouse and human for ovarian aging. Curr Mol Med 16:243–251

Ramanagoudr-Bhojappa R, Carrington B, Ramaswami M, Bishop K, Robbins GM, Jones M, Harper U, Frederickson SC, Kimble DC, Sood R (2018) Multiplexed CRISPR/Cas9-mediated knockout of 19 Fanconi anemia pathway genes in zebrafish revealed their roles in growth, sexual development and fertility. PLoS Genet 14:e1007821

Rastetter RH, Bernard P, Palmer JS, Chassot AA, Chen H, Western PS, Ramsay RG, Chaboissier MC, Wilhelm D (2014) Marker genes identify three somatic cell types in the fetal mouse ovary. Dev Biol 394:242–252

Rathor PK, Bhat IA, Rather MA, Gireesh-Babu P, Kumar K, Purayil SBP, Sharma R (2017) Steroidogenic acute regulatory protein (StAR) gene expression construct: development, nanodelivery and effect on reproduction in air-breathing catfish, Clarias batrachus. In J Biol Macromol 104(Pt A):1082–1090. https://doi.org/10.1016/j.ijbiomac.2017.06.104

Ribas L, Robledo D, Gomez-Tato A, Vinas A, Martinez P, Piferrer F (2016) Comprehensive transcriptomic analysis of the process of gonadal sex differentiation in the turbot (Scophthalmus maximus). Mol Cell Endocrinol 422:132–149

Robledo D, Ribas L, Cal R, Sánchez L, Piferrer F, Martínez P, Viñas A (2015) Gene expression analysis at the onset of sex differentiation in turbot (Scophthalmus maximus). BMC genomics 16:973

Ronfani L, Ferraguti M, Croci L, Ovitt CE, Schöler HR, Consalez GG, Bianchi ME (2001) Reduced fertility and spermatogenesis defects in mice lacking chromosomal protein Hmgb2. Dev 128:1265–1273

Roy A, Basak R, Rai U (2017) De novo sequencing and comparative analysis of testicular transcriptome from different reproductive phases in freshwater spotted snakehead Channa punctatus. PLoS One 12:e0173178

Royo H, Prosser H, Ruzankina Y, Mahadevaiah SK, Cloutier JM, Baumann M, Fukuda T, Höög C, Tóth A, Rooij DGD, Bradley A, Brown EJ, Turner JMA (2013) ATR acts stage specifically to regulate multiple aspects of mammalian meiotic silencing. Genes Dev 27:1484–1494

Saito M, Kumamoto K, Robles A, Horikawa I, Furusato B, Okamura S, Goto A, Yamashita T, Nagashima M, Lee T, Baxendale V, Rennert O, Takenoshita S, Yokota J, Sesterhenn I, Trivers G, Hussain S, Harris C (2010) Targeted disruption of Ing2 results in defective spermatogenesis and development of soft-tissue sarcomas. PLoS One 5:e15541

Sánchez-Sánchez AV, Camp E, Leal-Tassias A, Atkinson SP, Armstrong L, Díaz-Llopis M, Mullor JL (2010) Nanog regulates primordial germ cell migration through Cxcr4b. Stem Cells 28:1457–1464

Sapiro R, Kostetskii I, Olds-Clarke P, Gerton GL, Radice GL, Straussiii JF (2002) Male infertility, impaired sperm motility, and hydrocephalus in mice deficient in sperm-associated antigen 6. Mol Cell Biol 22:6298–6305

Sha YW, Sha YK, Ji ZY, Mei LB, Ding L, Zhang Q, Qiu PP, Lin SB, Wang X, Li P, Xu X, Li L (2018) TSGA10 is a novel candidate gene associated with acephalic spermatozoa. Clin Genet 93:776–783

Singh RS, Artieri CG (2010) Male sex drive and the maintenance of sex: evidence from drosophila. J Hered 101:S100–S106

Singh RS, Kulathinal RJ (2005) Male sex drive and the masculinization of the genome. Bioessays 27:518–525

Small CM, Carney GE, Mo Q, Vannucci M, Jones AG (2009) A microarray analysis of sex- and gonad-biased gene expression in the zebrafish: evidence for masculinization of the transcriptome. BMC genomics 10:579

Smith LB, Milne L, Nelson N, Eddie S, Brown P, Atanassova N, O'bryan MK, O'donnell L, Rhodes D, Wells S, Napper D, Nolan P, Lalanne Z, Cheeseman M, Peters J (2012) KATNAL1 regulation of sertoli cell microtubule dynamics is essential for spermiogenesis and male fertility. PLoS Genet 8:e1002697

Sun X, Brieño-Enríquez MA, Cornelius A, Modzelewski AJ, Maley TT, Campbell-Peterson KM, Holloway JK, Cohen PE (2016) FancJ (Brip1) loss-of-function allele results in spermatogonial cell depletion during embryogenesis and altered processing of crossover sites during meiotic prophase I in mice. Chromosoma 125:237–252

Tatusov RL, Galperin MY, Natale DA, Koonin EV (2000) The COG database: a tool for genome-scale analysis of protein functions and evolution. Nucleic Acids Res 28:33–36

Tong Y, Shan T, Poh YK, Yan T, Wang H, Lam SH, Gong Z (2004) Molecular cloning of zebrafish and medaka vitellogenin genes and comparison of their expression in response to 17beta-estradiol. Gene 328:25–36

Wang Z, Qiu X, Kong D, Zhou X, Guo Z, Gao C, Ma S, Hao W, Jiang Z, Liu S, Zhang T, Meng X, Wang X (2017) Comparative RNA-Seq analysis of differentially expressed genes in the testis and ovary of Takifugu rubripes. Comp Biochem Physiol, Part D 22:50–57. https://doi.org/10.1016/j.cbd.2017.02.002

Wang H, Wang B, Liu J, Li A, Zhu H, Wang X, Zhang Q (2018) Piwil1 gene is regulated by hypothalamic-pituitary-gonadal axis in turbot (Scophthalmus maximus): a different effect in ovaries and testes. Gene 658:86–95

Wang B, Wang H, Song H, Jin C, Peng M, Gao C, Yang F, Du X, Qi J, Zhang Q, Cheng J (2019) Evolutionary significance and regulated expression of Tdrd family genes in gynogenetic Japanese flounder (Paralichthys olivaceus). Comp Biochem Physiol Part D: Genomics Proteomics 31:100593

Wang Y, Yu S, Ma G, Chen S, Shi Y, Yang Y (2014) Comparative study of proximate composition and amino acid in farmed and wild Pseudobagrus ussuriensis muscles. Int J Food Sci Technol 49:983–989

Webster KA, Schach U, Ordaz A, Steinfeld JS, Draper BW, Siegfried KR (2017) Dmrt1 is necessary for male sexual development in zebrafish. Dev Biol 422:33–46

Wei L, Li X, Li M, Tang Y, Wei J, Wang D (2019) Dmrt1 directly regulates the transcription of the testis-biased Sox9b gene in Nile tilapia (Oreochromis niloticus). Gene 687:109–115

Weidinger G, Stebler J, Slanchev K, Dumstrei K, Wise C, Lovell-Badge R, Thisse C, Thisse B, Raz E (2003) dead end, a novel vertebrate germ plasm component, is required for zebrafish primordial germ cell migration and survival. Curr Biol 13:1429–1434

White R, Leonardsson G, Rosewell I, Ann Jacobs M, Milligan S, Parker M (2000) The nuclear receptor co-repressor nrip1 (RIP140) is essential for female fertility. Nat Med 6:1368–1374

Xiao J, Cao K, Zou Y, Xiao S, Wang Z, Cai M (2019) Sex-biased gene discovery from the gonadal transcriptomes of the large yellow croaker (Larimichthys crocea). Aquacult Fish 4:9–16

Xu Y, Greenberg RA, Schonbrunn E, Wang PJ (2017) Meiosis-specific proteins MEIOB and SPATA22 cooperatively associate with the single-stranded DNA-binding replication protein A complex and DNA double-strand breaks. Biol Reprod 96:1096–1104

Xu H, Sun B, Jia L, Wei Y, Liao Z, Liang M (2020) Cloning and characterization of cholesterol 25-hydroxylase (ch25h) from a marine teleost, Chinese tongue sole (Cynoglossus semilaevis), and Its Gene Expressions in Response to Dietary Arachidonic Acid. Frontiers in Mar Sci 6:800

Yan L, Feng H, Wang F, Lu B, Liu X, Sun L, Wang D (2019) Establishment of three estrogen receptors (esr1, esr2a, esr2b) knockout lines for functional study in Nile tilapia. J Steroid Biochem Mol Biol 191:105379

Yan W, Ma L, Burns KH, Matzuk MM (2004) Haploinsufficiency of kelch-like protein homolog 10 causes infertility in male mice. Proc Natl Acad Sci 101:7793–7798

Yang D, Yin C, Chang Y, Dou Y, Hao Z, Ding J (2016) Transcriptome analysis of male and female mature gonads of Japanese scallop Patinopecten yessonsis. Genes Genom 38:1041–1052

Yano A, Guyomard R, Nicol B, Jouanno E, Quillet E, Klopp C, Cabau C, Bouchez O, Fostier A, Guiguen Y (2012) An immune-related gene evolved into the master sex-determining gene in rainbow trout, Oncorhynchus mykiss. Curr Biol 22:1423–1428

Yu X, Wu L, Xie L, Yang S, Charkraborty T, Shi H, Wang D, Zhou L (2014) Characterization of two paralogous StAR genes in a teleost, Nile tilapia (Oreochromis niloticus). Mol Cell Endocrinol 392:152–162

Yu K, Zhang T (2013) Construction of customized sub-databases from NCBI-nr database for rapid annotation of huge metagenomic datasets using a combined BLAST and MEGAN approach. PloS One 8:e59831. https://doi.org/10.1371/journal.pone.0059831

Yue H, Li C, Du H, Zhang S, Wei Q (2015) Sequencing and de novo assembly of the gonadal transcriptome of the endangered Chinese sturgeon (Acipenser sinensis). Plos One 10:e0127332. https://doi.org/10.1371/journal.pone.0127332

Zeng Q, Liu S, Yao J, Zhang Y, Yuan Z, Jiang C, Chen A, Fu Q, Su B, Dunham R, Liu Z (2016) Transcriptome display during testicular differentiation of channel catfish (Ictalurus punctatus) as revealed by RNA-Seq analysis. Biol Reprod 95:19–19

Zhang Z, Lau S, Zhang L, Ge W (2015) Disruption of zebrafish follicle-stimulating hormone receptor (fshr) but not luteinizing hormone receptor (lhcgr) gene by TALEN leads to failed follicle activation in females followed by sexual reversal to males. Endocrinol 156(10):3747–3762

Zhang W, Liu Y, Yu H, Du X, Zhang Q, Wang X, He Y (2016) Transcriptome analysis of the gonads of olive flounder (Paralichthys olivaceus). Fish Physiol Biochem 42:1581–1594

Zhou F, Dong C, Davis JE, Wu WH, Surrao K, Wu G (2015) The mechanism and function of mitogen-activated protein kinase activation by ARF1. Cell Signal 27:2035–2044

Zhou J, Yang F, Leu NA, Wang PJ (2012) MNS1 is essential for spermiogenesis and motile ciliary functions in mice. PLoS Genetics 8:e1002516

Zou C, Wang L, Zou Y, Wu Z, Wang W, Liang S, Wang L, You F (2020) Characteristics and sex dimorphism of 17β-hydroxysteroid dehydrogenase family genes in the olive flounder Paralichthys olivaceus. J Steroid Biochem Mol Biol 199:105597
Data and materials availability
Data and materials of this study are available through personal communications with the corresponding author.
Funding
This work was funded by the Fishery Science and Technology Projects in Jiangsu Province (No. Y 2018-23) and the Jiangsu Collaborative Innovation Center of Regional Modern Agriculture & Environmental Protection (No. HSXT2-216).
Ethics declarations
Ethics approval
The study design and animal experiments were conducted in accordance with the guidelines of Huaiyin Normal University's Animal Care and Use Committee (20170315001A).
Conflict of interest
The authors declare no competing interests.
Additional information
Publisher's note
Springer Nature remains neutral with regard to jurisdictional claims in published maps and institutional affiliations.
Supplementary Information
About this article
Cite this article
Pan, Z., Zhu, C., Chang, G. et al. Differential expression analysis and identification of sex-related genes by gonad transcriptome sequencing in estradiol-treated and non-treated Ussuri catfish Pseudobagrus ussuriensis. Fish Physiol Biochem 47, 565–581 (2021). https://doi.org/10.1007/s10695-021-00932-x
Received:

Accepted:

Published:

Issue Date:
Keywords
Transcriptome

Sex-related genes

Differential expression

Sex reversal

Pseudobagrus ussuriensis