Abstract
We examined the efficiency of electroporation for the delivery of plasmid into the skeletal muscle and also examined the subsequent secretion of recombinant protein into the circulation system, using zebrafish, Japanese flounder, and bubble-eye goldfish. The expression area of GFP fluorescence was markedly expanded by electroporation. Introduced plasmid was retained in the muscle cells and continued to express GFP for at least 180 days in zebrafish, indicating the long lifespan of plasmid DNA in the muscle cell. Luciferase and a fusion of growth hormone (GH) and luciferase were secreted into the blood from muscle electroporated with CMV:secNluc and CMV:GH-Luc plasmids, respectively, indicating that recombinant proteins such as peptide hormones can be supplied to the blood by plasmid electroporation into muscle. Interestingly, luciferase activity was detected from fertilized eggs laid by zebrafish females that had been electroporated with CMV:secNluc, indicating that maturing oocytes incorporated recombinant protein from the blood stream that had been secreted from the muscle. The plasmid electroporation system reported here also may work for the delivery of recombinant proteins, such as Cas9, into the oocytes. Since the GH-Luc fusion protein was detected in the lymph of the eye-sac of bubble-eye goldfish, this fish may be useful for the production of recombinant protein.
This is a preview of subscription content, log in to check access.
Access options
Buy single article
Instant access to the full article PDF.
US$ 39.95
Price includes VAT for USA
Subscribe to journal
Immediate online access to all issues from 2019. Subscription will auto renew annually.
US$ 99
This is the net price. Taxes to be calculated in checkout.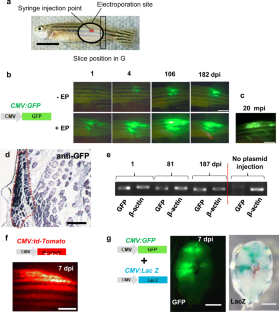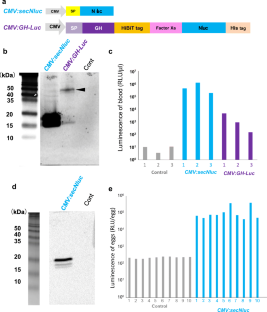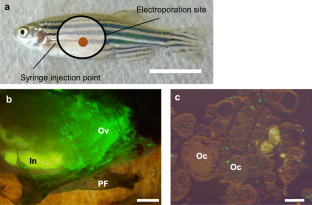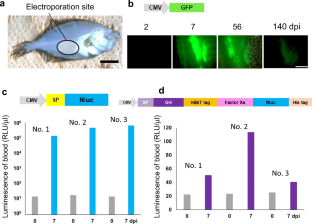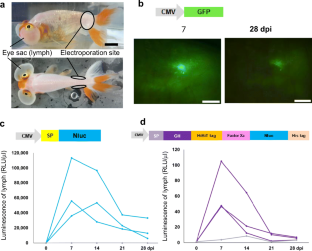 Funding
This work was supported by grants from the Japan Ministry of Education, Culture, Sports, Science, and Technology (grant numbers 18J20434 to MI; 19K22323 and 17H03867 to TS; and 18K05813 and 15KK0272 to HY) and the Program for Creation of Interdisciplinary Research from the Frontier Research Institute for Interdisciplinary Sciences, Tohoku University (to HY). Iwaizumi is a Research Fellow of Japan Society for the Promotion of Science.
Additional information
Publisher's note
Springer Nature remains neutral with regard to jurisdictional claims in published maps and institutional affiliations.
Electronic supplementary material
About this article
Cite this article
Iwaizumi, M., Yokoi, H. & Suzuki, T. Plasmid delivery by electroporation into fish skeletal muscle for recombinant protein secretion and uptake by oocytes. Fish Physiol Biochem 46, 1121–1130 (2020). https://doi.org/10.1007/s10695-020-00775-y
Received:

Accepted:

Published:

Issue Date:
Keywords
Luciferase

GFP

Ovary

Zebrafish

Flounder

Goldfish