Abstract
Astronomical observatories are today generating increasingly large volumes of data. For an efficient use of them, databases have been built following the standards proposed by the International Virtual Observatory Alliance (IVOA), providing a common protocol to query them and make them interoperable. The IRAM 30-m radio telescope, located in Sierra Nevada (Granada, Spain) is a millimeter wavelength telescope with a constantly renewed, extensive choice of instruments, and capable of covering the frequency range between 80 and 370 GHz. It is continuously producing a large amount of data thanks to the more than 200 scientific projects observed each year. The TAPAS archive at the IRAM 30-m telescope is aimed to provide public access to the headers describing the observations performed with the telescope, according to a defined data policy, making as well the technical data available to the IRAM staff members. A special emphasis has been made to make it Virtual Observatory (VO) compliant, and to offer a VO compliant web interface allowing to make the information available to the scientific community. TAPAS is built using the Django Python framework on top of a relational MySQL database, and is fully integrated with the telescope control system. The TAPAS data model (DM) is based on the Radio Astronomical DAta Model for Single dish radio telescopes (RADAMS), to allow for easy integration into the VO infrastructure. A metadata modeling layer is used by the data-filler to allow an implementation free from assumptions about the control system and the underlying database. TAPAS and its public web interface (http://tapas.iram.es) provides a scalable system that can evolve with new instruments and observing modes. A meta description of the DM has been introduced in TAPAS in order to both avoid undesired coupling between the code and the DM and to provide a better management of the archive. A subset of the header data stored in TAPAS will be made available at the CDS.
Access options
Buy single article
Instant access to the full article PDF.
USD 39.95
Price includes VAT (USA)
Tax calculation will be finalised during checkout.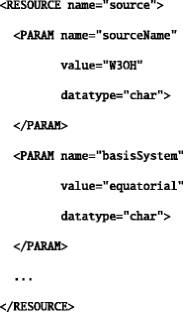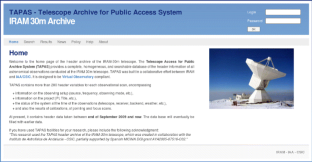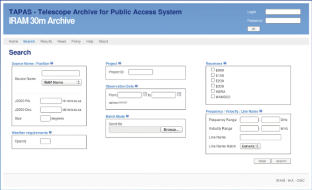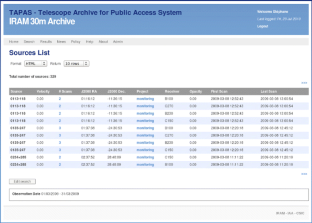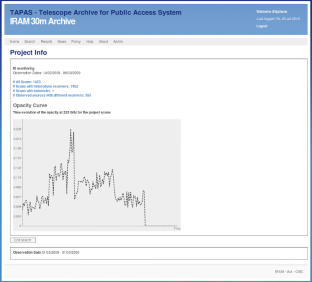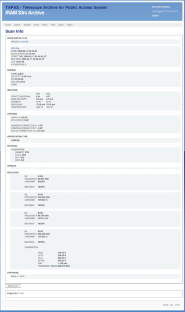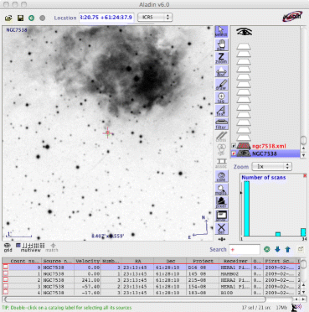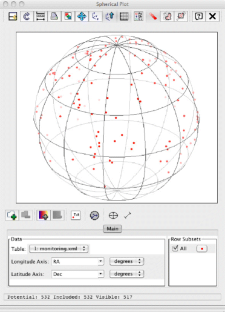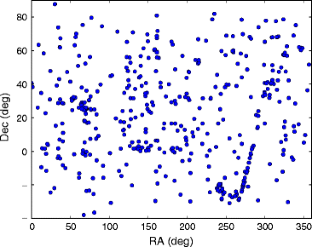 References
1.

Barnes, J.M.: Object-relational mapping as a persistence mechanism for object-oriented applications. Honors Projects. Paper 6 (2007)

2.

Benson, K., Plante, R., Auden, E., et al.: IVOA Registry Interfaces version 1.0. IVOA Recommendation, IVOA. http://www.ivoa.net/Documents/RegistryInterface/ (2009)

3.

Bonnarel, F., Fernique, P., Bienaymé, O. et al.: The ALADIN interactive sky atlas. A reference tool for identification of astronomical sources. A&AS 143, 33 (2000)

4.

Chen, P.P.: The entity–relationship model: toward a unified view of data. ACM Trans. Database Syst. 1, 9–36 (1976)

5.

Cowan, J., Tobin, R.: XML information set, 2nd edn. W3C Recommendation, W3C. www.w3c.org/TR/2004/REC-xml-infoset-20040204 (2004)

6.

DuBois, P.: MySQL, 4th edn, p. 1200. Addison-Wesley. ISBN 0-672-32938-7 (2008)

7.

Fernández, M., Marsh, J., Malhotra, A., Nagy, M., Walsh, N.: XQuery 1.0 and XPath 2.0 data model. W3C working draft, W3C. www.w3.org/TR/2003/WD-path-datamodel-20031112 (2003)

8.

Genova, F.: Interoperability. In: Astronomical Data Analysis Software and Systems XI, ASP Conf. Ser., vol. 281 (2002)

9.

GuangChun, L., Lu, W., Hanhong, X.: A novel web application frame developed by MVC. SIGSOFT Softw. Eng. Notes 28, 2, 7 (2003). doi:10.1145/638750.638779

10.

Hanisch, R.J., Farris, A., Greisen, E.W., et al.: Definition of the flexible image transport system (FITS). A&A 376, 359 (2001)

11.

Holovaty, A., Kaplan-Moss, J.: The Definitive Guide to Django: Web Development Done Right, p. 447. Apress, ISBN 978-1-59059-725-5 (2007)

12.

IEEE Standard 1003.1: Standard for information technology - portable operating system interface (POSIX). Shell and utilities (2004)

13.

Mazzarella, J.M.: The NED team: NED for a New Era. In: Astronomical Data Analysis Software and Systems XVI ASP Conference Series, vol. 376 (2007)

14.

Murphy, T., Lamb, P., Owen, C., Marquarding, M.: PASA 23, 25–32 (2006)

15.

Ochsenbein, F., Williams, R., Davenhall, C., Durand, D., Fernique, P., Giaretta, D., Hanisch, R., McGlynn, T., Szalay, A., Taylor, M.B., Wicenec, A.: VOTable format definition version 1.2. IVOA recommendation, IVOA. http://www.ivoa.net/Documents/VOTable/20091130/REC-VOTable-1.2.html (2009)

16.

Preite Martinez, A., Derriere, S., Delmotte, N., et al.: The UCD1+ controlled vocabulary version 1.23. IVOA Recommendation, IVOA (2007)

17.

Santander-Vela, J.D., et al.: arXiv:0810.0385 (2007)

18.

Santander-Vela, JdD.: PhD Thesis, University of Granada (Spain) (2012)

19.

Schaaff, A.: Web services and related works at CDS. In: Astronomical Data Analysis Software and Systems XIII ASP Conference Series, vol. 314 (2004)

20.

Szalay, A., Gray, J.: The world-wide telescope. Science 293, 2037 (2001)

21.

Taylor, M.: TOPCAT & STIL: starlink table / VOTable processing software. In: Astronomical Data Analysis Software and Systems XIV ASP Conference Series, vol. 347 (2005)

22.

Taylor, M., Boch, T., Fitzpatrick, M., Allan, A., Paioro, L., Taylor, J., Tody, D.: SAMP simple application messaging protocol version 1.11. IVOA Recommendation. http://www.ivoa.net/Documents/latest/SAMP.html (2009)

23.

Viallefond, F.: ADASS XV. PASP 351, 627 (2006)

24.

Wenger, M., Ochsenbein, F., Egret, D., Dubois, P., Bonnarel, F., Borde, S., Genova, F., Jasniewicz, G., Laloë, S., Lesteven, S., Monier, R.: The SIMBAD astronomical database. The CDS reference database for astronomical objects. A&AS 143, 9 (2000)

25.

Williams, R., Hanisch, R., Szalay, A. Plante, R.: IVOA Recommendation, IVOA. http://www.ivoa.net/Documents/REC/DAL/ConeSearch-20080222.html (2009)
Acknowledgements
We would like to thank the anonymous referee for the very helpful comments. The authors acknowledge support from Spanish DGI Grants AYA 2005-07516-C02-01, AYA 2005-07516-C02-02, AYA2008-06181-C02, and Junta de Andalucía grant P08-FQM-4205-PEX.
Additional information
IRAM is supported by INSU/CNRS (France), MPG (Germany), and IGN (Spain).
About this article
Cite this article
Leon, S., Espigares, V., Ruíz, J.E. et al. TAPAS, a VO archive at the IRAM 30-m telescope. Exp Astron 34, 65–88 (2012). https://doi.org/10.1007/s10686-012-9299-9
Received:

Accepted:

Published:

Issue Date:
Keywords
Astronomical database

Virtual observatory

Radioastronomy