Abstract
The study of the potential of a plant population makes the selection of a breeding program more efficient, allowing satisfactory genetic gains and identifying the potential of this population, among others, for advances in generations. The genetic potential of Eucalyptus benthamii is still poorly studied. This species has relevant characteristics for increasing productivity, frost tolerance and, mainly, the quality of wood, with an emphasis on cellulose production. The goal of this study was to evaluate the potential of a sample of Eucalyptus individuals for suitability of use, based on technological characteristics and wood growth through uni, bi, and multivariate techniques. The genetic material sampled comes from a test of progenies of E. benthamii, 4 years old from the company CMPC Celulose Riograndense. The sample consisted of 75 individuals of E. benthamii and three individuals of three other species that were used as controls (E. saligna, E. grandis and E. dunnii), totaling 87 individuals, chosen by industrial criteria. The population of E. benthamii under study has good potential to be explored through selective techniques in view of the witnesses used, considering the descriptive statistics, the association of characteristics and analysis of factors. Also, enabling the selection of superior materials within this sampling.
This is a preview of subscription content, log in to check access.
Access options
Buy single article
Instant access to the full article PDF.
US$ 39.95
Price includes VAT for USA
Subscribe to journal
Immediate online access to all issues from 2019. Subscription will auto renew annually.
US$ 199
This is the net price. Taxes to be calculated in checkout.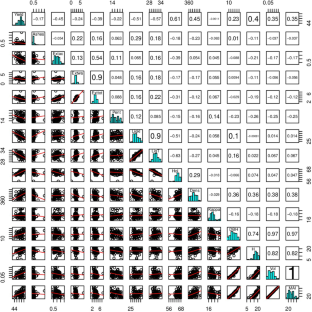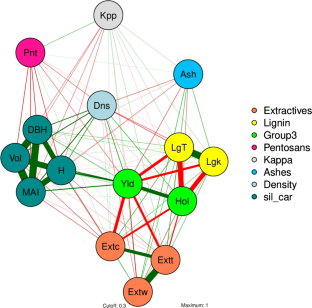 References
Alves ICN, Gomide JL, Colodette JL, Silva HD (2011) Caracterização tecnológica da madeira de Eucalyptus benthamii para produção de celulose kraft. Ciencia Florestal 21(1):167–174

Andrade RN, Angelo AC (2016) Crescimento incial Eucalyptus benthamii Maiden et Cambage E Eucalyptus dunnii Maiden en General Carneiro PR. Monografia—UFPR, p 6

Barbosa IP, Costa WG, Nascimento M, Cruz CD, Oliveira ACB (2019) Recommendation of Coffea arabica genotypes by factor analysis. Euphytica 215(10):178

Behera LK, Jha SK, Gunaga RP, Nayak D, Tandel MB, Jadeja DB (2017) Genetic variability and correlation study for growth characters among clones of Eucalyptus. Int J Chem Stud 5(6):763–765

Brondani GE, Wendling I, Grossi F, Dutra LF, Araujo MA (2010) Miniestaquia de Eucalyptus benthamii × Eucalyptus dunnii: (II) sobrevivência e enraizamento de miniestacas em função das coletas e estações do ano. Ciência Florestal 20(3)

Couto HTZ, Bastos NLM (1988) Erros de medição de altura em povoamentos de Eucalyptus em Região plana. IPEF 39:21–31

Cruz CD (2016) Genes software: extended and integrated with the R, Matlab and Selegen. Acta Sci Agron 38(4):547–552

Cruz CD, Ferreira FM, Pessoni LA (2011) Biometria Aplicada ao Estudo da Diversidade Genética. Suprema, Visconde do Rio Branco

Cruz CD, Carneiro PCS, Regazzi AJ (2014) Modelos biométricos aplicados ao melhoramento genético. rev. e ampl. Viçosa: Ed. da UFV, 2

D'Almeida MLO (1988) Tecnologia de fabricação de pasta celulósica. Instituto de Pesquisa Tecnológicas do Estado de São Paulo 1:45–106

Epskamp S, Cramer AOJ, Waldorp LJ, Schimittmann VD, Borsboom D (2012) qgraph : Network visualizations of relationships in psychometric data. J Stat Softw 48(4):1–18

Estopa RA, Milagres FR, Gomes FJB, Amaral CAS (2017) Caracterização química da madeira de Eucalyptus benthamii por meio de espectroscopia nir. O Papel 78(2):75–81

Ferreira FM, Neves LG, Bruckner CH, Viana AP, Cruz CD, Barelli MAA (2010) Formação de supercaracteres para seleção de famílias de maracujazeiro amarelo. Acta Sci Agron 32(2):247–254

Filho DBF, Júnior JADS (2010) Visão além do alcance: uma introdução à análise fatorial. Opinião pública 16(1):160–185

Finger CAG (1992) Fundamentos de biometria florestal. Santa Maria, Universidade Federal de Santa Maria, 1992, 269 p

Foelkel, C (2013) Aspectos Práticos e Conceituais sobre a Fabricação de Celulose de Mercado do Tipo Kraft Branqueada a Partir de Madeira de Eucalipto. Eucalyptus Online Book and Newsletter

Fonseca SM, Resende MDV, Alfenas AC, Guimarães LMS, Assis TF, Grattapaglia D (2010) Manual prático de melhoramento genetico de eucalipto. UFV, Brazil, p 192

Garbuglio DD, Gerage AC, Araújo PMD, Junior F, da Silva N, Shioga PS (2007) Análise de fatores e regressão bissegmentada em estudos de estratificação ambiental e adaptabilidade em milho. Pesquisa Agropecuária Brasileira 42(2):183–191

Garcia SLR (1998) Importância de características de crescimento, de qualidade da madeira e da polpa na diversidade genética de clones de eucalipto. Tese de Doutorado-UFV

Gomes FJB, Gouvêa AFG, Colodette JL, Gomide JL, Carvalho AMML, Trugilho PF, Rosado AM (2008) Influence of content and S/G relation of the wood lignin on kraft pulping performance. O Papel 12:95–105

Gomide JL, Colodette JL, Oliveira RCD, Silva CM (2005) Caracterização tecnológica, para produção de celulose, da nova geração de clones de Eucalyptus do Brasil. Revista Árvore 29(1):129–137

Gomide JL, Fantuzzi N, Regazzi AJ (2010) Analysis of wood quality criteria of eucalyptus wood for kraft pulp production. Revista Árvore 34(2):339–344

Higa RCV (1999) Aspectos ecológicos e silviculturais do Eucalyptus benthamii et Cambage. Embrapa Florestas-Artigo em periódico indexado (ALICE)

IBA (2019) Indústria Brasileira de Árvores. São Paulo, 80

ISSO 302, 2004. ISO 302:2004: Pulps—determination of Kappa number. International Organization for Standardization

Jardim JM, Gomes FJB, Colodette JL, Brahim BP (2017) Avaliação da qualidade e desempenho de clones de eucalipto na produção de celulose. O Papel 78(11):122–129

Johnson R, Wichern D (2007) Applied multivariate statistical analysis, vol 6. Prentice Hall, Upper Saddle River, p 773

Luna RK, Bikram S (2009) Estimates of genetic variability and correlation in Eucalyptus hybrid progeny for early selection. Indian For 135(2):147–161

Magaton ADS, Colodette JL, Gouvêa ADFG, Gomide JL, Muguet MCS, Pedrazzi CRISTIANE (2009) Eucalyptus wood quality and its impact on kraft pulp production and use. Tappi J 8(8):32–39

Magaton AS, Colodette JL, Piló-Veloso D, Gomide JL (2011) Behavior of Eucalyptus wood xylans across kraft cooking. J Wood Chem Technol 31(1):58–72

Marcatti GE, Resende RT, Resende MDV, Ribeiro CAA, dos Santos AR, da Cruz JP, Leite HG (2017) GIS-based approach applied to optimizing recommendations of Eucalyptus genotypes. For Ecol Manag 392:144–153

Mendonça O, Carpentieri-Pípolo V, Garbuglio DD, Junior F, da Silva N (2007) Análise de fatores e estratificação ambiental na avaliação da adaptabilidade e estabilidade em soja. Pesquisa Agropecuária Brasileira 42(11):1567–1575

Moreira E (2006) Efeito da lixiviação ácida de cavacos de eucalipto no processo Kraft. Dissertação apresentada à Universidade federal de Viçosa

Nunes ACP, Santos GA, Resende MDV, Silva LD, Higa A, Assis TF (2016) Estabelecimento de zonas de melhoramento para clones de eucalipto no Rio Grande do Sul Establishment of improvement areas for eucalyptus clones in Rio Grande do Sul, Brazil

Protásio TDP, Tonoli GHD, Guimarães Júnior M, Bufalino L, Couto AM, Trugilho PF (2012) Correlações canônicas entre as características químicas e energéticas de resíduos lignocelulósicos. Cerne 18(3):433–439

Schumacher FX (1933) Logarithmic expression of timber-tree volume. J Agric Res 47:719–734

Silva NCN, Ferreira WL, Cirillo MA, Scallon JD (2014) O uso da análise fatorial na descrição e identificação dos perfis característicos de municípios de Minas Gerais. Revista Brasileira de Biometria 32(2):201–215

Silva ARD, Rêgo ERD, Pessoa AMDS, Rêgo MMD (2016) Correlation network analysis between phenotypic and genotypic traits of chili pepper. Pesquisa Agropecuária Brasileira 51(4):372–377

Souza GS, Gomes FJ, Colodette JL (2016) Efeito da impregnação prolongada dos cavacos no rendimento e branqueabilidade da polpa kraft de eucalipto

TAPPI T-222 OM-2 (2002) Acid-insoluble lignin in wood and pulp. TAPPI Press, Atlanta, GA

TAPPI T-223 CM-01 (1999) Pentosans in wood and pulp. TAPPI Press, Atlanta, GA

TAPPI T-280 PM-99 (1999) Acetone extractives of wood and pulp. TAPPI Press, Atlanta, GA

TAPPI T-21 OM-2 (2002) Effect of cooking temperature on kraft pulping of hardwood. TAPPI Press, Atlanta, GA

TAPPI UM 250 (1991) "Acid-soluble lignin in wood and pulp", TAPPI Useful Method 250. TAPPI Press, Atlanta, GA

Teixeira FRF, Nascimento M, Nascimento ACC, Paixão DM, Azevedo CF, Fonseca F, Guimarães SEF (2015) Determinação de fatores em características de suínos. Revista Brasileira de Biometria, São Paulo 33(2):130–138

Ventorim G, Oliveira KD, Colodette JL, Da Costa MM (2006) Influência do número kappa, dos ácidos hexenurônicos e da lignina no desempenho da deslignificação com oxigênio. Scientia Forestalis/Forest Sciences, pp 87–97

Verma SK, Sharma SK (2011) Assessment of wood traits variation in the segregating populations of Eucalyptus hybrids. Indian For 137(6):732–738
Acknowledgements
The authors are grateful for the financial support of the Conselho Nacional de Desenvolvimento Científico e Tecnológico—CNPq, the Coordenação de Aperfeiçoamento de Pessoal de Nível Superior—CAPES and the company CMPC—Celulose Riograndense.
Additional information
Publisher's Note
Springer Nature remains neutral with regard to jurisdictional claims in published maps and institutional affiliations.
Electronic supplementary material
Below is the link to the electronic supplementary material.
About this article
Cite this article
Ferraz, A.G., Cruz, C.D., dos Santos, G.A. et al. Potential of a population of Eucalyptus benthamii based on growth and technological characteristics of wood. Euphytica 216, 94 (2020). https://doi.org/10.1007/s10681-020-02628-4
Received:

Accepted:

Published:
Keywords
Eucalyptus

Network of correlations

Population potential

Multivariate analysis

Wood quality