Abstract
Sex determination in papaya plants is a practice of great importance, given the greater commercial interest in hermaphrodite plants. This process is laborious, requiring plant three to five seedlings per hill since the sex types are identified by the flowers four months after planting. The objective of the present study was to perform sexing on papaya seeds through molecular markers by collecting a tissue sample for DNA extraction, without compromising seed germination. Two genotypes were used for the experiment: one of the Solo group (Golden) and another of the Formosa group (UC-01). Germination tests were performed to determine the best type of section (transverse and longitudinal) to remove the endosperm tissue associated with the best disinfestation treatment (fungicide or sodium hypochlorite) which would allow subsequent embryo development. For molecular sexing, six DNA extraction methods were tested in association with two amplification protocols. The association between the longitudinal section and the fungicide treatment provided a high germination percentage (81%) for the genotype of the Formosa group, which did not differ statistically from control (88%). The genotype of the Golden group also exhibited better germination in the longitudinal section treated with fungicide (32%), but the section led to a lower germination percentage than control treatment (82%). The PS2 primer was efficient in sexing the samples, as confirmed by phenotypic sexing. The present study unprecedently demonstrates sexing in Formosa standard papaya seeds via molecular markers, maintaining its germinative potential. For Solo seeds, which are smaller, adjustments should be made to the protocol.
This is a preview of subscription content, log in to check access.
Access options
Buy single article
Instant access to the full article PDF.
US$ 39.95
Price includes VAT for USA
Subscribe to journal
Immediate online access to all issues from 2019. Subscription will auto renew annually.
US$ 199
This is the net price. Taxes to be calculated in checkout.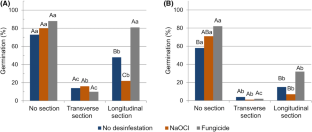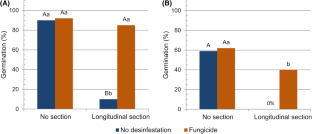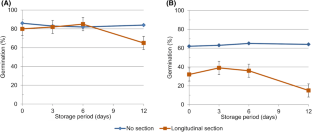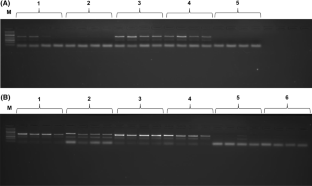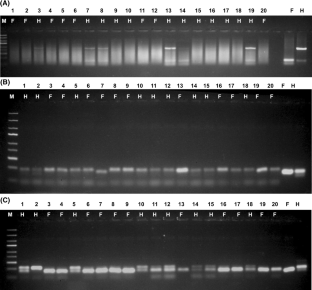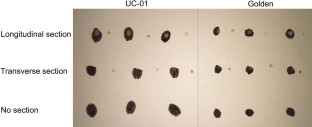 References
Abd-Elsalam K, Bahkali A, Moslem M et al (2011) An optimized protocol for DNA extraction from wheat seeds and loop-mediated isothermal amplification (LAMP) to setect Fusarium graminearum contamination of wheat grain. Int J Mol Sci 12:3459–3472. https://doi.org/10.3390/ijms12063459

Arango LV, de Rezende C, de Carvalho SP (2008) Identificação antecipada do sexo do mamoeiro pelos caracteres físicos das sementes e padrões isoenzimáticos das mudas. Rev Corpoica—Cienc y Tecnol Agropecu 9: 22–29. https://doi.org/10.21930/rcta.vol9_num1_art:101

Chen JR, Urasaki N, Matsumura H et al (2019) Dissecting the all-hermaphrodite phenomenon of a rare X chromosome mutant in papaya (Carica papaya L.,). Mol Breed 39:14. https://doi.org/10.1007/s11032-018-0918-7

Chunwongse J, Martin GB, Tanksley SD (1993) Pre-germination genotypic screening using PCR amplification of half-seeds. Theor Appl Genet 86:694–698. https://doi.org/10.1007/BF00222658

Cruz CD (2008) Programa GENES: diversidade genética. UFV, Viçosa

da Costa FR, Nair T, Pereira S et al (2011) ISSR markers for genetic relationships in Caricaceae and sex differentiation in papaya. Biotechnology 11:1–6. https://doi.org/10.1590/S1984-70332011000400009

Daher RF, Pereira MG, Pereira AV, Amaral AT (2002) Genetic divergence among elephantgrass cultivars assessed by RAPD markers in composit samples. Sci Agric 59:623–627. https://doi.org/10.1590/s0103-90162002000400001

Dantas JLL, Junghans DT, de Lima JF (2013) O produtor pergunta, a Embrapa responde, 2nd edn. Brasília, DF

de Costa A FS da, Costa AN da, Santos FAM dos et al (2003a) A cultura do mamoeiro: tecnologias de produção. INCAPER, Vitória-ES

de Costa A FS da, Costa AN da, Santos FAM dos et al (2003b) Plantio, formação e manejo da cultura. In: Martins D dos S, Costa A de FS da (eds) A cultura do mamoeiro: tecnologias de produção. Incaper, Vitória-ES, p 497

de Macedo CMP, Pereira MG, Cardoso DL, da Silva RF (2013) Evaluation of seed physiological quality of papaya elite hybrids, their reciprocal crosses and parents. J Seed Sci 35:190–197. https://doi.org/10.1590/s2317-15372013000200008

de Oliveira EJ, Dantas JLL, Castellen MDS et al (2007) Marcadores moleculares na predição do sexo em plantas de mamoeiro. Pesqui Agropecu Bras 42:1747–1754. https://doi.org/10.1590/S0100-204X2007001200012

Deputy J, Ming R, Ma H et al (2002) Molecular markers for sex determination in papaya (Carica papaya L.). Theor Appl Genet 106:107–111. https://doi.org/10.1007/s00122-002-0995-0

Dos Santos SA, Da Silva RF, Pereira MG et al (2009) X-ray technique application in evaluating the quality of papaya seeds. Seed Sci Technol 37:776–780. https://doi.org/10.15258/sst.2009.37.3.25

Doyle JJ, Doyle JL (1987) A rapid DNA isolation procedure for small amounts offresh leaf tissue. Phytochem Bull 19:11–15

Ellis RH, Hong TD, Roberts EH (1991) Effect of storage temperature and moisture on the germination of papaya seeds. Seed Sci Res 1:69–72. https://doi.org/10.1017/S0960258500000659

Ferreguetti GH (2018) Custo de produção e rentabilidade da cultura do mamão. In: VII Simpósio do Papaya Brasileiro: Produção e sustentabilidade híbrica. https://papayabrasil.com.br/cd/dados/palestras/P14.pdf. Accessed 04 Mar 2020.

Ferreira AG, Borghetti F (2004) Germinação: do básico ao aplicado. Artmed, Porto Alegre

Gao S, Martinez C, Skinner DJ et al (2008) Development of a seed DNA-based genotyping system for marker-assisted selection in maize. Mol Breed 22:477–494. https://doi.org/10.1007/s11032-008-9192-4

Lemos E, Silva C, Zaidan H (2002) Identification of sex in Carica papaya L. using RAPD markers. Euphytica 127:179–184. https://doi.org/10.1023/A:1020269727772

Liao Z, Yu Q, Ming R (2017) Development of male-specific markers and identification of sex reversal mutants in papaya. Euphytica 213:1–12. https://doi.org/10.1007/s10681-016-1806-z

Marcos Filho J (2005) Fisiologia de sementes de plantas cultivadas. Fealq, Piracicaba

Matos ELS, Oliveira EJ, Jesus ON, Dantas JLL (2013) Microsatellite markers of genetic diversity and population structure of Carica papaya. Ann Biol 2:298–310. https://doi.org/10.1111/aab.12053

Meru G, McDowell D, Waters V et al (2013) A non-destructive genotyping system from a single seed for marker-assisted selection in watermelon. Genet Mol Res 12:702–709. https://doi.org/10.4238/2013

Ming R, Yu Q, Moore PH (2007) Sex determination in papaya. Semin Cell Dev Biol 18:401–408. https://doi.org/10.1016/j.semcdb.2006.11.013

Niroshini E, Everard JMDT, Karunanayake EH, Tirimanne TLS (2008) Detection of sequence characterized amplified region (SCAR) markers linked to sex expression in Carica papaya L. J Natl Sci Found Sri Lanka 36:145–150. https://doi.org/10.4038/jnsfsr.v36i2.146

Organization for Economic Co-operation and Development (OECD) (2005) Consensus document on the biology of papaya (Carica papaya), OECD Environment, Health and Safety Publications, Series on Harmonization of Regulatory Oversight in Biotechnology No. 33, France https://www.oecd.org/env/ehs/biotrack/46815818.pdf

Pirovani AAV, Ramos HCC, Santa-Catarina R et al (2018) A hermaphrodite genotype in dioecious papaya progeny: sex reversal or contamination? Euphytica 214:227. https://doi.org/10.1007/s10681-018-2304-2

Rao PS, Rani MS, Ankaiah R et al (2017) Full research effect of seed coating with polymer, fungicide and insecticide on seed quality in sorghum (Sorghum bicolor (L) Moench) during storage. Int J Bio-Resour Stress Manag 8:711–715. https://doi.org/10.23910/ijbsm/2017.8.5.1785

Rojas Y, Ramos R, Salazar R (1985) Posible relación del sexo con algunas características morfológicas y agronómicas de la papaya Carica papaya L. Acta Agronómica 35:20–33

Salinas I, Salehi M, Hueso JJ et al (2018) Assessment of two sex-determining procedures in 'BH-65' papaya from an economical and developmental point of view. Fruits 73:184–190. https://doi.org/10.17660/th2018/73.3.5

Urasaki U, Tokumoto M, Tarora K et al (2002) A male and hermaphrodite specific RAPD marker for papaya (Carica papaya L.). Theor Appl Genet 104:281–285. https://doi.org/10.1007/s001220100693

Vashistha P, Yadav A, Dwivedi UN, Yadav K (2016) Genetics of sex chromosomes and sex-linked molecular markers in papaya (Carica papaya L.). Mol Plant Breed 7:1–18. https://doi.org/10.5376/mpb.2016.07.0028

Zheng X, Hoegenauer KA, Maeda ABV et al (2015) Non-destructive high-throughput dna extraction and genotyping methods for cotton seeds and seedlings. Biotechniques 58:234–243. https://doi.org/10.2144/000114286
Additional information
Publisher's Note
Springer Nature remains neutral with regard to jurisdictional claims in published maps and institutional affiliations.
About this article
Cite this article
Duarte, R.P., Ramos, H.C.C., Vieira, H.D. et al. Molecular sexing in papaya (Carica papaya L.) seeds based on endosperm DNA. Euphytica 216, 99 (2020). https://doi.org/10.1007/s10681-020-02625-7
Received:

Accepted:

Published:
Keywords
Sex determination

Molecular markers

Germination

Endosperm

Hermaphrodite plants