Abstract
Karyotype and meiotic analysis were performed on forty-five natural populations of genus Avena sampled in contrasting bioclimatic areas of Northern Africa. The diploids (2n = 2x = 14) A. clauda, A. eriantha and A. hirtula are sporadic in hills and mountains of the Tellian Atlas only. A. wiestii (2x) are scattered in arid and semi-arid regions, of which an unexpected 4x population has been discovered. A. barbata (4x) and A. sterilis (6x) are widespread in all bioclimates while A. fatua (6x) is rather rare. Most populations show remarkable novelties in the intra and inter karyotype asymmetry indexes, particularly the 4x cytotype of the endemic A. macrostachya which has almost exclusively metacentric chromosomes. Both 2x, 4x and 6x annual species display regular meiosis with generally bivalent association. Univalents, multivalents, laggards, bridges, asynchronous divisions and micronuclei were often observed. Meiotic behavior observed for the first time in the locus classicus of A. macrostachya, indicate constant occurrence of one or two tetravalents. Meiotic features together with the main bioclimatic parameters, were submitted to a principal component analysis. Significant correlations were found particularly between frequencies of multivalents and laggards with the Mediterranean bioclimatic coefficient and the maximum temperature of the hottest month. These new cytogenetic data have been discussed in the context of the geographical distribution of diploids and polyploids and the aftermath of the local environmental stress conditions on the meiotic process within natural populations.
Access options
Buy single article
Instant access to the full article PDF.
US$ 39.95
Tax calculation will be finalised during checkout.
Subscribe to journal
Immediate online access to all issues from 2019. Subscription will auto renew annually.
US$ 119
Tax calculation will be finalised during checkout.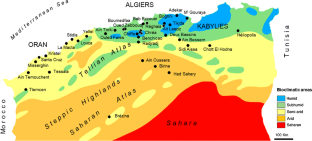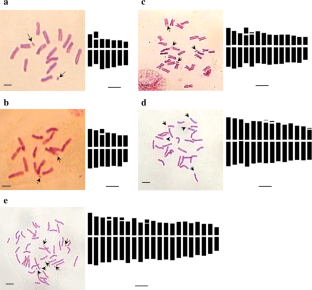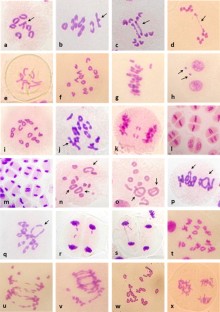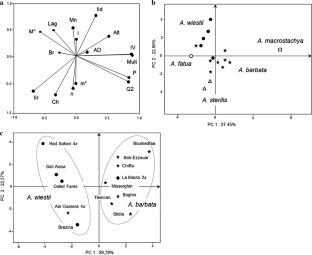 References
African Plant Database (2018) Conservatoire et Jardin botaniques de la Ville de Genève and South African National Biodiversity Institute, Pretoria (Version 3.4.0). Available online at http:// www.ville-ge.ch/musinfo/bd/cjb/africa/ (Accessed Dec 2018)

Amirouche N, Misset MT (2007) Morphological variation and distribution of cytotypes in diploid tetraploid complex of genus Dactylis L. (Poaceae) in Algeria. Plant Syst Evol 264:157–174. https://doi.org/10.1007/s00606-006-05021

Amirouche R, Misset MT (2009) Flore spontanée d'Algérie: différenciation écogéographique des espèces et polyploïdie. Cah Agric 18:474–480. https://doi.org/10.1684/agr.2009.0347

Badaeva ED, Loskutov IG, Shelukhina OYu, Pukhalsky VA (2005) Cytogenetic analysis of diploid Avena L. species containing As genome. Russ J Genet 41:1718–1724. https://doi.org/10.1007/s11177-006-0018-3

Badaeva ED, Shelukhina OY, Goryunova SV, Loskutov IG, Pukhalskiy VA (2010a) Phylogenetic relationships of tetraploid AB-genome Avena species evaluated by means of cytogenetic (C-banding and FISH) and RAPD analyses. J Bot. https://doi.org/10.1155/2010/742307

Badaeva ED, Shelukhina OY, Diederichsen A, Loskutov IG, Pukhalskiy VA (2010b) Comparative cytogenetic analysis of Avena macrostachya and diploid C-genome Avena species. Genome 53:125–137. https://doi.org/10.1139/G09-089

Badaeva ED, Shelukhina OY, Dedkova OS, Loskutov IG, Pukhalskyi VA (2011) Comparative cytogenetic analysis of hexaploid Avena L. Species Russ J Genet 47:791–802. https://doi.org/10.1134/S1022795411060068

Baik N, Maamri F, Bandou H (2017) Karyological study and meiotic analysis of four species of Aegilops (Poaceae) in Algeria. Caryologia 70:324–337. https://doi.org/10.1080/00087114.2017.1387340

Battandier JA, Trabut L (1895) Flore de l'Algérie et catalogue des plantes du Maroc. Monocotylédones. Adolphe Jourdan, Libraire-éditeur, Alger

Baum BR (1977) Oats: wild and cultivated. A monograph of the genus Avena L. (Poaceae). Monograph No. 14. Research Branch, Canada Department of Agriculture, Ottawa

Baum BR, Rajhathy T (1976) A study of Avena macrostachya. Can J Bot 54:2434–2439. https://doi.org/10.1139/b76-258

Bomblies K, Higgins JD, Yant L (2015) Meiosis evolves: adaptation to external and internal environments. New Phytol 208:306–323. https://doi.org/10.1111/nph.13499

Clayton WD, Govaerts R, Harman KT, Williamson H, Vorontsova M (2018) Avena L. World Checklist of Poaceae. Facilitated by the Royal Botanic Garden, Kew. https://wcsp.science.kew.org/namedetail.do?name_id=449601. (accessed October 2018)

Cosson E (1854) Classification des espèces du genre Avena du groupe de l'Avena sativa (Avena, sect. Avenatypus) et considération sur la composition et la structure de l'épillet dans la famille des graminées. Bull Soc Bot de France Tome 1:11–18

Cosson E, Durieu de Maisoneuve MC (1854) Notes sur quelques Graminées d'Algérie. Bull Soc Bot France Tome 1:313–319. https://doi.org/10.1080/00378941.1854.10825469

Durieu de Maisonneuve MC (1845) Exploration Scientifique de l'Algérie. Conspectus novarum specierum Florae Algeria. Revue de Botanique (France): Tome 1:359–366

Fu YB (2018) Oat evolution revealed in the maternal lineages of 25 Avena species. Sci Rep 8:4252. https://doi.org/10.1038/s41598-018-22478-4

Fuchs LK, Jenkins G, Phillips DW (2018) Anthropogenic Impacts on Meiosis in Plants. Front Plant Sci 9:1429. https://doi.org/10.3389/fpls.2018.01429

Holden JHW (1966) Species relationships in the Avenae. Chromosoma 20:75–124. https://doi.org/10.1007/BF00331899

Hoppe HD, Pohler W (1989) Hybrids between Avena barbata and A. macrostachya. Cereal Res Commun 17:129–134. https://www.jstor.org/stable/23783034

Kumari K, Saggoo MIS (2016) Male meiosis in two morphotypes of Melica persica Kunth (Poaceae) from Himachal Pradesh, India. Cytologia 81:403–408. https://doi.org/10.1508/cytologia.81.403

Ladizinsky G, Zohary D (1971) Notes on species delimitation, species relationships and polyploidy in Avena L. Euphytica 20:380–395. https://doi.org/10.1007/BF00035663

Lavinscky MP, Souza MM, Silva GS, Melo CAF (2017) Contributions of classical and molecular cytogenetic in meiotic analysis and pollen viability for plant breeding. Genet Mol Res 16(3): gmr16039582. https://dx.doi.org/10.4238/gmr16039582

Le Floch E, Boulos L, Vela E (2010) Catalogue synonymique commenté de la Flore de Tunisie. République Tunisienne, Ministère de l'Environnement et du Développement durable, Tunisia

Leggett JM, Ladizinsky G, Hagberg P, Obanni M (1992) The distribution of nine Avena species in Spain and Morocco. Can J Bot 70:240–244. https://doi.org/10.1139/b92-033

Leofanti GA, Camadro EL (2017) Pollen viability and meiotic abnormalities in brome grasses (Bromus L., Section Ceratochloa) from Argentina. Turk J Bot 41:127–133. https://doi.org/10.3906/b ot-1607-46

Levan A, Freda K, Sandberg A (1964) Nomenclature for centromeric position on chromosomes. Hereditas 52:201–220. https://doi.org/10.1111/j.1601-5223.1964.tb01953.x

Liu Q, Lin L, Zhou X, Peterson PM, Wen J (2017) Unraveling the evolutionary dynamics of ancient and recent polyploidization events in Avena (Poaceae). Sci Rep 7(1):41944. https://doi.org/10.1038/srep41944

Loskutov IG (2001) Interspecific crosses in the genus Avena L. Russ J Genet 37:467–475. https://doi.org/10.1023/A:1016697812009

Loskutov IG (2008) One evolutionary pathway of Avena species. Genet Resour Crop Evol 55:211–220. https://doi.org/10.1007/s10722-007-9229-2

Loskutov IG, Rines HW (2011) Avena. In Wild crop relatives: genomic and breeding resources. In: Kole C (ed) Springer, Heidelberg, pp 109–183. https://doi.org/10.1007/978-3-642-14228-4_3

Luo X, Tinker NA, Zhou Y, Liu J, Wan W, Chen L (2018) A comparative cytogenetic study of 17 Avena species using Am 1 and (GAA)6 oligonucleotide FISH probes. Acta Physiol Plant 40:145. https://doi.org/10.1007/s11738-018-2721-9

Maire R (1953) Flore de l'Afrique du Nord. Édition Le chevalier Paris II:264–308

Malzew AI (1930) Ovsyugi i ovsy. Sectio Euavena Griseb. (Wild and cultivated oats. Section Euavena Griseb.) Works of applied botany and plant breeding. Supplement no 38. VIR, Leningrad (Russian)

Namuco OS, O'Toole JC (1986) Reproductive stage water stress and sterility. I. Effect of stress during meiosis. Crop Sci 26 (2): 317–321. https://doi.org/10.2135/cropsci1986.0011183X002600020022x

Nikoloudakis N, Katsiotis A (2015) Comparative molecular and cytogenetic methods can clarify meiotic incongruities in Avena allopolyploid hybrids. Caryologia 68:84–91. https://doi.org/10.1080/00087114.2015.1021170

Nikoloudakis N, Aissat A, Katsiotis A (2018) Screening A. ventricosa populations for 2n gametes. Euphytica 214:34–43. https://doi.org/10.1007/s10681-017-2107-x

Ourari M, Ainouche A, Coriton O, Huteau V, Brown S, Misset MT, Ainouche M, Amirouche R (2011) Diversity and evolution of the Hordeum murinum polyploid complex in Algeria. Genome 54:639–654. https://doi.org/10.1139/G11-032

Phillips D, Jenkins G, Macaulay M, Nibau C, Wnetrzak J, Fallding D, Colas I, Oakey H, Waugh R, Ramsay L (2015) The effect of temperature on the male and female recombination landscape of barley. New Phytol 208:421–429. https://doi.org/10.1111/nph.13548

Quézel P, Santa S (1962) Nouvelle flore de l'Algérie et des régions désertiques et méridionales. Édition CNRS Paris Tome I:120–122

Rajhathy T (1961) Chromosomal differentiation and speciation in diploid Avena. Can J Genet Cytol 3:372–377. https://doi.org/10.1139/g61-044

Rajhathy T (1963) A standard karyotype for A. sativa. Can J Genet Cytol 5(2):127–132. https://doi.org/10.1139/g63-021

Rajhathy T (1966) Evidence and hypothesis for the origin of the C genome of the hexaploid Avena. Can J Genet Cytol 8:774–779. https://doi.org/10.1139/g66-092

Rajhathy T, Dyck PL (1963) Chromosomal differentiation and speciation in diploid Avena: II. The karyotype of A. pilosa. Can J Genet Cytol 5:175–179. https://doi.org/10.1139/g63-026

Rajhathy T, Morrison JW (1959) Chromosome morphology in the genus Avena. Can J Bot 37(3):372–377. https://doi.org/10.1139/b59-024

Rankou H, Culham A, Taleb MS, Ouhammou A, Martin G, Jury SL (2015) Conservation assessments and red listing of the endemic Moroccan flora (monocotyledons). Bot J Linn Soc 177:504–575. https://doi.org/10.1111/boj.12258

Rezaei M, Arzani A, Sayed-Tabatabaei BE (2010) Meiotic behaviour of tetraploid wheats (Triticum turgidum L.) and their synthetic hexaploid wheat derivates influenced by meiotic restitution and heat stress. J Genet 89:401–407. https://doi.org/10.1007/s12041-010-0058-2

Rodionov AV, Tyupa NB, Kim ES, Machs EM, Loskutov IG (2005) Genomic configuration of the autotetraploid oat species Avena macrostachya inferred from comparative analysis of ITS1 and ITS2 sequences: on the Oat karyotype evolution during the early events of the Avena species divergence. Russ J Genet 41:518–528. https://doi.org/10.1007/s11177-005-0120-y

Rodrigues J, Viegas W, Silva M (2017) 45S rDNA external transcribed spacer organization reveals new phylogenetic relationships in Avena genus. PLoS ONE 12(4):e0176170. https://doi.org/10.1371/journal.pone.0176170

Romero Zarco C (1986) A new method for estimating karyotype asymmetry. Taxon 35(3):526–530. https://doi.org/10.2307/1221906

Röser M, Winterfeld G, Döring E, Schneider J (2014) Chromosome evolution in grass tribes Aveneae/Poeae (Poaceae): insights from karyotype structure and molecular phylogeny. Schlechtendalia 28:1–21

Sadasivaiah RS, Rajhathy T (1968) Genome relationships in tetraploid Avena. Can J Genet Cytol 10:655–669. https://doi.org/10.1139/g68-083

Sheidai M, Koobaz P, Zehzad B (2003) Meiotic studies of some Avena species and populations in Iran. J Sci Islamic Repub Iran 14:121–131. https://ci.nii.ac.jp/naid/10027948369/en/

Sheidai M, Attaei S, Khosravi-Reineh M (2006) Cytology of some Iranian Stipa (Poaceae) species and populations. Acta Bot Croat 65:1–11. https://hrcak.srce.hr/3349

Shelukhina OYu, Badaeva ED, Brezhneva TA, Loskutov IG, Pukhalsky VA (2008) Comparative analysis of diploid species of Avena L. using cytogenetic and biochemical markers: Avena pilosa M. B. and A. clauda Dur. Russ J Genet 44:1087–1091. https://doi.org/10.1134/S1022795408090111

Stebbins GL (1971) Chromosomal evolution in higher plants. Edward Arnold, London

Stewart P (1974) Un nouveau climagramme pour l'Algérie et son application au barrage vert. Bull Soc Hist Nat Afrique du Nord 65:239–248

Sybenga J (1975) Meiotic configurations. Springer, Berlin, Heidelberg, and New York, Monographs on the theoretical and applied genetics

Tabata M, Nishiyama I (1966) Cytogenetic studies in Avena xv. Chromosome pairing in tetraploid hybrids. Can J Genet Cytol 8:300–305. https://doi.org/10.1139/g66-037

Wang X, Copenhaver GP (2018) Meiotic recombination: mixing it up in plants. Annu Rev Plant Biol 69:577–609. https://doi.org/10.1146/annurev-arplant-042817-040431
Acknowledgements
The present work has received a financial assistance from the University of Sciences and Technology Houari Boumediene (USTHB, Algiers, Algeria). It was conducted in the framework of the Projet Genetic assessment of traditional varieties and their related wild species in Algeria (Cnepru No. D01N01UN160420150008) of the Team Biosystematics, Genetics and Evolution. The authors wish to thank the two anonymous reviewers for their suggestions and comments that have improved our manuscript. We are also grateful to S. Benhouhou, the manager of the Official Herbarium of ENSA.
Ethics declarations
Conflicts of interest
The authors declare no conflicts of interests.
Additional information
Publisher's Note
Springer Nature remains neutral with regard to jurisdictional claims in published maps and institutional affiliations.
About this article
Cite this article
Aissat, A., Amirouche, R. & Amirouche, N. Cytotaxonomic investigation and meiotic behavior of natural populations of genus Avena in Algeria. Euphytica 215, 158 (2019). https://doi.org/10.1007/s10681-019-2490-6
Received:

Revised:

Accepted:

Published:
Keywords
Aveneae

Karyotype

Meiosis

Polyploidy

Wild populations

Bioclimate