Abstract
The objectives of this study were to characterize crested wheatgrass (Agropyron cristatum L.) germplasm for plant maturity and associated agronomic characteristics to identify germplasm with late maturity. A field trial was established in July 2014 at Saskatoon, Canada using 45 crested wheatgrass accessions representing materials from 18 countries in a randomized complete block design with four replications. Data were collected for days to heading, plant height, leaf-to-stem ratio, forage dry matter (DM) yield, crude protein (CP), neutral detergent fiber (NDF), acid detergent fiber (ADF), and plant vigor score in 2015, 2016 and 2017 at various developmental stages of crested wheatgrass. All measured traits differed significantly (P ≤ 0.05) among the accessions. Later maturing accessions showed positive associations with leaf-to-stem ratio (r = 0.23), NDF (r = 0.16) and ADF (r = 0.18). Forage DM yield was positively correlated with spring vigor (r = 0.77), leaf-to-stem ratio (r = 0.50), plant height (r = 0.56), regrowth (r = 0.67), and ADF (r = 0.11). There was a negative correlation between forage DM yield and CP concentration (r =  − 0.23). According to the unweighted pair group method with arithmetic mean and principal component analysis, the 45 crested wheatgrass accessions were grouped into three main clusters according to the agro-morphological and nutritive value data. Selection for late maturity in crested wheatgrass may lead to increase leaf-to-stem ratio and forage DM yield. Information obtained from this study on agro-morphological traits will be useful for future crested wheatgrass breeding in the region.
Access options
Buy single article
Instant access to the full article PDF.
US$ 39.95
Tax calculation will be finalised during checkout.
Subscribe to journal
Immediate online access to all issues from 2019. Subscription will auto renew annually.
US$ 119
Tax calculation will be finalised during checkout.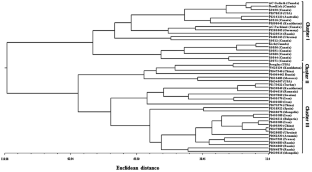 References
Abbasi MR, Javadi F, Ghanavati F, Hemmati F, Moghadam A, Seraj HG (2006) Identification, regeneration, and evaluation of agro-morphological characters of alfalfa accessions in National Plant Gene Bank. Genetica 38:251–258

Acton DF, Ellis JG (1978) The soils of the Saskatoon map area (73B) Saskatchewan. Sask. Inst. Pedology Publ. 54. Extension Division, University of Saskatchewan, Saskatoon, SK

Asay KH (1992) Breeding potential in perennial Triticeae grasses. Hereditas 116:167–173

Asay KH, Chatterton NJ, Jensen KB, Jones TA, Waldron BL, Horton WH (2003) Breeding improved grasses for semiarid rangelands. Arid Land Res Manag 17:469–478

Asay KH, Jensen KB (1996) Wheatgrasses. In: Moser LE, Buxton DR, Casler MD (eds) Cool-season forage grasses. Agronomy Monograph No. 34, Chap. 22. ASA-CSSASSSA, Madison, WI, USA, pp 691–724

Asay KH, Jensen KB, Johnson DA, Chatterton NJ, Hansen WT, Horton WH, Young SA (1995) Registration of 'Douglas' crested wheatgrass. Crop Sci 35:1510–1511

Baral K, Coulman B, Biligetu B, Fu YB (2018) Genotyping-by-sequencing enhances genetic diversity analysis of crested wheatgrass [Agropyron cristatum (L.) Gaertn]. Int J Mol Sci 19:2587

Basafa M, Taherian M (2009) A Study of agronomic and morphological variations in certain alfalfa (Medicago sativa L.) ecotypes of the cold region of Iran. Asian J Plant Sci 8:293–300

Bhattarai S, Coulman B, Beattie AD, Biligetu B (2018) Assessment of sainfoin (Onobrychis viciifolia Scop.) germplasm for agro-morphological traits and nutritive value. Grass Forage Sci 00:1–9

Biligetu B, Schellenberg MP, McLeod JG, Wang Z (2012) Seed yield variation in plain rough fescue (Festuca hallii (Vasey) Piper) population and its relation with phenotypic characteristics and environmental factors. Grass Forage Sci 68:589–595

Bruynooghe JD (1997) Forage production and performance of beef yearlings grazing diploid and tetraploid crested wheatgrasses. M.Sc. thesis. University of Saskatchewan, Saskatoon

Copete A, Moreno R, Cabrera A (2018) Characterization of a world collection of Agropyron cristatum accessions. Genet Resour Crop Evol 65:1455–1469

Daugherty DA, Britton CM, Turner HA (1982) Grazing management of crested wheatgrass range for yearling steers. J Range Manag 35:347–350

Dewey DR (1974) Reproduction in crested wheatgrass pentaploids1. Crop Sci 14:867

Dwyer DD, Owens ME (1984) Grazing crested wheatgrass range in the Inter-mountain West. Rangelands 6:29–31

Emebiri LC, Moody DB (2006) Heritable basis for some genotype environment stability statistics: Inferences from QTL analysis of heading date in two-rowed barley. Fields Crop Res 96:243–251

Frank AB, Hofmann L (1989) Relationship among grazing management, growing degree-days, and morphological development for native grasses on the Northern Great Plains. J Range Manag 42:199–220

Fufa H, Baenziger PS, Beecher BS, Dweikat I, Graybosch RA, Eskridge KM (2005) Comparison of phenotypic and molecular marker-based classifications of hard red winter wheat cultivars. Euphytica 145:133–146

Ghesquiere M, Barre P, Durand JL, Litrico I, Sampoux JP, Volaire F (2014) Genetic resources to climate scenarios in Dactylis and Festuca of temperate versus Mediterranean origin. In: Sokolovic et al. (eds.) Quantitative traits breeding for multifunctional grassland and turf. Springer, The Netherlands, pp 44–48

Gowen N, D'Donovan M, Casey I, Stakelum G (2002) Improving cow performance at grass, what do grass cultivars offer? Irish Grassl Assoc J 36:33–44

Hart RH, Abdalla OM, Clark DH, Marshall MB, Hamid MH, Hager JA, Waggoner JW (1983) Quality of forage and cattle diets on Wyoming high plains. J Range Manag 36:46–51

Hofmann L, Ries RE, Karn JF, Frank AB (1993) Comparison of seeded and native pastures grazed from mid-May through September. J Range Manag 46:251–254

Humphreys MO (1989) Water-soluble carbohydrates in perennial ryegrass breeding. I. Genetic difference among cultivars and hybrid progeny grown in a spaced plants. Grass Forage Sci 44:231–236

Iwaasa AD, Jefferson PG, Birkedal EJ (2014) Beef cattle grazing behavior differs among diploid and tetraploid crested wheatgrasses (Agropyron cristatum and A. desertorum). Can J Plant Sci 94:851–855

Jones TA, Ralphs MH, Nielson DC (1994) Cattle preference for 4 wheatgrass taxa. J Range Manag 47:119

Karn JF, Ries RE, Hoffman L (1999) Season-long grazing of seeded cool-season pastures in the Northern Great Plains. J Range Manag 52:235–240

Knowles RP, Kilcher MR (1983) Crested wheatgrass. Agriculture Canada Research Branch. Saskatoon, p 18E

Lane LA, Ayres JF, Lovett JV, Murison RD (2000) Morphological characteristics and agronomic merit of white clover (Trifolium repens L.) populations collected from northern New South Wales. Aust J Agric Res 51:985–997

Larson K, Houston B, Kulshreshtha S, Gabruch A, LaForge K, Lenton L, Svendsen E, Schellenberg M (2018) Economic analysis of crested wheatgrass pasture rejuvenation methods in Southwest Saskatchewan. Technical bulletin, Agriculture and Agri-Food Canada, p 18

Li JX, Yun JF, Alts BD (2004) Genetic diversity of Agropyron cristatum on cytology. Grassl China 26:12–15

Liu Y, Coulman B (2015) Morphological and agronomic variation of Puccinellia nuttalliana populations from the Canadian Great Plains. Can J Plant Sci 95:67–76

Mellish A, Coulman B (2002) Morphological characteristics of crested wheatgrass populations of diverse origin. Can J Plant Sci 82:693–699

Moore KJ, Moser LE (1995) Quantifying developmental morphology of perennial grasses. Crop Sci 35:37–43

Nekrosas S (2003) Comparison of early and late breeding lines and varieties of perennial ryegrass. (In Lithuanian with English abstract). Zenes-ukio-mokslai 3:53–69

Nilsen ET, Orcutt DM (1996) Physiology of plants under stress-Abiotic factors. Wiley, New York

Ogle DG (2006) Plant Guide for crested wheatgrass (Agropyron cristatum). USDA, Natural Resource Conservation Service, Aberdeen, ID Plant Material Center. https://plants.usda.gov. Accessed 9 June 2017

R Core Team (2016) R: A language and environment for statistical computing. Vienna, Austria: R Foundation for Statistical Computing. https://www.R-project.org/

Ray I, Albert M, John DB (1997) Genetic variance and morphological traits of diploid crested wheatgrass. Crop Sci 37:1503–1507

Rogler GA (1944) Relative palatabilities of grasses under cultivation in the Northern Great Plains. J Am Soc Agron 36:487–496

Rogler GA, Lorenz RL (1983) Crested wheatgrass-early history in the United States. J Range Manag 36:91–93

Rohlf FJ (1997) NTSYS-pc 2.1: Numerical taxonomy and multivariate analysis system. New York: Exeter Software

Sanchez-Blanco M, Alvarez S, Navarro A, Banon S (2009) Changes in leaf water relations, gas exchange, growth and flowering quality in potted geranium plants irrigated with different water regimes. J Plant Physiol 166:467–476

SAS Institute Inc. (2014) SAS users guide, version 9.4 ed. SAS Institute Incorporated, Cary

Schellenberg MP, Biligetu B, McLeod GJ, Wang Z (2012) Phenotypic variation of side-oats grama grass [Bouteloua curtipendula (Michx.) Torr.] collections from the Canadian prairie. Can J Plant Sci 92:1043–1048

Shinozaki K, Yamaguchi-Shinozaki K (1997) Gene expression and signal transduction in water stress response. Plant Physiol 115:327–334

Smart AJ, Schacht WH, Moser LE (2001) Predicting leaf/stem ratio and nutritive value in grazed and nongrazed big bluestem. Agron J 93:1243–1249

Smith S, Guarino EL, Alsoss A, Conta DM (1995) Morphological and agronomic affinities among Middle Eastern alfalfa accessions from Oman. Yaman Crop Sci 35:1188–1194

Smith HJ, Tas BM, Taweel HZ, Tamminga S, Elgersma A (2005) Effects of perennial ryegrass (Lolium perenne L.) cultivars on herbage production, nutritional quality and herbage intake of grazing dairy cows. Grass Forage Sci 60:297–309

Sokolovic D, Babic S, Radovic M, Jevtic G, Lugic Z, Simic A (2016) Evaluation of orchardgrass (Dactylis glomerata L.) autochthonous Serbian germplasm in pre-breeding. In: Roldán-Ruiz I, Baert J, Reheul D (eds) Proceedings of the 31st Eucarpia fodder crops amenity grasses section, 13–17 September, Ghent, Belgium. Breeding in a World Scarcity, pp 89–97

Turner HA, Raleigh RJ (1985) Winter nutrition of fall calving cows and calves. Oregon Agric Exp Sta Bull 665:24

Usandizaga SCF, Brugnoli EA, Weiss AI, Zilli AL, Schedler M, Pagano EM, Martinez EJ, Acuna CA (2015) Genetic and morphological characterization of Acroceras macrum Stapf. Grass Forage Sci 70:695–704

Van Soest PJ (1994) Nutritional ecology of the ruminant, 2nd edn. Cornell University Press, Ithaca

Vogel KP, Gabrielsen BCV, Ward JK, Anderson BE, Mayland HF, Masters RA (1993) Forage quality, mineral constituents, and performance of beef yearlings grazing two crested wheatgrasses. Agron J 85:584–590

Warbuton ML, Smith SE (1993) Regional diversity in nondormant alfalfas from India and the Middle East. Crop Sci 33:852–858

Yano M (2001) Naturally occurring allelic variations as a new resource for functional genomics in rice. In: Khush GS, Brar DS, Hardy B (eds) Rice Genet IV. Science Publishers, Inc., Enfield, pp 227–238

Yu X, Li X, Ma Y, Yu Z, Li Z (2012) A genetic linkage map of crested wheatgrass based on AFLP and RAPD markers. Genome 55:327–335
Funding
Funding support was provided by the Ministry of Agriculture and Saskatchewan-Canada Growing Forward 2 bilateral agreements, Western Grain Research Foundation, and Saskatchewan Forage Network (Grant No. 20140046).
Additional information
Publisher's Note
Springer Nature remains neutral with regard to jurisdictional claims in published maps and institutional affiliations.
About this article
Cite this article
Tandoh, S., Coulman, B. & Biligetu, B. Assessment of crested wheatgrass (Agropyron cristatum L.) accessions with different geographical origins for agronomic and phenotypic traits and nutritive value. Euphytica 215, 161 (2019). https://doi.org/10.1007/s10681-019-2476-4
Received:

Accepted:

Published:
Keywords
Agro-morphological traits

Crested wheatgrass

Days to heading

Forage breeding

Nutritive value