Abstract
Submergence is a common naturally occurring disaster in rice production in South and Southeast Asia. The development of mega-varieties with tolerance conferred by the SUB1 gene on chromosome 9 derived from FR13A that can withstand up to 2 weeks of complete submergence has been one of the best solutions. However, the recent severe conditions of flooding because of climate change, which has been predicted to become worse in the near future, calls for the development of an improved variety with superior tolerance of submergence. To search for novel quantitative trait loci (QTLs) that can complement the SUB1 gene, recombinant inbred lines (RILs) derived from an IR42/FR13A mapping population were explored. Five QTLs were detected on chromosomes 1, 4, 8, 9, and 10, four of which were from FR13A and one was from IR42. The study confirms the SUB1 QTL on chromosome 9 with a maximum LOD score of 19.51 and R2 of 53.60 %. Additional novel QTLs coming from FR13A on chromosomes 1, 8, and 10 were identified with LOD scores of 5.16, 3.56, and 3.85 and R2 of 23.33, 14.98, and 15.80 %, respectively. Interestingly, lines without SUB1 were still tolerant, with a maximum survival rate up to 95 % because of the presence of these additional QTLs. The non-SUB1 QTLs identified have great potential to enhance tolerance as evidenced by the superior tolerance of FR13A compared with that of the developed Sub1 lines. By transferring selected potential QTLs that are mostly additive to SUB1, it is hoped that crop damage from severe flooding can be significantly decreased.
Access options
Buy single article
Instant access to the full article PDF.
US$ 39.95
Tax calculation will be finalised during checkout.
Subscribe to journal
Immediate online access to all issues from 2019. Subscription will auto renew annually.
US$ 119
Tax calculation will be finalised during checkout.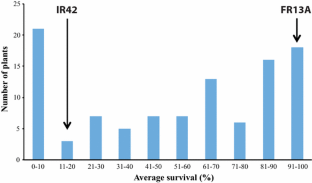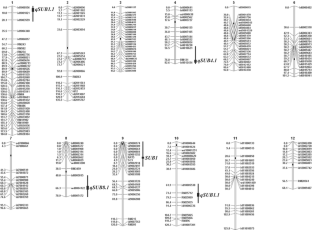 References
Collard BCY, Mackill D (2008) Marker-assisted selection: an approach for precision plant breeding in the twenty-first century. Philos Trans R Soc Lond B Biol Sci 17:1–16

Dey MM, Upadhyaya HK (1996) Yield loss due to drought, cold and submergence in Asia. In: Everson RE (ed) Rice research in Asia: progress and priorities. IRRI, Manila, pp 291–303

Fukao T, Bailey-Serres J (2008) Submergence tolerance conferred by Sub1A is mediated by SLR1 and SLRL1 restriction of gibberellin responses in rice. Proc Natl Acad Sci USA 105:16814–16819

Hille Ris Lambers D, Vergara BS (1982) Summary results of an international collaboration on screening methods for flood tolerance. In: Proceedings of the 1981 international deepwater rice workshop. International Rice Research Institute, Los Baños, pp 347–353

Iftekharuddaula KM, Newaz MA, Salam MA, Ahmed HU, Mahbub MAA, Septiningsih EM, Collard BCY, Sanchez DL, Pamplona AM, Mackill DJ (2011) Rapid and high-precision marker assisted backcrossing to introgress the SUB1 QTL into BR11, the rainfed lowland rice mega variety of Bangladesh. Euphytica 178:83–97

Joehanes R, Nelson JC (2008) QGene 4.0, an extensible Java QTL-analysis platform. Bioinformatics 24:2788–2789

Kretzschmar T, Pelayo MAF, Trijatmiko KR, Gabunada LFM, Alam R, Jimenez R, Mendioro MS, Slamet-Loedin IH, Sreenivasulu N, Bailey-Serres J, Ismail AM, Mackill DJ, Septiningsih EM (2015) A trehalose-6-phosphate phosphatase enhances anaerobic germination tolerance in rice. Nature Plants. doi:10.1038/NPLANTS.2015.124

Mackill DJ, Coffman WR, Garrity DP (1996) Rainfed lowland rice improvement. International Rice Research Institute, Los Baños

Manly KF, Cudmore RH Jr, Meer JM (2001) Map Manager QTX, cross-platform software for genetic mapping. Mamm Genome 12:930–932

McCouch SR (2008) Gene nomenclature sytem for rice. Rice 1:72–84

Meng L, Li H, Zhang L, Wang J (2015) QTL IciMapping: integrated software for genetic linkage map construction and quantitative trait locus mapping in biparental populations. Crop J 3:269–283

Nandi S, Subudhi PK, Senadhira D, Manigbas NL, Sen-Mandi S, Huang N (1997) Mapping QTLs for submergence tolerance in rice by AFLP analysis and selective genotyping. Mol Gen Genet 255:1–8

Neeraja CN, Maghirang-Rodriquez R, Pamplona A, Heuer S, Collard BCY, Septiningsih EM, Vergara G, Sanchez D, Xu K, Ismail AM, Mackill DJ (2007) A marker-assisted backcross approach for developing submergence-tolerant rice cultivars. Theor Appl Genet 115:767–776

Septiningsih EM, Pamplona AM, Sanchez DL, Neeraja CN, Vergara GV, Heuer S, Ismail AM, Mackill DJ (2009) Development of submergence tolerant rice cultivars: the Sub1 locus and beyond. Ann Bot 103:151–160

Septiningsih EM, Sanchez DL, Singh N, Sendon PMD, Pamplona AM, Heuer S, Mackill DJ (2012) Identifying novel QTLs for submergence tolerance in rice cultivars IR72 and Madabaru. Theor Appl Genet 124:867–874

Septiningsih EM, Collard BCY, Heuer S, Bailey-Serres J, Ismail AM, Mackill DJ (2013) Applying genomics tools for breeding submergence tolerance in rice. In: Varshney RK, Tuberosa R (eds) Translational genomics for crop breeding, vol 2., Improvement for abiotic stress, quality and yield improvementWiley-Blackwell, New York, pp 9–30

Septiningsih EM, Hidayatun N, Sanchez DL, Nugraha Y, Carandang J, Pamplona AM, Collard BCY, Ismail AM, Mackill DJ (2015) Accelerating the development of new submergence tolerant rice varieties: the case of Ciherang-Sub1 and PSBRc18-Sub1. Euphytica 202:259–268

Siangliw M, Toojinda T, Tragoonrung S, Vanavichit A (2003) Thai jasmine rice carrying QTLch9 (SubQTL) is submergence tolerant. Ann Bot 91:255–261

Thomson MJ (2014) High-throughput SNP genotyping to accelerate crop improvement. Plant Breed Biotechnol 2:195–212

Toledo AM, Ignacio JC, Casal C, Gonzaga ZJ, Mendioro M, Septiningsih E (2015) Development of improved Ciherang-Sub1 having tolerance to anaerobic germination conditions. Plant Breed Biotechnol 3:77–87

Toojinda T, Siangliw M, Tragroonrung S, Vanavichit A (2003) Molecular genetics of submergence tolerance in rice: QTL analysis of key traits. Ann Bot 91:243–253

van Berloo R (2008) "GGT 2.0: versatile software for visualization and analysis of genetic data. J Hered 99:232–236

Vergara BS, Mazaredo A (1975) Screening for resistance to submergence under greenhouse conditions. In: Proceedings of the international seminar on deepwater rice. Bangladesh Rice Research Institute, Dhaka, pp 67–70

Wang S, Basten CJ, Zeng Z-B (2010) Windows QTL Cartographer 2.5. Department of Statistics, North Carolina State University, Raleigh, NC. http://statgen.ncsu.edu/qtlcart/WQTLCart.htm

Wright MH, Tung CW, Zhao K, Reynolds A, McCouch SR, Bustamante CD (2010) ALCHEMY: a reliable method for automated SNP genotype calling for small batch sizes and highly homozygous populations. Bioinformatics 26:2952–2960

Xu K, Mackill DJ (1996) A major locus for submergence tolerance mapped on rice chromosome 9. Mol Breed 2:219–224

Xu K, Xu X, Ronald PC, Mackill DJ (2000) A high-resolution linkage map of the vicinity of the rice submergence tolerance locus Sub1. Mol Gen Genet 263:681–689

Xu K, Xia X, Fukao T, Canlas P, Maghirang-Rodriguez R, Heuer S, Ismail AM, Bailey-Serres J, Ronald PC, Mackill DJ (2006) Sub1A is an ethylene response factor-like gene that confers submergence tolerance to rice. Nature 442:705–708

Yang J, Zhu J (2005) Methods for predicting superior genotypes under multiple environments based on QTL effects. Theor Appl Genet 110:1268–1274

Yang J, Zhu J, Williams RW (2007) Mapping the genetic architecture of complex traits in experimental populations. Bioinformatics 23:1527–1536

Yang J, Hu CC, Hu H, Yu RD, Xia Z, Ye XZ, Zhu J (2008) QTLNetwork: mapping and visualizing genetic architecture of complex traits in experimental populations. Bioinformatics 24:721–723

Zheng K, Subudhi PK, Domingo J, Magpantay G, Huang N (1995) Rapid DNA isolation for marker assisted selection in rice breeding. Rice Genet Newsl 12:255–258
Acknowledgments
We thank R. Garcia, E. Suiton, J. Mendoza, G. Perez, J. Borgonia, R. Formaran, V. Bartolome, and the IRRI Genotyping Service Lab (GSL: http://gsl.irri.org/) for technical assistance. The work reported here was supported in part by a grant from the Bill & Melinda Gates Foundation (BMGF) through the project on Stress-Tolerant Rice for Africa and South Asia (STRASA) and the Global Rice Science Partnership (GRiSP).
Authors contributions
EM.S. and D.J.M designed the experiments; D.L.S. and J.C. developed the population, and Z.J.C.G and J.C. performed phenotyping under supervision of E.M.S.; Z.J.C.G. and E.M.S analyzed the data and wrote the manuscript; all authors read and approved the manuscript.
Ethics declarations
Conflict of interest
The authors declare that there is no conflict of interest.
Electronic supplementary material
Below is the link to the electronic supplementary material.
About this article
Cite this article
Gonzaga, Z.J.C., Carandang, J., Sanchez, D.L. et al. Mapping additional QTLs from FR13A to increase submergence tolerance in rice beyond SUB1 . Euphytica 209, 627–636 (2016). https://doi.org/10.1007/s10681-016-1636-z
Received:

Accepted:

Published:

Issue Date:
Keywords
FR13A

Non-SUB1 QTLs

Recombinant inbred lines

Submergence