Abstract
Maize is the most important cereal food crop is sub-Saharan Africa though yields are below their potential. Among the factors which limit yield, drought stress is one of the most pervasive. The ability of a crop to produce grain under drought (water) stress is governed by many factors including nematodes. The aim of the current study was to determine the response of drought tolerant maize inbreds to nematode attack, understand the interaction between nematode infestation and water stress on maize growth and yield. The study comprised three factors: optimal irrigation against water stress, five nematode treatment conditions and ten maize inbreds. Results showed irrigation option × genotype interaction to significantly affect growth of the maize crop from 6 weeks after planting. Water stress favoured the reproduction of lesion nematodes (Pratylenchus zeae), 50 times more than root knot nematodes (Meloidogyne incognita), which showed an increase in most inbreds only under optimal irrigation. Inbreds ACR.SYN-W, La Posta Seq. C7, TZL Comp1C4 and 5057 displayed resistance to P. zeae and M. incognita under water stress, although cob dry weights were low for TZL Comp1C4 and 5057. Inbreds BMB23, DTPL-W-C7 and TZEI1 displayed tolerance to P. zeae and M. incognita under water stress. Overall, there is a high possibility of extracting desired genetic combination for P. zeae/M. incognita resistant and drought tolerant genes from inbreds ACR.SYN-W and La Posta Seq. C7.
Access options
Buy single article
Instant access to the full article PDF.
US$ 39.95
Tax calculation will be finalised during checkout.
Subscribe to journal
Immediate online access to all issues from 2019. Subscription will auto renew annually.
US$ 119
Tax calculation will be finalised during checkout.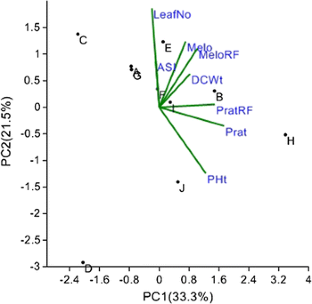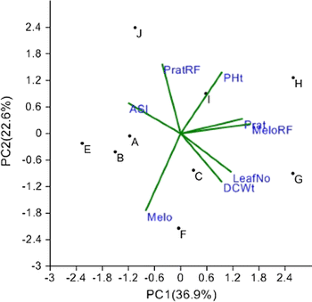 References
AATF (2010a) Mitigating the impact of drought in Tanzania: the WEMA intervention. African Agricultural Technology Foundation (AATF) and the Tanzania Commission for Science and Technology (COSTECH). Policy Brief, November 2010. http://www.aatf-africa.org

AATF (2010b) Enhancing maize productivity in Uganda through the WEMA project. African Agricultural Technology Foundation (AATF) and the National Agricultural Research Organisation of Uganda (NARO). http://www.aatf-africa.org

Adebayo M, Menkir A, Blay E, Gracen V, Danquah E, Hearne S (2014) Genetic analysis of drought tolerance in adapted ×exotic crosses of maize inbred lines under managed stress conditions. Euphytica 196(2):261

Arim OJ, Waceke JW, Waudo SW, Kimenju JW (2006) Effects of Canavalia ensiformis and Mucuna pruriens intercrops on Pratylenchus zeae damage and yield of maize in subsistence agriculture. Plant Soil 284:243–251

Badu-Apraku B, Akinwale RO (2011) Identification of early-maturing maize inbred lines based on multiple traits under drought and low N environments for hybrid development and population improvement. Can J Plant Sci 91:931–942

Badu-Apraku B, Akinwale RO, Fakorede MAB (2010) Selection of early maturing maize inbred lines for hybrid production using multiple traits under striga-infested and striga-free environments. Maydica 55:261–274

Brodie BB, Good JM, Adams WE (1969) Population dynamics of plant nematodes in cultivated soil: effect of sod-based based rotation in Cecil sandy loam. J Nematol 1:309–312

Cairns JE, Crossa J, Zaidi PH, Grudloyma P, Sanchez C, Araus JL, Thaitad S, Makumbi D, Magorokosho C, Bänziger M, Menkir A, Hearne S, Atlin GN (2013) Identification of drought, heat, and combined drought and heat tolerant donors in maize. Crop Sci 53:1335–1346

Cardwell KF, Schulthess F, Ndemah R, Ngoko Z (1997) A systems approach to assess crop health and maize yield losses due to pests and diseases in Cameroon. Agric Ecosyst Environ 65:33–47

Cody RP, Smith JK (1997) Applied statistics and the SAS programming language, 4th edn. Prentice Hall, New Jersey

Collins NC, Tardieu F, Tuberosa R (2008) Quantitative trait loci and crop performance under abiotic stress: where do we stand? Plant Physiol 147:469–486

Coyne DL, Nicol JM, Claudius-Cole B (2007) Practical plant nematology: a field and laboratory guide. SP-IPM Secretariat, IITA, Cotonou

De Groote H (2002) Maize yield losses from stemborers in Kenya. Insect Sci Appl 22:89–96

DeVries J, Toenniessen G (2001) Securing the harvest, biotechnology, breeding and seed systems for african crops. CAB International, New York

Dropkin VH (1989) Introduction to plant nematology. Wiley, New York

Esker P, MacGuidwin A, Proost R (2011) Nematodes: the overlooked yield robbers in corn and soybean. http://ipcm.wisc.edu. Verified 23 Nov 2013

FAOSTAT (2013) Food and Agriculture Organisation Statistics. http://faostat3.fao.org. Verified 21 Nov 2013

Grant RF, Jackson BS, Kiniry JR, Arkin GF (1989) Water deficit timing effects on yield components in maize. Agron J 81:61–65

Hammer O, Harper DAT, Ryan PD (2001) PAST: Paleontological Statistics Software package for education and data analysis. Palaeontol Electron 4(1):9

Hussey RS, Barker KR (1973) A comparison of methods of collecting inocula of Meloidogyne species, including a new technique. Plant Dis Rep 57:1025–1028

Ibrahim K, Amans A, Abubakar IU (2000) Growth indices and yield of Tomato (Lycopersicon esculentum karest) varieties as influenced by crop spacing at samaru. In: Proceedings of the 18th HORTSON conference proceedings (1), pp 40–47

Infonet-Biovision (2009) Maize—general information and agronomical aspects. http://www.infonet-biovision.org/default/ct/123/crops. Verified 5 Nov 2013

Johnson AW, Nusbaum CJ (1970) Interactions between Meloidogyne incognita, M. hapla, and Pratylenchus brachyurus in Tobacco. J Nematol 2(4):334–340

Jordaan EM, De Waele D, Van Rooyen PJ (1989) Endoparasitic nematodes in maize roots in the Western Transvaal as related to soil texture and rainfall. J Nematol 21:356–360

Kagoda F, Derera J, Tongoona P, Coyne DL, Talwana HL (2011) Grain yield and heterosis of maize hybrids under nematode infested and nematicide treated conditions. J Nematol 43(3–4):203–213

Kim SK, Adetimirin VO, The C, Dossou R (2002) Yield losses in maize due to Striga hermonthica in West and Central Africa. Int J Pest Manag 48:211–217

Kimenju JW, Waudo SW, Mwang'ombe AW, Sikora RA, Schuster RP (1998) Distribution of lesion nematodes associated with maize in Kenya and susceptibility of maize cultivars to Pratylenchus zeae. Afr Crop Sci J 6:367–375

McDonald AH, Nicol JM (2005) Nematode parasites of cereals. In: Luc M, Sikora RA, Bridge J (eds) Plant-parasitic nematodes in subtropical and tropical agriculture, 2nd edn. CABI Publishing, Egham, pp 131–191

McKee GW, McGahen JH, Peiffer RA, Allen JR (1974) Interrelationships of maturity, leaf area index, time of black layer formation, heat units and yield of 120 corn hybrids. Agronomy Abstracts No. 87

Mittler R (2006) Abiotic stress, the field environment and stress combination. Trends Plant Sci 11:15–19

Ngobeni GL, Fourie H, McDonald AH, Mashela PW (2011) Host suitability of selected South African maize genotypes to the root-knot nematode species Meloidogyne incognita race 2 and Meloidogyne javanica: a preliminary study. S Afr J Plant Soil 28(1):49–54

Olowe T, Corbett DCM (1976) Aspects of the biology of Pratylenchus brachyurus and P. zeae. Nematologica 22:202–211

Oostenbrink M (1966) Major characteristics of the relation between nematodes and plants. Mededlingen voor landbouwhogesch Wagening 66:3–46

Oyekanmi EO (2007) Screening of selected microorganisms and maize genotypes for Pratylenchus zeae management and improved yield of Zea mays L. M.Phil Thesis, University of Ibadan, Nigeria

Pingali PL, Pandey S (2000) Meeting world maize needs: technological opportunities and priorities for the public sector. In: Pingali PL (ed) CIMMYT 1999–2000 World Maize Facts and Trends. CIMMYT, Mexico, D.F, pp 28–53

SAS Institute Inc. (1999) Procedures Guide, Version 8. SAS Institute Inc., 1999, Cary, p 1729

Smit AL, Vamerali T (1998) The influence of potato cyst nematodes (Globodera pallida) and drought on rooting dynamics of potato (Solanum tuberosum L.). Eur J Agron 9:137–146

Snedecor G, Cochran W (1989) Statistical methods, 8th edn. Iowa State University Press, Ames

Steel RGD, Torrie JH (1980) Principles and procedures for statistics, 2nd edn. McGraw-Hill Book Co., New York

Swarup G, Sossa-Moss C (1990) Nematode parasites of cereals. In: Luc M, Sikora RA, Bridge J (eds) Plant parasitic nematodes in subtropical and tropical agriculture. CAB International, Wallingford, pp 109–136

Talwana HL, Butseya MM, Tusime G (2008) Occurrence of plant parasitic nematodes and factors that enhance population build-up in cereal-based cropping systems in Uganda. Afr Crop Sci J 16:119–131

Whitehead AG, Hemming JR (1965) A comparison of some quantitative methods of extracting small vermiform nematodes from soil. Ann Appl Biol 55:25–38

Williamson VM, Roberts PA (2009) Mechanisms and genetics of resistance. In: Perry R, Moens M, Starr J (eds) Root-knot nematodes. CAB International, Wallingford, pp 301–325

Zsuzsanna Z, Zsuzsanna, GH, Otto I, Istvan P, Ferenc R, and Csaba S (2002) Inheritance of plant and ear height in maize (Zea mays L.). In: Acta-Agraria/2002
Acknowledgments
The Bill & Melinda Gates Foundation and the United States Agency for International Development (USAID) funded this work under the Drought tolerant maize for Africa (DTMA) joint project between IITA and CIMMYT.
About this article
Cite this article
Kagoda, F., Hearne, S., Adewuyi, O. et al. Response of drought tolerant maize inbreds to water stress under nematode infested conditions. Euphytica 206, 77–87 (2015). https://doi.org/10.1007/s10681-015-1474-4
Received:

Accepted:

Published:

Issue Date:
Keywords
Lesion nematodes

Meloidogyne incognita
Pratylenchus zeae

Root knot nematodes