Abstract
Asian soybean rust is a major threat to worldwide soybean production at present. Host plant resistance offers the most sustainable control strategy to resource poor farmers in sub-Saharan Africa and worldwide. Using 13 soybean lines bred for resistance to soybean rust, and 2 checks, yield trials were conducted at four regions of Uganda for four consecutive seasons to determine yield stability and reaction to soybean rust disease. An additive main effects and multiplicative interaction (AMMI) model was used to assess the yield stability of the soybean lines. Stable lines identified included MNG 7.13, MNG 8.10, and MNG 1.63, which showed the lowest environmental interaction. These lines also out-yielded the local checks by over 300 kg ha−1, indicating that they have potential to boost soybean yields in the tropics. Line MNG 8.10 showed adaptability to most of the locations and had the highest yield among the three most stable lines, making it the most promising line; it is therefore recommended for release to improve soybean production and productivity in the region.
Access options
Buy single article
Instant access to the full article PDF.
US$ 39.95
Tax calculation will be finalised during checkout.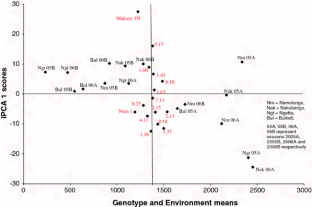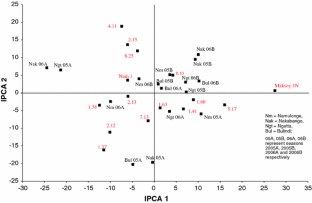 References
Abalo G, Hakiza JJ, El-Bedewy R, Adipala E (2003) Genotype × Environment interaction studies on yields of selected potato genotypes in Uganda. Afr Crop Sci J 11:9–15

Adugna A (2008) Assessment of yield stability in sorghum using univariate and multivariate statistical approaches. Hereditas 145:28–37

Annichiarico P, Perenzin M (1994) Adaptation patterns and definition of macro-environment for selection and recommendation of common wheat in Italy. Plant Breed 113:197–205

Bromfield KR, Hartwig EE (1980) Resistance to soybean rust (Phakopsora pachyrhizi) and mode of inheritance. Crop Sci 20:254–255

Crossa J, Gauch HG, Zobel RW (1990) Additive main effects and multiplicative interaction analysis of two international maize cultivar trials. Crop Sci 30:493–500

Dorrance AE, Draper MA, Hershman DE (eds) (2007) Using foliar fungicides to manage soybean rust. Land-Grant Universities Cooperating NCERA-208 and OMAF, Columbus, OH

FAO (2004) FAOSTAT: FAO statistical databases. FAO, UN, Rome. Available via DIALOG. http://faostat.fao.org/

Garcia A, Calvo ES, de Souza Kiihl RA, Harada A, Hiromoto DM, Vieira LG (2008) Molecular mapping of soybean rust (Phakopsora pachyrhizi) resistance genes: discovery of a novel locus and alleles. Theor Appl Genet 117:545–553

Gauch HG (1992) Statistical analysis of regional yield trials—AMMI analysis of factorial designs. Elsevier, Amsterdam

Gauch HG (2006) Statistical analysis of yield trials by AMMI and GGE. Crop Sci 46:1488–1500

Gauch GH, Zobel RW (1996) AMMI analysis of yield trials. In: Kang MS, Gauch HG (eds) Genotype by environment interaction. CRC, New York, pp 85–122

Hartman GL, Miles MR, Frederick RD (2005) Breeding for resistance to soybean rust. Plant Dis 89:664–666

Hartwig EE (1986) Identification of a fourth major gene conferring resistance to soybean rust. Crop Sci 26:1135–1136

Hartwig EE, Bromfield KR (1983) Relationships among three genes conferring specific resistance to rust in soybeans. Crop Sci 23:237–239

Kawuki R, Adipala E, Tukamuhabwa P (2003) Yield loss associated with soya bean rust (Phakopsora pachyrhizi Syd.) in Uganda. J Phytopathol 151:7–12

Kaya Y, Palta C, Taner S (2002) Additive main effects and multiplicative interactions analysis of yield performances in bread wheat genotypes across environments. Turk J Agric For 26:275–279

Kiryowa M, Tukamuhabwa P, Adipala E (2008) Genetic analysis of resistance to soybean rust disease. Afr Crop Sci J 16:211–217

Lamo J (2003) Occurrence, characterisation and development of inoculation techniques for Phakopsora pachyrhizi in Uganda. MSc. Thesis, Makerere University, Kampala

Levy C (2003a) Experiences with soybean rust in Africa. A presentation during Teleconference No. 5 by the Technical Science Working Group on Soybean Rust (SBR) held on July 16, 2003. Regional IPM Centers. Online at: www.ipmcenters.org/newsalerts/soybeanrust/summary5.pdf

Levy C (2003b) Measures to control soybean rust in Southern Africa and an initial investigation of the meteorological factors that favour its development. (Abstr.). Phytopathology 93:S103

Levy C (2004) Zimbabwe—a country report on soybean rust control. In: Moscardi F, Hoffman-Campo CB, Ferreira Saraiva O, Galerani PR, Krzyzanowski FC, Carrão-Panizzi MC (eds) Proceedings of VII world soybean research conference, IV international soybean processing and utilization conference, III Congresso Mundial de Soja (Brazilian soybean conference), Emprapa Soybean Londrina, pp 340–348

Levy C (2005) Epidemiology and chemical control of soybean rust in Southern Africa. Plant Dis 89:669–674

Li W, Yan ZH, Wei YM, Lan XJ, Zheng YL (2006) Evaluation of genotype × environment interactions in Chinese spring wheat by the AMMI model, correlation and path analysis. J Agron Crop Sci 192:221–227

McKevith B (2005) Nutritional aspects of oilseeds. Nutr Bull 30:1326

McLean RJ, Byth DE (1980) Inheritance of resistance to rust (Phakopsora pachyrhzi) in soybeans. Aust J Agric Res 31:951–956

Monteros MJ, Missaoui AM, Phillips DV, Walker DR, Boerma HR (2007) Mapping and confirmation of the 'Hyuuga' red–brown lesion resistance gene for Asian soybean rust. Crop Sci 47:829–836

Mueller TA, Miles MR, Morel W, Marois JJ, Wright DL, Kemerait RC, Levy C, Hartman GL (2009) Effect of fungicide and timing of application on soybean rust severity and yield. Plant Dis 93:243–248

Ntawuruhunga PH, Rubaihayo P, Whyte JBA, Dixon AGO, Osiru DSO (2001) Additive main effects and multiplicative interaction analysis for storage root yield of cassava genotypes evaluated in Uganda. Afr Crop Sci J 9:591–598

Oloka HK, Tukamuhabwa P, Sengooba T, Shanmugasundram S (2008) Reaction of exotic soybean germplasm to Phakopsora pachyrhizi in Uganda. Plant Dis 92:1493–1496

Oloka HK, Tukamuhabwa P, Sengooba T, Adipala E, Kabayi P (2009) Potential for soybean rust tolerance among elite soybean lines in Uganda. Crop Prot 28:1076–1080

Pham TA, Miles MR, Frederick RD, Hill CB, Hartman GL (2009) Differential responses of resistant soybean genotypes to ten isolates of Phakopsora Pachyrhizi. Plant Dis 93:224–228

Pivonia S, Yang XB (2006) Relating epidemic progress from a general disease model to seasonal appearance time of rusts in the United States: implications for soybean rust. Phytopathology 96:400–407

Sivapalan S, Brien LO, Ferrara GO, Hollamby GL, Barclay I, Martin PJ (2000) An adaptation analysis of Australian and CIMMYT/ICARDA wheat germplasm in Australian production environments. Aust J Agric Res 51:903–915

Smith J, Woodworth JB, Dashiell KE (1995) Government policy and farm-level technologies: the expansion of soybean in Nigeria. IITA Res 11:14–18

Sudaric A, Simic AD, Vrataric M (2006) Characterization of genotype by environment interactions in soybean breeding programmes of southeast Europe. Plant Breed 125:191–194

Tukamuhabwa P (1992) The status of soybean industry in Uganda. Proceedings of the first national workshop on soybean production and utilization, 2–6 Mar 1992, Mukono DFI, Uganda

Tukamuhabwa P, Dashiell KE, Assafo-Adjei B (2001) Determination of yield loss caused by soybean rust (Phakopsora pachyrhizi Syd.) in four genotypes of soybeans. Afr Crop Sci Conf Proc 5:423–426

UBOS (Uganda Bureau of Statistics) (2006) Statistical abstracts. Uganda Bureau of Statistics, Kampala

Wamatu JN, Thomas E (2002) The influence of genotype–environment interaction on the grain yields of 10 Pigeonpea cultivars grown in Kenya. J Agron Crop Sci 188:25–33

Yamanaka N et al (2010) Development of classification criteria for resistance to soybean rust and differences in virulence among Japanese and Brazilian rust populations. Trop Plant Pathol 35:153–162

Yan W, Rajcan I (2002) Biplots analysis of the test sites and trait relations of soybean in Ontario. Crop Sci 42:11–20
Acknowledgments
The authors thank the Regional Universities Forum for Capacity Building in Agriculture (RUFORUM) and the Vegetable Oil Development Project (VODP) of the Government of Uganda for providing the funds that were used to conduct this work. We also thank Makerere University and the National Agricultural Research Organisation for providing the facilities that enabled us to carry out the work presented in this paper.
About this article
Cite this article
Tukamuhabwa, P., Oloka, H.K., Sengooba, T. et al. Yield stability of rust-resistant soybean lines at four mid-altitude tropical locations. Euphytica 183, 1–10 (2012). https://doi.org/10.1007/s10681-011-0404-3
Received:

Accepted:

Published:

Issue Date:
Keywords
AMMI model

G×E interaction

Stability

Genotype

Soybean rust resistance