Abstract
In self-compatible plant species stigmata receive a mixture of self and outcrossed pollen and competition between them is expected to play a major role in determining the pollen-mediated gene flow. The use of male sterile bait plants in field trials to demonstrate the rate of gene flow is questionable due to lack of pollination competition. However, little direct evidence has been published. A field experiment of male sterile and male fertile sorghum pollen recipient bait plants was conducted to evaluate pollen competition between wild and cultivated sorghums and the effects of pollen competition on gene flow assessment. Pollen competition between wild and cultivated sorghums was estimated from two-component pollen mixtures of wild and cultivated sorghum (1:1 ratio) applied to wild, cultivated and male-sterile maternal bait plants. Paternity was determined in the progeny using two diagnostic Simple Sequence Repeat markers. The study found that self pollen has higher seed-siring success. Maternal genotype influences the siring ability of the pollen donor components which significantly deviated from the 1:1 pollen loads. The study showed that published estimates of gene flow derived from studies using male-sterile bait plants seriously overestimate gene flow and that pollen competition may be a significant factor influencing outcrossing rates. The results suggest that the predominant direction of gene flow is from cultivated to wild sorghum, potentially leading to introgression of crop genes into wild sorghum. Pollen competition should be taken into account in gene flow estimation, since presence of self-pollen can account for over half of seed produced irrespective of maternal genotype.
Access options
Buy single article
Instant access to the full article PDF.
USD 39.95
Price includes VAT (USA)
Tax calculation will be finalised during checkout.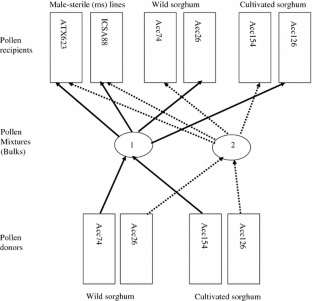 References
Bapat DR, Mote UN (1982) Sources of shoot fly resistance in Sorghum. J Maharashtra Agric Univ 7:238–240

Bernasconi G (2003) Seed paternity in flowering plants: an evolutionary perspective. Perspect Plant Ecol Evol Syst 6:149–158

Brown SM, Hopkins MS, Mitchell SE, Senior ML, Wang TY, Duncan RR, Gonzales-Candelas F, Kresovich S (1996) Multiple methods for identification of polymorphic simple sequence repeats (SSRs) in sorghum (Sorghum bicolor (L.) Moench). Theor Appl Genet 93:190–198

Charlesworth D, Charlesworth B (1992) The effects of selection in the gametophyte stage on mutational load. Evolution 46:703–720

Dillon SL, Shapter FM, Henry RJ, Cordeiro G, Izquierdo L, Lee LS (2007) Domestication to crop improvement: genetic resources for Sorghum and Saccharum (Andropogoneae). Ann Bot 100:975–989

Doggett H (1988) Sorghum, 2nd edn. Longman, London

Ejeta G (2007) Breeding for Striga resistance in sorghum: exploitation of an intricate host-parasite biology. Crop Sci 47:S216–S227

Ejeta G, Mohammed A, Rich P, Melake-Berhan A, Housley TL, Hess DE (2000) Selection for specific mechanisms of resistance for Striga in sorghum. In: Hausmann BIG, Hess DE, Koyama ML, Grivet L, Rattunde HFW, Geiger HH (eds) Breeding for striga resistance in cereals. Margraf Verlag, Weikersheim, pp 29–37

Ellstrand NC, Prentice HC, Hancock JF (1999) Gene flow and introgression form domesticated plants into their wild relatives. Annu Rev Ecol Syst 30:539–563

Franzmann BA, Hardy AT (1996) Testing the host status of Australian indigenous sorghums for the sorghum midge. In: Foale MA, Henzell RG, Kneip JF (eds) Proceedings of the third Australian sorghum conference, Tamworth, pp 365–367

Fuchs M, Chirco EM, McFerson JR, Gonsalves D (2004) Comparative fitness of a wild squash species and three generations of hybrids between wild × virus-resistant transgenic squash. Environ Biosaf Res 3:17–28

Gealy DR, Mitten DH, Rutger JN (2003) Gene flow between red rice (Oryza sativa) and herbicide-resistant rice (O. sativa): implications for weed management. Weed Technol 17:627–645

Grant V (1992) Floral isolation between ornithophilous and sphingophilous species of Ipomopsis and Aquilegia. Proc Natl Acad Sci USA 89:828–831

Harlan JR (1995) The living fields: our agricultural heritage. In: Smith CW, Frederiksen RA (eds) 2000: sorghum origin, history, technology and production. Wiley, New York

Hodnett GL, Burson BL, Rooney WL, Dillion SL, Price HJ (2005) Pollen–pistil interactions result in reproductive isolation between sorghum bicolor and divergent Sorghum species. Crop Sci 45:1403–1409

Kamala V, Singh SD, Bramel PJ, Rao DM (2002) Sources of resistance to downy mildew in wild and weedy sorghums. Crop Sci 42:1357–1360

Karunakar RI, Narayana YD, Pande S, Mughogho LK, Singh SD (1994) Evaluation of wild and weedy sorghums for downy mildew resistance. Int Sorghum Millets Newslett 35:104–106

Komolong B, Chakraborty S, Ryley M, Yates D (2002) Identify and genetic diversity of the sorghum ergot pathogen in Australia. Aust J Agric Res 53:621–628

Kong L, Dong J, Hart GE (2000) Characteristics, linkage-map positions, and allelic differentiation of Sorghum bicolor (L.) Moench DNA simple-sequence repeats (SSRs). Theor Appl Genet 101:438–448

Lyons EE, Waser NM, Price MV, Antonovics J, Motten AF (1989) Sources of variation in plant reproductive success and implications for concepts of sexual selection. Am Nat 134:409–433

Mace ES, Buhariwalla HK, Crouch JH (2003) A high throughput DNA extraction protocol for molecular breeding programs. Plant Mol Biol Rep 21:459a–459h

Marshall DL (1991) Non-random mating in wild radish: variation in pollen donor success and the effects of multiple paternity in one- to six-donor crosses. Am J Bot 78:1404–1418

Marshall DL, Ellstrand NC (1988) Effective mate choice in wild radish: evidence for selective seed abortion and its mechanism. Am Nat 131:739–756

Paul EM, Thompson C, Dunwell JM (1995) Gene dispersal from genetically modified oil seed rape in the field. Euphytica 81:283–289

Payro` de la cruz E, Gepts P, Marin CG, Zizumbo-Villarreal D (2005) Spatial distribution of genetic diversity in wild populations of Phaseolus vulgaris L. from Guanajuato and Michoacan, Mexico. Genet Resour Crop Evol 52:589–599

Ramsey H, Bradshaw HD, Schemske DW (2003) Components of reproductive isolation between the monkeyflowers Mimulus lewisii and M. cardinalis (Phrymaceae). Evolution 57:1520–1534

Rich PJ, Grenier C, Ejeta G (2004) Striga resistance in the wild relatives of sorghum. Crop Sci 44:2221–2229

Rieseberg LH, Willis JH (2007) Plant speciation. Science 317:910–914

Rooney WL, Smith CW (2000) Techniques for developing new cultivars. In: Smith CW, Frederiksen RA (eds) Sorghum: origin, history technology, and production. Wiley, New York

Rosenow DT, Dahlberg JA (2000) Collection, conversion, and utilization of sorghum. In: Smith CW, Frederiksen RA (eds) Sorghum: origin, history technology, and production. Wiley, New York

Ruane LG, Donohue K (2007) Environmental effects on pollen-pistil compatibility between Phlox cuspidata and P. drummondii (Polemoniaceae): implications for hybridization dynamics. Am J Bot 94:219–227

Schloss SJ, Mitchell SE, White GM, Kukatla R, Bowers JE, Paterson AH, Kresovich S (2002) Characterization of RFLP probe sequences for gene discovery and SSR development in Sorghum bicolor (L.) Moench. Theor Appl Genet 105:912–920

Schmidt M, Bothma G (2006) Risk assessment for transgenic sorghum in Africa: crop-to-crop gene flow in Sorghum bicolor (L.) Moench. Crop Sci 46:790–798

Sharma HC, Franzmann BA (2001) Host-plant preference and oviposition responses of the sorghum midge, Stenodiplosis sorghicola (Coquillett) (Dipt., Cecidomyiidae) towards wild relatives of sorghum. J Appl Entomol 125:109–114

Snow AA, Pilson D, Rieseberg LH, Paulsen MJ, Pleskac N, Reagon MR, Wolf DE, Selbo SM (2003) A Bt transgene reduces herbivory and enhances fecundity in wild sunflowers. Ecol Appl 13:279–286

Squire GR, Crawford JW, Ramsey G, Thompson C, Brown J (1999) Gene flow at the landscape level. In: Lutman PJW (ed) Gene flow and agriculture: relevance for transgenic crops. British Crop Protection Council Symposium Proceeding 72, University of Keele, Staffordshire, UK, 12–14 Apr 1999. BCPC, Alton

Swanson R, Edlund AF, Preuss D (2004) Species specificity in pollen–pistil interactions. Annu Rev Genet 38:793–818

Taramino G, Tarchini R, Ferrario S, Lee M, Pe` ME (1997) Characterisation and mapping of simple sequence repeats (SSR) in Sorghum bicolor. Theor Appl Genet 95:66–72

Thompson CE, Squire G, Mackay GR, Bradshaw JE, Crawford J, Ramsay G (1999) Regional patterns of gene flow and its consequence for GM oilseed rape. In: Lutman PJW (ed) Gene flow and agriculture: relevance for transgenic crops. British Crop Protection Council Symp. Proc. 72, University of Keele, Staffordshire, UK, 12–14 Apr 1999. BCPC, Alton

Timmons AM, O'Brein ET, Charters YM, Dubbels SJ, Wilkinson MJ (1995) Assessing the risks of wind pollination from fields of genetically modified Brassica napus ssp. Oleifera. Euphytica 85:417–423

Timmons AM, Charters YM, Crawford JW, Burn D, Scott SE, Wilson NJ, Robertston A, O'Brein ET, Squire GR, Wilkinson MJ (1996) Risks from transgenic crops. Nature 380:487

Wang J, Yang X, Li Y, Elliott PF (2006) Pollination competition effects on gene-flow estimation: using regular vs. male-sterile bait plants. Agron J 98:1060–1064

Widmer A, Lexer C, Cozzolino S (2009) Evolution of reproductive isolation in plants. Heredity 102:31–38

Winsor JA, Peretz S, Stephenson AG (2000) Pollen competition in a natural population of Cucurbita foetidissima (Cucurbitaceae). Am J Bot 87:526–532

Wolf PG, Campbell DR, Nickolas MW, Sipes SD, Toler TR, Archibald JK (2001) Tests of pre- and postpollination barriers to hybridisation between sympatric species of Ipomopsis (Polemoniaceae). Am J Bot 88:213–219
Acknowledgments
This study was funded by the United States Agency for International Development (USAID) Biotechnology and Biodversity Interface Program (BBI; Dr. Fabrice Sagnard), the Institute of plant Breeding and Population Genetics at the University of Hohenheim, Germany, and Germany Academic Exchange Service (DAAD: A0523923). We are grateful to Kenya Agricultural Research Institute and Mr. Ben Kanyenji who supervised the field experiments.
About this article
Cite this article
Muraya, M.M., Geiger, H.H., de Villiers, S. et al. Investigation of pollen competition between wild and cultivated sorghums (Sorghum bicolor (L.) Moench) using simple sequence repeats markers. Euphytica 178, 393–401 (2011). https://doi.org/10.1007/s10681-010-0319-4
Received:

Accepted:

Published:

Issue Date:
Keywords
Sorghum bicolor

Pollen competition

Outcross pollen

Self pollen

Pollination

Pollen-mediated gene flow