Durable resistance to the wheat rusts: integrating systems biology and traditional phenotype-based research methods to guide the deployment of resistance genes
Abstract
Genes which confer partial resistance to the rusts in wheat figure prominently in discussions of potential durable resistance strategies. The positional cloning of the first of these genes, Lr34/Yr18 and Yr36, has revealed different protein structures, suggesting that the category of partial resistance genes, as defined by phenotype, likely groups together suites of functionally heterogenous genes. With the number of mapped partial rust resistance genes increasing rapidly as a result of ongoing advances in marker and sequencing technologies, breeding programs needing to select and prioritize genes for deployment confront a fundamental question: which genes or gene combinations are more likely to provide durable protection against these evolving pathogens? We argue that a refined classification of partial rust resistance genes is required to start answering this question, one based not merely on disease phenotype but also on gene cloning, molecular functional characterization, and interactions with other host and pathogen proteins. Combined with accurate and detailed disease phenotyping and standard genetic studies, an integrated wheat-rust interactome promises to provide the basis for a functional classification of partial resistance genes and thus a conceptual framework for their rational deployment.
Keywords
Puccinia
Triticum aestivum
Partial resistance 
Interactome 
Breeding 
Introduction
The cereal rusts (Puccinia spp.), caused by highly specialized Basidiomycetes within the order Uredinales, are among the most destructive plant diseases, responsible for recurrent episodes of catastrophic yield loss and economic hardship among grain-based agricultural societies for centuries. Within this broad class of diseases, stem rust (SR: causal organism P. graminis Pers. f. sp. tritici), stripe rust (YR: causal organism P. striiformis f. sp. tritici), and leaf rust (LR: causal organism P. triticina) of wheat (Triticum aestivum) are prominent in their historic relevance to agricultural productivity. While it is possible to mitigate losses to these pathogens through the timely application of fungicides, the low profitability of wheat production cannot sustain such costly inputs under many dryland situations. Consequently, emphasis has long been placed on the identification and deployment of genetic sources of resistance.
Major resistance genes
Most of the resistance genes discovered and deployed in defense against the wheat rusts are classified as major resistance genes. Also known as seedling resistance, vertical resistance, all-stage resistance, or race-specific resistance genes, major genes confer effective levels of resistance against specific physiologic races of the pathogen, generally throughout the life cycle of the host. In terms of disease phenotype, major resistance genes are often associated with a rapid programmed death of infected cells, a so-called "hypersensitive response" thought to play a role in limiting the expansion of biotrophic pathogens in the host tissue. Major resistance genes have been systematically investigated since the first such genes (e.g.
Pto
from tomato and
RPS2
from
A. thaliana
) were cloned in the early 1990's (Martin et al.
1993
; Bent et al.
1994
; Mindrinos et al.
1994
). In the monocots, nine genes conferring resistance to
Puccinia
spp. have been cloned, with most exhibiting the form of intracellular receptors with a common NBS-LRR structure (nucleotide binding site + leucine rich repeat domain) (see Table 
1
). The proposed mechanisms of race-specificity and the actions of such major genes, including R-Avr gene interactions and the guard hypothesis, have been discussed in detail in previous papers and reviews (e.g. Hulbert et al.
2001
; Jones and Dangl
2006
; Bent and Mackey
2007
).
Species

Gene

Putative gene product

Disease

Major resistance genes with known or predicted race specificity

 Wheat

Lr1

CC-NBS-LRR

Leaf rust

Lr10

NBS-LRR

Leaf rust

Lr21

NBS-LRR

Leaf rust

 Maize

Rp1-D

NBS-LRR

Leaf rust

Rp3

NBS-LRR

Leaf rust

 Barley

Rpg1

Kinase-kinase

Stem rust

Rpg5

NBS-LRR-Kinase

Stem rust

Partial resistance genes with possible race non-specificity

 Wheat

Lr34/Yr18/Pm38

ABC transporter

Leaf rust/stripe rust/powdery mildew

Yr36

Kinase-START

Stripe rust
The traditional emphasis on major gene resistance is understandable for many reasons:
1.

Major genes are effective: such genes have, without question, provided significant economic benefits to wheat growers, as illustrated by the decades-long protection provided by the now-defeated stem rust resistance gene Sr31;

 

2.

They are relatively easy to identify and deploy: breeding for single-gene resistance is much simpler than breeding for oligo/polygenic resistance;

 

3.

They are historically easier to combine: in the absence of clear additivity of the resistance conferred by different genes and in the absence of good molecular markers, race-specific disease phenotypes facilitate the efficient introgression and stacking of major genes using panels of different rust races;

 

4.

They provide clear levels of protection: "Resistance", rather than "tolerance", has long been held as an agronomic goal.

 
Despite these clear historic advantages, however, major resistance genes frequently lacked "durability", that is, the ability of a widely-deployed resistance gene to provide an economic level of protection over an extended period of time (Johnson 1984). To illustrate this fact, consider that of the approximately 70 identified major genes for resistance to stripe rust, only three (Yr5, Yr15, and Yr24/26, each neither widely nor long-deployed) remain effective against all detected races of the pathogen in the United States (Chen 2007). With the Ug99 family of stem rust races diversifying (Jin et al. 2008, 2009),1 and with nearly 80 races of stripe rust with new virulence patterns appearing in the United States alone since 2000,2 it is generally agreed that the defeat of major genes is no longer a question of "if" but "when" and that the need for alternative defense strategies is pressing. Specifically, these recent epidemics have reinvigorated interest within the wheat breeding and research communities in partial resistance genes as sources of potentially more durable resistance.
Partial resistance genes
Genes which confer partial resistance to the cereal rusts are variously referred to as race non-specific, (high-temperature) adult plant, horizontal, or slow-rusting resistance genes. Generally speaking, whichever term is used, partial resistance is understood to mean a form of resistance that is not complete (i.e. all stages of the infection process can occur, including sporulation), is not associated with a rapid hypersensitive response, is not equally effective throughout all stages of host development (e.g. it is often undetectable at the seedling stage), and is not known to be limited to specific physiologic races of the pathogen. In other words, partial resistance is a catch-all designation which has come to mean any form of resistance that is not "major". As such, the term likely groups together disparate classes of functionally heterogenous resistance genes and provides very little information regarding their functional relatedness, combinability, or potential durability.
The recent cloning of the first two partial rust resistance genes in wheat, namely the pleiotropic leaf rust/stripe rust/powdery mildew resistance gene Lr34/Yr18/Pm38 (Krattinger et al. 2009) and the stripe rust resistance gene Yr36 (Fu et al. 2009), provides support to the hypothesis that partial rust resistance genes comprise a heterogeneous group of functionally diverse genes. The historically durable resistance gene Lr34/Yr18/Pm38 encodes a protein with homology to ATP-binding cassette (ABC) transporters, a transkingdom superfamily of transmembrane proteins involved in the transport of a wide variety of substrates across cellular membranes (Krattinger et al. 2009). In addition to its structure (non-NBS-LRR) and longstanding durability (more than 50 years), other pieces of evidence suggest that the partial resistance conferred by Lr34/Yr18 is truly race non-specific. To begin, its pleiotropic effect against leaf rust, stripe rust, and powdery mildew (another fungal disease caused by the biotroph Blumeria graminis) indicates that the gene is in fact species non-specific. The gene is also associated, even in non-challenged tissue, with leaf-tip necrosis (Singh 1992), a constitutive physiological characteristic at odds with the needs of biotrophic pathogens.
The other recently-cloned slow-rusting gene, conferring partial resistance to wheat stripe rust, is the high-temperature adult plant (HTAP) gene Yr36. Based on its sequence, this gene encodes a protein with a kinase domain linked to a steroidogenic acute regulatory protein-related lipid transfer (START) domain predicted to bind lipids. The novelty of this protein architecture is evidenced by the fact that these two domains are not found together in any protein from any organism currently deposited in GenBank. While race non-specificity for Yr36 is suggested based on the resistance it confers against the few broadly-virulent pathotypes tested to date (Fu et al. 2009), claims about the durability and race non-specificity of Yr36 will need to wait for its wider and longer deployment in commercial varieties.
The gene-for-gene hypothesis of host-pathogen compatibility (Flor 1942, 1956), inspired by and relevant to the major class of race-specific NBS-LRR genes, provided an appropriate conceptual framework for the rust research community for many decades. But as the focus of research expands to encompass non-NBS-LRR sources of partial resistance and the potential achievement of more durable resistance through their strategic deployment, a new conceptual framework is required. Assuming the first two cloned partial resistance genes are any indication of the diversity of genes involved, such a new framework will be neither as simple nor as predictive of the protein structures of resistance genes as the gene-for-gene model. Fortunately, technologies more truly commensurate with the complexity of the Triticum-Puccinia interactions are becoming available, raising the possibility of a more meaningful classification of non-major resistance genes.
The quest for more durable resistance
While durability is not necessarily associated with partial resistance, as illustrated by the emergence of virulent races of P. striiformis f. sp. tritici on the partially resistant varieties Joss Cambier, Maris Bilbo, and others (Johnson 1978), several partial resistance genes have historically played central roles in durable resistance strategies. Examples of the longstanding effectiveness of combinations of partial resistance genes include the cv. Stephens-type resistance to stripe rust (Santra et al. 2008), the protection provided by the slow-rusting Sr2 complex to stem rust (Singh et al. 2006), and the widespread combination of Lr13 and Lr34 for leaf rust (Kolmer 1996). Other combinations of partial resistance genes in the CIMMYT breeding program have conferred adequate resistance to leaf rust in the field for several years (Singh et al. 2000). Indeed, the potential importance of partial resistance genes in achieving durable protection against the cereal rusts has gained great traction since its first observation over 50 years ago (Caldwell et al. 1958; Johnson 1981) and today serves as a rough guiding principle to many research and breeding programs.
This renewed interest in partial resistance has accelerated the discovery rate of partial resistance QTL. In the last two years alone, more than 20 QTL conferring some degree of quantitative resistance to wheat stripe rust were reported (Cheng and Chen
2008
; Chhuneja et al.
2008
; Guo et al.
2008
; Melichar et al.
2008
; Rosewarne et al.
2008
; Santra et al.
2008
; Carter et al.
2009
; Dedryver et al.
2009
; Lu et al.
2009
). These QTL present breeders with the possibility of over 1,000 unique three-QTL combinations, a number far beyond the realm of investigation. With the development of ever more precise and affordable molecular markers, it is also possible to deploy combinations of partial and major resistance genes, further increasing the number of available breeding options. How should a breeding program, constrained by limited resources, respond to such data overload? To answer this question, a means of predicting the relative durability of combinations of resistance genes is needed. In this paper, we argue that a research program capable of achieving this objective will seek to answer the following basic questions:
1.

Can partial resistance genes be assigned to functional classes predictive of their contributions to overall resistance in resistance gene combinations?

 

2.

Are combinations of resistance genes from different functional classes more or less durable than combinations of genes from the same functional class?

 
A systems biology approach
Research on model organisms, from
E. coli
to
A. thaliana
to
S. cerevisiae
, has revealed certain fundamental properties of biological systems worth noting (Ideker et al.
2001
; Kitano
2002
; Mustacchi et al.
2006
; Van Norman and Benfey
2009
). First and foremost among these is this guiding principle from the field of systems biology: biological systems are more accurately modeled as adaptive, environmentally-responsive networks of highly connected nodes rather than as collections of rigidly-defined biochemical pathways populated by dedicated, single-function gene products (Benfey and Mitchell-Olds
2008
). One implication of this insight is that far more will be required than the phenotypic, or even genetic, characterization of individual resistance genes if we are ever to understand, and thus conceivably engineer, reliably durable resistance to the wheat rusts. As expounded in detail throughout the remainder of this paper, a more integrated, systems-oriented approach to these host-pathogen systems is necessary to generate a meaningful functional classification of partial resistance genes and thus provide a much needed conceptual framework for their deployment (Fig. 
1
).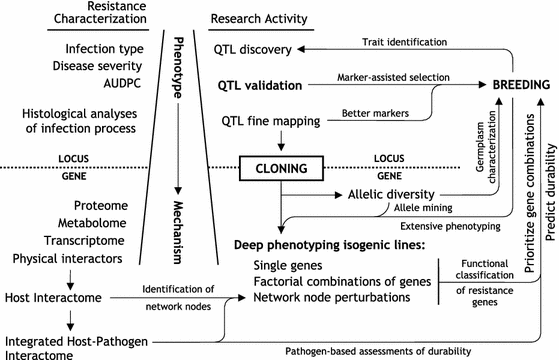 Conclusions
As the catalog of reported QTL for partial resistance to the wheat rusts continues to swell, the need for a practical guiding theory of resistance gene combinability and predicted durability increases. Such a theory, if achievable, is the long-term promise of a systems biology-oriented research program committed to the functional characterization of partial resistance genes. The necessary genomic resources and molecular technologies to facilitate such an approach in the wheat-rust pathosystem are now available, making it possible to clone partial resistance genes and effectors, to determine their interaction networks, and to systematically perturb critical nodes within those networks. By successfully integrating these core research activities with comparative genomics studies of Puccinia spp. and classical phenotypic, genetic, and epistatic interaction data, the functional relatedness of resistance genes and the variability of their associated pathogen effectors may serve as a powerful organizing principle for probing and eventually understanding the phenomenon of durable resistance.
Footnotes
1.
2.

Since the year 2000, two closely-related and aggressive groups of Pst races characterized by virulence to Yr8 and Yr9 have rapidly spread around the globe. Being adapted to warmer temperatures, these races have expanded the historical range of the disease in North America and have contributed to rust epidemics in several parts of the world (Chen 2005, 2007; Hovmoller et al. 2008; Markell and Milus 2008; Milus et al. 2009).
Notes
Acknowledgments
This project was supported in part by the Borlaug Global Rust Initiative (BGRI), the Durable Rust Resistance in Wheat (DRRW) Project, Cornell University, and in part by the National Research Initiative Competitive Grant no. 2008-35318-18654 from the USDA National Institute of Food and Agriculture.
Open Access
This article is distributed under the terms of the Creative Commons Attribution Noncommercial License which permits any noncommercial use, distribution, and reproduction in any medium, provided the original author(s) and source are credited.