Abstract
This research analyzes cost account-level detail from ten similar satellite programs to assess the relationship between cost and schedule variances. A model is defined to break activity into two types: level of effort (LOE), in which cost is directly proportional to the cost account's duration and discrete, where the cost is independent of the schedule. Primary data collected by the authors from the ten satellite programs are split into these two categories and analyzed separately. Marginal distributions for schedule and cost for each of the two databases are built using the generalized two-sided power distribution (GTSP). Correlations between cost and schedule variance are calculated for the LOE and discrete cost accounts. Finally, joint distributions are created for each database using generalized diagonal band copulas. The results show that the GTSP effectively modeled the marginal distributions and the generalized diagonal band copula with a slope generating function successfully representing the observed joint distribution. The analysis, resulting from the correlation values, show that the cost and schedule variance for discrete cost accounts are not correlated. However, the LOE cost accounts show a correlation well below the projected perfect correlation. The models were validated by removing one program's data from the database, regenerating the models, and assessing the accuracy of the model against the program excluded from the model. The model derived from nine programs successfully modeled the results from the tenth program. These results provide both a modeling method and guidance for modeling parameters for joint cost and schedule risk analysis.
Access options
Buy single article
Instant access to the full article PDF.
US$ 39.95
Tax calculation will be finalised during checkout.
Subscribe to journal
Immediate online access to all issues from 2019. Subscription will auto renew annually.
US$ 79
Tax calculation will be finalised during checkout.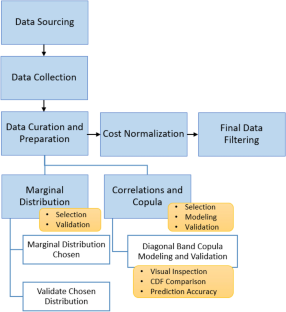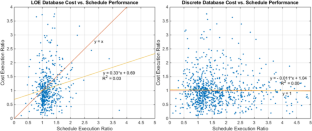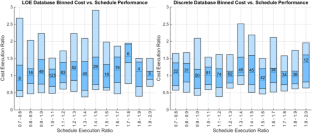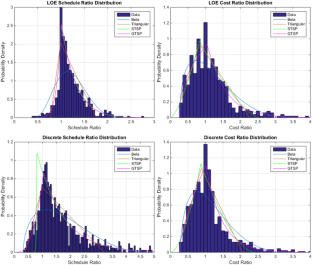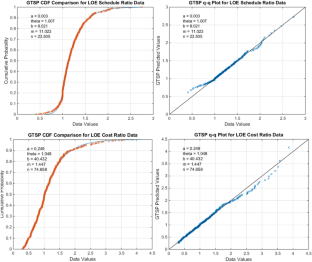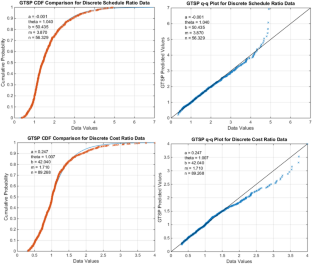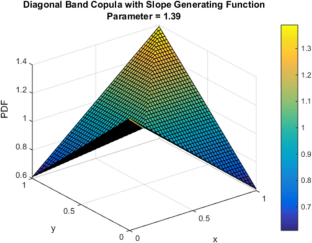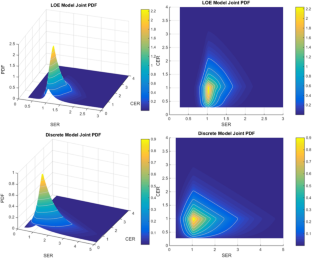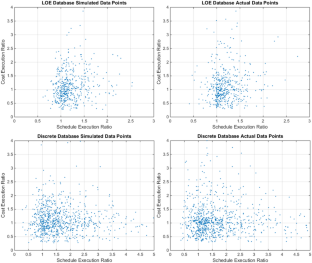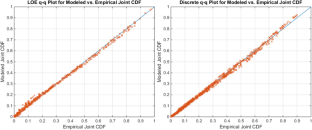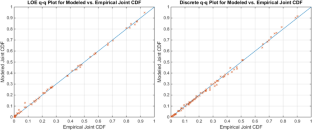 References
Ahsan K, Gunawan I (2010) Analysis of cost and schedule performance of international development projects. Int J Project Manag 28(1):68–78

Bojarski J (2002) A new class of band copulas-distributions with uniform marginals. J Math Sci 111(3):3520–3523

Bromilow F (1969) Contract time performance expectations and the reality. Building Forum 1:70–80

Cha C et al (2009) GAO cost estimating and assessment guide: best practices for developing and managing capital program costs. Government Printing Office, Washington

Cooke RM, Waij R (1986) Monte Carlo sampling for generalized knowledge dependence with application to human reliability. Risk Anal 6(3):335–343

Druker E (2009) Emerging practice: joint cost & schedule risk analysis

Emmons DL, Bitten RE (2009) Quantitative approach to independent schedule estimates of NASA science missions. In 2009 IEEE Aerospace conference on IEEE, pp. 1–8

Ferguson TS (1995) A class of symmetric bivariate uniform distributions. Stat Pap 36(1):31

Flyvbjerg B, Holm MS, Buhl S (2002) Underestimating costs in public works projects: error or lie? J Am Plan Assoc 68(3):279–295

Gebicke M (1992) NASA program costs: space missions require substantially more funding than initially estimated. Tech. Rep., General Accounting Office, National Security and International, Washington, DC

Herrerías-Velasco JM, Herrerias-Pleguezuelo R, Van Dorp JR (2009) The generalized two-sided power distribution. J Appl Stat 36(5):573–587

Hulett D (2016) Integrated cost-schedule risk analysis. Routledge, London

Isidore L, Back WE (2001) Integrated range estimating and stochastic scheduling. Cost Eng 43(2):41

Isidore LJ, Back WE (2002) Multiple simulation analysis for probabilistic cost and schedule integration. J Constr Eng Manag 128(3):211–219

Kotz S, Van Dorp JR (2010) Generalized diagonal band copulas with two-sided generating densities. Decis Anal 7(2):196–214

Love PE, Sing C, Wang X, Edwards DJ, Odeyinka H (2013) Probability distribution fitting of schedule overruns in construction projects. J Oper Res Soc 64(8):1231–1247

Majerowicz W, Shinn SA (2016) Schedule matters: understanding the relationship between schedule delays and costs on overruns. In: 2016 IEEE Aerospace Conference on IEEE, pp 1–8

Molenaar KR (2005) Programmatic cost risk analysis for highway megaprojects. J Constr Eng Manag 131(3):343–353

NASA, National Aeronautics and Space Administration (2015) Cost estimating handbook version 4.0. NASA, Washington, DC

Othman MM, Abdelaziz AY, Hegazi YG, El-Khattam W (2015) Approach for modelling stochastically dependent renewable energy-based generators using diagonal band copula. IET Renew Power Gener 9(7):809–820

Ovchinnikov M, Lim K-SS, Larson VE, Wong M, Thayer-Calder K, Ghan SJ (2016) Vertical overlap of probability density functions of cloud and precipitation hydrometeors. J Geophys Res 121(21):12–966

Procurement D, Policy A (2013) Defense federal acquisition regulation supplement (DFARS) and procedures, guidance, and information (PGI). Subpart 215:11

Sousa V, Almeida NM, Dias LA, Branco FA (2014) Risk-informed time–cost relationship models for sanitation projects. J Constr Eng Manag 140(5):06014002

USAF, United States Airforce (2007) Cost risk and uncertainty analysis handbook. Tecolote Research Inc., Golera, CA, pp 153–178

Van Dorp JR, Kotz S (2002) The standard two-sided power distribution and its properties: with applications in financial engineering. Am Stat 56(2):90–99

Vicari D, van Dorp JR (2013) On a bounded bimodal two-sided distribution fitted to the old-faithful geyser data. J Appl Stat 40(9):1965–1978

Wendling RV, Lorance RB (2000) Integration of schedule and cost risk models. Cost Eng 42(4):38

Xu Z, Yu J, Li H (2014) Analyzing integrated cost-schedule risk for complex product systems R&D projects. J Appl Math 2014:472640
Additional information
Publisher's Note
Springer Nature remains neutral with regard to jurisdictional claims in published maps and institutional affiliations.
About this article
Cite this article
Lewin, A., Shittu, E., Mazzuchi, T. et al. The correlation of cost and schedule variance in satellite programs: level of effort versus discrete cost accounts. Environ Syst Decis (2021). https://doi.org/10.1007/s10669-021-09799-y
Keywords
Cost

Schedule

Risk analysis

Cost–schedule risk analysis