Abstract
To achieve a safe and reliable drinking water supply, water producers need to manage a large range of risks regarding both water quality and quantity. A risk management approach where risks are systematically identified and handled in a preventive manner is promoted by the World Health Organization and supported by researchers and drinking water experts worldwide. Risk assessment is an important part of such a management approach, and a variety of tools for risk assessment are described in the literature. There is, however, little knowledge of how drinking water risk assessment is performed in practice, including which tools that are actually used. This study investigates the use of risk assessment tools, and the approach to risk management, on a local level in the Swedish water sector. It is based on interviews with key persons from a targeted selection of water producers. We find that the application of tools as well as the approach to risk assessment and management differs considerably between the water producers. The tools most frequently used are mainly the ones promoted or required by Swedish national organizations. Although many of the water producers have done some kind of risk assessment, most have not implemented a risk management approach. Furthermore, their knowledge of the concepts of risk and risk management is often limited. The largest challenge identified is to prioritize risk assessment, so that it is actually performed and then used as a basis for managing risk in a systematic way.
Access options
Buy single article
Instant access to the full article PDF.
USD 39.95
Price includes VAT (USA)
Tax calculation will be finalised during checkout.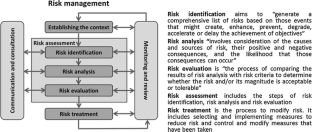 References
Baum R, Amjad U, Luh J, Bartram J (2015) An examination of the potential added value of water safety plans to the United States national drinking water legislation. Int J Hyg Environ Health 218(8):677–685

Bichai F, Smeets P (2013) Using QMRA-based regulation as a water quality management tool in the water security challenge: experience from the Netherlands and Australia. Water Res 47(20):7315–7326

Commission European (2007) Directive 2007/60/EC of the European Parliament and of the council of 23 October 2007 on the assessment and management of flood risks. J Eur Union 288:186–193

Dunn G, Harris L, Cook C, Prystajecky N (2014) A comparative analysis of current microbial water quality risk assessment and management practices in British Columbia and Ontario, Canada. Sci Total Environ 468:544–552

Erlandsson M, Buffam I, Folster J, Laudon H, Temnerud J, Weyhenmeyer GA, Bishop K (2008) Thirty-five years of synchrony in the organic matter concentrations of Swedish rivers explained by variation in flow and sulphate. Glob Change Biol 14(5):1191–1198

FAO/WHO Codex Alimentarius Commission (2003) CAC/RCP 1—1969 General Principles of Food Hygiene Rev 4. (Food and Agriculture Organization/World Health Organization)

Gunnarsdottir MJ, Gardarsson SM, Bartram J (2012) Icelandic experience with water safety plans. Water Sci Technol 65(2):277–288

Haas CN, Rose JB, Gerba CP (1999) Quantitative microbial risk assessment. Wiley, New York City

Hokstad P, Rostum J, Sklet L, Rosén L, Pettersson TJR, Linde A, Beuken R, Kirchner D, Niewersch C (2009) Methods for risk analysis of drinking water systems from source to tap—Guidance report on risk analysis. Techneau. https://www.techneau.org/

Hsieh HF, Shannon SE (2005) Three approaches to qualitative content analysis. Qual Health Res 15(9):1277–1288

Hubbard B, Gelting R, Portillo MDC, Williams T, Torres R (2013) Awareness, adoption and implementation of the water safety plan methodology: insights from five Latin American and Caribbean experiences. J Water Sanit Hyg Dev 3(4):541–548

ISO (2009) ISO 31000:2009 Risk management—principles and guidelines. International Organization for Standardization, Geneva

Kot M, Castleden H, Gagnon GA (2015) The human dimension of water safety plans: a critical review of literature and information gaps. Environ Rev 23(1):24–29

Lindhe A, Rosen L, Norberg T, Bergstedt O (2009) Fault tree analysis for integrated and probabilistic risk analysis of drinking water systems. Water Res 43(6):1641–1653

Lundberg Abrahamsson J, Ansker J, Heinicke G (2009) MRA—A model tool for Swedish water treatment plants (MRA—Ett modellverktyg för svenska vattenverk). Swedish Water and Wastewater Association, Stockholm

MacGillivray B, Hamilton P, Strutt J, Pollard S (2006) Risk analysis strategies in the water utility sector: an inventory of applications for better and more credible decision making. Crit Rev Environ Sci Technol 36(2):85–139

MacGillivray BH, Sharp JV, Strutt JE, Hamilton PD, Pollard SJT (2007a) Benchmarking risk management within the international water utility sector. Part I: design of a capability maturity methodology. J Risk Res 10(1):85–104

MacGillivray BH, Sharp JV, Strutt JE, Hamilton PD, Pollard SJT (2007b) Benchmarking risk management within the international water utility sector. Part II: a survey of eight water utilities. J Risk Res 10(1):105–123

Maelzer HJ, Staben N, Hein A, Merkel W (2010) Identification, assessment, and control of hazards in water supply: experiences from Water Safety Plan implementations in Germany. Water Sci Technol 61(5):1307–1315

MSB (2010a) MSBFS 2010:6 Regulation about risk and vulnerability analyses for municipalities and regions (Föreskrifter om kommuners och landstings risk- och sårbarhetsanalyser). Swedish Civil Contingency Agency, Karlstad

MSB (2010b) MSBFS 2010:7. Regulation about risk and vulnerability analyses national authorities (Föreskrifter om statliga myndigheters risk- och sårbarhetsanalyser). Swedish Civil Contingency Agency, Karlstad

O'Connor DR (2002) Report of the Walkerton inquiry: part 2. A strategy for safe water. Ontario Ministry of the Attorney General, Toronto

Ødegaard H, Østerhus S, Melin E (2009) Guide for good disinfection practice. Project from project Optimal disinfection practice (Veiledning til bestemmelse av god desinfeksjonspraksis Project report from project Optimal desinfeksjonspraksis), Norweigan Water, Hamar, Norway

Pollard SJT (2008) Risk management for water and wastewater utilities. IWA Publishing, Cranfields University, UK

Pollard SJT, Strutt JE, MacGillivray BH, Hamilton PD, Hrudey SE (2004) Risk analysis and management in the water utility sector—a review of drivers, tools and techniques. Process Saf Environ Prot 82(B6):453–462

Schmoll O, Castell-Exner C, Chorus I (2011) From international developments to local practice: Germany's evaluation and dialogue process towards water safety plan implementation. Water Sci Technol-Water Supply 11(4):379–387

SFS (1998) Environmental Code, 1998:808 (Miljöbalk). Swedish Government, Stockholm

SFS (2006) Swedish legislation on Public Water Services, 2006:412, (Lag om allmänna vattentjänster). Swedish Government, Stockholm

Swedish Emergency Management Agency (2006) Business continuity planning—an introduction (Kontinuitetsplanering—en introduktion). Swedish Emergency Management Agency, Stockholm

Swedish Environmental Protection Agency (2011) Handbook about water protection areas, Handbook 2010:5 (Handbok om vattenskyddsområde. Handbok 2010:5). Swedish Environmental Protection Agency, Stockholm

Swedish National Food Agency (2001) SLVFS 2001:30 National Food Agency regulations about drinking water (Livsmedelsverkets föreskrifter om dricksvatten). Swedish National Food Agency, Uppsala

Swedish National Food Agency (2007) Risk and vulnerability analyses for drinking water supply (Risk- och sårbarhetsanalys för dricksvattenförsörjning). Swedish National Food Agency, Uppsala

Swedish National Food Agency (2012) Guidance Drinking water—measures against sabotage and intentional damage (Vägledning Dricksvatten—åtgärder mot sabotage och annan skadegörelse). Swedish National Food Agency, Uppsala

Swedish National Food Agency (2014) PFAA in raw water and drinking water—results from inventory (PFAA i råvatten och dricksvatten—Resultat av en kartläggning). Swedish National Food Agency, Uppsala

Swedish National Food Agency, Drinking water production (Dricksvattenproduktion). Uppsala, Sweden. http://www.livsmedelsverket.se/produktion-handel–kontroll/produktion-av-livsmedel/dricksvattenproduktion/ Accessed 29 April 2015

Swedish Water and Wastewater Association (2007a) Drinking water: production and distribution. Handbook for self control with HACCP (Dricksvatten: Produktion och distribution. Handbok för Egenkontrollprogram med HACCP). Swedish Water and Wastewater Association, Stockholm

Swedish Water and Wastewater Association (2007b) Drinking water supply in a changing climate: report for national climate and vulnerability investigation (Dricksvattenförsörjning i förändrat klimat: underlagsrapport till Klimat- och sårbarhetsutredningen). Swedish Water and Wastewater Association, Stockholm

Swedish Water and Wastewater Association (2010) Drinking water technology 1. Water in environment and society (Dricksvattenteknik 1, Vatten i natur och samhälle), Swedish Water and Wastewater Association, Stockholm, Sweden

Water Research Foundation, U.S. Environmental Protection Agency, American Water Works Association (2013) Business continuity planning for water utilities: Guidance Document, Water Research Foundation, US. Available on http://collab.waterrf.org/Workshops/BCP/default.aspx

Westrell T, Bergstedt O, Stenstrom TA, Ashbolt NJ (2003) A theoretical approach to assess microbial risks due to failures in drinking water systems. Int J Environ Health Res 13(2):181–197

WHO (World Health Organization) (2011) Guidelines for drinking water quality, 4th edn. WHO, Geneva

Widerstrom M, Schonning C, Lilja M, Lebbad M, Ljung T, Allestam G, Ferm M, Bjorkholm B, Hansen A, Hiltula JI, Langmark J, Lofdahl M, Omberg M, Reutenwall C, Samuelsson E, Widgren K, Wallensten A, Lindh J (2014) Large outbreak of Cryptosporidium hominis infection transmitted through the public water supply Sweden. Emerg Infect Dis 20(4):581–589
About this article
Cite this article
Norén, V., Hedelin, B. & Bishop, K. Drinking water risk assessment in practice: the case of Swedish drinking water producers at risk from floods. Environ Syst Decis 36, 239–252 (2016). https://doi.org/10.1007/s10669-016-9588-3
Keywords
Drinking water

Risk assessment in practice

Tools and methods

Risk management

Interview study

Sweden

Swedish water producers