Abstract
Sandstorms and soil erosion are serious problems around the world, but particularly in arid northern China. In response to these problems, the Chinese government has implemented the world's largest shelter forest construction project: the Three North Shelter Forest Program (TNSFP). However, we do not know how successful the program has been, because no one has carried out a comprehensive cost–benefit analysis. To analyze the benefits of the different ecological restoration methods implemented under the TNSFP and provide guidance for future ecological restoration efforts, we developed an improved cost–benefit analysis method that considers as many of the benefits and costs (including opportunity costs) as possible, subject to data availability, thereby clarifying the net benefit after accounting for these costs. We found different net benefits for the restoration types implemented under the TNSFP. The lowest net benefit was for afforestation by planting, at − 6.8 × 103 RMB ha−1 year−1, which was negative due to its high costs; in contrast, the highest net benefit was for fruit tree plantations, at 53.3 × 103 RMB ha−1 year−1, and this resulted from its high product value. There were large differences among regions in China, which indicates that the regional governments should adjust the balance among the ecological restoration measures in their region to account for the unique local conditions and maximize the net benefits of ecological restoration.
Access options
Buy single article
Instant access to the full article PDF.
US$ 39.95
Tax calculation will be finalised during checkout.
Subscribe to journal
Immediate online access to all issues from 2019. Subscription will auto renew annually.
US$ 79
Tax calculation will be finalised during checkout.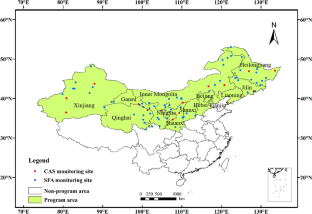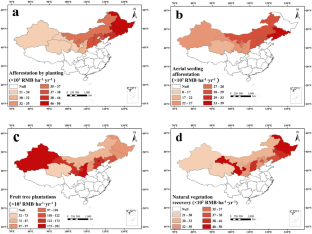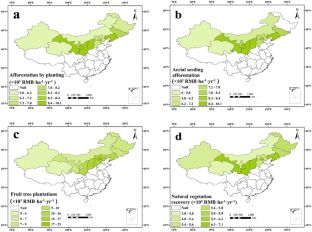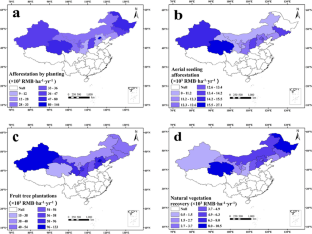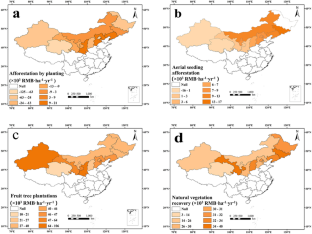 References
Bateman, I. J., Harwood, A. R., Mace, G. M., Watson, R. T., Abson, D. J., Andrews, B., et al. (2013). Bringing ecosystem services into economic decision-making: Land use in the United Kingdom. Science, 341, 45–50.

Baumgärtner, J., & Bieri, M. (2006). Fruit tree ecosystem service provision and enhancement. Ecological Engineering, 27, 118–123.

Benayas, J. M. R., Newton, A. C., Diaz, A., & Bullock, J. M. (2009). Enhancement of biodiversity and ecosystem services by ecological restoration: a meta-analysis. Science, 325, 1121–1124.

Cao, S., Liu, Y., Su, W., Zheng, X., & Yu, Z. (2018). The net ecosystem services value in mainland China. Science China Earth Sciences, 61, 595–603.

Cao, S., Wang, G., & Chen, L. (2010). Questionable value of planting thirsty trees in dry regions. Nature, 465, 31.

Chen, Z. X., & Zhang, X. S. (2000). The value of China's ecosystem benefits. Science Bulletin, 45(1), 17–22. ((in Chinese)).

Costanza, R., d'Arge, R., Groot, R. D., Farberk, S., Grasso, M., Hannon, B., et al. (1997). The value of the world's ecosystem services and natural capital. Nature, 387, 253–260.

Development, N., & Commission, R. (2015). National agricultural products cost-benefit data collection. Beijing: China Statistics Press. ((in Chinese)).

Duan, H., Yan, C., Tsunekawa, A., Song, X., Li, S., & Xie, J. (2011). Assessing vegetation dynamics in the Three-North Shelter Forest region of China using AVHRR NDVI data. Environmental Earth Sciences, 64, 1011–1020.

Farley, J. (2008). The role of prices in conserving critical natural capital. Conservation Biology, 22, 1399–1408.

Geng, H. L. (2012). The negative external effects and their internalization in the development of Tibetan tourism. Journal of Tibet University Social Science, 27, 13–18. ((in Chinese)).

Goldstein, J., Pejchar, L., & Daily, G. (2008). Using return-on-investment to guide restoration: A case study from Hawaii. Conservation Letters, 1, 236–243.

Guerry, A. D., Polasky, S., Lubchenco, J., Chaplin-Kramer, R., Daily, G. C., Griffin, R., et al. (2015). Natural capital and ecosystem services informing decisions: from promise to practice. Proceedings of the National academy of Sciences of the United States of America, 112, 7348–7355.

He, B., Chen, A., Wang, H., & Wang, Q. (2015). Dynamic response of satellite-derived vegetation growth to climate change in the Three North Shelter Forest Region in China. Remote Sensing, 7, 9998–10016.

Huang, S., & Kong, J. (2016). Assessing land degradation dynamics and distinguishing human-induced changes from climate factors in the Three-North Shelter Forest Region of China. ISPRS International Journal of Geo-Information, 5(9), 158.

Liu, J. G., Li, S. X., Ouyang, Z. Y., Tam, C., & Chen, X. D. (2008). Ecological and socioeconomic effects of China's policies for ecosystem services. Proceedings of the National academy of Sciences of the United States of America, 105, 9477–9482.

Liu, L., Tang, H., Caccetta, P., Lehmann, E. A., Hu, Y., & Wu, X. (2013). Mapping afforestation and deforestation from 1974 to 2012 using Landsat time-series stacks in Yulin District, a key region of the Three-North Shelter region, China. Environmental Monitoring and Assessment, 185, 9949–9965.

Lu, C., Zhao, T., Shi, X., & Cao, S. (2018). Ecological restoration by afforestation may increase groundwater depth and create potentially large ecological and water opportunity costs in arid and semiarid China. Journal of Cleaner Production, 176, 1213–1222.

Ouyang, Z., Zheng, H., Xiao, Y., Polasky, S., Liu, J., Xu, W., et al. (2016). Improvements in ecosystem services from investments in natural capital. Science, 352, 1455–1459.

Piao, S., Fang, J., Liu, H., & Zhu, B. (2005). NDVI-indicated decline in desertification in China in the past two decades (p. 32). Lett: Geophys. Res.

Power, A. G. (2010). Ecosystem services and agriculture: Tradeoffs and synergies. Philosophical Transactions of the Royal Society B: Biological Sciences, 365, 2959–2971.

State Forestry Administration. (1979–2018). China Forestry Statistical Yearbook. Beijing: China Forestry Press (in Chinese).

Su, Q., Sun, L., Yang, Y., Zhou, X., Li, R., & Jia, S. (2017). Dynamic monitoring of the strong sandstorm migration in northern and northwestern China via satellite data. Aerosol and Air Quality Research, 17, 3244–3252.

Tamang, B., Sarkar, B. C., Pala, N. A., Shukla, G., Vineeta Patra, P. S., Bhat, J. A., et al. (2018). Uses and ecosystem services of trees outside forest (TOF)—A case study from Uttar Banga Krishi Viswavidyalaya, West Bengal, India. Acta Ecologica Sinica, 39(6), 431–437.

Vogt, J. V., Safriel, U., Von Maltitz, G., Sokona, Y., Zougmore, R., Bastin, G., & Hill, J. (2011). Monitoring and assessment of land degradation and desertification: Towards new conceptual and integrated approaches. Land Degradation & Development, 22, 150–165.

Wang, B., Gao, P., Niu, X., & Sun, J. (2017). Policy-driven China's Grain to Green Program: Implications for ecosystem services. Ecosystem Services, 27, 38–47.

Wang, B., & Lu, S. (2009). Evaluation of the value of China's economic forest ecosystem services. Chinese Journal of Applied Ecology, 20(02), 417–425. ((in Chinese)).

Wang, W., & Fang, Z. (2006). Numerical simulation and synoptic analysis of dust emission and transport in East Asia. Global Planetary Change, 52, 57–70.

Wang, X., Dong, Z., Liu, L., & Qu, H. (2004). Sand sea activity and interactions with climatic parameters in the Taklimakan Sand Sea, China. Journal of Arid Environments, 57(2), 225–238.

Wang, X., Zhang, C., Hasi, E., & Dong, Z. (2010). Has the Three Norths Forest Shelterbelt Program solved the desertification and dust storm problems in arid and semiarid China? Journal of Arid Environments, 74, 13–22.

Wegner, G., & Pascual, U. (2011). Cost–benefit analysis in the context of ecosystem services for human well-being: A multidisciplinary critique. Global Environmental Change, 21, 492–504.

Yang, X. H., & Ci, L. J. (2008). Comment on "why large-scale afforestation efforts in China have failed to solve the desertification problem." Environmental Science and Technology, 42, 7722–7723.

Yang, Z. X., Zheng, D. W., & Feng, S. D. (2007). Evaluation of negative external effects of farmland production in Beijing. China Environmental Science, 27, 29–33. ((in Chinese)).

Yang, Z. X., Zheng, D. W., & Li, Y. G. (2014). Analysis and value estimation of economic loss of soil erosion in Beijing. Journal of Soil and Water Conservation, 18(3), 175–178. ((in Chinese)).

Yin, R. S., & Yin, G. P. (2010). China's primary programs of terrestrial ecosystem restoration: initiation, implementation, and challenges. Environmental Management, 45, 429–441.

Zhang, G., Dong, J., Xiao, X., Hu, Z., & Sheldon, S. (2012). Effectiveness of ecological restoration projects in Horqin sandy land, China based on SPOT-VGT NDVI data. Ecological Engineering, 38, 20–29.

Zheng, X., & Zhu, J. (2017). A new climatic classification of afforestation in Three-North regions of China with multi-source remote sensing data. Theoretical and Applied Climatology, 127, 465–480.

Zheng, X., Zhu, J., & Yan, Q. (2013). Monthly air temperatures over Northern China estimated by integrating MODIS data with GIS techniques. Journal of Applied Meteorology and Climatology, 52, 1987–2000.

Zheng, X., Zhu, J., Yan, Q., & Song, L. (2012). Effects of land use changes on the groundwater table and the decline of Pinus sylvestris var. mongolica plantations in southern Horqin Sandy Land, Northeast China. Agricultural Water Management, 109, 94–106.

Zhu, Z. (1998). Concept, cause and control of desertification in China. Quaternary Sciences, 18, 145–155.
Acknowledgements
This work was supported by the National Key Technology R & D Program China (No. 2016YFC0501002). We thank Geoffrey Hart of Montréal, Canada, for his help in writing this paper. We are also grateful for the comments and criticisms of an early version of this manuscript by our colleagues and the journal's reviewers.
Ethics declarations
Conflict of interest
The authors declare that they have no conflict of interest.
Additional information
Publisher's Note
Springer Nature remains neutral with regard to jurisdictional claims in published maps and institutional affiliations.
Supplementary Information
Below is the link to the Supplementary Information.
About this article
Cite this article
Suo, X., Cao, S. China's three north shelter forest program: cost–benefit analysis and policy implications. Environ Dev Sustain (2021). https://doi.org/10.1007/s10668-021-01260-z
Received:

Accepted:

Published:
Keywords
Land degradation

Ecological restoration

Value of ecosystem services

Net benefits

Cost–benefit analysis