Abstract
This study presents how a cluster of tributary watersheds was evaluated for geomorphology and ecosystem service economic value baselines. Tributary watersheds, although small, were focused herein as they are practical for community-based conservation. Based on the Market-Price Method, the watersheds were estimated to be worth USD49.59 ha−1 year−1 at the time of this study and USD58.13 ha−1 year−1 in 2026. The watersheds were able to meet water demand of 20.94 megalitre day−1 required by the 93,084 local populations during the worst-case scenario induced by a peak El Niño and Southern Oscillation event in 2016. Collectively, the watersheds were contributing 703.87 megalitre day−1; thus, water shortages are not expected in near future, unless if they are compromised. The data acquired are also compared with studies elsewhere, and some insights on other baseline metrics, risk factors and humanizing watershed conservation are discussed.
Access options
Buy single article
Instant access to the full article PDF.
US$ 39.95
Tax calculation will be finalised during checkout.
Subscribe to journal
Immediate online access to all issues from 2019. Subscription will auto renew annually.
US$ 79
Tax calculation will be finalised during checkout.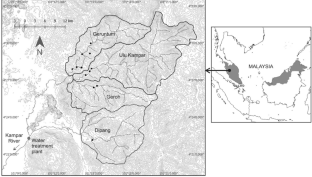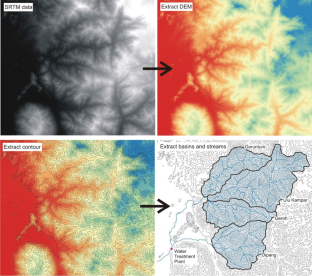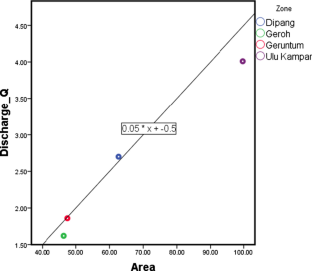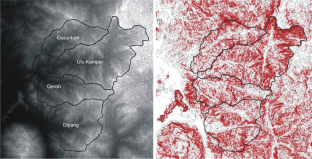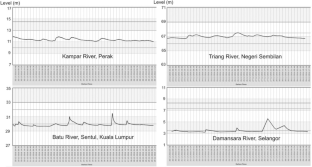 References
Abdul Rahim, N. (1998). Water yield changes after forest conversion to agricultural landuse in Peninsular Malaysia. Journal of Tropical Forest Science, 1, 67–84.

Abdullah, K. (2002). Integrated river basin management. In N. W. Chan (Ed.), Rivers: Towards sustainable development. Penang: Penerbit Universiti Sains Malaysia.

Akasah, Z. A., & Doraisamy, S. V. (2015). Malaysia flood: Impacts and factors contributing towards the restoration of damages. Journal of Scientific Research and Development, 2(14), 53–59.

Al-Saud, M. (2009). Morphometric analysis of Wadi Aurnah drainage system, Western Arabian Peninsula. The Open Hydrology Journal, 3, 1–10.

Anderson, D. L., Ames, D. P., & Yang, P. (2014). Quantitative methods for comparing different polyline stream network models. Journal of Geographic Information System, 6, 88–98.

Angeli, M. G., Pasuto, A., & Silvano, S. (2000). A critical review of landslide monitoring experiences. Engineering Geology, 55(3), 133–147.

Austin, D., Cerman, G., Heywood, T., Marshall, R., Refling, K., & Van Patter, L. (2010). Valuing natural capital and ecosystem services. Ontario, Canada: Muskoka Watershed Council.

Balint, P. J. (2006). Improving community-based conservation near protected areas: the importance of development variables. Environmental Management, 38(1), 137–148.

Barnard, P. L., Owen, L. A., Sharma, M. C., & Finkel, R. C. (2001). Natural and human-induced landsliding in the Garhwal Himalaya of northern India. Geomorphology, 40, 21–35.

Barnston, A. G., Chelliah, M., & Goldenberg, S. B. (1997). Documentation of a highly ENSO-related SST region in the equatorial Pacific. Atmosphere-Ocean, 35, 367–383.

Barton, D. N., Traaholt, N. V., & Blumentrath, S. (2015). Materials and methods appendix for valuation of ecosystem services of green infrastructure in Oslo. Oslo: Norwegian Institute for Nature Research.

Bhatta, L. D., Khadgi, A., Rai, R. K., Tamang, B., Timalsina, K., & Wahid, S. (2017). Designing community-based payment scheme for ecosystem services: a case from Koshi Hills, Nepal. Environment, Development and Sustainability, 20(4), 1831–1848.

Bello, I. E., Adzandeh, A., & Rilwani, M. L. (2014). Geoinformatics characterisation of drainage systems within Muya watershed in the Upper Niger Drainage Basin, Nigeria. International Journal of Research in Earth and Environmental Sciences, 2(3), 18–36.

Biswas, R., & Chakraborty, S. (2016). Watershed prioritization based on geo-morphometry and land use parameters—An approach to watershed development using remote sensing and GIS, Neora watershed, Darjeeling and Jalpaiguri Districts, West Bengal, India. IOSR Journal of Applied Geology and Geophysics, 4, 2321–2990.

Brass, R. (1990). Hydrology: An introduction to hydrologic science. Reading: Addison-Wesley.

Brodie, R., Sundaram, B., Tottenham, R., Hostetler, S., & Ransley, T. (2007). An overview of tools for assessing groundwater–surface water connectivity. Canberra: Bureau of Rural Sciences, Australian Government.

Caumon, G., Collon-Drouaillet, P., Carlier, Le., de Veslud, C., Sausse, J., & Visuer, S. (2009). Teacher's aide: 3D modelling of geological structures. Mathematical Geosciences, 41(9), 927–945.

Chan, N. W. (2004). A critical review of malaysia's accomplishment on water resources management under AGENDA 21. Malaysian Journal of Environmental Management, 5, 55–78.

Chan, N. W. (2005). Sustainable management of rivers in Malaysia: Involving all stakeholders. International Journal of River Basin Management, 3(3), 147–162.

Chan, N. W. (2009). Issues and challenges in water governance in Malaysia. Journal of Environmental Health Science and Engineering, 6(3), 143–152.

Chang, C. L., Lo, S. L., & Huang, S. M. (2009). Optimal strategies for best management practice placement in a synthetic watershed. Environmental Monitoring and Assessment, 153(1–4), 359–364.

Chen, H., & Lee, C. F. (2003). A dynamic model for rainfall-induced landslides on natural slopes. Geomorphology, 51, 269–288.

Chimeli, A. B., Boyd, R. G., & Adams, D. M. (2011). International timber markets and tropical deforestation: the evidence from prices. Applied Economics, 44(10), 1303–1314.

Chorley, R. J., Schumm, S. A., & Sugden, D. E. (1984). Geomorphology. London: Methuen.

Clarke, J. I. (1966). Morphometry from maps. New York: Elsevier.

Costanza, R., Wilson, M., Troy, A., Voinov, A., Liu, S., & D'Agostino, J. (2006). The value of New Jersey's ecosystem services and natural capital. Vermont: Gund Institute for Ecological Economics.

Davenport, M. A., Leahy, J. E., Anderson, D. H., & Jakes, P. J. (2007). Building trust in natural resource management within local communities: A case study of the Midewin National Tallgrass Prairie. Environmental Management, 39, 353–368.

Department of Irrigation and Drainage, Malaysia. (2017). Online hydrological data. http://infobanjir.water.gov.my/real_time.cfm. Accessed 3 January 2017.

Department of Statistics, Malaysia. (2010). Population and housing census of Malaysia 2010. https://www.dosm.gov.my/v1/index.php?r=column/cthemeByCat&cat=117&bul_id=MDMxdHZjWTk1SjFzTzNkRXYzcVZjdz09&menu_id=L0pheU43NWJwRWVSZklWdzQ4TlhUUT09. Accessed 3 January 2017.

Department of Statistics, Malaysia. (2020). Current population estimates 2018–2019. https://www.dosm.gov.my/v1/index.php?r=column/cthemeByCat&cat=155&bul_id=aWJZRkJ4UedKcUZpT2tVT090Snpydz09&menu_id=L0pheU43NWJwRWVSZklWdzQ4TlhUUT09. Accessed 27 December 2020.

Dikpal, R. L., Renuka Prasad, T. J., & Satish, K. (2017). Evaluation of morphometric parameters derived from Cartosat-1 DEM using remote sensing and GIS techniques for Budigere Amanikere watershed, Dakshina Pinakini Basin, Karnatakam India. Applied Water Science, 7(8), 4399–4414.

Distefano, T., & Kelly, S. (2017). Are we in deep water? Water scarcity and its limits to economic growth. Ecological Economics, 142, 130–147.

Dunne, T., & Leopold, L. (1978). Water in environmental planning. San Francisco: W.H. Freeman.

Eagleson, P. S. (1970). Dynamic hydrology. USA: McGraw-Hill.

Elosegi, A., & Sabater, S. (2013). Effects of hydromorphological impacts on river ecosystem functioning: A review and suggestions for assessing ecological impacts. Hydrobiologia, 712, 129–143.

Environment Protection Agency, US. (2016). Water: Monitoring and assessment. https://archive.epa.gov/water/archive/web/html/vms51.html. Accessed 14 March 2017.

Everard, M., & Quinn, N. (2015). Realizing the value of fluvial geomorphology. International Journal of River Basin Management, 13(4), 487–500.

Ewing, J., & Domondon, K. (2016). Drought, pollution and Johor's growing water needs. Singapore: ISEAS—Yusof Ishak Institute.

França da Silva, J., Santos, L., & Oka-Fiori, C. (2019). Spatial correlation analysis between topographic parameters for defining the geomorphometric diversity index: application in the environmental protection area of the Serra da Esperança (state of Paraná, Brazil). Environmental Earth Sciences, 78, 356.

Feng, Y., Luo, G., Lu, L., Zhou, D., Han, Q., Wenqiang, X., et al. (2011). Effects of land use change on landscape pattern of the Manas River watershed in Xinjiang. China. Environmental Earth Sciences, 64(8), 2067–2077.

Feng, D., Wu, W., Liang, L., Li, L., & Zhao, G. (2018). Payments for watershed ecosystem services: mechanism, progress and challenges. Ecosystem Health and Sustainability, 4(1), 13–28.

Florinsky, I. V. (2017). An illustrated introduction to general geomorphometry. Progress in Physical Geography: Earth and Environment, 41(6), 723–752.

Flotemersch, J. E., Leibowitz, S. G., Hill, R. A., Stoddard, J. L., Thoms, M. C., & Tharme, R. E. (2016). A watershed integrity definition and assessment approach to support strategic management of watersheds. River Research and Applications, 32(7), 1654–1671.

Ghazoul, J. (2007). Placing humans at the heart of conservation. Biotropica, 39, 565–566.

Hamzah, H. (2013). The Orang Asli customary land: issues and challenges. Journal of Administrative Science, 10(1). http://jas.uitm.edu.my/images/2013_JUNE/4.pdf. Accessed 21 May 2017.

Hill, B. H., Kolka, R. K., McCormick, F. H., & Starry, M. A. (2014). A synoptic survey of ecosystem services from headwater catchments in the United States. Ecosystem Services, 7, 106–115.

Horton, R. E. (1932). Drainage-basin characteristics. Transactions, American Geophysical Union, 13(1), 350.

Horton, R. E. (1945). Erosional development of streams and their drainage basins: Hydrophysical approach to quantitative morphology. Geological Society of America Bulletin, 56, 275–370.

Hynes, H. B. N. (1975). The stream and its valley. Verbandlungen Internationale Vereinigung fur Theoretische and Augewendie Limnologie, 19, 1–15.

Jiménez-Muñoz, J. C., Mattar, C., Barichivich, J., Santamaría-Artigas, A., Takahashi, K., Malhi, Y., et al. (2016). Record-breaking warming and extreme drought in the Amazon rainforest during the course of El Niño 2015–2016. Scientific Reports, 6, 33130.

Johnson, R. H. (1980). Hillslope stability and landslide hazard—A case study from Longdendale, north Derbyshire, England. Proceedings of the Geologists' Association, 91(4), 315–325.

Jongmans, D., & Garambois, S. (2007). Geophysical investigation of landslides: A review. Bulletin de la Société Géologique de France, 2, 101–112.

Juneng, L., & Tangang, F. T. (2008). Level and source of predictability of seasonal rainfall anomalies in Malaysia using canonical correlation analysis. International Journal of Climatology, 28, 1255–1267.

Kallis, G., Gomez-Baggethun, E., & Zografos, C. (2013). To value or not to value? That is not the question. Ecological Economics, 94, 97–105.

Kamarudzaman, A. N., Voon, K. F., Aziz, R. A., & Jalil, M. F. A. (2011). Study of point and non point sources pollution—A case study of Timah Tasoh lake in Perlis, Malaysia. International Conference on Environmental and Computer Science, 19, 84–88.

Khalid, M. S., & Shafiai, S. (2015). Flood disaster management in Malaysia: An evaluation of the effectiveness flood delivery system. International Journal of Social Science and Humanity, 5(4), 398–402.

Khalik, W. A. W. M., Abdullah, M. P., Amerudin, N. A., & Padli, N. (2013). Physicochemical analysis on water quality status of Bertam River in Cameron Highlands, Malaysia. Journal of Materials and Environmental Science, 4(4), 488–495.

Khor, C. H., & Lee, S. C. (1993). Crash program solves Melaka's water problem, In: Asian water and sewage: Malaysia Focus. From http://www.acssb.com.my/acssb/pdf/Publication-3.pdf. Accessed 21 March 2017.

Kousky, V. E., & Higgins, R. W. (2007). An alert classification system for monitoring and assessing the ENSO cycle. Weather Forecast, 22, 353–371.

Luck, G. W., Chan, K. M. A., & Fay, J. P. (2009). Protecting ecosystem services and biodiversity in the world's watersheds. Conservation Letters, 2(4), 179–188.

Malek, M. A., Nor, M. A. M., & Leong, Y. P. (2013). Water security and its challenges for Malaysia. Earth and Environmental Science, 16, 1–4.

McGregor, S., Timmermann, A., England, M. H., Elison Timm, O., & Wittenberg, A. T. (2013). Inferred changes in El Nino-Southern oscillation variance over the past six centuries. Climate of the Past, 9, 2269–2284.

McIntosh, A. C. (2014). Urban water supply and sanitation in Southeast Asia: A guide to good practice. Philippines: Asian Development Bank.

Millennium Ecosystem Assessment. (2005). Ecosystems and human well-being: Synthesis. Washington DC: Island Press.

Miller, V. C. (1953). A Quantitative geomorphic study of drainage basin characteristics in the Clinch Mountain Area, Virginia and Tennessee. New York: Columbia University.

Ministry of Natural Resources and Environment, Malaysia. (2011). The review of National Water Resource Study (2000–2050) and formulation of national water resources policy: Volume 13, Perak, Final Report. https://www.water.gov.my. Accessed 26 May 2016.

Morton, L. W., & Padgitt, S. (2005). Selecting socio-economic metrics for watershed management. Environmental Monitoring and Assessment, 103(1–3), 83–98. https://doi.org/10.1007/s10661-005-6855-z.

Natural Oceanic and Atmospheric Administration, US. (2015). Historical El Niño/La Nina episodes. http://origin.cpc.ncep.noaa.gov/products/analysis_monitoring/ensostuff/ONI_ v5.php. Accessed 13 Nov 2015

NEPcon. (2016). Supply chain of Malaysian timber and wood-based industries. Kuala Lumpur: WWF-Malaysia and Malaysian Wood Industries Association (MWIA).

Ng, C. K. C., Goh, C. H., Lin, J. C., Tan, M. S., Bong, W., Yong, C. S., et al. (2018). Water quality variation during a strong El Nino event in 2016: A case study in Kampar River. Malaysia. Environmental Monitoring and Assessment, 190, 402.

Ng, C. K. C., Ooi, P. A. C., Wong, W. L., & Khoo, G. (2019). Adaptation of an assessment system for establishing a River Physical Quality Index and testing its effectiveness with fish-based metrics in Malaysia. River Research and Applications. https://doi.org/10.1002/rra.3528.

Nilsson, C., Jansson, R., Malmqvist, B., & Naiman, R. J. (2007). Restoring riverine landscapes: The challenge of identifying priorities, reference states, and techniques. Ecology and Society. https://doi.org/10.5751/ES-02030-120116.

Oksel, O., Razali, N., Yusoff, M. K., Ismail, M. Z., Paee, K. F., & Ibrahim, K. N. (2009). The impacts of integrated farming to water quality: Case study on Langgas River, Kunak, Sabah, Malaysia. International Journal of Engineering and Technology, 9(9), 55–58.

Pagella, F., & Sinclair, F. (2014). Development and use of a typology of mapping tools to assess their fitness for supporting management of ecosystem service provision. Landscape Ecology, 29, 383–399.

Pagiola, S., Rios, R. S., & Arcenas, A. (2008). Can the poor participate in payments for environmental services? Lessons form the Silvopastoral Project in Nicaragua. Environment and Development Economics, 13, 299–325.

Prasetyo, Y., & Nabilah, F. (2017). Pattern analysis of El Nino and La Nina phenomenon based on sea surface temperature (SST) and rainfall intensity using oceanic Nino Index (ONI) in West Java Area. Earth and Environmental Science, 98, 012041.

Patton, P. C., & Baker, V. R. (1976). Morphometry and floods in small drainage basins subject to diverse hydrogeomorphic controls. Water Resources Research, 12, 941–952.

Perak Water Board. (2013). Annual Report 2013. http://www.lap.com.my/bi/images/pdf/annual_report_2013.pdf. Accessed 26 June 2016.

Perak Water Board. (2016). Tariff calculation 2016. http://www.lap.com.my/bi/index.php/community1/informasi-umum/kiraan-tarif. Accessed 26 June 2016.

Poole, G. C. (2002). Fluvial landscape ecology: Addressing uniqueness within the river discontinuum. Freshwater Biology, 47(4), 641–660.

Porras, I., Grieg-Gran, M., & Neves, N. (2008). All that glitters: A review of payments for watershed services in developing countries. London: International Institute for Environment and Development.

Postle, S. L., & Barton, H. T. (2005). Watershed protection: Capturing the benefits of nature's water supply services. Natural Resources Forum, 29, 98–108.

Public Utilities Board, Singapore. (2017). Water Price. Retrieved from https://www.pub.gov.sg/watersupply/waterprice. Accessed 3 June 2017.

Public Utilities Board, Singapore. (2018). NEWater. https://www.pub.gov.sg/watersupply/fournationaltaps/newater. Accessed 6 May 2018.

Raghunath, H. M. (2006). Hydrology principles, analysis and design. New Delhi: New Age International.

Rembold, F., Leo, O., Nègre, T., & Hubbard, N. (2015). The 2015–2016 El Niño event: Expected impact on food security and main response scenarios in East and Southern Africa (p. 27653). EUR: European Union.

Ritter, D. F., Kochel, R. C., & Miller, J. R. (2002). Process geomorphology. New York: McGraw Hill.

Robertson, M. (2012). Measurement and alienation: Making a world of ecosystem services. Transactions of the Institute of British Geographers, 37, 386–401.

Rodríguez-Iturbe, I., & Valdés, J. B. (1979). The geomorphologic structure of hydrologic response. Water Resources Research, 15(6), 1409–1420.

Rohani, M. (2013). Freshwater values framework: a review of water valuation methods utilised within total economic valuation. Auckland Council working report, WR2013/001.

Sakthivel, R., Jawahar Raj, N., Sivasankar, V., Akhila, P., & Omine, K. (2019). Geo-spatial technique-based approach on drainage morphometric analysis at Kalrayan Hills, Tamil Nadu, India. Applied Water Science, 9, 24.

Sargaonkar, A. P., Rathi, B., & Baile, A. (2011). Identifying potential sites for artificial groundwater recharge in sub-watershed of River Kanhan. India. Environmental Earth Sciences, 62(5), 1099–1108.

Schulz, W. H., McKenna, J. P., Kibler, J. D., & Biavati, G. (2009). Relations between hydrology and velocity of a continuously moving landslide—Evidence of pore-pressure feedback regulating landslide motion? Landslides, 6, 181–190.

Schumm, S. A. (1956). Evoulation of drainage systems and slopes in Badlands at Perth Amboy, New Jersey. Geological Society of America Bulletin, 67, 597–646.

Singh, V. P. (1992). Elementary hydrology. New Jersey: Prentice Hall.

Smith, M., de Groot, D., Perrot-Maîte, D., & Bergkamp, G. (2006). Pay—Establishing payments for watershed services. Gland: IUCN.

Sofia, G., Hillier, J. K., & Conway, S. J. (2016). Frontiers in geomorphometry and earth surface dynamics: Possibilities, limitations and perspectives. Earth Surface Dynamics, 4(3), 721–725.

Spangenberg, J. H., & Settele, J. (2010). Precisely incorrect? Monetising the value of ecosystem services. Ecological Complexity, 7(3), 327–337.

Strahler, A. N. (1952). Hypsometric (area–altitude) analysis of erosional topology. Geological Society of America Bulletin, 63(11), 1117–1142.

Strahler, A. N. (1957). Quantitative analysis of watershed geomorphology. Eos, Transactions American Geophysical Union, 38(6), 913–920.

Strahler, A. N. (1964). Quantitative geomorphology of drainage basins and channel networks. In V. T. Chow (Ed.), Handbook of applied hydrology. New York: McGraw Hill.

Sujaul, I. M., Hossain, M. A., Nasly, M. A., & Sobahan, M. A. (2013). Effect of industrial pollution on the spatial variation of surface water quality. American Journal of Environmental Science, 9(2), 120–129.

Suhardiman, D., Pavelic, P., Keovilignavong, O., & Giordano, M. (2018): Putting farmers' strategies in the centre of agricultural groundwater use in the Vientiane Plain, Laos. International Journal of Water Resources Development.

Suresh, M., Shudhakar, S., Tiwari, K. N., & Chowdary, V. M. (2004). Prioritization of watersheds using morphometric parameters and assessment of surface water potential using remote sensing. Journal of the Indian Society of Remote Sensing, 32(3), 249–259.

Suruhanjaya Perkhidmatan Air Negara, Malaysia. (2016). Water rates in Malaysia. http://www.span.gov.my/pdf/Water_Tariff_2016.pdf. Accessed 18 June 2016.

The Economics of Ecosystems and Biodiversity. (2010). The economics of ecosystems and biodiversity: ecological and economic foundations. London: Earthscan.

Thorndycroft, V. R., Benito, G., & Gregory, K. J. (2008). Fluvial geomorphology: A perspective on current status and methods. Geomorphology, 98, 2–12.

Thorp, J. H., Flotemersch, J. E., Delong, M. D., Casper, A. F., Thoms, M. C., Ballantyne, F., et al. (2010). Linking ecosystem services, rehabilitation and river hydrogeomorphology. BioScience, 60, 67–74.

Travelletti, J., & Malet, J. P. (2012). Characterization of the 3D geometry of flow-like landslides: A methodology based on the integration of heterogeneous multi-source data. Engineering Geology, 128, 30–48.

Troy, A., & Wilson, M. A. (2006). Mapping ecosystem services: Practical challenges and opportunities in linking GIS and value transfer. Ecological Economics, 60, 435–449.

United Nations Environment Programme. (2010). Clearing the waters: A focus on water quality solutions. Nairobi: Pacific Institute.

Varotsos, C. A., Tzanis, C. G., & Sarlis, N. V. (2016). On the progress of the 2015–2016 El Nino event. Atmospheric Chemistry and Physics, 16, 2007–2011.

Vidal-Abarca, M. R., Suarez-Alonso, M. L., Santos-Martin, F., Martin-Lopez, B., Benayas, J., & Montes, C. (2014). Understanding complex links between fluvial ecosystems and social indicators in Spain: An ecosystem services approach. Ecological Complexity, 20, 1–10.

Vote, C., Newby, J., Phouyyavong, K., Inthavong, T., & Eberbach, P. (2015). Trends and perceptions of rural household groundwater use and the implications for smallholder agriculture in rainfed Southern Laos. International Journal of Water Resources Development, 31(4), 558–574.

Wang, C., Deser, C., Yu, J. Y., DiNezio, P., & Clement, A. (2017). El Nino and Southern Oscillation (ENSO): A review. In P. W. Glynn, D. P. Manzello, & I. C. Enochs (Eds.), Coral Reefs of the eastern tropical pacific. New York: Springer.

Wunder, S., Engel, S., & Pagiola, S. (2008). Taking stock: A comparative analysis of payments for environmental services programs in developed and developing countries. Ecological Economics, 65, 834–852.

Wunder, S. (2013). When payments for environmental services will work for conservation. Conservation Letters, 6, 230–237.

Wunder, S. (2015). Revisiting the concept of payments for environmental services. Ecological Economics, 117, 234–243.

Zainal Abidin, Z. R. (2004). Water resources management in Malaysia—The way forward. Kuala Lumpur: Board of Engineers.

Ziegler, A. D., Negishi, J. N., Sidle, R. C., Noguchi, S., & Nik, A. R. (2006). Impacts of logging disturbance on hillslope saturated hydraulic conductivity in a tropical forest in Peninsular Malaysia. CATENA, 67, 89–104.
Acknowledgements
The authors are deeply grateful to the anonymous reviewers who have offered thoughtful comments that helped to enrich the paper.
Ethics declarations
Conflict of interests
The authors declare that they have no conflict of interest.
Additional information
Publisher's Note
Springer Nature remains neutral with regard to jurisdictional claims in published maps and institutional affiliations.
About this article
Cite this article
Ng, C.KC., Ooi, P.AC., Wong, WL. et al. The geomorphology and ecosystem service economic value baselines of tributary watersheds in Malaysia. Environ Dev Sustain (2021). https://doi.org/10.1007/s10668-021-01253-y
Received:

Accepted:

Published:
Keywords
Ecosystem service

Planning

Policy

River

Water basin