Abstract
The present paper has intended to explore the noise level and vulnerability to noise produced in the stone mining and crushing area and the surroundings in the heavily stressed stone mining and crushing area of Middle catchment of Dwarka river basin of Eastern India. Field-based noise recording has been done at different times in every recorded days. Fuzzy logic-based weighting and integration of eight parameters have been done in four selected cluster for noise susceptibility mapping. For exploring noise annoyance odd and risk ratio have been computed for different communities. From the recorded noise level in stone crushing clusters, it is found that the noise level is > 85 dBA from 6 a.m. to 4 p.m. when the stone crushers are running on and it is above the ambient noise threshold defined by Central Pollution Control Board in 2000. Maximum noise level is recorded as 112.41 dBA which may cause deafness. Noise intensity gradually decreases from crushing centre towards outside and it prevails up to 500–650 m away from the crushing unit. Noise vulnerable areas constructed based on eight noise level addressing and noise effect indicating parameters using fuzzy logic revealed that about 10.46–27.98% areas fall under very high to high noise vulnerable zones. Therefore, the labourers and the peoples who are living at close proximity of crusher units are highly prone to noise pollution along with stone dust pollution. The effect of noise is highly age and sex sensitive due to their differences in physical strength. These findings could effectively be used for saving the exposed communities from noise vulnerability.
Access options
Buy single article
Instant access to the full article PDF.
US$ 39.95
Tax calculation will be finalised during checkout.
Subscribe to journal
Immediate online access to all issues from 2019. Subscription will auto renew annually.
US$ 79
Tax calculation will be finalised during checkout.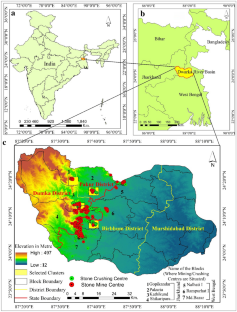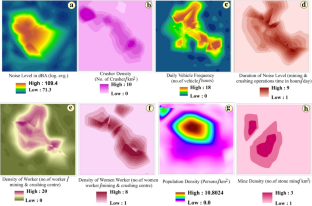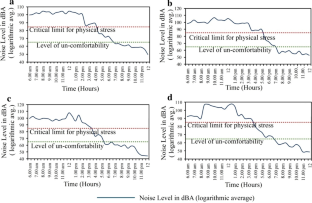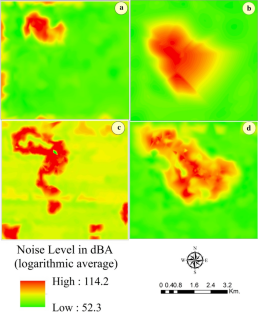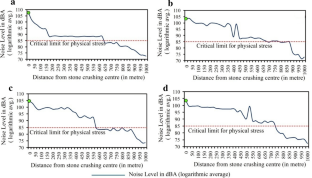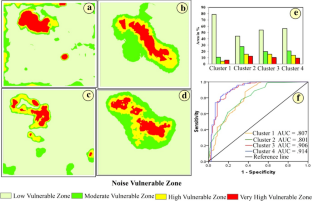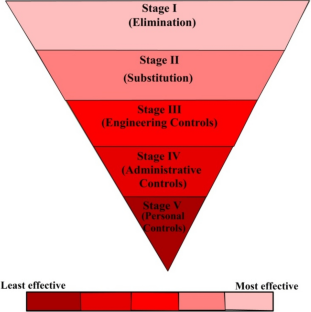 References
Afeni, T. B., & Osasan, S. K. (2009). Assessment of noise and ground vibration induced during blasting operations in an open pit mine—A case study on Ewekoro limestone quarry, Nigeria. Mining Science and Technology (China), 19(4), 420–424.

Alves, J. A., Silva, L. T., & Remoaldo, P. C. (2018). Impacts of low frequency noise exposure on well-being: A case-study from Portugal. Noise and Health, 20(95), 131.

Armaghani, D. J., Hajihassani, M., Monjezi, M., Mohamad, E. T., Marto, A., & Moghaddam, M. R. (2015). Application of two intelligent systems in predicting environmental impacts of quarry blasting. Arabian Journal of Geosciences, 8(11), 9647–9665. https://doi.org/10.1007/s12517-015-1908-2.

Asdrubali, F., & D'Alessandro, F. (2018). Innovative approaches for noise management in smart cities: A review. Current Pollution Reports, 4(2), 143–153. https://doi.org/10.1007/s40726-018-0090-z.

Balashanmugam, P., Nehrukumar, V., Balasubramaniyan, K., & Balasubramanian, G. (2015). Effect of road traffic noise pollution in Cuddalore town: A case study. International Journal of Innovative Research in Science, Engineering and Technology. Research and Reviews, 21.

Banerjee, D. (2012). Research on road traffic noise and human health in India: Review of literature from 1991 to current. Noise and Health, 14(58), 113.

Basu, T., & Pal, S. (2018). Identification of landslide susceptibility zones in Gish River basin, West Bengal, India. Georisk: Assessment and Management of Risk for Engineered Systems and Geohazards, 12(1), 14–28.

Berglund, B., & Lindvall, T. (Eds.). (1995). Community noise. Stockholm: Center for Sensory Research, Stockholm University and Karolinska Institute.

Beutel, M. E., Jünger, C., Klein, E. M., Wild, P., Lackner, K., Blettner, M., & Münzel, T. (2016). Noise annoyance is associated with depression and anxiety in the general population—The contribution of aircraft noise. PLoS ONE, 11(5), e0155357. https://doi.org/10.1371/journal.pone.0155357.

Bhosale, B. J., Late, A., Nalawade, P. M., Chavan, S. P., & Mule, M. B. (2010). Studies on assessment of traffic noise level in Aurangabad city, India. Noise and Health, 12(48), 195.

Caniani, D., Lioi, D. S., Mancini, I. M., & Masi, S. (2011). Application of fuzzy logic and sensitivity analysis for soil contamination hazard classification. Waste Management, 31(3), 583–594. https://doi.org/10.1016/j.wasman.2010.09.012.

Center for Disease Control and Prevention. (2015). Mining topic: Hearing loss prevention overview. http://www.cdc.gov/niosh/mining/topics/HearingLossPreventionOverview.html.

Chawla, A., Chawla, S., Pasupuleti, S., Rao, A. C. S., Sarkar, K., & Dwivedi, R. (2018). Landslide susceptibility mapping in Darjeeling Himalayas, India. Advances in Civil Engineering. https://doi.org/10.1155/2018/6416492.

Chen, W., Xie, X., Peng, J., Wang, J., Duan, Z., & Hong, H. (2017). GIS- based landslide susceptibility modeling assessment of kernel logistic regression, Naïve-Bayes tree, and alternating decision tree models. Geomatics, Natural Hazards and Risk, 8(2), 950–973. https://doi.org/10.1080/19475705.2017.1289250.

Clifford Rosenberg, B. (2016). Shhh! Noisy cities, anti-noise groups and neoliberal citizenship. Journal of Sociology, 52(2), 190–203.

CPCB. (2000). The Noise pollution (Regulation and Control) Rules, 2000. Noise standards, Central Pollution Control Board,Ministry of Environment and Forest. Government of India. Retrieved October 15, 2013, from http://www.cpcb.nic.in/divisionsofheadoffice/pci2/noise_rules_2000.pdf.

Das, P., Talukdar, S., Ziaul, S., Das, S., & Pal, S. (2019). Noise mapping and assessing vulnerability in meso level urban environment of Eastern India. Sustainable cities and societies. https://doi.org/10.1016/j.scs.2019.01.001.

Das, R. T., & Pal, S. (2018). Investigation of the principal vectors of wetland loss in Barind tract of West Bengal. GeoJournal, 83(5), 1115–1131. https://doi.org/10.1007/s10708-017-9821-8.

de Kluizenaar, Y., Janssen, S. A., Vos, H., Salomons, E. M., Zhou, H., & van den Berg, F. (2013). Road traffic noise and annoyance: A quantification of the effect of quiet side exposure at dwellings. International Journal of Environmental Research and Public Health, 10(6), 2258–2270. https://doi.org/10.3390/ijerph10062258.

Di Lorenzo, L., Coco, V., Forte, F., Trinchese, G. F., Forte, A. M., & Pappagallo, M. (2014). The use of odds ratio in the large population-based studies: Warning to readers. Muscles, Ligaments and Tendons Journal, 4(1), 90.

Ercanoglu, M., & Gokceoglu, C. (2002). Assessment of landslide susceptibility for a landslide-prone area (north of Yenice, NW Turkey) by fuzzy approach. Environmental Geology, 41(6), 720–730. https://doi.org/10.1007/s00254-001-0454-2.

Evans, G. W., & Hygge, S. (2005). Noise and performance in children and adults. In L. Luxon & D. Prasher (Eds.), Noise and its effects. London.

Farzana, S. Z., Nury, A. H., Biswas, B., & Das, A. (2014). A study on noise pollution of stone crusher machine at Jaflong, Sylhet. In Proceedings of the 5th international conference on environmental aspects of Bangladesh (pp. 30–32).

Griffiths, M. J., Oates, J. A. H., & Lord, P. (1978). The propagation of sound from quarry blasting. Journal of Sound and Vibration, 60(3), 359–370. https://doi.org/10.1016/S0022-460X(78)80114-X.

Hajihassani, M., Armaghani, D. J., Sohaei, H., Mohamad, E. T., & Marto, A. (2014). Prediction of airblast-overpressure induced by blasting using a hybrid artificial neural network and particle swarm optimization. Applied Acoustics, 80, 57–67. https://doi.org/10.1016/j.apacoust.2014.01.005.

Hancock, M., & Kent, P. (2016). Interpretation of dichotomous outcomes: Risk, odds, risk ratios, odds ratios and number needed to treat. Journal of physiotherapy, 62(3), 172–174.

Hebbal, S., & Kadadevaru, G. G. (2017). A study on noise pollution at stone quarrying industry near Dharwad. Int. J. Adv. Res., 5(8), 1002–1005. https://doi.org/10.21474/IJAR01/5148.

Hunashal, R. B., & Patil, Y. B. (2012). Assessment of noise pollution indices in the city of Kolhapur, India. Procedia-Social and Behavioral Sciences, 37, 448–457.

Ismail, A. F., Daud, A., Ismail, Z., & Abdullah, B. (2013). Noise-induced hearing loss among quarry workers in a north-eastern state of Malaysia: A study on knowledge, attitude and practice. Oman Medical Journal, 28(5), 331. https://doi.org/10.5001/omj.2013.96.

Jakovljevic, B., Paunovic, K., & Belojevic, G. (2009). Road-traffic noise and factors influencing noise annoyance in an urban population. Environment International., 35, 552–556. https://doi.org/10.1016/j.envint.2008.10.001.

Jha, V. C., & Kapat, S. (2009). Rill and gully erosion risk of lateritic terrain in South-Western Birbhum District, West Bengal, India. Soc Nat (Online), 21(2), 141–158.

Jiang, W., Lv, J., Wang, C., Chen, Z., & Liu, Y. (2017). Marsh wetland degradation risk assessment and change analysis: A case study in the Zoige Plateau, China. Ecological Indicators, 82, 316–326. https://doi.org/10.1016/j.ecolind.2017.06.059.

Jindal, H., Saxena, S., & Kasana, S. S. (2018). A sustainable multi-parametric sensors network topology for river water quality monitoring. Wireless Networks, 24(8), 3241–3265. https://doi.org/10.1007/s11276-017-1532-z.

Kadavi, P., Lee, C. W., & Lee, S. (2018). Application of ensemble-based machine learning models to landslide susceptibility mapping. Remote Sensing, 10(8), 1252. https://doi.org/10.3390/rs10081252.

Kalra, A. (2016). The odds ratio: Principles and applications. Journal of the Practice of Cardiovascular Sciences, 2(1), 49–49.

Lautenschlager, K., Hwang, C., Liu, W. T., Boon, N., Köster, O., Vrouwenvelder, H., & Hammes, F. (2013). A microbiology-based multi-parametric approach towards assessing biological stability in drinking water distribution networks. Water Research, 47(9), 3015–3025. https://doi.org/10.1016/j.watres.2013.03.002.

Mamdani, E. H. (1977). Application of fuzzy logic to approximate reasoning using linguistic synthesis. IEEE transactions on computers, 12, 1182–1191.

Mandal, I., & Pal, S. (2020a). COVID-19 pandemic persuaded lockdown effects on environment over stone quarrying and crushing areas. Science of the Total Environment, 732, 139281.

Mandal, I., & Pal, S. (2020b). Modelling human health vulnerability using different machine learning algorithms in stone quarrying and crushing areas of Dwarka river Basin Eastern India. Advances in Space Research, 66(6), 1351–1371.

Mehdi, M. R., Kim, M., Seong, J. C., & Arsalan, M. H. (2011). Spatio-temporal patterns of road traffic noise pollution in Karachi, Pakistan. Environment International, 37, 97–104. https://doi.org/10.1016/j.envint.2010.08.003.

Meister, E. A., & Donatelle, R. J. (2000). The impact of commercial-aircraft noise on human health: A neighborhood study in metropolitan Minnesota. Journal of Environmental Health, 63(4), 9–15.

Miller, J. D. (1974). Effects of noise on people. The Journal of the Acoustical Society of America, 56(3), 729–764.

Mondal, D., & Pal, S. (2017). Evolution of wetlands in lower reaches of Bagmari–Bansloi–Pagla rivers: A study using multidated images and maps. Current Science, 112(11), 00113891.

Murphy, E., & King, E. (2014). Environmental noise pollution: Noise mapping, public health, and policy. New York: Newnes.

Murphy, E., King, E. A., & Rice, H. J. (2009). Estimating human exposure to transport noise in central Dublin, Ireland. Environment International, 35(2), 298–302. https://doi.org/10.1016/j.envint.2008.07.026.

Nelson, D. I., Nelson, R. Y., Concha-Barrientos, M., & Fingerhut, M. (2005). The global burden of occupational noise-induced hearing loss. American Journal of Industrial Medicine, 48(6), 446–458.

Niemann, H., & Maschke, C. (2004). WHO LARES Final report Noise effects and morbidity. Berlin: World Health Organisation, t1 omløsningerogudfordringer. http://www.gate21.dk/wpcontent/uploads/2016/05/Hvidbog_samlet_web.pdf.

Nikolaou, A. D., Meric, S., Lekkas, D. F., Naddeo, V., Belgiorno, V., Groudev, S., & Tanik, A. (2008). Multi-parametric water quality monitoring approach according to the WFD application in Evros trans-boundary river basin: Priority pollutants. Desalination, 226(1–3), 306–320. https://doi.org/10.1016/j.desal.2007.02.113.

Nirmalya, M., & Gandhari, B. (2011). Occupational deafness of workers in a heavy engineering industry of West Bengal, India: An in-depth cross-sectional study. Sudanese Journal of Public Health, 6(3), 91–97.

Okokon, E. O., Turunen, A. W., Ung-Lanki, S., Vartiainen, A. K., Tiittanen, P., & Lanki, T. (2015). Road-traffic noise: Annoyance, risk perception, and noise sensitivity in the Finnish adult population. International Journal of Environmental Research and Public Health, 12(6), 5712–5734. https://doi.org/10.3390/ijerph120605712.

Omubo-Pepple, V. B., & Tamunobereton-ari, I. (2011). Noise induced hearing loss within the Rivers State University of Science and Technology, Port Harcourt, Nigeria. Journal of Basic and Applied Scientific Research, 1(8), 868–874.

Onder, M., Onder, S., & Mutlu, A. (2012). Determination of noise induced hearing loss in mining: An application of hierarchical loglinear modelling. Environmental Monitoring and Assessment, 184(4), 2443–2451.

Pal, S. (2016). Identification of soil erosion vulnerable areas in Chandrabhaga river basin: A multi-criteria decision approach. Modeling Earth Systems and Environment, 2(1), 5. https://doi.org/10.1007/s40808-015-0052-z.

Pal, S., & Debanshi, S. (2018). Influences of soil erosion susceptibility toward overloading vulnerability of the gully head bundhs in Mayurakshi River basin of eastern Chottanagpur Plateau. Environment, Development and Sustainability, 20(4), 1739–1775.

Pal, S., & Mandal, I. (2017). Impacts of stone mining and crushing on stream characters and vegetation health of Dwarka River Basin of Jharkhand and West Bengal, Eastern India. Journal of Environmental Geography, 10(1–2), 11–21. https://doi.org/10.1515/jengeo-2017-0002.

Pal, S., & Mandal, I. (2019a). Impact of aggregate quarrying and crushing on socio-ecological components of Chottanagpur plateau fringe area of India. Environmental Earth Sciences, 78(23), 661. https://doi.org/10.1007/s12665-019-8678-1

Pal, S., & Mandal, I. (2019b). Impacts of stone mining and crushing on environmental health in Dwarka river basin. Geocarto International, 1–29.

Pandey, V. K., Pourghasemi, H. R., & Sharma, M. C. (2018). Landslide susceptibility mapping using maximum entropy and support vector machine models along the Highway Corridor, Garhwal Himalaya. Geocarto International. https://doi.org/10.1080/10106049.2018.1510038.

Paneto, G. G., de Alvarez, C. E., & Zannin, P. H. T. (2017). Relationship between urban noise and the health of users of public spaces—A case study in Vitoria, ES, Brazil. Journal of Building Construction and Planning Research, 5(02), 45.

Passchier-Vermeer, W., & Passchier, W. F. (2000). Noise exposure and public health. Environmental Health Perspectives, 108(Suppl 1), 123.

Pouryaghoub, G., Mehrdad, R., & Pourhosein, S. (2017). Noise-Induced hearing loss among professional musicians. Journal of Occupational Health, 59(1), 33–37.

Rasyid, A. R., Bhandary, N. P., & Yatabe, R. (2016). Performance of frequency ratio and logistic regression model in creating GIS based landslides susceptibility map at Lompobattang Mountain, Indonesia. Geoenvironmental Disasters, 3(1), 19.

Sagar, T. V., & Rao, G. N. (2006). Noise pollution levels in Visakhapatnam city (India). Journal of Environmental Science and Engineering, 48(2), 139.

Saha, T. K., & Pal, S. (2019). Exploring physical wetland vulnerability of Atreyee river basin in India and Bangladesh using logistic regression and fuzzy logic approaches. Ecological Indicators, 98, 251–265.

Sami, M., Shiekhdavoodi, M. J., Pazhohanniya, M., & Pazhohanniya, F. (2014). Environmental comprehensive assessment of agricultural systems at the farm level using fuzzy logic: A case study in cane farms in Iran. Environmental Modelling & Software, 58, 95–108.

Sati, V. P. (2015).Socio-economic and environmental impacts of stone mining in Shivpuri District, Madhya Pradesh, India. https://doi.org/10.9734/JSRR/2015/12972

Sayara, T. (2016). Environmental impact assessment of quarries and stone cutting industries in Palestine: Case study of Jammain. Journal of Environment Protection and Sustainable Development, 2(4), 32–38.

Sheng, X., & Hu, Y. (2003). Energy based acoustic source localization. In F. Zhao & L. J. Guibas (Eds.), Lecture 542 notes in computer science (pp. 285–300). Berlin: Springer.

Shepherd, D., McBride, D., Welch, D., Dirks, K. N., & Hill, E. M. (2011). Evaluating the impact of wind turbine noise on health-related quality of life. Noise and Health, 13(54), 333.

Singh, N., & Davar, S. C. (2004). Noise pollution-sources, effects and control. Journal of Human Ecology, 16(3), 181–187. https://doi.org/10.1080/09709274.2004.11905735.

Son, J. Y., Lee, J. T., Kim, H., Yi, O., & Bell, M. L. (2012). Susceptibility to air pollution effects on mortality in Seoul, Korea: A case-crossover analysis of individual-level effect modifiers. Journal of Exposure Science and Environmental Epidemiology, 22(3), 227.

Sørensen, H. T., Horvath-Puho, E., Lash, T. L., Christiansen, C. F., Pesavento, R., Pedersen, L., et al. (2011). Heart disease may be a risk factor for pulmonary embolism without peripheral deep venous thrombosis. Circulation, 124(13), 1435–1441.

Sørensen, M. (2016). Trafikstøjens sundhedseffekter. Trafikstøj – et overset samfundsproblem. En hvidbog om løsninger og udfordringer. Available here: http://www.gate21.dk/wpcontent/uploads/2016/05/Hvidbog_samlet_web.pdf.

Stansfeld, S. A., & Matheson, M. P. (2003). Noise pollution: non-auditory effects on health. British Medical Bulletin, 68(1), 243–257.

Tsai, K. T., Lin, M. D., & Chen, Y. H. (2009). Noise mapping in urban environments: A Taiwan study. Applied Acoustics, 70(7), 964–972.

USDHUD. (1977). Noise Abatement and Control Policy.US Environmental Protection Agency, Office of Noise Abatement and Control, Technology and Federal Programs Division, Washington, DC.

WHO. (2012). Global estimates on prevalence of hearing loss Mortality and Burden of Diseases and Prevention of Blindness and Deafness. www.who.int/pbd/deafness/WHO_GE_HL.pdf.

Yanar, T. A. (2003). The enhancement of the cell-based GIS analysis with fuzzy processing capabilities. MS Thesis, The Middle East Technical University.

Zadeh, L. A. (1965). Fuzzy sets. Information. Control, 8(3), 338–353.
Additional information
Publisher's Note
Springer Nature remains neutral with regard to jurisdictional claims in published maps and institutional affiliations.
Supplementary Information
Below is the link to the electronic supplementary material.
About this article
Cite this article
Pal, S., Mandal, I. Noise vulnerability of stone mining and crushing in Dwarka river basin of Eastern India. Environ Dev Sustain (2021). https://doi.org/10.1007/s10668-021-01233-2
Received:

Accepted:

Published:
Keywords
Stone mining and crushing

Noise level

Noise vulnerability

Fuzzy logic and noise annoyance