Abstract
As an old northeast industrial base and forestry region, Heilongjiang Province is facing problems such as urban decline, aging population and great pressure on environmental conservation. However, the development of ecological tourism is increasing year by year, which is an effective way to solve social problems such as employment and economic development in various regions. In view of this, this paper determines the index weight through expert scoring, and evaluates the overall sustainable development ability of forest tourism in Heilongjiang Province by using analytic hierarchy process, so as to provide reference for the development of forest tourism industry in Heilongjiang Province. The research showed that the sustainable development of forest tourism in Heilongjiang Province should mainly consider the resource support system, focus on improving the quality of forest tourism resources, preserving the characteristic tourism culture, improving the level of tourists' consumption and the per capita growth rate of residents' tourism income, and increasing infrastructure investment.
Access options
Buy single article
Instant access to the full article PDF.
US$ 39.95
Tax calculation will be finalised during checkout.
Subscribe to journal
Immediate online access to all issues from 2019. Subscription will auto renew annually.
US$ 79
Tax calculation will be finalised during checkout.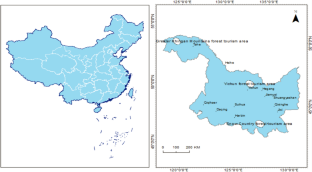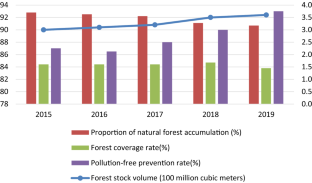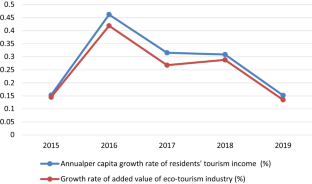 References
Bennett, S., Wernberg, T., & Connell, S. D. (2016). The "Great Southern Reef": Social, economic and economic value of Australia's negated kelp forests. Marine and Freshwater Research, 67, 47–56.

Bielinis, E., Bielinis, L., Krupinska-Szeluga, S., et al. (2019a). The effects of a short forest reclamation program on physiological and psychological relaxation in young polish adults. Forests, 10, 1–13.

Bielinis, E., Ukowski, A., Omelan, A., et al. (2019b). The effects of reclamation in a snow-covered forest environment on the physiological wellbeing of young adults: Randomized controlled study. Forests, 827, 1–16.

Bozic, S., Vujicic, M. D., Jeffrey, K., & Solarevic, M. (2018). Sun, sea and shrines: Application of analytical hierarchy process (AHP) to assess the attractivity of six cultural heritage sites in phuket (Thailand). Geographica Pannonica, 22, 121–138.

Butler, E. C., Children, A. R., Saayman, A., et al. (2020). Can fishing tourism contribute to conservation and sustainability via ecotourism? A case study of the fishery for giant african threadfin polydactylus quadrifilis on the kwanza institute, Angola. Sustainability, 12, 4221.

Caihong, Z. H., Wei, Xu., Ying, X. I., & Yujuan, G. A. (2020). Suitability evaluation of rest and regulation sites in Guizhou Yushe National Forest Park by analytical hierarchy process. Journal of Nanjing Forest University, 44, 215–219.

Chapagain, B. P., Poudyal, N. C., & Bowker, J. M. (2018). Potential effects of climate on downhill skilling and snowboarding demand and value at U.S. National Forests. Journal of Park and Recreation Administration, 36, 75–96.

Chen, B., Chen, G. Q., Yang, Z. F., & Jiang, M. M. (2007). Ecolocal footprint accounting for energy and resource in China. Energy Policy, 35, 1599–1609.

Chen, B. X., & Nakama, Y. (2013). Thirty years of forest tourism in China. Journal of Forest Research, 18, 285–292.

Chen, H. T., Yu, C. P., & Lee, H. Y. (2018). The effects of forest bathing on stress recovery: Evidence from middle-aged females of Taiwan. Forests, 9, 403.

Cohen-Hattab, K., Gelbman, A., & Shoval, N. (2018). From ideological space to recreational tourism: The Israel forest. Journal of Tourism and Cultural Change, 16, 501–520.

Colapinto, C., Jayaraman, R., Ben Abdelaziz, F., & La Torre, D. (2020). Environmental sustainability and multifaceted development: Multi-criteria decision models with applications. Annals of Operations Research, 10(293), 405–432.

Constant, N. L., & Taylor, P. J. (2020). Restoring the forest survivors our culture: Ecosystem services and values for economic restoration across the rural-urban nexus in South Africa. Forest Policy and Economics, 118, 102222.

Duke, J. M., & Aull-hyde, R. (2002). Identifying public preferences for land preservation using the analytical hierarchy process. Ecological Economics., 42, 131–145.

Eggers, J., Lindhagen, A., Lind, T., et al. (2018). Balancing landscape-level forest management between creation and wood production. Urban Forestry & Urban Greening, 33, 1–11.

Fen, L., Qinglin, H., Yin, Z., & Chongyang, H. (2014). Research progress on classification, investigation and evaluation of forest tourism resources. World Forest Research, 27, 8–13.

Guangyuan, Q., & Baodong, C. (2020). Can protective investment promotion tourism development of forest parks? Chinese Rural Economy, 2, 100–117.

Harun, R., Chiciudean, G. O., Sirwan, K., Arion, F. H., & Muresan, I. C. (2018). Attitudes and perceptions of the local community towards sustainable tourism development in Kurdistan Regional government, Iraq. Sustainability, 10(9), 2991.

Hoang, T. T. H., et al. (2020). Impact of tourism development on the local livelihoods and land cover change in the Northern Vietnamese highlands. Environment, Development and Sustainability, 22, 1371–1395.

Hossain, M. I., & Khanal, B. P. (2020). SWOT analysis of forest protected area based sustainable tourism development: A case study in the Lawachara National Park, Bangladesh. Journal of Tourism and Hospitality Education, 10, 71–89.

Huong, T. T., Truong, Q. H., Nguyen, A. T., & Hens, L. (2018). Multicriteria evaluation of tourism potential in the central highlands of vietnam: Combining geographic information system (GIS), analytic hierarchy process (AHP) and principal component analysis (PCA). Sustainability, 10, 3097.

Job, H., & Paesler, F. (2013). Links between nature-based tourism protected areas overweight allegiance and crises-The example of Wasini Island (Kenya). Journal of Outdoor Recreation & Tourism, 3, 18–28.

Kim, N., Park, J., & Choi, J. J. (2017). Perceptual differences in core competencies between tourism industry practitioners and students using analytic Hierarchy Process. Journal of Hospitality Leisure Sport & Tourism Education, 20, 76–86.

Lee, J. H. (2019). Conflict mapping toward ecotourism facility foundation using spatial Q methodology. Tourism Management, 72, 69–77.

Lee, C. W., & Li, C. (2019). The process of constructing a health tourism destination index. International Journal of Environmental Research and Public Health, 16, 4579.

Li, L. C., & Zhou, G. S. (2020). Response of forest vetting to scientific activities in Wuyishan National Park. Acta Ecologica Sinica, 40, 1–10.

Liu, S. R., Dai, L. M., Wen, Y. G., & Wang, H. (2015). A review on forest ecosystem management towers ecosystem services: Status, challenges, and future perspectives. Acta Ecologica Sinica, 35, 1–9.

Lu, Y. Z., Chen, M., & Xue, J. L. (2020). Water culture in the development of national cultural tourism under the new ecological environment. Journal of Coastal Research, 104, 746–750.

Mantymaa, E., et al. (2019). Importance of forest landscape quality for companies operating in nature tourism areas. Land Use Policy. https://doi.org/10.1016/j.landusepol.2019.104095.

Ming, N. I. E., Xu, W. A. N. G., Shouming, Q. I. U., & Jingchuan, D. U. (2020). A Research on ecotourism of nature reserves' impact on poor farmers' operation capability. Issues of Forest Economics, 40, 113–121.

Ouattara, B., Perez-Barahona, A., & Strobl, E. (2019). Dynamic implications of tourism and environmental quality. Journal of Public Economic Theory, 21, 241–264.

Petr, M., Boerboom, L. G. J., Ray, D., et al. (2016). New climate change information modifications frames and decisions of decision makers: An exploratory study in forest planning. Regional Environmental Change, 16, 1161–1170.

Ramanathan, R. (2001). A note on the use of the analytical hierarchy process for environmental impact assessment. Journal of Environmental Management, 63, 27–35.

Referowska-Choda, E. (2015). Plans for the development of infrastructure and tourism activities in landscape parks under the State Forests' administration. Forest Research Papers, 76, 377–287.

Rodriguez Martinez, M., Ramirez Perez, J. F., & Perez Hernandez, I. (2020). Sustainable local tourism in forest areas: A theoretical approach. Revista Cooperativismo Y Desarrollo-Coodes, 8, 83–97.

Saaty, T. L. (1990). How to make a decision: The analytical hierarchy process. European Journal of Operational Research, 48, 9–26.

Saaty, T. L. (2008). The analytic hierarchy and analytic network measurement processes: Applications to decisions under Risk. European Journal of Pure and Applied Mathematics, 1, 122–196.

Salesa, D., & Cerda, A. (2020). Soil erosion on mountain trails as a condition of recreational activities. A comprehensive review of the scientific literature. Journal of Environmental Management, 271, 110990.

Samah, I. L., Husam, R., & Wing-Keung, W. (2020). Sustainability of green tourism among international tourists and its impact on the achievement of green environment: Evidence from North Cyprus. Sustainability, 12, 5698.

Sgroi, F. (2020). Forest resources and sustainable tourism, a combination for the resilience of the landscape and development of mountain areas. Science of the Total Environment, 736, 139539.

Simkin, J., Ojala, A., & Tyrväinen, L. (2019). Restorative effects of nature and young commercial forests, pristine old-growth forest and urban restoration forest-A field experience. Urban Forest and Urban Greening, 48, 126567.

Sturiale, L., Scuderi, A., Timpanaro, G., et al. (2020). Sustainable use and conservation of the environmental resources of the Etna park (UNESCO Heritage): Evaluation model supporting sustainable local development strategies. Sustainability, 12(4), 1453.

Taye, F. A., et al. (2019). Children experience in forest reconstruction practices: Evidence from nine European countries. Urban Forest and Urban Greening, 46, 126471.

Tekalign, M., Zevert, N. G., Weldebriel, A., et al. (2018). Do tourists' preferences match the host community's initiatives? A study of sustainable tourism in one of Africa's oldest conservation area. Sustainability, 11, 4167.

Teng, Y. M., Wu, K. S., & Wang, M. J. (2020). Using the analytic hierarchy process (AHP) and delphi analysis to evaluate key factors in the development of the Taiwan Cruise tourism industry. Journal of Coastal Research, 36, 828–833.

Wenfang, C. (2018). The evaluation of sustainable grassland tourism development in Ordos. Chinese Journal of Agricultural Resources and Regional Planning, 39, 229–236.

Xuejin, Z. (2020). Tourism development, infrastructure construction and poverty reduction-an empirical study based on provisional panel data. Social Scientist, 06, 66–72.

Yalcin, K. (2012). Assessing the impacts of tourism on forests: mass tourism and policy in Turkey. Environmental Engineering and Management Journal, 11, 1415–1424.

Yan, L., Ke, W., Qi, C., Yu-lun, W., & Da-hong, Z. (2019). Country forest ecological carrying capacity evaluation and spatial analysis in Zhejiang Province. Resources and Environment in the Yangtze Basin, 28, 554–564.

Yu, C. P., Cole, S. T., & Chancellor, C. (2018). Resident support for tourism development in rural midwestern (USA) Communities: Perceived tourism impacts and community quality of life perspective. Sustainability, 10, 802.

Yu, C. P., Lee, H. Y., & Luo, X. Y. (2018). The effect of virtual reality forest and urban environments on physiological and psychological responses. Urban Forestry and Urban Greening, 35, 106–114.

Zhang, J. K. (2016). Weighing and realizing the environmental, economic and social goals of tourism development using an analytical network process-goal programming approach. Journal of Cleaner Production, 03, 262–273.
Funding
This research was funded by Heilongjiang Province Philosophy and Social Science Planning Project (Grant Number 20JLC190), Heilongjiang University Cultivation Plan (Grant Number TDJH202006 & RRCQC202002).
Ethics declarations
Conflict of Interest
The authors declare no conflict of interest.
Additional information
Publisher's Note
Springer Nature remains neutral with regard to jurisdictional claims in published maps and institutional affiliations.
About this article
Cite this article
Li, L., Liu, T., Xu, S. et al. Evaluation on sustainable development of forest tourism in Heilongjiang Province, China. Environ Dev Sustain (2021). https://doi.org/10.1007/s10668-020-01217-8
Received:

Accepted:

Published:
Keywords
Heilongjiang province

Forest tourism

Sustainable development

Evaluation