Abstract
The thermal data sets of Landsat for the years 2014 and 2019 are used to assess the transients of land surface temperature (LST) in Visakhapatnam, India. The variation in estimated temperature fields is compared with the land use pattern to validate temperature with reference to land use land cover (LULC). During the considered period, the built-up area in the study region increased by 63%. The aerial extent of water bodies has come down by 12.5%, and there is a significant drop in vegetation cover. The LST of the regions with the densely built-up area is high compared to the other types of land use. A mean rise of 4.8 °C in the LST has been noticed over the study area during this period. Few monitoring points representing rural areas within the proximity of the study region have been established, and the LST is monitored explicitly. As a result, it has been observed that the temperature in rural areas is relatively lower than the city region, which confirms the urban heat island effect. A micro-level study has been conducted by dividing the study area into four zones as per administrative boundaries. Statistical analysis using the zonal attributes affirms a positive correlation of 0.55 between LST and the built-up area. In contrast, a negative correlation of 0.52 between LST and vegetation cover is observed. The LULC results are validated using Google Earth Images captured at a finer resolution. Being selected as one of the cities under the smart city mission by the Urban Development Ministry of Govt. of India, it is expected that the land use pattern in Visakhapatnam will change drastically in the coming years. The findings of this study foster the relationship between LST and LULC, and the conclusions thus drawn would help planners for the sustainable development of Visakhapatnam.
Access options
Buy single article
Instant access to the full article PDF.
US$ 39.95
Tax calculation will be finalised during checkout.
Subscribe to journal
Immediate online access to all issues from 2019. Subscription will auto renew annually.
US$ 79
Tax calculation will be finalised during checkout.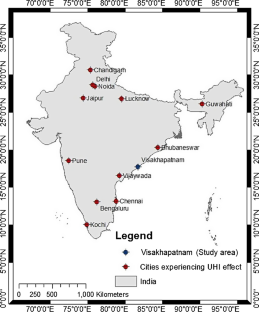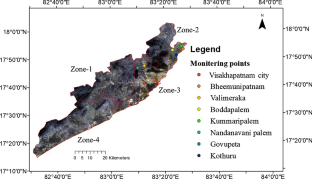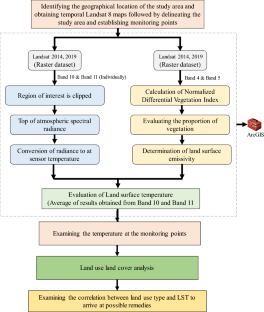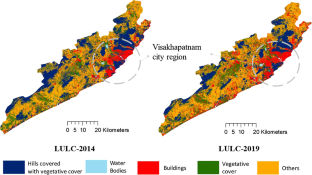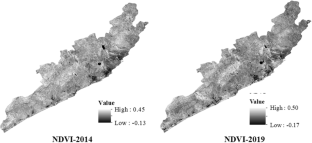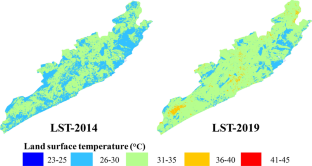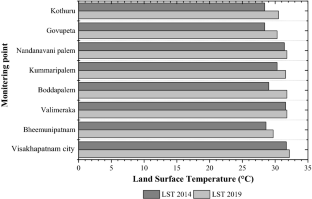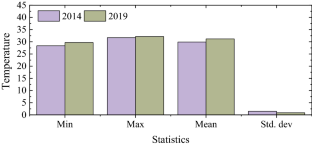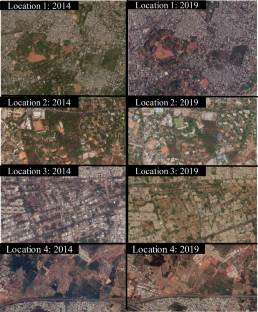 References
Ahmed, H. A., Singh, S. K., Kumar, M., Maina, M. S., Dzwairo, R., & Lal, D. (2020). Impact of urbanization and land cover change on urban climate: Case study of Nigeria. Urban Climate, 32, 100600.

Amirtham, L. R. (2016). Urbanization and its impact on urban heat Island intensity in Chennai metropolitan area, India. Indian Journal of Science and Technology, 9(5), 1–8.

Bokaie, M., Zarkesh, M. K., Arasteh, P. D., & Hosseini, A. (2016). Assessment of urban heat island based on the relationship between land surface temperature and land use/land cover in Tehran. Sustainable Cities and Society, 23, 94–104.

Borbora, J., & Das, A. K. (2014). Summertime urban heat island study for Guwahati city, India. Sustainable Cities and Society, 11, 61–66.

Buyantuyev, A., & Wu, J. (2010). Urban heat islands and landscape heterogeneity: Linking spatiotemporal variations in surface temperatures to land-cover and socioeconomic patterns. Landscape ecology, 25(1), 17–33.

Camilloni, I., & Barros, V. (1997). On the urban heat island effect dependence on temperature trends. Climatic Change, 37(4), 665–681.

Deilami, K., Kamruzzaman, M., & Hayes, J. F. (2016). Correlation or causality between land cover patterns and the urban heat island effect? Evidence from Brisbane Australia. Remote Sensing, 8(9), 716.

Deosthali, V. (2000). Impact of rapid urban growth on heat and moisture islands in Pune City India. Atmospheric Environment, 34(17), 2745–2754.

Estoque, R. C., Murayama, Y., & Myint, S. W. (2017). Effects of landscape composition and pattern on land surface temperature: An urban heat island study in the megacities of Southeast Asia. Science of the Total Environment, 577, 349–359.

Huang, Q., Huang, J., Yang, X., Fang, C., & Liang, Y. (2019). Quantifying the seasonal contribution of coupling urban land use types on Urban Heat Island using Land Contribution Index: A case study in Wuhan, China. Sustainable Cities and Society, 44, 666–675.

Jiménez-Muñoz, J. C., Sobrino, J. A., Gillespie, A., Sabol, D., & Gustafson, W. T. (2006). Improved land surface emissivities over agricultural areas using ASTER NDVI. Remote Sensing of Environment, 103(4), 474–487.

Katsoulis, B. D., & Theoharatos, G. A. (1985). Indications of the urban heat island in Athens, Greece. Journal of Climate and Applied Meteorology, 24(12), 1296–1302.

Kikon, N., Singh, P., Singh, S. K., & Vyas, A. (2016). Assessment of urban heat islands (UHI) of Noida City, India using multi-temporal satellite data. Sustainable Cities and Society, 22, 19–28.

Kotharkar, R., & Surawar, M. (2016). Land use, land cover, and population density impact on the formation of canopy urban heat islands through traverse survey in the Nagpur urban area, India. Journal of Urban Planning and Development, 142(1), 04015003.

Kumar, K. S., Bhaskar, P. U., & Padmakumari, K. (2012). Estimation of land surface temperature to study urban heat island effect using LANDSAT ETM+ image. International Journal of Engineering Science and technology, 4(2), 771–778.

Li, J. J., Wang, X. R., Wang, X. J., Ma, W. C., & Zhang, H. (2009). Remote sensing evaluation of urban heat island and its spatial pattern of the Shanghai metropolitan area China. Ecological Complexity, 6(4), 413–420.

Li, W., Cao, Q., Lang, K., & Wu, J. (2017). Linking potential heat source and sink to urban heat island: Heterogeneous effects of landscape pattern on land surface temperature. Science of the Total Environment, 586, 457–465.

Mathew, A., Khandelwal, S., & Kaul, N. (2017). Investigating spatial and seasonal variations of urban heat island effect over Jaipur city and its relationship with vegetation, urbanization and elevation parameters. Sustainable Cities and Society, 35, 157–177.

Mohan, M., & Kandya, A. (2015). Impact of urbanization and land-use/land-cover change on diurnal temperature range: A case study of tropical urban airshed of India using remote sensing data. Science of the Total Environment, 506, 453–465.

Mohan, M., Kandya, A., & Battiprolu, A. (2011). Urban heat island effect over national capital region of India: a study using the temperature trends. Journal of Environmental Protection, 2(04), 465.

Priyankara, P., Ranagalage, M., Dissanayake, D. M. S. L. B., Morimoto, T., & Murayama, Y. (2019). Spatial process of surface urban heat island in rapidly growing Seoul Metropolitan area for sustainable urban planning using landsat data (1996–2017). Climate, 7(9), 110.

Rizwan, A. M., Dennis, L. Y., & Chunho, L. I. U. (2008). A review on the generation, determination and mitigation of Urban Heat Island. Journal of Environmental Sciences, 20(1), 120–128.

Shastri, S., Singh, P., Verma, P., Rai, P. K., & Singh, A. P. (2020). Land Cover Change Dynamics and their Impacts on Thermal Environment of Dadri Block, Gautam Budh Nagar India. Journal of Landscape Ecology, 13(2), 1–13.

Shirani-Bidabadi, N., Nasrabadi, T., Faryadi, S., Larijani, A., & Roodposhti, M. S. (2019). Evaluating the spatial distribution and the intensity of urban heat island using remote sensing, case study of Isfahan city in Iran. Sustainable Cities and society, 45, 686–692.

Singh, A. P., Chakrabarti, S., Kumar, S., & Singh, A. (2017). Assessment of air quality in Haora River basin using fuzzy multiple-attribute decision making techniques. Environmental Monitoring and Assessment, 189(8), 373.

Singh, P., Kikon, N., & Verma, P. (2017). Impact of land use change and urbanization on urban heat island in Lucknow city, Central India. A remote sensing based estimate. Sustainable Cities and Society, 32, 100–114.

Singh, S. K., Srivastava, P. K., Szabó, S., Petropoulos, G. P., Gupta, M., & Islam, T. (2017). Landscape transform and spatial metrics for mapping spatiotemporal land cover dynamics using Earth Observation data-sets. Geocarto international, 32(2), 113–127.

Sisodia, P. S., Tiwari, V., & Kumar, A. (2014). Analysis of supervised maximum likelihood classification for remote sensing image. In: international conference on recent advances and innovations in engineering (ICRAIE-2014) (pp. 1–4). IEEE.

Streutker, D. R. (2002). A remote sensing study of the urban heat island of Houston Texas. International Journal of Remote Sensing, 23(13), 2595–2608.

Sultana, S., & Satyanarayana, A. N. V. (2020). Assessment of urbanisation and urban heat island intensities using landsat imageries during 2000–2018 over a sub-tropical Indian City. Sustainable Cities and Society, 52, 101846.

Swain, D., Roberts, G. J., Dash, J., Lekshmi, K., Vinoj, V., & Tripathy, S. (2017). Impact of rapid urbanization on the city of Bhubaneswar, India. Proceedings of the National Academy of Sciences, India Section A Physical Sciences, 87(4), 845–853.

Thomas, G., Sherin, A. P., Ansar, S., & Zachariah, E. J. (2014). Analysis of urban heat island in Kochi, India, using a modified local climate zone classification. Procedia Environmental Sciences, 21, 3–13.

Toy, S., & Yilmaz, S. (2010). Thermal sensation of people performing recreational activities in shadowy environment: a case study from Turkey. Theoretical and applied climatology, 101(3–4), 329–343.

United Nations. (2018). World Urbanization Prospects: The 2018 Revision. Population Division, United Nations: Highlights. Department of Economic and Social Affairs.

Voogt, J. A., & Oke, T. R. (2003). Thermal remote sensing of urban climates. Remote sensing of environment, 86(3), 370–384.

Wang, W. C., Zeng, Z., & Karl, T. R. (1990). Urban heat islands in China. Geophysical Research Letters, 17(13), 2377–2380.

Weng, Q., Lu, D., & Schubring, J. (2004). Estimation of land surface temperature–vegetation abundance relationship for urban heat island studies. Remote sensing of Environment, 89(4), 467–483.

Yang, Z., Witharana, C., Hurd, J., Wang, K., Hao, R., & Tong, S. (2020). Using Landsat 8 data to compare percent impervious surface area and normalized difference vegetation index as indicators of urban heat island effects in Connecticut, USA. Environmental Earth Sciences, 79(18), 1–13.

Zhang, H., Qi, Z. F., Ye, X. Y., Cai, Y. B., Ma, W. C., & Chen, M. N. (2013). Analysis of land use/land cover change, population shift, and their effects on spatiotemporal patterns of urban heat islands in metropolitan Shanghai, China. Applied Geography, 44, 121–133.
Acknowledgement
Authors acknowledge the support provided by Birla Institute of Technology and Science Pilani in facilitating the resources.
Funding
This research did not receive any specific grant from funding agencies in the public, commercial, or not-for-profit sectors.
Ethics declarations
Conflict of interest
The authors declare that they have no conflict of interest.
Additional information
Publisher's Note
Springer Nature remains neutral with regard to jurisdictional claims in published maps and institutional affiliations.
About this article
Cite this article
Puppala, H., Singh, A.P. Analysis of urban heat island effect in Visakhapatnam, India, using multi-temporal satellite imagery: causes and possible remedies. Environ Dev Sustain (2021). https://doi.org/10.1007/s10668-020-01122-0
Received:

Accepted:

Published:
Keywords
Urban heat island (UHI)

Land use land cover (LULC)

Green spaces

Land surface temperature (LST)