Abstract
Existing adaptation planning processes are inadequate to address the impacts of flooding. The goal of the study is to design adaptation pathways for enhancing livelihood resilience of flood-affected households in Bangladesh—one of the most flood-vulnerable countries in the world. We developed adaptation pathways by using three sequential steps: (1) assessing livelihood resilience by constructing resilience indices; (2) determining adaptation options by employing principal component analysis (PCA) of resilience indicators; and (3) designing pathways of selected adaptation options by conducting key informant interviews (KIIs), and participatory workshops. Livelihood resilience was assessed based on an established framework that builds on 18 indicators representing three capacities (absorptive, adaptive and transformative) and six dimensions: social, institutional, economic, ecological, physical, and political. Using a structured questionnaire survey, we collected data from 360 households of 18 villages of 9 sub-districts in Bangladesh. Results revealed that about one-third of total households had capacities to reduce flood shocks and stresses and improve livelihood opportunities. Following a resilience assessment, we conducted PCA for determining adaptation options, namely learning, infrastructure, and governance. Through KIIs and stakeholder engagement workshops, pathways of selected adaptation options were designed. The adaptation pathways entail short-, medium-, and long-term adaptation options, which contribute to maintaining persistence, leading to the transition, and facilitating transformation. Essential issues of implementation of adaptation pathways were determined. Critical policy implications around strengthening governance, promoting economy, and managing technologies were outlined.
This is a preview of subscription content, log in to check access.
Access options
Buy single article
Instant access to the full article PDF.
US$ 39.95
Price includes VAT for USA
Subscribe to journal
Immediate online access to all issues from 2019. Subscription will auto renew annually.
US$ 99
This is the net price. Taxes to be calculated in checkout.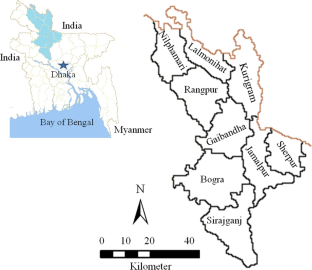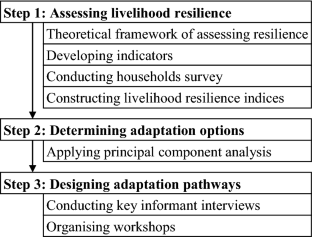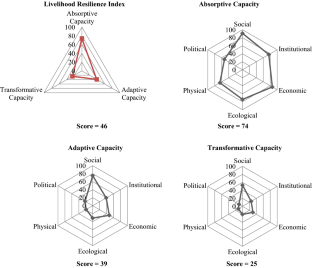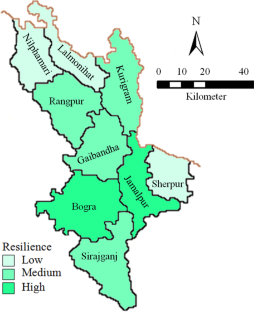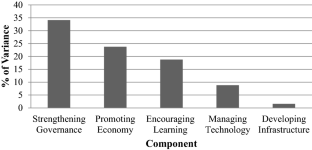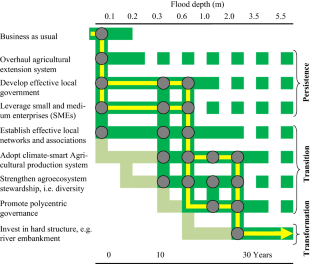 References
Adger, W. N., Brooks, N., Bentham, G., Agnew, M., & Eriksen, S. (2004). New indicators of vulnerability and adaptive capacity. Tyndall Centre for Climate Change Research Report 7. Tyndall Centre, Norwich, UK.

Ahmed, A. U., Huq, S., Nasreen, M., & Hassan, A. W. R. (2015). Climate change and disaster management. Sectoral inputs towards the formulation of the 7th Five Year Plan (2016–2021). Planning Commission, Dhaka, p. 63.

Aleksandrova, M., Gain, A. K., & Giupponi, C. (2016). Assessing agricultural systems vulnerability to climate change to inform adaptation planning: An application in Khorezm, Uzbekistan. Mitigation and Adaptation Strategies for Global Change,21, 1263–1287.

Allen, B. L., & Morton, L. W. (2006). Generating self-organizing capacity: Leadership practices and training needs in non-profits. Journal of Extension,44, 1–13.

Ayeb-Karlsson, S., van der Geest, K., Ahmed, I., Huq, S., & Warner, K. (2016). A people-centred perspective on climate change, environmental stress, and livelihood resilience in Bangladesh. Sustainability Science,11, 679–694.

Babbie, E. (1995). The practice of social research (pp. 161–175). Washington: Wadsworth.

Bahadur, A. V., Ibrahi, M., & Tanner, T. (2013). Characterising resilience: Unpacking the concept for tackling climate change and development. Climate and Development,5, 55–65.

Barnett, J., Graham, S., Mortreux, C., Fincher, R., Waters, E., & Hurlimann, A. (2014). A local coastal adaptation pathway. Nature Climate Change,4, 1103–1108.

BBS (Bangladesh Bureau of Statistics). (2016). Bangladesh disaster related statistics 2015: Climate change and natural disaster perspective. BBS, MoP, GoB.

Béné, C., Wood, R. G., Newsham, A., & Davies, M. (2012). Resilience: New utopia or new tyranny? Reflection about the potentials and limits of the concept of resilience in relation to vulnerability reduction programmes. IDS working papers, no. 405.

Bloemen, P., Reeder, T., Zevenbergen, C., Rijke, J., & Kingsborough, A. (2017). Lessons learned from applying adaptation pathways in flood risk management and challenges for the further development of this approach. Mitigation and Adaptation Strategies for Global Change. https://doi.org/10.1007/s11027-017-9773-9.

Brooks, N., Aure, E., & Whiteside, M. (2014). Assessing the impact of ICF programmes on household and community resilience to climate variability and climate change. London: DFID.

de Bruijn, K., Buurman, J., Mens, M., Dahm, R., & Klijn, F. (2017). Resilience in practice: Five principles to enable societies to cope with extreme weather events. Environmental Science & Policy,70, 21–30. https://doi.org/10.1016/j.envsci.2017.02.001.

Cabell, J. F., & Oelofse, M. (2012). An indicator framework for assessing agroecosystem resilience. Ecology and Society.,17, 18.

CARE. (2015). Flooding in north-western Bangladesh- HCTT joint needs assessment. CARE Bangladesh, p. 53.

Chan, N. W., Roy, R., Lai, C. H., & Tan, M. L. (2018). Social capital as a vital resource in flood disaster recovery in Malaysia. International Journal of Water Resources Development. https://doi.org/10.1080/07900627.2018.1467312.

Dasgupta, S., Hossain, M. M., Huq, M., & Wheeler, D. (2014). Climate change, soil salinity, and the economics of high-yield rice production in coastal Bangladesh. Policy research working paper 7140, Development Research Group, World Bank.

Esty, D. C., Levy, M., Srebotnjak, T., & de Sherbinin, A. (2005). Environmental Sustainability Index: Benchmarking national environmental stewardship. New Haven: Yale Center for Environmental Law and Policy.

FAO. (2015). Self-evaluation and holistic assessment of climate resilience of farmers and pastoralists. Paris: FAO.

FAO. (2017). Bangladesh: Severe floods in 2017 affected large numbers of people and caused damage to the agriculture sector. GIEWS update. Dhaka: FAO.

Field, A. (2013). Discovering statistics using IBM SPSS statistics (4th ed.). London: SAGE.

Folke, C. (2016). Oxford research encyclopedia of environmental science: resilience. https://doi.org/10.1093/acrefore/9780199389414.013.8.

Gain, A. K., Benson, D., Rahman, R., Datta, D. K., & Rouillard, J. J. (2017). Tidal river management in the South West Ganges-Brahmaputra delta: Moving towards a transdisciplinary approach? Environmental Science & Policy,75, 111–120.

Gain, A. K., & Giupponi, C. (2015). A dynamic assessment of water scarcity risk in the Lower Brahmaputra River Basin: An integrated approach. Ecological Indicators,48, 120–131.

GED. (2018). Bangladesh delta plan 2100. Planning commission, GoB, p. 789. www.plancomm.gov.bd.

GED (General Economic Division). (2015). The 7th five-year plan (2016–2020): Accelerating growth and empowering citizens. Dhaka: GED, Planning commission.

Giupponi, C., & Gain, A. K. (2017). Integrated spatial assessment of the water, energy and food dimensions of the sustainable development goals. Regional Environmental Change,17, 1881–1893. https://doi.org/10.1007/s10113-016-0998-z.

GIZ. (2014). Assessing and monitoring climate resilience. Bonn: GIZ, GmbH.

Haasnoot, M., Kwakkel, J. H., Walker, W. E., & ter Maat, J. (2013). Dynamic adaptive policy pathways: A method for crafting robust decisions for a deeply uncertain world. Global Environmental Change,23, 485–498.

Hassan, S., & Ahmed, R. (2012). Hard to reach areas: providing water supply and sanitation service to all. Water and sanitation programme guidance note. Washington, DC: World Bank.

Hossain, P. R., Ludwig, F., & Leemans, R. (2018). Adaptation pathways to cope with salinization in south-west coastal region of Bangladesh. Ecology and Society,23(3), 27.

IPCC. (2012). Managing the risks of extreme events and disasters to advance climate change adaptation. In C. B. Field et al. (Eds.), A special report of working groups I and II of the IPCC (p. 582). Cambridge: Cambridge University Press.

IPCC. (2014). Climate change 2014: Impacts, adaptation, and vulnerability. Part A: Global and sectoral aspects. In C. B. Field et al. (Eds.), Contribution of working group II to the fifth 5AR of the IPCC (p. 1132). Cambridge University Press.

Jeans, H., Castillo, G., & Thomas, S. (2016). The future is a choice: The Oxfam framework and guidance for resilient development. Oxford: Oxfam.

Karim, M. R., & Thiel, A. (2017). Role of community-based local institution for climate change adaptation in the Teesta riverine area of Bangladesh. Climate Risk Management,17, 92–103.

Kreibich, H., Baldassarre, G. D., Orogushyn, S. V., et al. (2017). Adaptation to flood risk: Results of international paired flood event studies. Earth's Future. https://doi.org/10.1002/2017EF000606.

Lin, B. B., Capon, T., Langston, A., Taylor, B., Wise, R., Williams, R., et al. (2017). Adaptation pathways in coastal case studies: Lessons learned and future directions. Coastal Management,45, 384–405.

Lipper, L., et al. (2014). Climate-smart agriculture and food security. Nature Climate Change,4, 1068–1072.

Miller, F., et al. (2010). Resilience and vulnerability: Complementary or conflicting concepts? Ecology and Society,15, 11–23.

Mimura, N. R. S., Pulwarty, D. M., Duc, I., Elshinnawy, M., Redsteer, H. Q., Huang, J. N. et al. (2014). Adaptation planning and implementation. In C. B. Field, D. J. Barros, K. J. Dokken, M. D. Mach, T. E. Mastrandrea, M. Bilir, et al. (Eds.), Climate change 2014: Impacts, adaptation, and vulnerability. Part A: Global and sectoral aspects. Contribution of working group II to the fifth assessment report of the intergovernmental panel on climate change (pp. 869–898). Cambridge: Cambridge University Press.

Mitchell, A. (2013). Risk and resilience: From good idea to good practice. OECD Development Co-operation working papers, no. 13. https://doi.org/10.1787/5k3ttg4cxcbp-en.

MoDMR (Ministry of Disaster Management and Relief). (2017). The national plan for disaster management (2016–20). MoDMR, GoB.

MoEF. (2009). Bangladesh climate change strategy and action plan 2009. MoEF, Government of Bangladesh (GoB), Dhaka.

MoEF. (2012). Rio+20: Bangladesh report on sustainable development. MoEF. Bangladesh.

MoEF. (2015). Intended nationally determined contributions (INDC). MoEF, GoB.

Mullan, M., Kingsmill, N., Kramer, A. M., & Agrawala, S. (2013). National adaptation planning: Lessons from OECD countries. OECD environment working papers, no. 54, ENV/WKP (2013)1, OECD Publishing, Paris, France, p. 74.

O'Brien, K., Leichenko, R., Kelkar, U., Venema, H., Aandahl, G., Tomkins, H., et al. (2004). Mapping vulnerability to multiple stressors: Climate change and globalisation in India. Global Environmental Change,14, 303–313.

O'Connell, D., Walker, B., Abel, N., & Grigg, N. (2015). The resilience, adaptation and transformation assessment framework: From theory to application. Canberra: CSIRO.

OECD. (2008). Handbook on constructing composite indicators: Methodology and user guide. Paris: OECD.

Ostrom, E. (2009). A general framework for analysing sustainability of socio-ecological systems. Science,325, 419.

Pelling, M. (2011). Adaptation to climate change: From resilience to transformation. London: Routledge.

Quinlan, A. E., Berbes-Blazquez, M., Haider, L. J., & Peterson, G. D. (2015). Measuring and assessing resilience: Broadening understanding through multiple disciplinary perspectives. Journal of Applied Ecology. https://doi.org/10.1111/1365-2664.12550.

Roberts, E., Andrei, S., Huq, S., & Flint, L. (2015). Resilience synergies in the post-2015 development agenda. Nature Climate Change,5, 1024–1025.

Roy, R. (2018). Evaluating the suitability of community-based adaptation: a case study of Bangladesh. In W. Leal Filho, et al. (Eds.), Handbook of climate change communication. Climate change management (Vol. 1, pp. 39–61). Cham: Springer International Publishing.

Roy, R., Chan, N. W., & Rainis, R. (2014). Rice farming sustainability assessment in Bangladesh. Sustainability Science,9, 31–44.

Roy, R., Chan, N. W., Uemura, T., & Imura, H. (2013). The vision of agri-environmental sustainability in Bangladesh: How the policies, strategies and institutions delivered? Journal of Environmental Protection,4, 40–51.

Roy, R., Chan, N. W., & Xenarios, S. (2015). Sustainability of rice production systems: An empirical evaluation to improve policy. Environment, Development and Sustainability,18, 257–278.

Roy, R., Gain, A. K., Samat, N., Hurlbert, M., Tan, M. L., & Chan, N. W. (2019). Resilience of coastal agricultural systems in Bangladesh: Assessment for agroecosystem stewardship strategies. Ecological Indicators,106, 105525.

Rosenzweig, C., & Solecki, W. (2014). Hurricane sandy and adaptation pathways in New York: Lessons from a first-responder city. Global Environmental Change,28, 395–408.

Saranya, C., & Manikandan, G. (2013). A study on normalisation techniques for privacy-preserving data mining international. Journal of Engineering and Technology,5, 2701–2704.

Siebentritt, M., Halsey, N., & Stafford-Smith, M. (2014). Regional climate change adaptation plan for the Eyre Peninsula. Prepared for the Eyre Peninsula Integrated Climate Change Agreement Committee.

Stafford Smith, M., Horrocks, L., Harvey, A., & Hamilton, C. (2010). Rethinking adaptation for a 4 °C world. Philosophical Transactions of the Royal Society A,369, 196–216.

Tan, M. L., Ibrahim, A. L., Yusop, Z., Chua, V. P., & Chan, N. W. (2017). Climate change impacts under CMIP5 RCP scenarios on water resources of the Kelantan River Basin, Malaysia. Atmospheric Research,89(1), 1–10.

Tanner, T., et al. (2014). Livelihood resilience in the face of climate change. Nature Climate Change. https://doi.org/10.1038/NCLIMATE2431.

Tanoue, M., Hirabayashi, Y., & Ikeuchi, H. (2016). Global-scale river flood vulnerability in the last 50 years. Scientific Reports,6, 36021. https://doi.org/10.1038/srep36021.

USAID. (2014). Climate-resilient development: A framework for understanding and addressing climate change. Washington, DC: USAID Global Climate Change Office.

Wise, R. M., & Capon, T. R. (2016). Assessing the costs and benefits of coastal climate adaptation. CoastAdapt Information Manual 4, National Climate Change Adaptation Research Facility, Gold Coast.

World Economic Forum. (2019). The global risks report 2019. Davos: World Economic Forum.

World Bank. (2013). Turn down the heat: Climate extremes, regional impacts, and the case for resilience. Washington, DC: The World Bank.

World Bank. (2017). World development report 2017: Governance and the law. Washington, DC: World Bank.
Acknowledgements
The authors would like to thank Universiti Sains Malaysia for providing the fund to write this paper through 'Teaching Fellow' position of the first author. The Research University Team Grant (1001/PHUMANITI/856002) has financially supported the research. AK Gain is supported by Marie Skłodowska Curie Global Fellowship of European Commission (Grant Agreement No. 787419), whose support is gratefully acknowledged.
Additional information
Publisher's Note
Springer Nature remains neutral with regard to jurisdictional claims in published maps and institutional affiliations.
Electronic supplementary material
Below is the link to the electronic supplementary material.
About this article
Cite this article
Roy, R., Gain, A.K., Hurlbert, M.A. et al. Designing adaptation pathways for flood-affected households in Bangladesh. Environ Dev Sustain (2020). https://doi.org/10.1007/s10668-020-00821-y
Received:

Accepted:

Published:
Keywords
Adaptation planning

Resilience assessment

Adaptation pathway

Local governance

Transformative capacity

Bangladesh